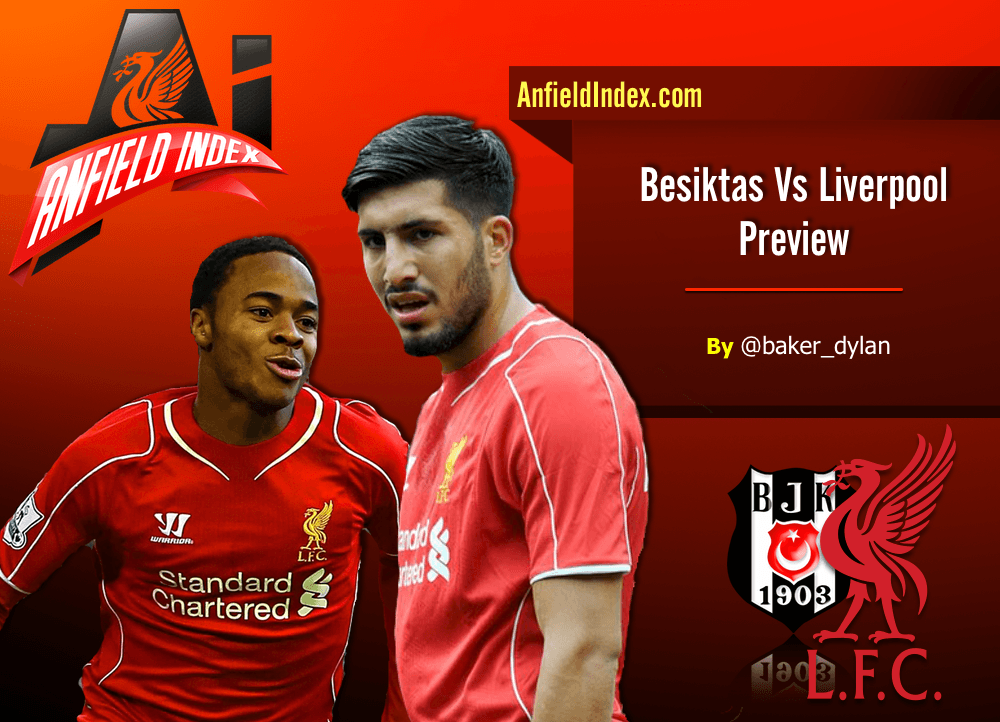 Besiktas v Liverpool | Europa League Knockout Stage - 2nd Leg

A goal ahead on aggregate.  A clean sheet at home that's vital to the cause.  A Champions League spot remains the final prize.
A return to hallowed grounds.
The result of the last match tries to proclaim slim margins, but anyone watching last week knows that wasn't the case.  Liverpool maintained a quality amount of possession and remained solid enough at the back.  Emre Can and Martin Skrtel weren't exactly playing their best, but Besiktas only managed a single shot on goal out of eight in total.  Compared to the home side's 18, the attacking power was tipped in our favour.  Liverpool were a bit sloppy with the ball at their feet and lost possession through tackles far too often for my liking.  However, the Black Eagles were unable to string too many passes together.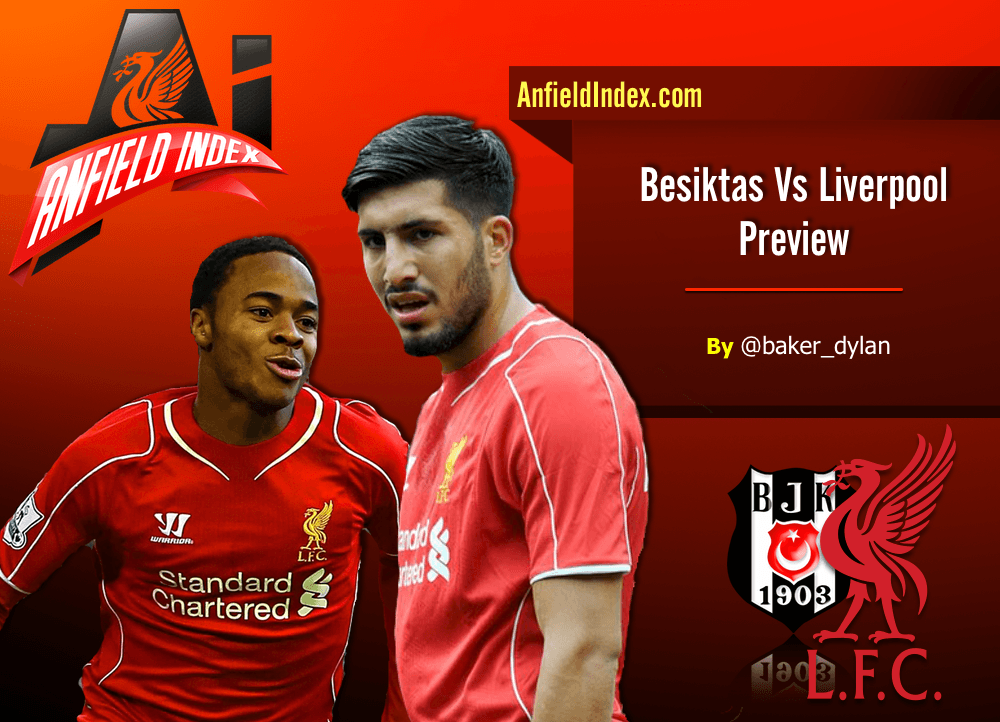 Liverpool now travel to Istanbul on Thursday, site of the ever-remembered 2005 Champions League final.  This time around, the stakes are rather different.  The Reds fight for emergence from the knockout round to reach the final 16 of the UEFA Europa League.  Their opponents are Besiktas, who led the Super Lig until this weekend's 1-0 loss to bottom-half Eskisehirspor.  Liverpool gained the advantage in the first leg, winning 1-0 at Anfield from a late Balotelli penalty.  The result was internally controversial, as the bubbling Italian took the ball from designated taker and captain Jordan Henderson.  That particular moment, however, has been picked over enough by now.  We look ahead to the away match on Thursday.
We Go Again
Besiktas didn't fail to point out some areas that need improvement during the fixture.  First, our wing backs will have to pay better attention to their defensive responsibilities before we travel to Turkey.  The first leg was Ibe's breakout performance, solidifying in a single evening our adoration for the teenager on the right.  Alberto Moreno had a solid showing as well, putting his attacking prowess on display once again.  But in light of the recent Mamadou Sakho injury, whose return date has yet to be determined, our defence has taken a massive hit.  Shifting Can to the left while out-of-favor Dejan Lovren filled in on the right was anything but promising at St. Mary's.
The Black Eagles found most of their success from the wide positions.  Most troubling was Gokhan Tore, who took the space left behind by forward-thinking Moreno quite well.  Sakho cleaned up nicely then, but Thursday will be a different story should the Frenchman need replacement once again.  At the time of this article's writing, the results of a hip scan on the center back have yet to be released.
Liverpool found success in the same areas, however.  Their right and left backs played rather poorly and were unable to fend off the likes of Ibe, Moreno, and Coutinho.  From what I've heard, fans of the Turkish side haven't been confident in their full backs all season, and for reasons we'll talk about shortly they'll have less come Thursday.  Maintaining that width will once again be key to the upcoming match.  Using our creativity and pace from out wide to feed back inside in the final third is crucial to prolong our run in the Europa League.
Fitness & Injury
There's also the issue of fitness, which has been turned and turned over in recent weeks.  Fixture congestion is the primary suspect, but as we've mentioned Brendan Rodgers is not a man of squad rotation.  This past weekend showed a bit of forced alteration in the XI.  As previously mentioned, Can filled in Sakho's position while Lovren filled the German's vacancy.  Daniel Sturridge sat until subbed on just after the hour mark, and Moreno got a breather as well.  But the most overworked individuals in the side (Coutinho, Can, Henderson, Skrtel) remained.  Doubtful that they'll see a break on Thursday, either.
Liverpool fans are aware that we'll be missing some key individuals from the squad.  Lucas Leiva remains injured through most of March, and Steven Gerrard won't be back for another week or so.  Add Sakho to that list, and Rodgers has some choices to make.  Judging by the first half of the Southampton clash, he hasn't figured out the perfect remedy just yet.
Last week, Besiktas's number one goalkeeper Tolga Zengin was out, and it appears that will remain the case for Thursday.  Recently, though, Demba Ba has also been registered as questionable for the second leg.  A calf injury kept the Senegalese striker out of their weekend league fixture, and he remains in doubt for the hosts.  Could this be all of their troubles?
Of course not!  The Black Eagles will have a couple of suspension troubles on Thursday.  Ersan Gulum, who has played brilliantly for his club this season at center back, will be missing the second leg on yellow card accumulation.  Gulum dealt with the pace of Sturridge and Coutinho's creativity, and was the last line of defense when Jordan Ibe consistently got past left back Ramon Motta.  Speaking of Motta: he'll also be suspended on accumulation after receiving a yellow card for the challenge on Ibe that resulted in the game-winning penalty.  Only half a typical back line, a back-up goalkeeper and a replacement striker?  Dire circumstances for Besiktas.
With the Manchester City fixture at the weekend, Liverpool have reason to rotate their squad.  But will they?
Besiktas look less than promising with their stalwarts in both attack and defense out for the match.  Will Istanbul remain a favorable place to play for the Reds?
Let's take a look at personnel.
Predicted Liverpool Lineup
I believe we'll get some rotation here, but the extent of it is, as usual, unclear.  Brendan Rodgers seems adamant to run Coutinho and Emre Can into the ground, regardless of how their performance might be affected.  Concerning the back line, I was impressed enough with Lovren to say he gets the start here.  The first half against Southampton was disappointing for the entire squad, barring Countinho's wondergoal.  But after shoring up the holes and putting in a solid performance for the last 45 minutes, I imagine this won't be Toure's return.  Rodgers seems keen to get Lovren back into the side to stay.  Insert sarcastic/fearful emoticon here.
So the defense, including Mignolet for obvious reasons, will remain the same.  Manquillo should be getting another run out in the side, with a second half substitution imminent for the surely out-of-fitness right back.  I believe Glen Johnson came on at the weekend to be ready for this match rather than against City.  If no Manquillo, expect Moreno to come back with Johnson on his natural right.  Injuries in the center of the park will keep Henderson and Allen working together.
And, once again, Brendan won't start Balotelli and Sturridge together.  Fabio Borini will get a run out in the side again before Balotelli starts a match that doesn't require him.  Rodgers will keep him as far away from the XI as he can, regardless of his recent goal scoring record.  The opposite can be said for Coutinho, who's pushing twenty games straight starting while only being subbed off a handful of times.  I see him pairing with Lallana once again.  Sterling will be the lone striker up.
Predicted Besiktas Lineup
GK: Cenk Gonen
Defenders: Serdar Kurtulus, Pedro Franco, Tomas Sivok, Ismail Koybasi
Midfield: Atiba Hutchinson, Veli Kavlak, Gohkan Tore, Jose Sosa, Olcay Sahan
Forward: Cenk Tosun
Formation: 4-2-3-1
Since our tactics board is lame and doesn't have EVERY TEAM EVER AT MY DISPOSAL, I've got no pretty Besiktas picture for you, dear readers.  However, I've listed here the likely starters.  Manager Slaven Bilic won't change the organization of his XI, but personnel changes will have to be made.  Koybasi has replaced Ramon Motta at left back on a few occasions this year, likely doing so again Thursday.  Tomas Sivok is the clear replacement at center back and should be paired with Franco.  Kurtulus remains the right back.  Cenk Gonen will continue to guard the goal while Cenk Tosun will replace Demba Ba should the Senegalese striker remain injured.  The midfield remains unchanged.
The Baker Forecast
Most teams historically play better at home, but I imagine that Besiktas have been dealt a heavy hand here.  If Ba isn't playing, I don't rate their attacking prowess.  Without Gulum, their defense will be liable to fail on several occasions.  Returning to those hallowed grounds should prove fruitful once again for the Reds.
I'm going to go a little ambitious here and call a better result at Ataturk than Anfield.  2-0 to traveling Liverpool, and a more confident performance is in our future, folks.  Ibe will get his first goal; of this, I have the utmost confidence.  Their replacement left-back will have more trouble than Motta did last week, and the teenager will move past Gulum's replacement for a stunner of a goal.  I'd like to say Balotelli scores again as a substitute, but I'd reckon that Rodgers would burn his designer scarf first.  Instead, Sterling nets again before the end of the first half, and we'll ride the rest of the match into the Round of 16.