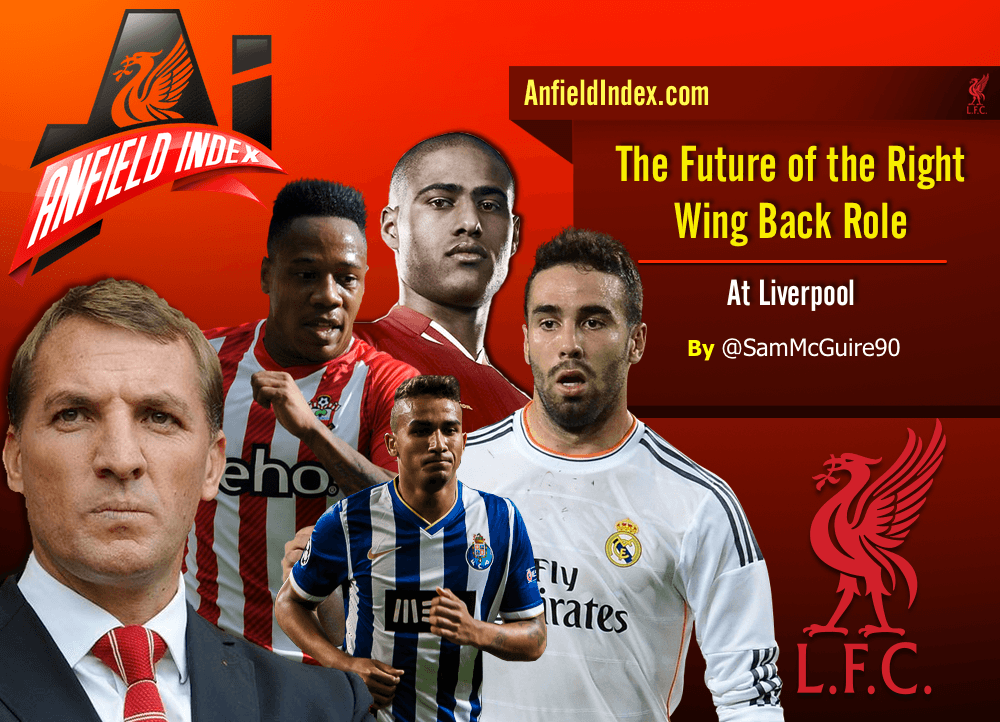 The Future of the Right Wing Back role at Liverpool
With March just around the corner it may seem a little early to start thinking about potential summer signings, but with Glen Johnson looking like he's rejecting a new deal and Javi Manquillo not getting a look in after some good early season form The Reds may be in the market for a right back this summer.
Liverpool have been playing wingers/wing backs as of late, so any potential signing would have to be able to be comfortable playing in either position. It's very rare that a team playing with wing backs can afford to play two attacking players on their flanks as it can, not always, leave the team a little unbalanced. However, Liverpool have had the perfect balance as of late and the results have showed this. Whether its sustainable is another question so in my opinion a more defensively astute player could be bought and played in that role allowing Moreno to be the attacking threat down the left hand side, with the RWB backing up play.
When looking at potential signings I had a certain set of search parameters in place; they had to have experience playing European football, be of a first team quality already, not overly priced and be at an age in which there was still a lot of potential for them to grow. The following players are those I consider a viable fit for Liverpool FC.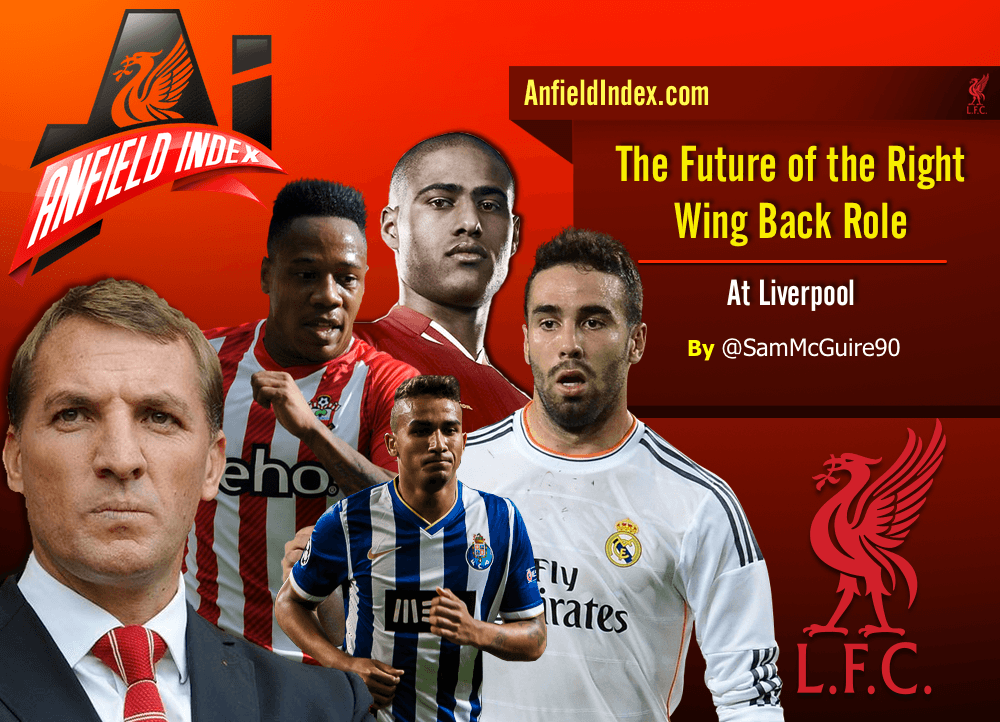 Nathaniel Clyne.
Age: 23
Possible Transfer fee: £15million max in my opinion.
I'm aware that he doesn't have European experience, however he meets all the other requirements. Many will believe he is out of our price range, but with his contract expiring in July 2016 Southampton may have to cash in this summer if he refuses to sign a new deal. The newly capped England International has excelled during his time at Southampton showing to not only be defensively solid but an attribute in the final third too having scored three goals this season. He's at a good age, has experience of the physicality of the Premier League and can be a left back alternative if required. He is in every way an upgrade on Glen Johnson and looks set to be the England right back for the foreseeable future. He would peak when the rest of the current Liverpool defence peaks.
Gotoku Sakai
Age: 23
Possible Transfer fee: £5million.
The Japanese fullback, like Clyne, can play either full back position which straight away makes him an attractive proposition. In a struggling Stuggart side he has been consistent on a regular basis chipping in offensively with one goal and one assist. He may not be well known but has European experience, is a good age and in my opinion is first team ready for Liverpool. Not only that, but due to the poor Stuggart form were they look like they may be relegated, he could be available for a bargain price in the summer. Another aspect to look at with any deal for Sakai is the potential merchandise sales attributed to such a signing.
Danilo
Age: 23
Possible Transfer fee: £15million max in my opinion
The Brazilian fullback is known by many fans. Tagged as the next big money sale by Porto, he no doubt has many admirers in Europe. A stereotypical Brazilian who loves to get forwards he offers a threat going forward and would look fantastic in this current Liverpool set up given license to attack. Touted as a big money deal, he could be cheaper than many think with his current deal ending in the summer of 2016. Experience in Europe, experience at winning; he seems like an ideal candidate. Four goals and four assists primarily from a RB position shows he can influence the game, he is also an accomplished penalty taker, an asset to have within a side. He should definitely be a player we look at, whether we could convince him to sign is another question.
Daniel Carvajal
Age: 23
Possible Transfer fee: £20million max
The starting right back for Real Madrid won't be an easy signing to make, but should Madrid sign Danilo if reports are to be believed you'd have to think Carvajal would be open to a move with the European Championships being next summer and he wants to stake a claim to be regular RB for Spain. Very much in the Arbeloa mould, defence first and attack second is his mindset yet he's managed to grab 4 assists already this season in a star studded Madrid side. His style of play would suit the Liverpool set up, short passes but confident with the ball at his feet. Not only this, he is also very confident in a tackle and is great at anticipating a pass which would help Liverpool's effectiveness with a high press. He is experienced in Europe having been part of the side that wont 'La Decima' he also spent a season with Leverkusen so has experience in leagues other than Spain. Coupled with the fact is he great on the pitch he also has a magnificent beard that any team would be lucky to have in their squad photo.
Mario Fernandes
Age: 24
Possible Transfer fee: £10-13million in my opinion
Probabaly not as well known as the others mentioned, the Brazilian fullback has made himself at home as the RB for CSKA Moscow. He brings experience in Europe, has 5 assists to his name this season already meaning he's involved in a goal once every 5 games. He is very confident on the ball, as many Brazilians tend to be, when he has possession he tends not to waste it and has an advantage over the other players mentioned. He can play as a Centre Back. Meaning if Liverpool were to change to a back four but wanted the option to change style during the game the transition would be seamless as he could slot in as a RCB and do an effective job there. In a system were Liverpool like to build from the back he could be a surprise to many but could suit Liverpool with his versatility, a trait Brendan Rodgers favours.
These are just a few of the players I think Liverpool should be looking at if Javi Manquillo were to leave this summer, I know the price varies for many but the signings probably depend on what formation Liverpool intend to use next season. Quality RWB's are hard to come by, if you have any suggestions then feel free to comment below.