As the reality hit upon Liverpool's battered, embattled carcasses strewn across a flight that was hours late, preparing to challenge for the second time in nearly 60 hours, the supporters: certainly no less emotionally strained than the players and managing staff, saw their team slump to the jaws of defeat for just the second time in 2015, a resounding result that raised certain questions to the helm of discussion once more.
Despite the immense criticism one receives for merely having an opinion these days: especially via social media forms such as Twitter and Facebook where nearly everybody can have an opinion: those who delve into the nitty gritty of football, however, can still entertain the question, without receiving a monochrome of unrelenting abuse. And so, in posing the question to the world, it may be discussed.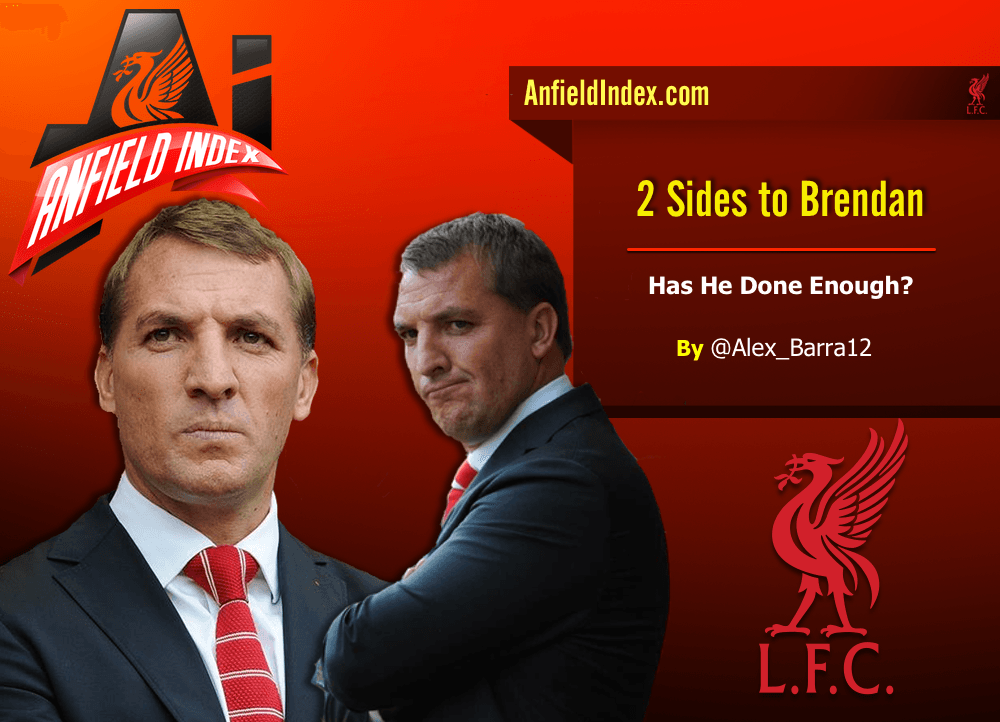 Has Brendan Rodgers done enough to justify patience with his handling of Liverpool Football Club? Moreover, will there be a point before the end of the season where alternatives not only could – but should be entertained, just as there was in the Christmas period, where Brendan's career at Liverpool seemed to be deteriorating right before our very own eyes.
All of this postulating and pondering comes after yet another European exit. Granted, the justification for this one is made all the more abundant due to the fact it was the Europa League: but Liverpool only faced that predicament because of Rodgers' mishaps earlier in the season: ask anyone where a side with Glen Johnson, Dejan Lovren, Jose Enrique and Rickie Lambert should be, and they'll more often than not tell you the correct answer: smack bang in the middle of the table. Coupled with the fact that he had £120 million pounds to toy with in the summer (a point that may be getting tiresome, but is no less important as the season rolls on), can he be afforded the patience that many would give him should Liverpool find themselves in a Champions League spot again?
First, however, something must be stated. If Brendan Rodgers happens to continue on his rampage throughout the season, and manages to pick up third place in a blistering mixture of attack and cohesion, all without alienating any players further and making a proper imbecile of himself in his press conferences, then there's no doubt that the manager should be afforded more time in his role.
But, here's the sticking point for the entire discussion. Where is the line drawn between patience and progress? Where is the line between promise and reality, between potential and assurance, between results and performances?
It's all well and good when you've got a manager that can go on blistering runs such as the high-octane, vivacious streak that Liverpool currently have in the Premier League in 2015. However, those results only came when Brendan actually learnt from his previous mistakes, mistakes made in the first half of the season. It's a repetitive pattern too; last season didn't fully kick into gear until the thirteen game-run in early 2015 that catapulted Rodgers' side into realistic sight of their first Premier League title, and that was with the best player in the world at his disposal. Many promises were made amongst the media coverage of Liverpool's summer spending spree; promises such as the solidity of a squad, the return of Champions League football to Anfield and the ability to compete on all fronts.
Analysing the latter above all: a certain definition of what "progress" entails is necessary if one is to measure Rodgers' ability to capably manage Liverpool football club. Of course, expectations are to be tempered; there was no way Liverpool would see a repeat of Istanbul, nor was it likely the Premier League title would be within reach once again. Even so, the promise of a "squad", with multi-faceted players and tactics has been, with even the slightest bit of optimism, a disaster. Alienations of Mario Balotelli, inability in the transfer market and refusal to properly adapt his tactics for the betterment of the game in front of him – or In-Game tactics, if you will – has cost Brendan Rodgers at various points this season. Need evidence? Thursday night's loss to Besiktas highlighted all three of those points, not least the In-Game management.
Pretending for a second that the 3-4-3 formation was an innovation of Brendan Rodgers and not a call from the fans, the inability to properly adapt an overrun midfield, increasingly poor back three and inefficient duo of Raheem Sterling and Daniel Sturridge on Thursday night highlighted the flaws in Brendan's game; flaws which were heightened even more by the plague of injuries that festered itself into Liverpool's camp. These injuries, one would've thought, were offset by the £120 million pounds spent on increasing squad depth in the summer. Yet Brendan – much like his former mentor Jose Mourinho – much prefers, and in fact is only capable, of managing a team of around thirteen players, give or take one player. Any others (cough, Mario Balotelli), are deemed surplus and are therefore treated that way, good for making a couple of impacts throughout the season, and not much more.
*See Jose Mourinho's treatment of Kevin de Bruyne, Andre Schurrle, and others if in doubt.
It took Jose Mourinho the freedom of being able to purchase whoever he pleased for him to properly utilise the talents afforded to him: a luxury not present with Brendan Rodgers, and nor should it be present. Rodgers' failings in the transfer market were evident enough without the emphatic statement that was Adam Lallana's ineffective display and Dejan Lovren's horrendous attempts at defending. That is not to criticise the Croatian's penalty; for which he was unjustly lambasted, but rather his atrocious defending; something which has plagued him all season long.
Then one must move onto the apparent catalyst for many of Brendan Rodgers' sleepless nights: his inability to manage at team past the first stage of a European competition. Liverpool's European record under Rodgers is nothing but disappointing. In 18 matches, they've won just 7 times, losing another 7 and drawing the other 4. They've scored 26 goals and conceded 28. They've yet to qualify for the second knockout stage of any European competition.
Now, as far as progress goes, one must consider whether progress can be defined as Arsenal's steady, yet stagnant method of finishing fourth every year whilst not particularly challenging into the depths of European competitions, or whether the Atletico approach of managing to stick in there, surrounded by the echelon of top tier teams is not only to be admired, but to be implemented. The differences are by no leaps and bounds extreme, and if last season is to be believed, Brendan has it in him to challenge the big guns of English football. So why not implement a similar system of squad utilisation, clever tactics and grinding out results to ensure real progress? And maybe, one year, Liverpool will find themselves with a string of results put together: the same kind that got them to Istanbul in 2005. Unfortunately, while it is unlikely a repeat of Istanbul will be on the cards in the immediate future, Istanbul was the place once again where questions were raised. This time, however, they aren't clad in celebratory remarks.
Despite the diatribe that this article has seemingly become, there is an equally important case to be had for persistence and patience with the still relatively young and still relatively inexperienced Northern Irishman. One mustn't forget that this time last year, Brendan's talents were being lauded over in the media. Of course, that was partially down the mercurial Uruguayan at his disposal, but can Liverpool have faith in a more solid structure next season, one where Brendan's flaws have been highlighted, addressed, and fixed?
If he can adhere to having a season-long results-based plan, and not one where he merely finds his feet in the first three to four months, and blazes off down the track in the subsequent three or four months, then could the team's consistency improve to a point where top four is no longer down to how long Liverpool can extend their unbeaten run?
Questions, questions and more questions abound, yet nothing is really concrete. I, for one, as a journalist-in-training who never stumbles into using the first person as a rule, should make my opinion clear, so that everybody else's can be heard in equal merit. So, has he done enough to justify our patience?
Brendan Rodgers has made his impression on Liverpool. Tactically, he's been as catastrophic as he's been brilliant, though his transfers have largely been the latter. Guided by the mercurial talents of his frontline, and for a manager that seemingly holds the middle in the park in the highest regard, he has a real knack of being overrun in the midfield (see Tottenham, Manchester United, Southampton and Besiktas games for further clarity) and his defensive organisation is average at best, and far too reliant on the individual skills of his centre halves, without acting as a unit. His mediocre record in Europe stands to reason that he can't handle a competition other than the Premier League, and if Liverpool really wants to achieve proper progress, then finishing fourth consistently isn't enough. There needs to be real desire in Europe; not simply filling the spots.
All of this comes to a head when I consider the possibilities come the end of May. Say we finish fourth, and the run we're currently on pulls us above Manchester United and Southampton into that prime time Champions League spot. Then, admittedly, Rodgers should be given one more chance at European football and absolutely no more chances at the transfer market. But any lower than fourth, no matter the performances, and alternatives should be considered: because real progress can't be made otherwise.
There's my opinion, and whilst I prepare for the incredulous amounts of abuse I'm about to receive via social media for having a consolidated opinion, the question will indeed hang in the heads of many for the remainder of the season. We wouldn't be Liverpool if it were otherwise.
Thanks for reading. Please comment below with your opinions!