After being knocked out by eventual-winners Chelsea in the Capital One Cup semi-finals and subsequently by Besiktas in the Europa League, Liverpool were suddenly left with only one remaining cup competition to fight for. The Reds being in the quarter-finals of the magical, domestic FA Cup already means that there's no reason why they shouldn't go all the way to try and win it.
It's been about a decade since a 'major trophy' was added to Liverpool's prestigious collection of accomplishments, and getting the FA Cup may instil a winning mentality amongst the players, many who are young and/or have yet to enjoy the moment of lifting a cup. But let's not get too excited now, because the FA Cup adds essentially nothing to the club's main (realistic) objective, and that is to attain Champions League football for the second year in a row. While trophies are certainly welcomed, let's be honest about what the FA Cup is for Liverpool, and it is for bragging rights among other lesser things.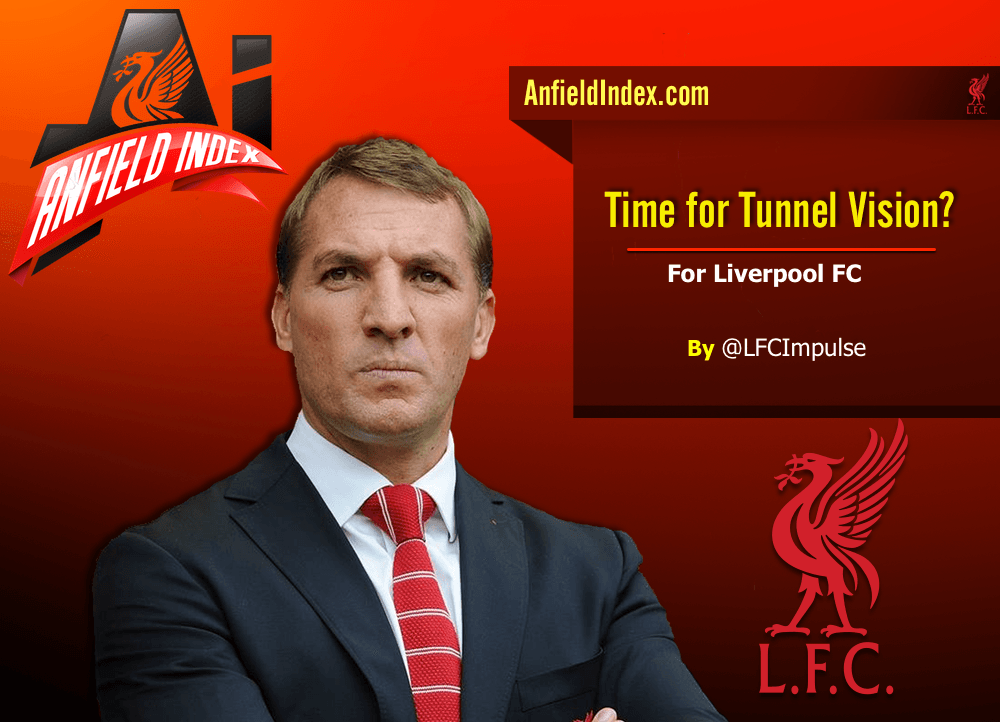 It's been clear for a while now that Brendan Rodgers was keen in advancing as far as he can in all four competitions that Liverpool took part in this season taking into account his team selections, and who can be surprised about that? He's never been short on ego this season; he'd probably have too much of it to simply throw away a chance at either of the competitions.
He might see it as a sign of backing down rather than to play it smart. It appears that, in the perfect world of his, we'd sweep the European Cup, both domestic cups and achieve a high placing in the Premier League, but unfortunately – we don't live in one.
However, an unbeaten run in the Premier League for almost 3 months has put Liverpool back in the discussion for Top 4, and THAT is what Brendan Rodgers should focus on now. It's a lot easier said than done though as the road to getting 3rd or 4th in the league is going to be a tricky one. With Chelsea and Manchester City battling it out in a two-horse race for the league title, that leaves another 2 spots to be filled by 5 teams – Manchester United, Southampton, Arsenal, Spurs, and Liverpool. Stretch the perimeters a tiny bit and you could include West Ham in there too.
What's unfortunate about climbing up the league table is that it highly depends on those above or in contention with you to drop points while at the same time, you have to pick up the points. When the gap between 3rd and 7th is just a win or two away, Liverpool have to not only be spot-on in their games, but also hum a silent prayer in hope that others will slip (no, not that infamous slip).
Things didn't start off too favourably for Liverpool before their 11-game unbeaten streak was achieved, with the Reds having some of the worst performances in a long time especially in contrast to their brand of attacking football last season. On the other hand, United picked up the pace after having an arguably worse start to the season than Liverpool did, albeit with a whole lot of luck. Southampton proved that they could survive and thrive after losing a handful of star players, with the players that Ronald Koeman brought in taking the league by storm.
Alexis Sanchez almost single-handedly propelled the Gunners to a flying start while Teddy Sheringham's offensive coaching bolstered the once long-ball-heavy West Ham into a team with pretty impressive football. Staying with London-based clubs, don't get me started on Tottenham – how many more Harry Kane braces and Christian Eriksen last-minute winners are they going to get?!
A clear-cut win on any given Sunday (nope, not the movie) can see any of the aforementioned team's leap-frog another, be it by a point or two, or even on the tiniest of margins like goal difference. The road to Top 4 is a daunting one, to say the least, especially when return fixtures against Chelsea, Manchester United and Arsenal still remain. Additionally, games against bogey teams like West Brom, Swansea, Newcastle, Crystal Palace and Stoke are every fans' nightmare.
The line-ups, matchday after matchday, has to be almost spot-on in correlation to the opposition for Liverpool to have a good shot at Top 4, but the team has been playing superbly well as a whole. The young guns have been putting in top-notch performances over the past few weeks, while the more established ones are slowly getting back into the groove, but what's important is a good rotation policy which will be the key to keeping them fresh and fit.
As there is Champions League football on the line, stakes couldn't be any higher as the season slowly draws to a close. From here on out, Liverpool's 2014-15 Premier League campaign and their chase for Top 4 looks to be defined and determined by the games where they don't pick up all the points available rather than the games in which they do.
Whether or not his ego made him feel obliged to not only partake in all competitions available, but to also strongly and seriously compete in them, Rodgers has no choice now other than to narrow his focus down to the Premier League, with the FA Cup being nothing more than a bonus. Besides, it wouldn't be the first time where certain circumstances forced Rodgers' hand and it resulted in Liverpool succeeding anyway (referencing the formations changes, of course).
With that said, perhaps it's time for Rodgers to stop looking at the season using peripheral vision like he initially has since the start of this season. Perhaps it's time to put ego and the overachievers' mentality of his aside. Perhaps it's time to concentrate and focus on what's important for Liverpool FC and how to get it.
Perhaps it's time for some tunnel vision.