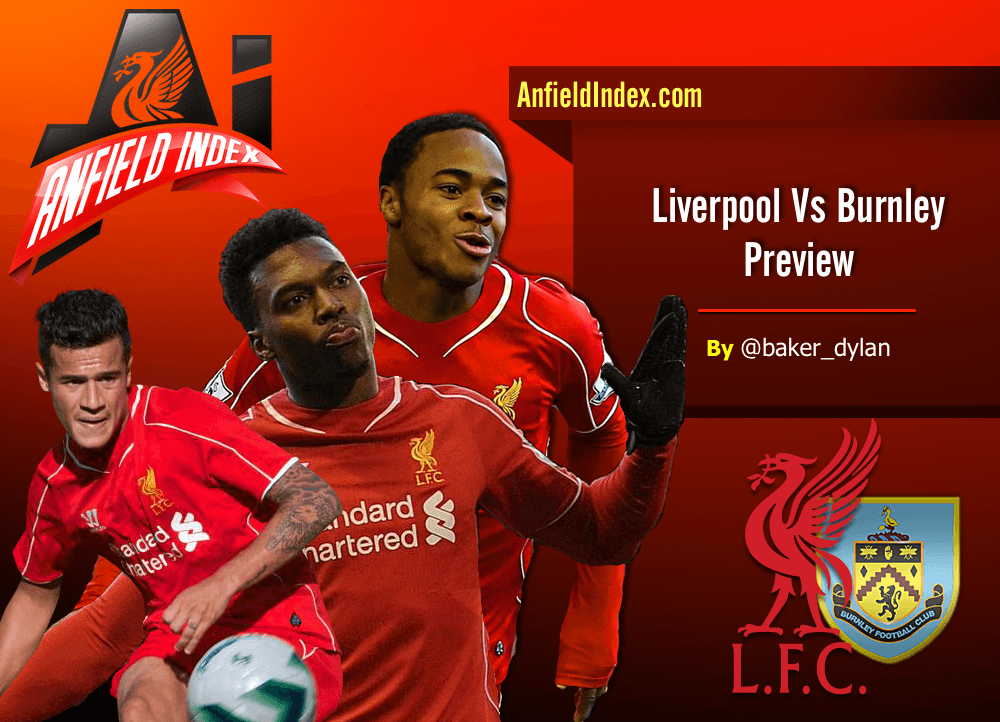 Liverpool v Burnley | Premier League Preview
The streak continues.  Almost unbelievably, Liverpool extend their Premier League unbeaten streak to 11 matches after pulling out a fantastic victory against Manchester City at Anfield.  They return to their home stadium during their weekday fixture against relegation battle Burnley, kings of the draw against larger teams.  Late in Liverpool's run of fixture congestion, Burnley come to town looking to grab at least a point to lift them out of the drop zone.  The Reds look to leap past Manchester United and Arsenal for the coveted Champion's League places.
Much at stake for both sides means high risk and high reward.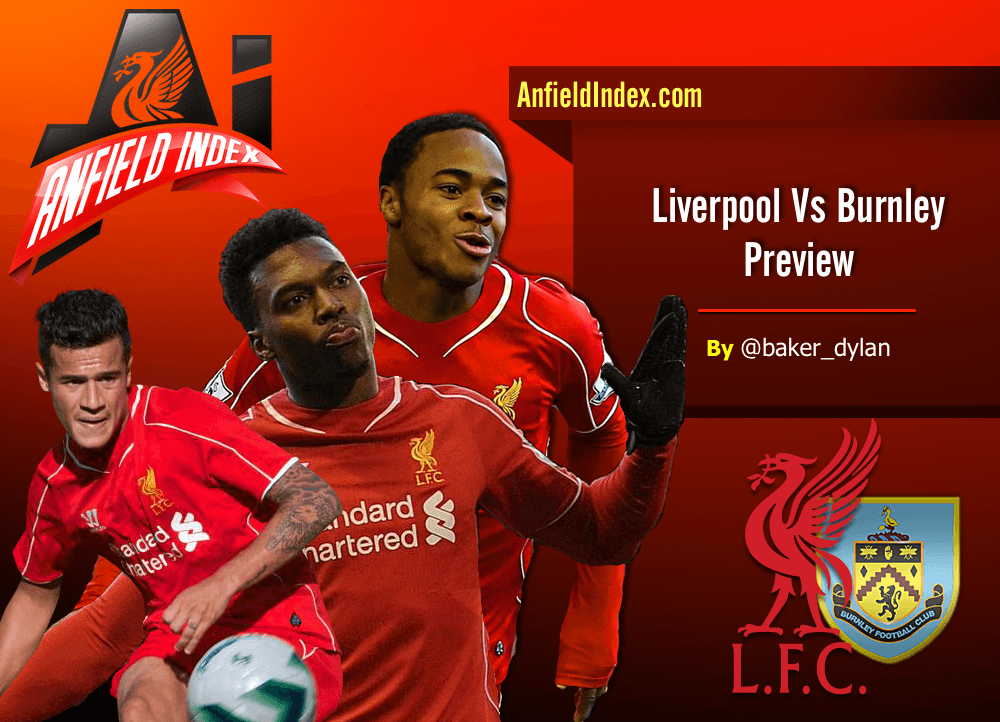 My, How Things Have Changed
Any manager that takes their side from twelfth to Champions League contention has to make some bold decisions along the way.  The gaffer is no exception.  Brendan Rodgers has played a rather daring game to breathe new life into Liverpool.  Resting Daniel Sturridge against his former side when goals were needed and playing Lazar Markovic at wing back after a dismal performance in Istanbul come to mind.  So too does the decision to keep Dejan Lovren in the XI against the likes of Edin Dzeko, David Silva, Yaya Toure, and Pablo Zabaleta.
Thing is: they've all worked.
In the final third of a thrilling Premier League season, no opponent can pitied.  There's not a single team in the Premier League that hasn't produced at least one fantastic result over the course of the season.  Burnley are no exception.  Though embroiled in a relegation fight at the moment, let's take a brief look at some of their performances over the course of the campaign.
Without question, there's explanation for some of these results.  United had a very poor start to their season, and the Tottenham draw forced a cup tie replay that ended 4-2 to Spurs.  Southampton were in the middle of an expected rut during a Christmas period against several top sides.  But stealing two from Tottenham as they began to emerge as European football contenders?  Chelsea, no matter what point in the season we're looking at?  The frequency of these results is increasing.  Take into account that we just snuck by them on Boxing Day, and the matchup becomes a little more bothersome.
To disregard any other information and call this fixture a potential season-ender would be naïve, though.  All twenty teams are tough to play, but once again Liverpool's form makes a huge difference here.  Eleven Premier League fixtures on the trot.  Two losses in twenty (all comps) since United.  Our trip to Turf Moor came during the infancy of our form's growing maturity.  Burnley have turned some fantastic scorelines for a once-forgotten promoted side.  But class should show on Wednesday when the Clarets come to Anfield for the first time since 2010.
Bit Leggy, Aren't We?
I thought so, too.  Then I watched the City match and marveled at our pace on and off the ball.  Extra time in Turkey, less than 72 hours prior, may never have happened.  The energy was flowing against the title holders, as can be expected.  There's not a side in the world that wouldn't play their very best against a City, Bayern, Barcelona, or Real Madrid.  Though we slowed as the match wore on, I admit I was still impressed with my Reds.
Against Burnley, I'm afraid we'll sit off quite a bit.  Fatigue takes a toll at some point, and 300 minutes in less than a week is as rough as it comes.  Liverpool picked out the same low-key, possession-based football at their place, and Rodgers will want his side ready against Swansea City.  The Clarets have the benefit of only being in one competition, but that luxury comes at a price: Burnley have never won when playing two matches less than five days apart.  They've not dealt with the same amount of fixtures that Liverpool have, so their legs will inevitably be fresher.  But the lack of experience playing high quality sides so close together has proven woeful for them.
Injuries &, Perhaps More Importantly, Returns
The injury list for Burnley is thin, which they must be thankful for.  Two rarely used players, Kevin Long and Matthew Taylor, will be out for the match.  Taylor, who began the season as a starter, isn't expected to come back until late next year with a nasty ACL tear.  Long should find his way back mid-month.  Further damaging Burnley's central midfield is the loss of Dean Marney in early February.  A similar injury suffered for Taylor's replacement, there's no telling when the 31-year-old will regain his fitness.
The Clarets have resorted to shifting Scott Arfield, typically a left winger, into a more central role while giving Michael Kightly the nod out wide.  Considering the result against Chelsea, however fortuitous, perhaps injury helped the club find a bit of form this late in the season.
Liverpool currently lead the league in points since the New Year and current injuries.  A gift and a curse, it seems.  Though doubtful, there are three potential returns for the midweek match, including captain Steven Gerrard and Mamadou Sakho.  The side has looked quite different without either of them in the team, and the reception to their loss has been quite opposite.  Jordan Henderson has yet to lose a match he's captained this season, leaving Gerrard in a precarious position with the team and fans.  We love him, of course, but we can't afford to drop points at the moment.  Sakho, on the other hand, has been missed.  Regardless of whether Dejan Lovren is performing, the Bosnian's current best hardly measures up to a mediocre Sakho outing.  The Reds will welcome him back with open arms, surely.
Glen Johnson is the other, but who cares about him really?
Jordan Ibe is the newest addition to this list.  In a report released Monday morning, the youngster damaged some ligaments in his knee when he received that knock during the Besiktas match last week.  Four weeks minimum have been dropped on Ibe, who will hope to make at least a return before the end of the season.
Does Gerrard come back, and does he change the side upon his return?  Will Rodgers, desperate to justify "his" summer signings, reinstate Sakho should he be available?  Does Glen Johnson offer anything, ever, at all?  Speculation at its finest, folks.  But let's go to the drawing board.
Predicted Lineups
Liverpool
I've perused Twitter since the City match, and I've seen some people lose a little faith in Mignolet.  The incident most often cited is the Belgian backing into his goal after first attempting to come out on Aguero.  I'm going to go ahead and settle that real quick: the boy did the right thing.  When in doubt, get back in goal.  When in doubt, get back in goal.  When in doubt, get back in goal.  No matter how I change the way I say that sentence, it holds true.  He comes out, craps his pants a bit, and gets back in goal.  He nearly gets his hand on it, but the positioning of his body forced the Argentinian to shoot wide.  He hits to post, play goes on.
So he's still starting for me.  Also, it's between him and Danny Ward, so Migs it is.
Skrtel continues to impress and doesn't seem to mind cleaning up for Lovren while the Croatian settles into his form.  He'll have to start.  Should Sakho remain doubtful, Lovren will remain on the pitch.  Watching City, Besiktas, and Southampton, I'm surprisingly alright with that.  I've got a change in the midfield, so Kolo Toure should fill in the right center back role once again.
I've loved Allen since he's returned to the side, but I'd like to see Can back in the midfield here.  Burnley aren't too scary on the counter and quality should give us more possession anyway.  I think Rodgers rests the Welshman here and readies him for the Swansea match at the weekend, who love to maintain possession themselves.  So Can gets another move into his more natural position with Henderson, who probably won't rest until the season ends.  Moreno again out left, with Markovic getting another run out after his improved performance on Sunday.
Part of the attack doesn't even need explanation.  Countinho will start, of course.  His recent performances coupled with his small rest during the Europa League fixture have made his play electric, and he'll continue on with it.  Sterling should also start out wide because I see Sturridge being reinstated as the lone striker against Burnley.  The true No. 9 needs to work himself back into fitness, back into form, and back into confidence.  I agree with Rodgers, City wasn't the time to do that.  But Burnley should be a good opportunity.
Besides, I never want to see four strikers on the bench ever again.
Burnley
Again, Burnley don't have any need for squad rotation, and this match shouldn't be any different.  A similar side to the Chelsea and Swansea matches should be on display Wednesday.  That means Tom Heaton in goal, who's had a rough season so far.  Because Burnley as a side have been struggling so much, Heaton's form has dictated whether the team loses by one or three goals.  When the entire side is having their day, however, Heaton always seems ready to put in a good shift.
The back line received an addition during the January transfer window in the form of Michael Keane, who was brilliant against Chelsea in their draw.  He'll start on the right side with ever-present Kieran Trippier, who has four assists to his name.  The other side will be anchored by Jason Shackell, and Benjamin Mee will control the wide areas.
Like I said, the injuries to Taylor and Marney have forced Scott Arfield into the midfield.  He's the kind of winger that has a bit of bite to his play and doesn't mind getting into the thick of a battle.  Because of that, Arfield was the clear choice to make the move inside.  His replacement has been Michael Kightly, who I'd like to see more out of in upcoming matches.  Just not this one, please.  David Jones moves to the right side of the midfield pair to make way for Arfield, and will have George Boyd on his wing.  I love Boyd and his perfectly-flowing hair, and he has proved an integral part of the squad.
Sean Dyche should start Danny Ings again.  Sam Vokes has been in and out of fitness, and Ings has some goals to his name.  Ashley Barnes should slot in just behind him rather than forming a horizontal partnership.  That sort of 4-4-1-1 has proved fruitful for them in recent matches.
The Baker Forecast
Sunny, with a chance of goals.  I admire Burnley and what they've done to reassert themselves in the league.  I actually enjoy watching them play, even when they lose or grind out a nil-nil.  Their resolution is strong, and Sean Dyche gets the best out of his north-of-Manchester side.  But they've come to Anfield at the wrong time: Liverpool are flying high and mighty, and won't be brought back down here.
I can see a 3-0 just as surely as I can a 1-0.  Should our back line and Mignolet continue to impress, I trust them to keep a clean sheet.  Though Danny Ings was rumoured to be a January transfer target, he won't make his case in Scouseland.  I'm calling the greater of two results: 3-0 to Reds.  Dare I say it: Coutinho scores another worldie.  Sturridge with a brace to finish them off.