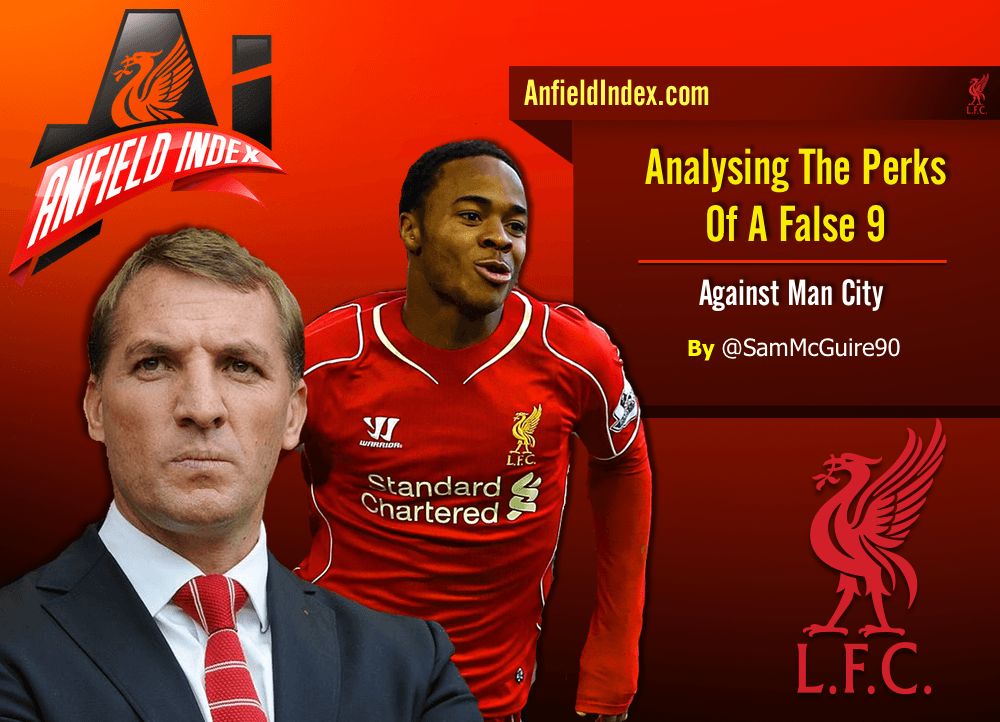 Analysing the Perks of a False 9 Against Man City
A magnificent Liverpool team performance against Manchester City saw The Reds cement themselves as a genuine challenger for the top 4. Wonder goals from the ever irrepressible Phillipe Coutinho and the energetic Jordan Henderson rightly got the plaudits, but one player that impressed me immensely yesterday was Raheem Sterling.
Leading the line for Liverpool, the talented Englishman played as a false 9 and had the Manchester City defence on strings throughout the game. £32 million summer signing Mangala and the Manchester City Captain, Kompany, got run ragged by the number 31 as he once against excelled in an unnatural position. His  performance, in tandem with both Coutinho and Lallana, has led to some fans even saying he should be the starting striker ahead of Daniel Sturridge.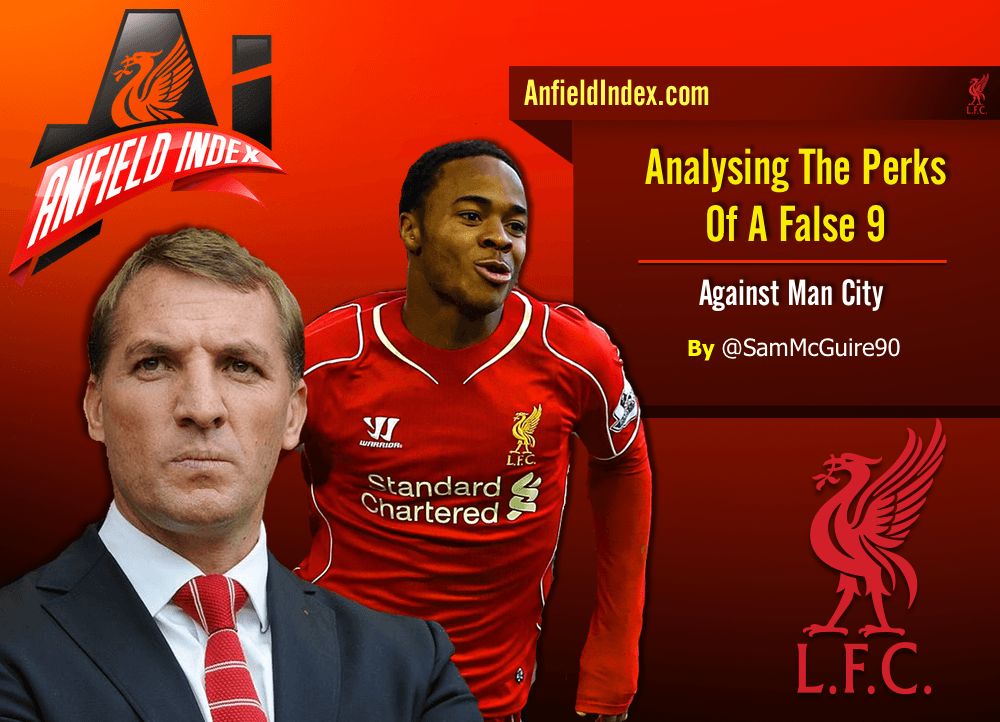 Are these shouts premature or is there something in them?
In the above picture you'll see Joe Allen on the ball, who had a superb game it has to be said, with the Liverpool attacking trio ahead of him. Sterling has dropped deep and in doing so brought Kompany into a position he doesn't want to be; away from goal. This has left Phil in an ideal position, within the 'Bermuda triangle' (The triangle made up of Kompany, Yaya and Fernandinho). This now makes the pass easy for Joe Allen as Kompany is looking to track Sterling, and Fernandinho only having eyes for him he can play it into Coutinho's feet. Yaya Toure has eyes for Coutinho and because of this has no clue as to where Lallana is.
This shot is just a little above the previous one, Allen has released Coutinho and Sterling has taken both Man City centre-backs away, with Mangala having to cover for the in-trouble Kompany. This allows Lallana the freedom to run directly through the heart of the City defence. Yaya Toure is in no mans land, he didn't follow Lallana nor did he get close enough to Phil to prevent a pass. Coutinho does play him in, unfortunately Lallana doesn't have the legs and his shot is easily saved. The encouraging thing is Sterling made the space that was exploited.
This is moments prior to the opener. Liverpool take advantage of a poor City throw in and Coutinho is allowed to drive at the City defence before releasing the ball to Sterling. At this point you'll see Yaya is labouring to get back but City do have enough men back to cover, but the defence isn't set. Had Sterling dropped his shoulder and drove into the space between Mangala and Kolarov it would've dragged the Frenchman over and afforded Coutinho space directly down the middle. This in turn would've dragged Fernandinho central and Henderson would've had the space down the left.  Instead Sterling plays the ball to Henderson who's being ignored by Fernandinho as Sterling and Coutinho are seen as the danger. The space in which Henderson finds himself in is instrumental to the outcome, he is able to set himself and get his shot away before any of the CIty players get near him. All this stems from the fact Sterling doesn't move like a striker, he hangs back and it causes City to leave space for others.
Prior to the Coutinho winner we see the above picture. Mangala is deeper than the rest so Sterling isn't able to play off him and into too much space. Instead Sterling is dropping deeper into the space left by Yaya Toure and Fernandinho.
Mangala has pushed on to front up Sterling as he's received the ball and is on the turn. Mangala is so far off the play because he'd dropped deeper to stop Sterling getting in behind, that movement meant he had more ground to make up when Sterling recieves the ball and the consequence of this is shown above. This one action leaves Lallana once again free in the middle as Kompany hasn't registered the fact he's free and Fernandinho hasn't reacted yet. This time though it's left to Coutinho to score another worldie from distance. Not being shut down quick enough, once again, because the defence is all over the place.
The problems with a false 9
Above makes it sound like the false 9 is ideal for the current set up, but on a few occasions Liverpool missed having a natural finisher. That isn't a knock on any of those who played yesterday, just you can't replicate the ruthless nature of a striker. Many will say Sturridge missed one from a difficult angle in the closing moments, but Sturridge isn't all there yet.
Liverpool's front three once again showing the City defence up. Nasri isn't the ideal man to have there trying to close down Coutinho. Zabaleta has one eye on Henderson on the overlap . Fernandinho has no idea Lallana is making a run across the face of Mangala. This is well worked by Liverpool. Kompany is looking to step up and shut the pass to Sterling, but the space between him and Zabaleta is a bullseye for Coutinho to aim at.
Pass inside from Phil and Kompany is taken out of the game. Mangala is left with Lallana and Sterling and does well to stop Sterling cutting in. You'd have to say a more natural striker would potentially take that first time and side foot it into the corner, or at least work the 'Keeper. Chances are few in the penalty area and they need to be taken.
Coutinho bringing the ball out from deep with only Sterling to aim for. Whether its a tactic or not, Mangala isn't in line with Kompany, I'd assume it's because they don't want to be playing an offside trap so high up against someone as quick as Sterling.
Outside-of-the-foot pass from the magician and Sterling has run across Mangala and dragged him from the LCB role to an unnatural RCB role. This seems like something Liverpool targeted as both Sterling and Lallana made those kinds of runs throughout the game, obviously pinpointing Mangala as a weak link.
Managala is now the right sided centre-back and if Sterling decides to take him on the outside it'd be the Frenchman's least favoured side. Lallana at this point needs to be getting into that area between Kompany and Kolarov. This would allow Coutinho to run from deep into the position Lallana is currently in.
Sterling, as clever as he is, knows to take Managala on the outside. Phil is in the position Lallana was previously in, but Lallana hangs around the a little too long for my liking as there is still a space to attack between Kompany and Kolarov. With Markovic just off screen had Lallana made that move inside Kolarov would've been brought more central and Liverpool's Serbian would've had more time on the ball had it come to him.
Sterling get's his cross away but Lallana still hasn't made the space up for what would've been a tap in or a bundle shot away. This is the kind of situation where you wish Liverpool has a natural striker on the pitch. All three players can create space but you need one of them to gamble to fully utilise it.
The tweak?
Like against Spurs in the first half of that game Liverpool could use the right inside attacker, in this case Sterling, as an auxiliary striker. So he'd be tasked with being a nuisance besides Sturridge as well as dropping off to link play as he does in this position already. So you could call it a staggered 3-4-2-1 or even a 3-5-1-1/3-5-2 formation. Either way it'd allow Coutinho to play a little deeper and there is a chance for Sturridge and Sterling to be interchangeable. The runs Sterling would make when central would leave Sturridge with lots of room to work in similar to when he was beside Suarez. Not only that but if the defence try to pick these runs up it allows the Liverpool midfield space to get shots away. With the form they're in as of late it's not something you would want to be inviting onto you.
Dropping Lallana may seem harsh, but this isn't a fix for right away. This is just another attacking tweak Rodgers could add to his already impressive attacking C.V. Putting too much pressure on Sterling to lead the line is a worry, we seen shadows from the Utd game with chances missed and overplaying it to show he isn't mature enough as a player to do this on a regular basis yet and to expect otherwise would be naive.