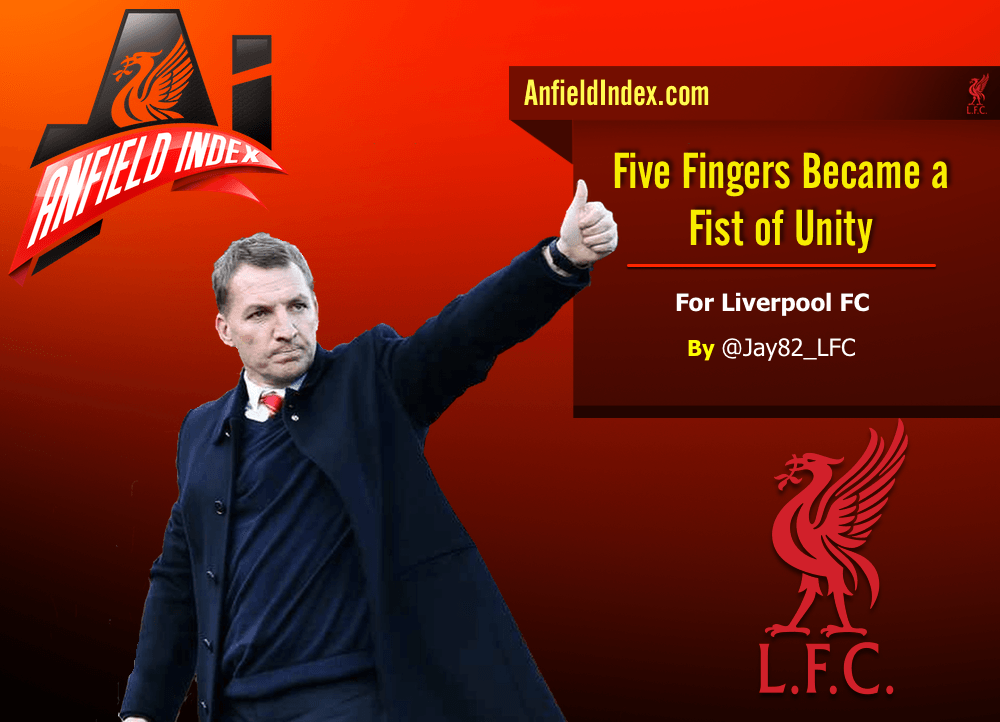 Five Fingers Became a Fist of Liverpool Unity

Tuesday 9th December, the game finishes 1-1 at Anfield and Liverpool are knocked out of the Champions League after a pitiful display. Coutinho, Sakho, Moreno, Can, Lallana and Markovic all started the game on the bench.
The knives were truly out for Brendan Rodgers. I have to admit, I was reaching out for the meat cleaver myself after witnessing poor performances game after game.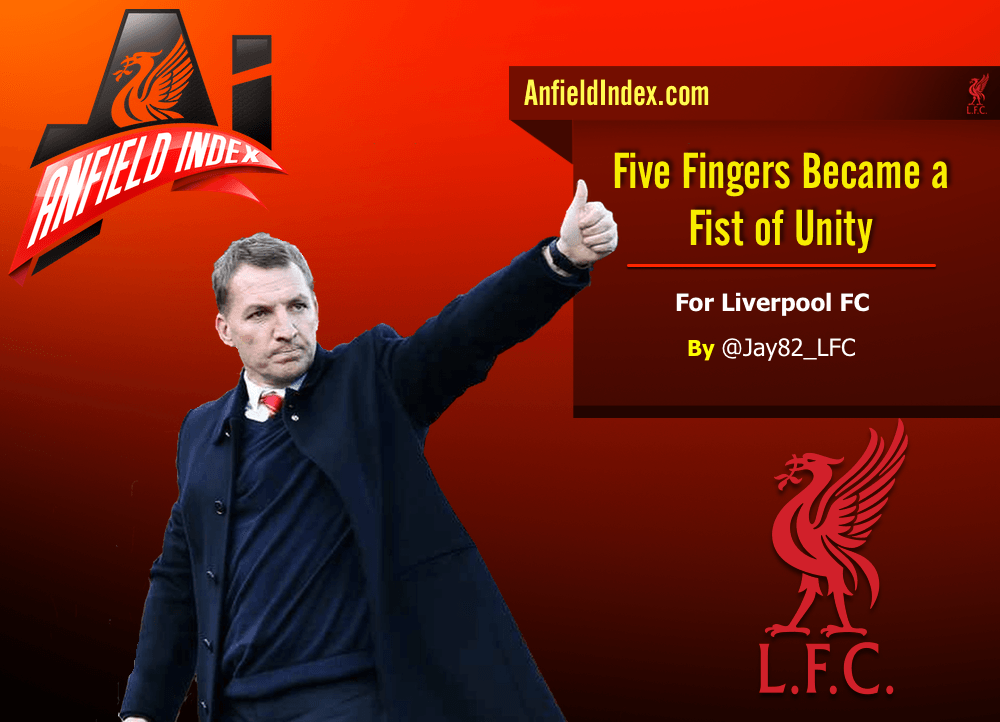 A defeat at Old Trafford followed but something changed. It wasn't just the formation changes and team selections. It was the togetherness that followed.
When a manager is under pressure at a club there are murmurs of discontent from the players, the manager loses the dressing room and his rag with the press and becomes stubborn. Credit to Rodgers for changing things tactically and in his team selections, but it is important to take into account how united the club is.
FSG, the board, the manager, players and the coaching staff came together – five fingers became a fist to show unity and belief that things would get better. Belief that Rodgers is a good attacking coach, belief we did have good defenders at the club, belief we have some of the best youngsters in world football and belief that our many of summer signings were good signings.
That fist has now punched its way through the league and has racked up 8 wins and 2 draws in the last 10 games. Incredible form considering that run includes wins against City, Spurs and Southampton.
Ian Ayre said this week:
"One of the things that somebody observed to me was that at some football clubs, when the results don't start to go your way, you can start to see the cracks appearing among players and staff.

Right throughout this season we were regularly being told that that wasn't the case at Liverpool. And I think the comments from players in the media told that story as well.

People were trying to knock them – but they were all together. If they tried to knock an individual player or they tried to knock them as a team or tried to knock the manager, they were just all there together."
Rodgers will continue to have his doubters and they may be right about him. But no-one can say the players don't support him. They believe in Rodgers, they love training under Rodgers and they enjoy playing for him. There will always be exceptions and Mignolet and Balotelli have a case against Rodgers' man management skills but Rodgers has the majority of his squad playing for him.
It should be remembered that our recent managers – Dalglish, Hodgson, Benitez and Houllier all caved in under pressure and lost dressing rooms. They became stubborn, took the bait from the press and they never recovered.
What Rodgers and the players have done is incredible – they have shaken off our poor start, stayed unified and together, changed their way and importantly turned things round.
You only need to look at the celebrations against City on the weekend to see how together the players and staff are. You only need to rewind back to Villa Park goal celebrations to see how much the players love playing for us.
Arguably, the one section not unified is our fan base. One of the key reasons for this is the split views on Rodgers as our manager. Half won't see Rodgers' blind spots whilst the other half crow about his blind spots at every opportunity. Both sets of fans have good reason's for their views but it is important that this doesn't create fractions and hurt the togetherness we have at the club.
We won't all get along or have the same opinion – nor should we – as football is all about different opinions. But I would love it if we could all forget about the past and focus on the present and future so that the fans can form their own fist of support.
Together – we are unstoppable! YNWA.