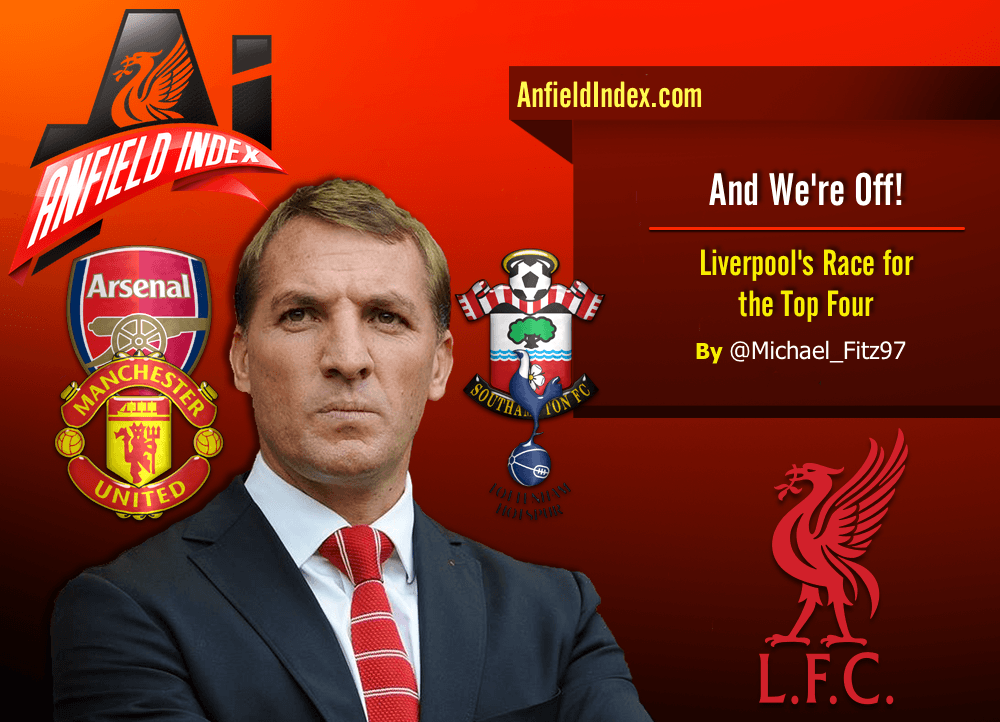 "And we're off!" - Liverpool's Race for Top Four

Amid the meritorious hyperboles circulating around numerous timelines on social media, be it Twitter or Facebook, there is a considerable amount to be joyous about at the moment. After the dark days of December; the perpetual post-weekend depression after another dismal Liverpool display and the crushing notion of missing out on fourth – Brendan's "Tricky Reds" have well and truly reinstalled at least some of the hope from last season. Six points against Southampton and Manchester City in the space of a week have not only catapulted us back into the hunt for top four, but has quite possibly made us favourites to cement our place amongst Europe's elite for the second consecutive season.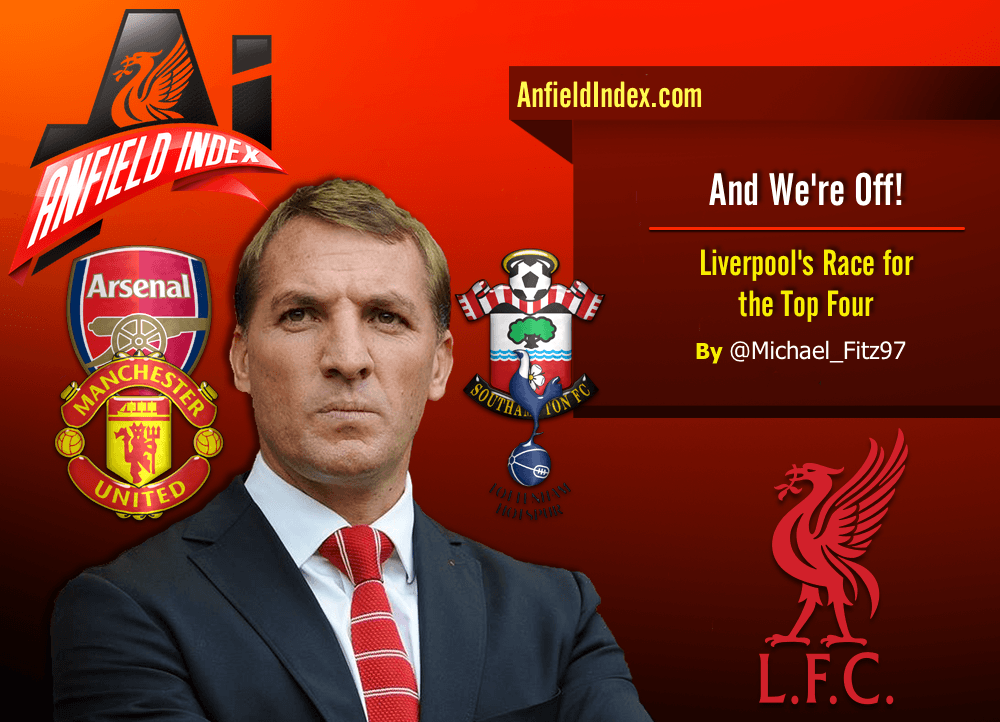 Naturally, and in spite of what Brendan Rodgers himself would consider the "greater achievement", this season simply cannot match the excitement of last year… However, unbeaten since Old Trafford in mid-December and taking 29 points from a possible 33 since Christmas is no child's play. Even title-chasers Chelsea and City can't vouch for being at that level – Stoke City are actually performing better – and Arsenal trail slimly behind by just two points.
A General Election campaign has already kicked-off ahead of May 7th, and equally the end is nigh for both the Premier League and Liverpool. Cameron may be ducking the debates, but there is certainly no way of ducking the convoluted battle for fourth amongst the hopefuls. Only ten fixtures remain, and although the title may have already become a foregone conclusion, the race for the top four is anything but. Five teams are congesting an extremely tight area, with some having the more favourable run-in than others.
Liverpool
Having already played more fixtures than the whole of last season, Liverpool's upcoming fixture list in the top four run-in was highly documented. The Europa League was well considered, as well as the sentimental value of the FA Cup this season.
(DID YOU KNOW: Steven Gerrard's birthday is on the 30th May – the date of the 2015 FA Cup final. Moment. #OptaMichael)
Combined with the amount of fixtures over recent weeks – Chelsea twice, Bolton, Besiktas twice and Burnley thrown in the middle of most  – calls for rotation were plentiful. Largely, those cries were ignored and there were understandable fears that consequences would follow. That's thankfully not been the case, and the burdening sequence of fixtures has come to a close. A long-winded, not so romantic affair in Istanbul last Thursday; where the game went on for almost as long as Lovren's pen travelled; saw Liverpool crash out of Europe again. I (as the undoubted pillar of perspective) made the point shortly after the game: Compare the short and long terms. The unprecedented result against City has arguably, at least for the more sensibly minded, healed the pain of last Thursday. The Europa League, given our position in the league table now at least, would have benefited the surrounding contenders for fourth considerably more than it would have us. It could easily have proved detrimental to a now promising league campaign and in it's absence, we can finally revert to a fixture list mirroring last season's – one that proved so fruitful, and one that saw us win 10 consecutive games.
Liverpool only face teams inside the top seven three times. One being a naturally mammoth tie against Manchester United; this time an even greater magnitude added; followed by a trip to the Emirates after the international break, and completed by a chance to avenge last season's crushing defeat to Chelsea by potentially inflicting an equal amount of  intolerable misery, excruciating suffering and a villainous pain by damaging their title hopes at Stamford Bridge.
Three out of Liverpool's four remaining home fixtures come against sides in the lower half of the league table. Newcastle, QPR and Crystal Palace – Steven Gerrard's last Anfield appearance. This is extremely favourable when compared to United, who still face Spurs, Manchester City and Arsenal all at Old Trafford.
There are still six away fixtures to contend with, and bar the obviously difficult one at Stamford Bridge, all could prove complicated. Swansea can be a bit of a nuisance; last season's trip to the KC Stadium last season was nothing short of disastrous; Tony Pulis' rejuvenated West Brom will certainly be a test and the Britannia is never one to look forward to.
Arsenal 
Arsenal perhaps boast the more preferable remaining ten games, coinciding with the damning fact they too are, as far as the league is concerned, in very good form. They sit only behind Liverpool in their points total since Christmas, picking up seven wins in the process. Still in the FA Cup and still battling in the Champions League, they potentially have the most amount of games to play.
As highlighted, the only three games to note are those against Liverpool at home, Chelsea at home and Manchester United away in the penultimate fixture of the season. En masse, Arsenal would probably be the side most would expect to finish in the top four – as has become the status quo. Wenger simply doesn't not finish there. Their fixture list is certainly the most preferable, playing at home for six of them and the three of the other four away being relatively straight-forward.
Manchester United 
However tempting to highlight all ten games in pink, I opted to keep it to just teams in the top seven for Manchester United. I also added Everton to that list as Goodison seldom proves a happy hunting ground for United. Regardless, their run-in is certainly the most interesting of the five on offer. With five of the top seven still to play, including Liverpool and Chelsea away from Old Trafford, it's a struggle to see where United are going to pick up the points required.
They're in a very difficult period at the worst possible time. Their next league fixture is against Spurs – another direct rival for fourth – before heading on to Anfield. Villa at Old Trafford is bound to give them some momentary respite, and if they're still there and thereabouts at the start of April, they have a Manchester derby, Chelsea away and then Everton away all to complete.
It wouldn't be unfair to say that United have been hit-and-miss all season. Largely, it's been the latter with a lot of fortunate "hits", but it's a testament to Van Gaal's aura that United have managed to continue clawing positive results. After the game at Old Trafford in December, United sat a massive ten points ahead of Liverpool. Ten. Now, only two points separate the sides. They've rode their luck for most of the season, and the brand of "Long-Ball United" has become hilariously accepted, but it truly is make-or-break for them now.
"If Judgement day was a fixture list, then it would be the next two months" – Somebody, somewhere, possibly.
Southampton
Almost this season's love-story, really. Koeman's Saints have marched from the predicted, terribly exaggerated depths of relegation to being very much involved in the conversation for Champions League qualification. They had even opened up a mighty nine point lead over Liverpool come the end of November. Unfortunately, however, the gears have seemingly come off for Southampton over 2015 boasting only two wins from their last six – including a crushing loss to Liverpool again at St.Mary's. They've now slumped behind the Reds by two points as a result, but their fixture list does read slightly better.
They currently sit in 5th spot, and are yet to play three of the top seven. Crucially, however, these three fixtures are widely spread. They travel to Chelsea next, and have four in-between games before they face Spurs at home. Three fixtures later, on the final day of the season (where third and fourth will presumably have already been decided) they face Manchester City away. That could well work to their advantage in a sense non-wins in those games may not play too big a factor. The rest of their fixtures are arguably all winnable, too. Southampton are certainly still a threat.
Although, defeat to Chelsea in their next game could really sever their hopes, however. They're already four points off United in fourth, and a United win against Spurs could extend that to seven points whereby it's extremely doubtful they would claw that back. As mentioned, Liverpool currently lead by two points, and providing Swansea are beaten could see that gap extend to five. Again, it would be extremely damaging, and would probably rule them out of contention all together.
Spurs
Spurs are another strong favourite for fourth once again. They do have 11 games left to play as a result of their Capital One Cup action last weekend, and so are currently further behind than they may actually end up being. Like Southampton, their remaining fixtures are somewhat desirable, with only three games against the top seven left to play. Similarly, the game against United and the back-to-back games against Southampton and City are widely spread.
They have four remaining home games and seven away games including potentially difficult trips to Newcastle, Stoke and Everton. It's concerning how few of those fixtures you can envisage Spurs dropping points from, though. Pochettino, to his credit, has drilled a competitively strong mentality into Spurs this season, and have collected an extraordinary 22 points from losing positions this season to show for it. Those last-minute beauties from Eriksen; the "No Pain No Kane" adopted maxim in testament to cult-hero Harry Kane and generally a much more settled starting eleven have all paid dividends.
They're sat in seventh on 47 points – seven behind Arsenal in third and six off Manchester United. Although they do have a game in hand, Spurs will have to target their fixture at Old Trafford as a must-win. They simply can't lose, but victory there and three points from their game in-hand would propel them into being potential favourites. At the moment, fourth is largely viewed as a two-horse race between Liverpool and Manchester United but only a fool would discount Spurs. They're dangerous.
The table above displays the form of the league's top half since Christmas. Liverpool top the list with a remarkable 29 points from 33, yet to concede an away goal, Arsenal are creeping below and Stoke City have accumulated 23 points in 11 games. Post-Christmas, particularly when 11 games have passed, acts as an accurate barometer of a side's form heading into the last couple of months.
Here are a few points-per-game (PPG) statistics translated from the table above: 
Liverpool – 2.64 
Arsenal – 2.45 
Spurs – 2.00
Manchester United – 1.91
Southampton – 1.82
2.64 PPG for Liverpool only stresses the enormous turnaround in fortune since Christmas, and has rightfully seen them climb to the brink of top four as a result. Arsenal too are flying high, and Spurs too are in the 2.00 bracket with a game in hand. Southampton have seen the lowest drop, considering just as Crystal Palace beat Liverpool 3-1 in late November (where Liverpool were achieving 1.17 PPG) they were second behind Chelsea on 2.17 PPG. Similarly, United were on 2.30 PPG from the start of November to the end of the year, but have now slumped to 1.91.
At the end of December, in Liverpool's position, it was estimated that around 2.00 to 2.20 points per game were needed to realistically finish in the top four – theoretically, it was highly unlikely. However, with only four points dropped since Christmas and a team very much in-form, it's a struggle to see where this form will come to an end. 2.64 PPG at the end of the season would see Liverpool finish on 77 points. Arsenal 79 points; United on 72; Spurs on 69 and Southampton on 67. Realistically, Liverpool aren't going to maintain 2.64 PPG but intriguingly, it will be interesting to see just how much United's PPG fluctuates with the fixtures identified above ahead. Arsenal are very likely to finish in the top four, and Spurs will demand a slight improvement if they are to challenge Liverpool and United. Like Spurs, Southampton will have to capitalise on the strength of their fixtures to play in order to increase from 1.82.
Thus, although Liverpool's PPG will expectedly decrease, the fall itself cannot be too drastic. A fall to 2.30, for example, would see Liverpool finish on 74 and a drop to 2.00 would see a 70 point total; one might argue it's the former which should be strived for. Needless to say: Liverpool's post-Christmas transformation has leapfrogged them into an extremely promising position.
Last season, Arsenal secured fourth with a huge 79 point tally with Everton falling short in fifth on 72. It's unlikely the total will amount so highly this season, and a 71-74 point finish would likely suffice for the third or fourth spot.
The FA Cup
Obviously, the FA Cup is a noteworthy yet trivial distraction to the league and one which applies to three of the five teams above. Liverpool face Blackburn on Sunday – a draw you would expect Liverpool to emerge victorious from – whilst United incidentally host Arsenal. Providing there are no subsequent replays in either game, the next FA Cup game (the semi-final, with the final being a week after the season ends) is scheduled for the 18th/19th April weekend. That would see Liverpool's league game against Hull City rearranged to mid-week.
Prediction
It's difficult to conclude who is going to finish in third or fourth. Arsenal are the only real safe bet, whereas there are three other teams who all could easily grab that last spot. The variable factors highlighted will come to fruition over the course of the next month or two. Can Liverpool keep going? Will United falter amid the pressure of their successive 'six-pointers'? Should Spurs capitalise on an advantageous run-in?
Well, we don't know… All we do know, however, is the stage is well and truly set for what will prove to be a riveting conclusion.