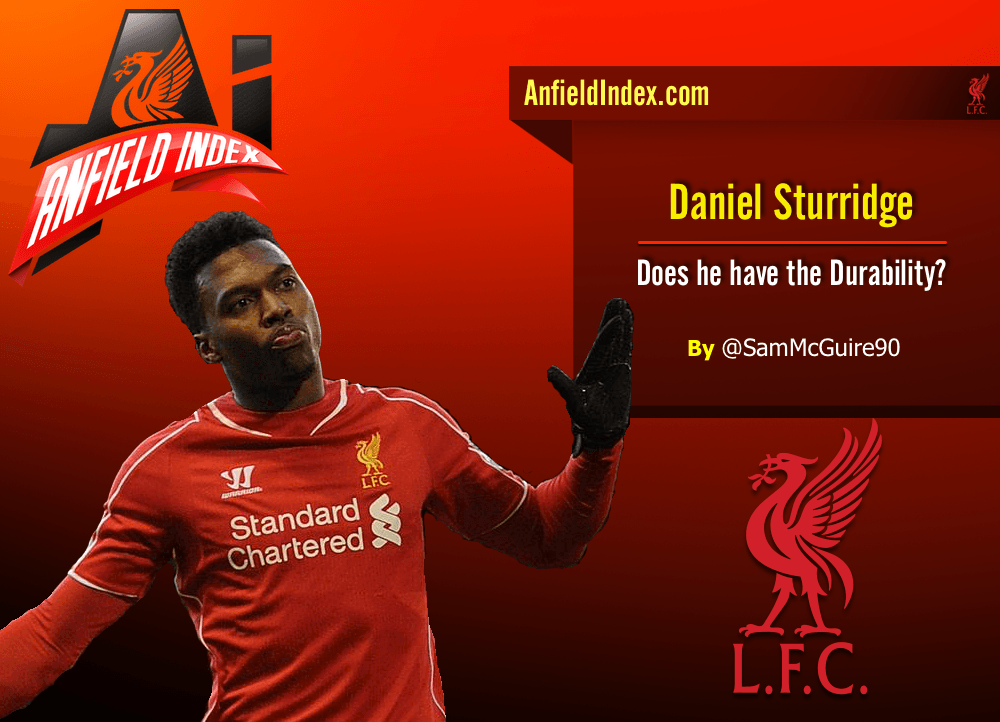 Does Daniel Sturridge have the Durability?

The Spurs game at White Hart Lane in August teased us with a Mario Balotelli/ Daniel Sturridge partnership and left us longing for more. It could have been even more embarrassing had Balotelli been match sharp and Hugo Lloris wasn't in inspired form when facing the Italian.
Strike partnerships in the modern era aren't as common as years gone by but the Suarez/Sturridge combo ignited that flame once again last season. Many Balotelli fans, myself included, thought there was potential there for a new strike partnership with Sturridge being the main man. It was a welcomed victory having struggled past Southampton and then being humbled by Man City playing one upfront. Brendan Rodgers spoilt us last season and August ended with Liverpool looking as though they had the tools to replicate the diamond once again.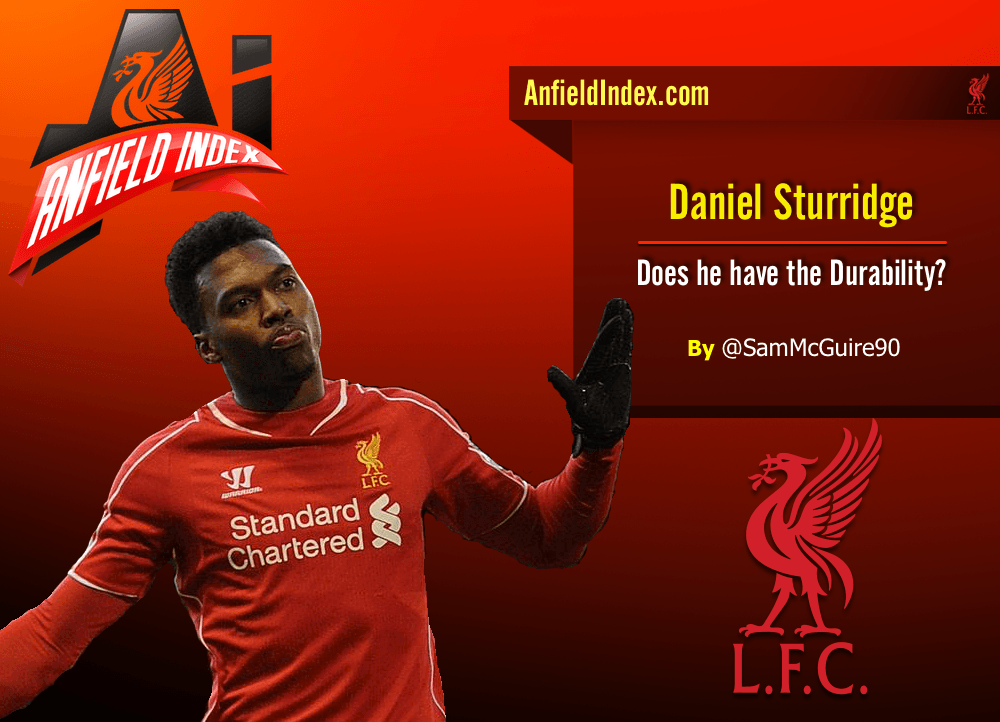 Then the inevitable happened. Daniel Sturridge was struck down with injury once again leading to a shuffle in the system. This was a massive blow to Liverpool's season. Rodgers switched to the formation he used at his past clubs, 4-2-3-1, and the team suddenly looked lost. Mario Balotelli was an isolated figure up front, Gerrard and Henderson struggled in a pivot in the centre of midfield and the defence looked poorer than the porous backline we had last season. Rodgers has been blamed by many for the poor first half of the season, my frustration towards the manager stemmed from the fact he persisted with a system that clearly wasn't working. However, if you put yourself in the position of the boss, how difficult must it have been to find a system that worked as effectively as last season's yet be without two of the players pivotal to that system?
An average league season beckoned, coupled with Champions League failure and many fans on social media seemed to be writing this season off in December.
"Sack Rodgers and give a new manager half the season with the squad"
– Many muppets on twitter believing us to be Spurs, 2014.
Credit to the manager, he changed it around starting in the game vs United. Liverpool once again went to Old Trafford and dominated yet came out with a 3-0 loss. The defence let the team down and Raheem Sterling was foiled by an in-form David De Gea, but the fluidity was what the team has lacked this season. You'd be a fool to suggest Liverpool wouldn't have won that game had a fully fit Sturridge been around. It's similar to looking back at the Champions League games, you can't look at 4 of those games without thinking last season's Sturridge wouldn't have made a difference. I'd go as far as saying many, including myself, may harbour resentment towards Sturridge, the handling of him and the club for making us so reliant on him.
It's the frustration of having a £40 million striker, when fit, yet only having him for 2/3 of a season. I saw social media in the summer, many fans seemed to accept Suarez leaving because 'we had the second best striker in the league'. This was never the case, Sergio Aguero was by far the heir to Luis' throne but that's a different debate. You look at the prolific Argentine though and he seems to find his form straight off the bat when returning from Injury.
Can Liverpool build a strike force around him? or, like last season, is he better at being second in command?
Daniel Sturridge since joining Liverpool has missed 45 games, this means he's missed 192 days through injury during his short spell at Liverpool.  Last season was by far his best ever season but how much of Sturridge's success was down to a certain Uruguayan? Can the English forward really be the lead striker of a team going for the top 4 on a regular basis? Brendan Rodgers works a system that suits his players, only for Sturridge to break down with another injury and Liverpool then have to re-jig? Would Sturridge feel aggrieved if Liverpool went out and bought a £30 million striker in the summer which pushed him into the second striker position?
We as fans yearned for his return from injury. Balotelli isn't the best as a lone striker, Sterling isn't ruthless enough to lead the line on a regular basis, it also detracts away from what he brings to a team so in turn the team loses a positive attribute.
His return against West Ham lit the fire. He lashed the ball home on his weaker side and once again the team had the fans licking their lips in anticipation of what was to come, but personally I've seen him more of a hindrance since his return. We're using him in games to get his fitness back, which is understandable, but can we as a club afford to do this in all these must win games?
The frustration once again rises when we see him scoring a goal like he did vs Palace. A stunning volley after the ball dropped over his shoulder. That's the quality Sturridge brings. Then in certain games you see he has a touch of the Lallana's (takes extra touches when not needed). So this fluid 3-4-2-1 system isn't as fluid when your striker is holding the ball up and not bringing others into play.
If you look at the game vs City when Sturridge wasn't started. Sterling provided the side what was needed in that game. A selfless performance in which he ran himself into the ground. His lack of experience leads to some poor decision-making but that's a given. We've seen in games since his return how Sturridge drops deep and drifts wide but it always seems to be when looking for the ball, whereas Sterling was making runs to drag players out of position. Sturridge's selfishness on the ball is highlighted by Sterling's unselfishness off it.
When the line up vs Besiktas was announced it certainly put Rodgers right back into my good books. Balotelli and Sturridge upfront with Sterling buzzing around in behind. This had the makings to be special but Sturridge disappointed massively. Balotelli was dropping deep to get the ball and then trying to get in behind whilst stretching the defence. All of this whilst Sturridge kept trying to cut inside on his favoured left foot and holding the ball for too long. Many fans overlook this because it's Sturridge, but for all the flack Balotelli gets for being 'lazy', Markovic gets for being 'wasteful' and Lallana gets for taking too many touches it seems Sturridge is rivalling them all for his performances as of late.
Daniel Sturridge is undoubtedly talented, he showed how impressive he could be last season, but there are still unanswered questions about his ability. Can Liverpool really rely on him to play throughout the whole season, in the league and Europe? Does Sturridge have the durability? He got injured when Liverpool looked to play a diamond and returned when Liverpool were playing a striker less system. Time doesn't stand still for injuries and it's unfair for Sturridge to have to get back to full fitness whilst playing games and simultaneously adapt to a new system. So the question still stands; Should Liverpool be looking at a world class striker in the summer?