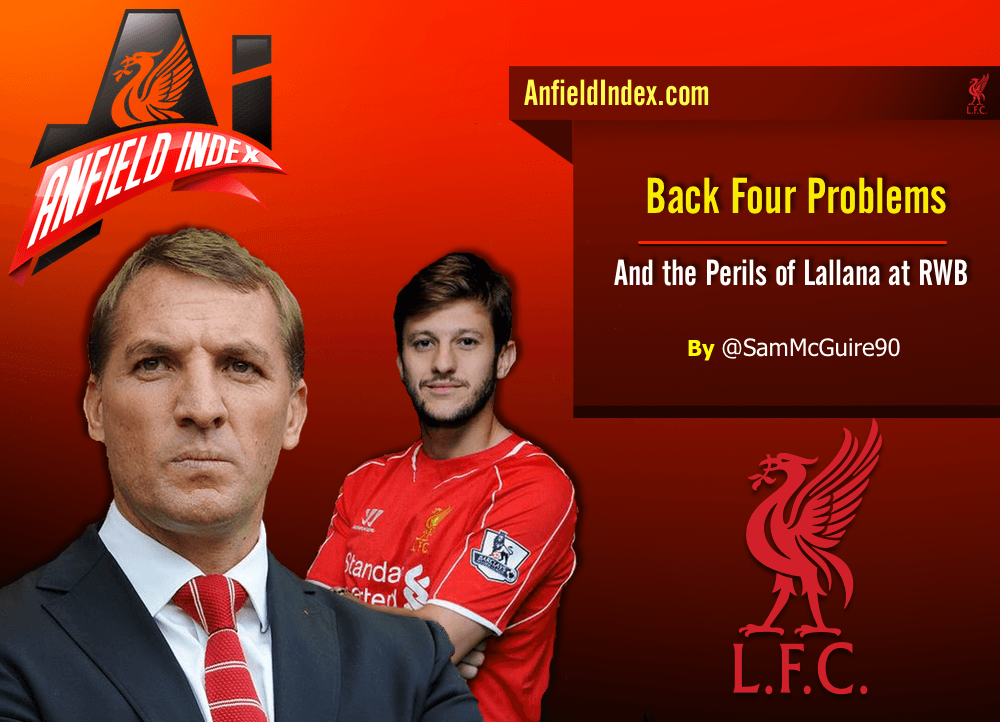 Back Four Problems, and the Perils of Lallana at RWB
Firstly let me say this isn't a Lallana or Rodgers-agenda article. This isn't a character assassination on the Liverpool number 20. This is just a fan who can't fathom as to why Brendan Rodgers keeps trying to use Adam Lallana as a wing-back. Is the Reds' manager afraid of reverting to a back 4?
Many of you will ask how Rodgers giving Lallana 30 minutes at RWB relates to a back 4, but I have my reasons.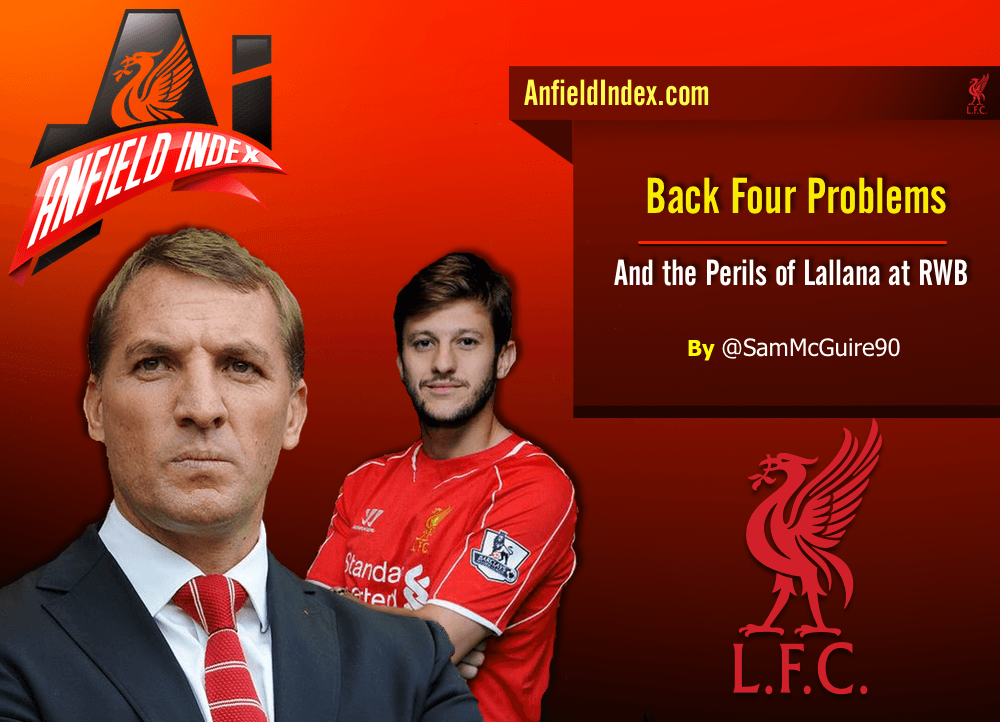 Liverpool have been spoilt for wing-backs this season with Brendan Rodgers using Jordon Ibe, Raheem Sterling, Alberto Moreno, Emre Can and Lazar Markovic to varying degrees of success. Of those mentioned they all seem to have one attribute in common; they're all direct. The bluntness of these players is what makes them being played as a wing-back a thing of beauty. It's as though they get the ball, look towards the goal and think 'Stop me if you can' before charging towards the oppositions goal like roadrunner. Alberto Moreno showed how direct he could be in the win earlier in the season against Spurs. Emre Can picks the ball up deep in his RCB position and tears through the opposition on a regular basis, often ending up in the final third.
Defences these days aren't equipped for these players. Many are used to those that showboat, longer they take on the ball the easier it is to defend against, usually. Obviously this varies when you're up against skilful yet pacey players but showboating isn't necessary. Look at a certain mercurial Uruguayan who graced the Anfield turf last season, many a time his weapon of choice was a simple nutmeg. The beauty of it all was how simple it was, it left fans looking to the Gods in awe and had opponents on their knees praying for mercy (no pictures though during games, ey!)
The directness of the wing-backs deployed by Liverpool this season is what has made them as successful as they've been. Jordon Ibe destroyed Besiktas at Anfield by simply getting the ball near the half way line and running towards to their goal. Pace coupled with power and the Turks didn't seem to know how to handle him.
Lazar Markovic against Sunderland had their left side on ice throughout the game and deservedly got a goal. His close control and burst of acceleration left them trailing in his wake. Both he and Ibe have been helped by the stellar performances of Alberto Moreno on the left side. The wing-back role is key to the current Liverpool system and helps towards potency.
Brendan Rodgers, in his innovative ways, has started to use Adam Lallana as a wing-back. In his short spell there against CIty he managed to put in a rash challenge and get booked but that didn't put many people off and we got to see another glimpse of the floppy haired, whipsy bearded Englishman at RWB against Blackburn. This move, putting Lallana to RWB effectively nullified the right hand side of the Reds in this game.
Blackburn, who had been rigid and compact all game knew anything from the right was going to be a lofted cross into the area. Olsson did a good job at left-back for Blackburn and throughout the second half he made sure to keep Lallana on the outside, not enabling him to cut inside and knowing Lallana doesn't have that burst of pace to leave him it was an easy task for the left-back.
Many times towards the end of the match you witness Lallana get wide and both Balotelli and Sturridge anticipated an early cross only for Lallana to fake it and pull it back onto his left side to then get back onto his right foot and cross it. The impetus of the attack had been lost with the first fake.
This is the sort of issue Liverpool could face if Lallana is played as a right wing-back for the foreseeable future, even if it's just for 20 minute spells. If Liverpool are needing a goal then Lallana at RWB shouldn't happen. Lallana as a RWB is one dimensional. Rodgers, as innovative as he is, is trying to stick a square peg into a round hole with this tweak. Not only this, but if the game plan was to get the ball into the box why wasn't Rickie Lambert brought on? Likewise, why was Moreno a substitute, his delivery from outside has certainly caused problems for the opposition in some instances this season?
Injuries have played a massive part in this shuffle of players lately, there is no denying that, but you as a fan have to ask why certain formations are persisted with when the correct personnel aren't available?  Dare I say it, but in the second half against Blackburn reverting to a back 4 wouldn't have been a bad litmus test to Rodgers' ability to coach a defence? Yes injuries had played a part, but was it really needed to play Lallana and Sterling as wing-backs? Surely they can contribute more centrally? Couldn't Liverpool have played Johnson at right-back, Moreno at left-back with Kolo and Lovren central? That would've allowed a little more fluidity in the midfield and meant the players on the pitch had the best opportunity to influence the game?
This is where the back 4 conundrum comes into play.
Liverpool in recent weeks have been finding it difficult to get a foothold of the midfield battles, many will say this is a ploy and 541 formation we've seen in some games is used purposely to invite teams onto us knowing we're difficult to break down. You're just inviting trouble though, as seen as Besiktas. Liverpool in the second half of that game were under pressure throughout and faced wave after wave of Besiktas attacks. There were options to bring in an extra body in midfield which didn't happen until the 82nd minute. There were players available to go to a back 4 if you really wanted to. Instead we struggled by with Manquillo playing in an unnatural role.
If you're prepared to let Lallana play RWB for 20/30 minutes, why not play a back 4 for that time and get certain players used to that system once again?