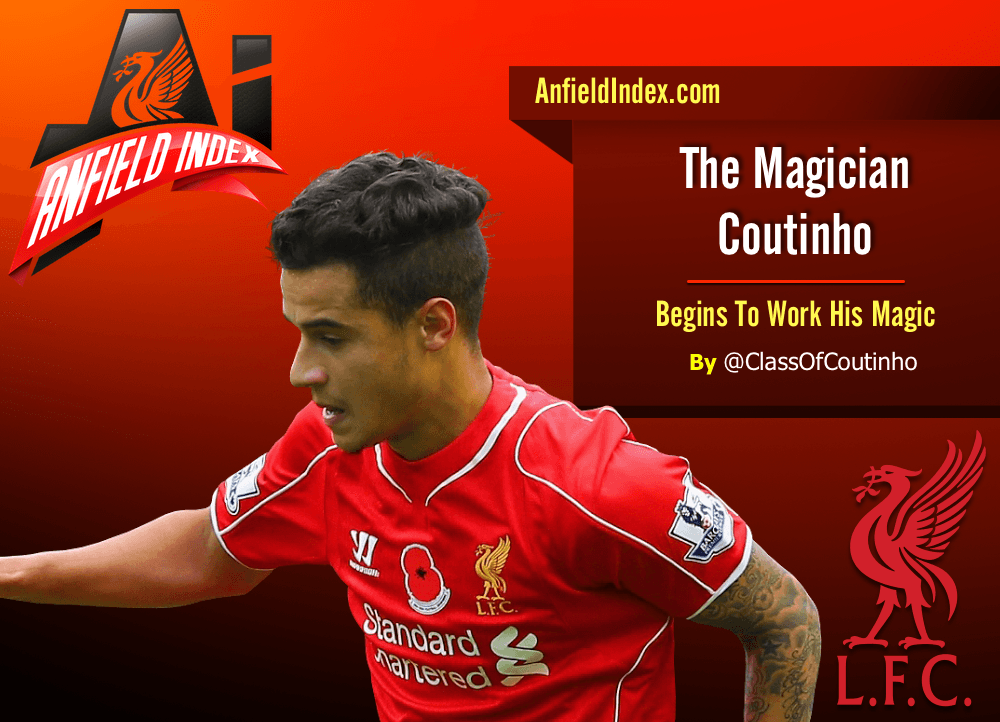 The Magician Coutinho Begins To Work His Magic
I think it's fair to say that throughout his time at LFC, Philippe Coutinho hasn't been recognised as a world class player. Don't get me wrong, he has been a crucial first team player for Liverpool, but he hasn't really caught the eye of many fans of the club. This may have been because it was hard for Coutinho to express his talent with a genius like Luis Suarez in the team, but nevertheless, many Liverpool fans always knew that Coutinho had the ability, he just couldn't manage to show it. Towards the end of the 2013/14 season I was beginning to feel as if Coutinho's time at the club was coming to an end.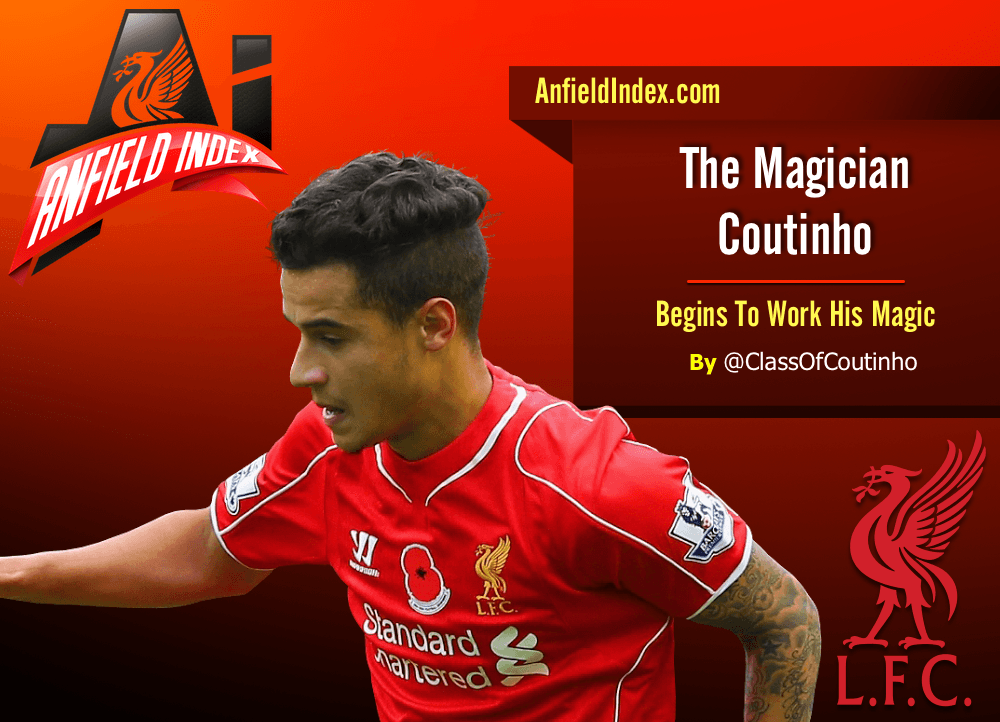 Within the past few weeks, Coutinho has proved me wrong on so many different levels. Not only has he scored some jaw-dropping goals, but he has also shown signs of improvement in his movement, shooting and dribbling. Coutinho has been a crucial part of Brendan Rodgers' team this season, often playing just behind the lone striker, which was mainly Raheem Sterling before the return from injury of Daniel Sturridge.

Coutinho hasn't just developed into a crucial first team player for Liverpool, as I stated earlier he has scored some truly magnificent goals. The first goal was against Bolton Wanderers. Liverpool were drawing 1-1 in the 91st minute and were desperate for a late winner to send them into the next round of the FA Cup, which was going to take something special considering Bolton were 'parking the bus' as it were. Coutinho shifted the ball onto his preferred right foot, and then curled it brilliantly to the keeper's left, hitting the underside of the crossbar and eventually finding the back of the net.
The next wonder goal came at the St. Mary's stadium in a game against Southampton, which Liverpool needed to win to be in contention for a top four finish. The game seemed as if it was going to end in Southampton's favour, but that thought was put to shame as Coutinho struck again. Again, Coutinho shifted the ball onto his right foot, and this time hit the ball to the keeper's right with extreme precision, again hitting the underside of the bar before hitting the back of the net. As Coutinho scored this goal, social media exploded with people stating that Coutinho's goal should be a definite contender for goal of the season. I have to say it was a very unique goal, in terms of precision and power.
And finally, Coutinho's latest wonder goal came in a very tough fixture for Liverpool, against Manchester City at Anfield. The game was 1-1, and it seemed like the game was going to finish a draw, as Manchester City were preparing to bring on a substitute to defend the draw, but that decision was soon changed by manager Manuel Pellegrini. Coutinho once again shifted the ball onto his right foot, hit the ball with extreme amounts of precision and power, and then found the top right corner which left the goalkeeper, and most of the stadium, speechless.
Philippe Coutinho has developed into a simply sensational player for Liverpool, and I presume that in the future he will be regarded as a world class attacking midfielder.