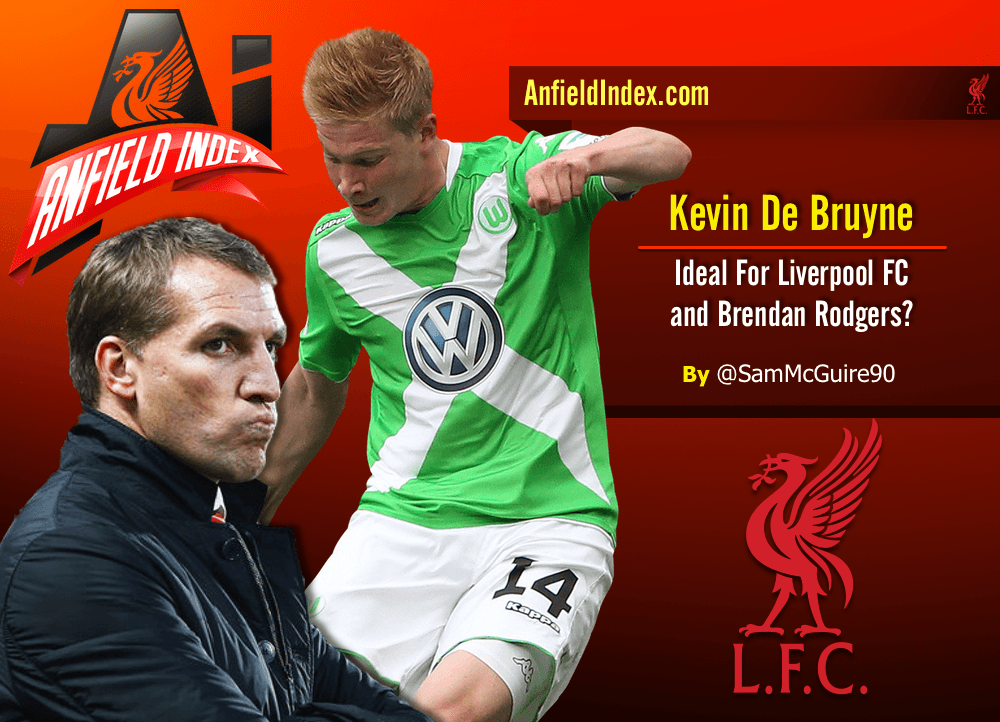 Kevin De Bruyne - Ideal For Liverpool FC and Brendan Rodgers?

"Don't try to compare us to another bad little fad I'm the Mac and I'm bad. Give you something that you never had. I'll make ya jump (jump) wiggle and shake your rump 'Cos I'll be kicking the flavour that makes you wanna jump"
So said the 'hip hop' duo Kriss Kross way back in 1992, only a few months after a certain Kevin De Bruyne was born, and in the same year our very own Phillipe Coutinho was born. I don't believe in prophets, but could Kriss Kross have written that song in preparation for Kevin De Bruyne and our Brazilian magician joining forces in the red of Liverpool? It's hard to overlook the Belgian when you consider the fact Liverpool need to reinforce their midfield in the summer.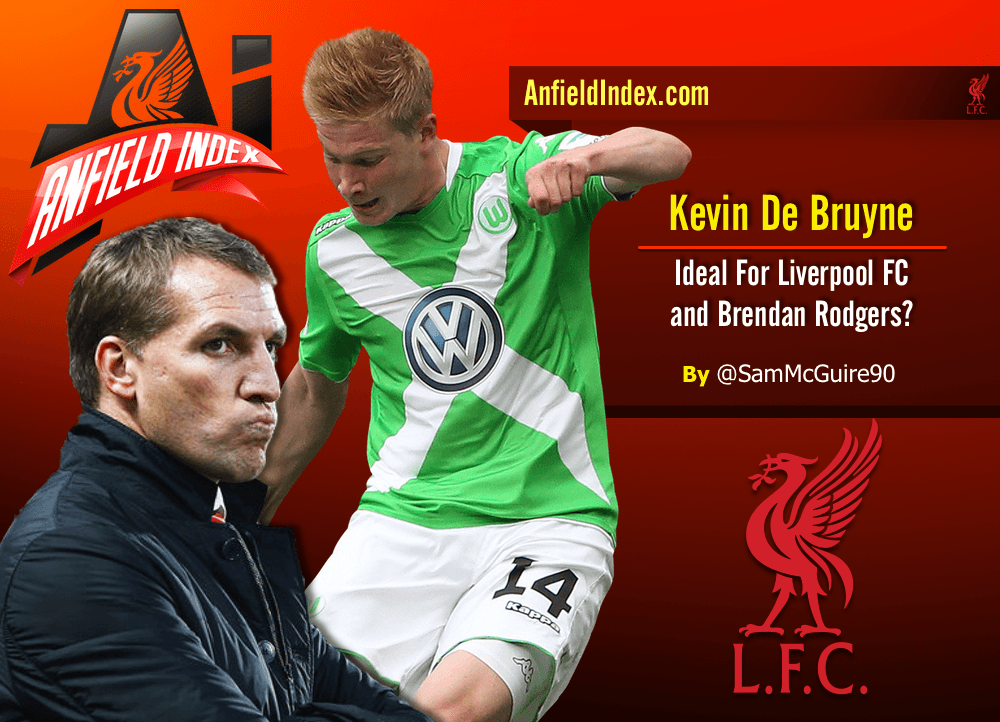 If you aren't a fan of the Bundesliga you may hear the name Kevin De Bruyne and think 'Oh, not another Chelsea reject' a la Borini and Glen Johnson. Signing the talented 23 year old could be a masterstroke, similar to the signing of Daniel Sturridge. The industrious Belgian currently has 15 goals  and 19 assists in 33 games. Impressive stats from a midfielder who has been shifted around the Wolfsburg side this season. Since the Winter break in Germany he's managed to score 7 goals and grab 7 assists, including 3 against Werder Bremen in 5-3 win. People will often say the Bundesliga is a poor standard, but he was instrumental in a 4-1 win against arguably the best side in Europe, Bayern, grabbing two goals and assist.
He is undoubtedly talented and will have many admirers all over Europe. He won't come cheap, Wolfsburg paid £18 million for him in January 2014. All things considered in todays market that's a bargain and Chelsea must be kicking themselves. Wolfsburg aren't in a position where they need to sell, however they aren't considered as one of Europe's elite so offer enough in wages and he could be convinced to leave.
There are plenty of talented midfielders around in the modern game, so why Kevin De Bruyne?
Well as mentioned earlier, he isn't a fad. This years performance isn't a one off, whilst on loan at Werder Bremen for a season he hit double figures goals wise. A feat I've mentioned before isn't as easy as many make out. Goalscoring midfielders, with penalties removed, tend to average 6 goals a season, or they score 1 goal every 6 games. The fact he's now done it in two seasons at such a young age means he is only going to improve, and he's currently scoring at a rate of 1 in 3. His influence on games doesn't end there though as he's also assisting. What is it Liverpool currently lack? A defensive midfielder, decent back up for Sturridge, an above average RCB that performs well in a 2. Goals from midfield.
Not only that, it's came to my attention in a few games lately we've seemed to lack creativity and because of this we've become really dependant on Coutinho. Of course our magnificent number 10 has bailed us out on many occasions but when he has an off game the team suffers. We've been winning games but our get out of jail card as of late has been the worldies we keep scoring, which may I had Kevin De Bruyne is capable of. I've heard the phrase 'too many cooks in the kitchen' banded around when discussing signing other playmakers, however I'm confident Phil and Kevin are intelligent enough to work well together. If Coutinho drops to start play then Kevin would stay as an advanced attacker, afterall he has been a forward on a few occasions this season. Phil mesmerises defences whereas Kevin is just blunt about it, he wants to score. They'd terrorise many teams and it gives Liverpool the opportunity to rest Phil and not lose creativity.
His latest game against Inter Milan, Wolfsburg were 1-0 down and he took the game by the scruff of the neck, made a goal and then scored 2 in a 3-1 win. Comparisons are futile, but who does that remind you of? An attacking midfielder taking it upon himself to win the game when the team needed a performance? It's these types of player we've been lacking, from midfield, since the peak days of Steven Gerrard.
What else makes him an attractive prospect is his versatility. We all know Rodgers is a fan of players that can play a variety of positions and De Bruyne has shown that plenty of times this season. Wolfsburg play a 4231 formation and the talented Belgian has played in all 4 of the forward positions to great success. If Rodgers reverts back to a 4231 system it'd mean De Bruyne could play in any of the three positions behind the striker, not only that though it makes them all interchangeable so Liverpool will be able to keep it fresh.
If Rodgers wanted to switch to a 433 formation then this would allow Phil to be one of the three in midfield and then it'd more likely than not be De Bruyne, Sterling and Sturridge as an attacking trio. With Phil creating from deep, Sterling dragging players here there and everywhere and Sturridge drifting like he does it'd enable De Bruyne to be in and around the box with a lot of space.
Finally if Rodgers persists with the 3421 formation it'd be a smooth insertion for Kevin De Bruyne to play as one of the two behind the striker. This would give Liverpool plenty of options and as they like to play a high press it'd be an asset to have KDB in that attacking trio as his work rate would compliment that of Sterling and Coutinho.
Of course he wouldn't come cheap, as mentioned earlier, but with the new TV deal revenue and the need for a new midfielder it might be worth breaking the bank to sign someone of readymade quality but who also has the ability to improve. £35/40 million could look like a bargain in a few years when Paul Pogba becomes the first £100 million midfielder!