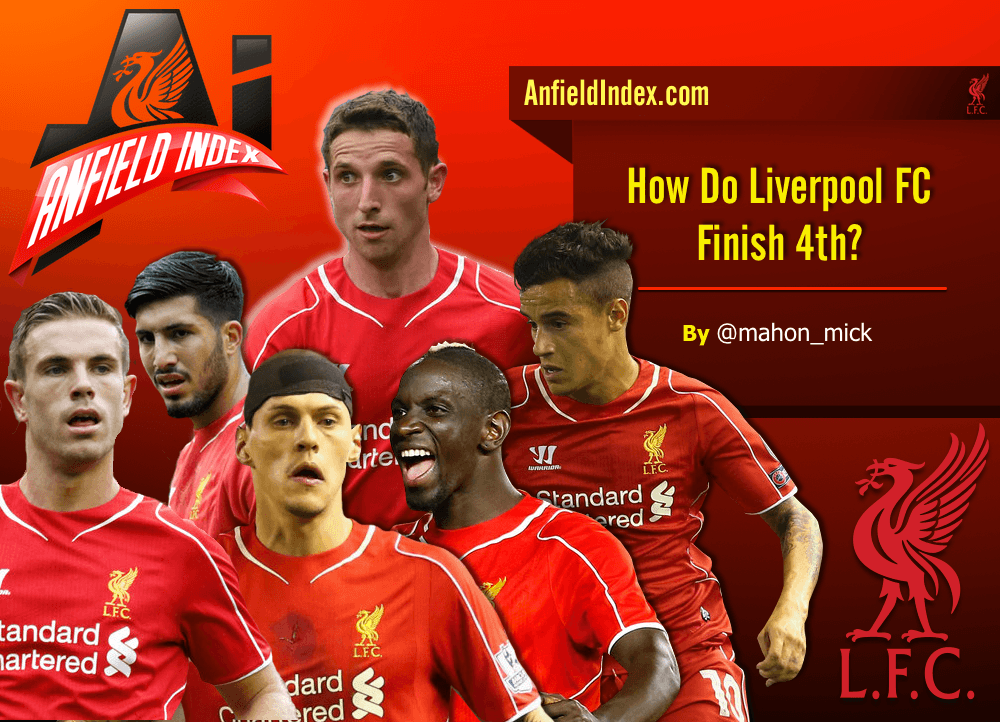 How Do Liverpool FC Finish 4th?
With one of the most exciting & open races for a top 4 finish how do Liverpool ensure they get this coveted position?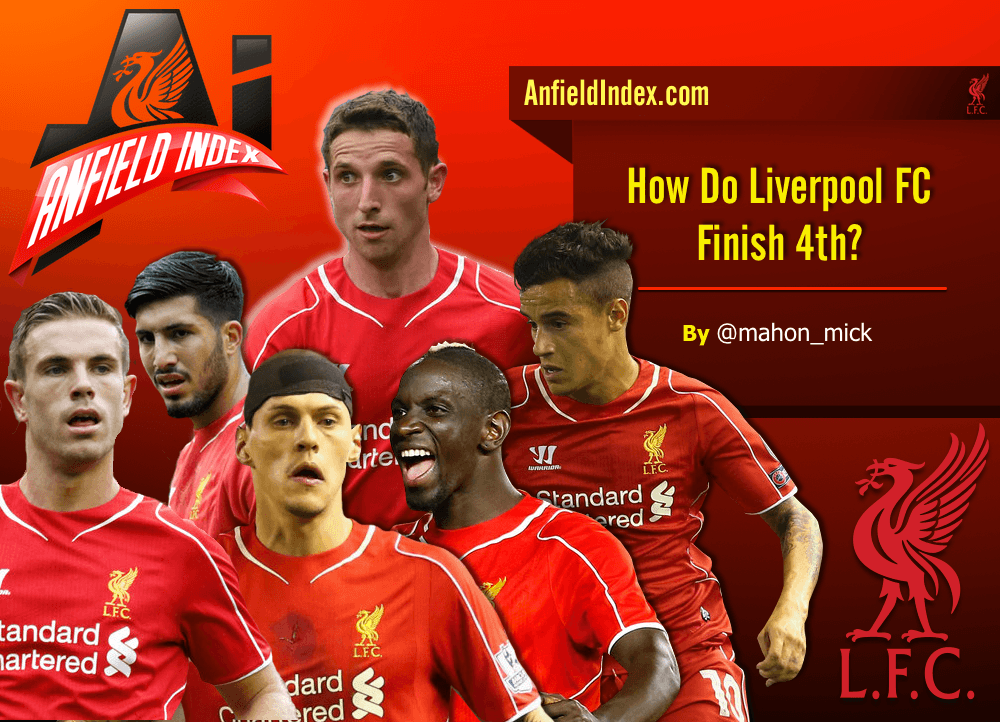 Fitness & Intensity
Liverpool FC's most successful brand of football in the past 18 months has involved high intensity pressing starting with the striker.  This was highlighted in the recent Man City victory.  This involves an in depth understanding from each player.  The keys to applying it successfully lie in the triggers to implement the press, compressing the pitch & reducing passing options for the opposition.  It cannot be successful without supreme levels of fitness.  In my opinion this is the key to Brendan Rodgers and his merry men finishing in the Top 4.  The wheels fell off in our last 3 games last season in terms of fitness levels (only natural).  Rodgers will need to work closely with his fitness experts and use intelligent squad rotation.  Example: If LFC are 3-0 up to Newcastle after 70 mins, bringing Lucas on for Allen or Henderson is an intelligent move. Also proper recuperation between games in vital.  If the team is a little leggy like versus Man City then intelligent and more conservative tactics may be required before breaking down the opposition.

Some Dirty Ugly Goals Please
It's great to score worldies like Henderson & Coutinho have been racking up.  However, this is not a sustainable plan of action and Liverpool cannot rely on excellent long range efforts from our better attacking players.  The signs of this were clearly evident against Blackburn.  Variety is the key and working the ball into 'the position of maximum opportunity' (central area between goalpost and the penalty area) is the better percentage option.  Teams are dropping deep which nullifies Sturridges pace.  Players like Lallana, Coutinho & Sterling are finding space at a premium.  Slicker interplay around the box is option 1, but getting it wide and in behind the opposition defence is currently under utilised.  The attacking performances of our wing backs may important to stretch defences and in my opinion have been average at best.  Markovic, Moreno and Ibe may have key roles in getting wide or hitting the end line.  Some easy & dirty goals from free kicks, corners & intricate play would be welcomed.  I'm looking forward to some tap ins, ricochets, deflections & opposition goalkeeping howlers in our 10 game run in.
Defence – More of the same
Since the turn of the year Liverpool have had the meanest defence.  Mignolet has been in excellent form and is much more assertive behind Sahko, Can & Skrtel.  There is a clear understanding between all parties.  Can has caught the eye with his marauding runs and a midfielders natural ability to create more space and work better passing angles.  Sahko's passing from the wide positions which looks unorthodox is none the less very accurate.  This includes slightly riskier passing where he tries to bypass the opposition's central midfield. Skrtel playing in the deeper central role suits him.  His positioning to get in blocks has been particularly impressive.  Last year with goals being scored by the bucketload – who cared how many they score?  We will get one more.  Goals are a lot more scarce this season, so we need to continue with this water tight defence.  The personnel also need to stay the same. Traditionally great partnerships seldom, if ever rotate.
Competition is Poor
Despite the actual close race for the top 4, the general consensus is that 2 of 3 from Arsenal, Manchester United & Liverpool will take the final 2 spots.  The bookies also feel this is the case.  I feel Arsenal will prevail and probably take 3rd.  This leaves Liverpool & Manchester United.  If it is a straight race then I believe Merseyside will prevail over its old rivals.  Why?  Simple; United are an average outfit. De Gea has been a world class performer.  He alone has probably kept United in the race.  The rest of the team has been playing below par.  Results have flattered them and my question is this; with a final battle and a horrid run of upcoming fixtures on their on hands, who can they turn to get them through?  De Gea and maybe Rooney at a push?  In better times they could look to Robson, Bruce, Pallister, Ince, Keane, Vidic, Ferdinand etc.  They are getting dominated in central midfield and history would indicate that Van Gaal's stubbornness will prevail and they will be tactically naive and get overrun in the engine room.  Our form is the best in the league and Liverpool can turn to some leaders to guide us through.  This is why I believe Liverpool will succeed.
Key Players for the run in
We have mentioned the improved defensive unit and the recent sensational form of Coutinho will be important.  However, in my opinion I think the central midfield partnership of Allen & Henderson is key.  The intensity of Henderson's pressing and work rate has always been important.  The recent addition of goals and leadership qualities have made him a prime candidate for the arm band on a permanent basis.  A resurgence of form and fitness from Sturridge would be welcomed as goals are becoming a rare commodity.
Joe Allen is however my key player.  Henderson, Lallana and Sterling can lay claims to being statistically our best pressing players.  However Joe Allen is the most intelligent presser.  He usually forces a sideway pass, backward pass, interception or regains possession.  He times his pressing better than the other players mentioned and is very quick to assess when to support others or when to press as a unit.  His reading of the game is excellent and I think his off the ball work is underrated, particularly when dropping in to cover a more marauding player like Henderson & Coutinho.  He can change the tempo of a game if required and offers a valid outlet to the defence if they feel they are in trouble.  When Sahko looks at Joe Allen been marked by two players he thinks; 'Its ok.  If I pass it to feet, he wont lose it' . In his last few games I also think he has added an old attribute that he had at Swansea – carrying the ball.
So here is to Joe and the boys leading us to 4th.  If the Gunners do drop the ball Liverpool FC may even pip them to 3rd?  Liverpool don't things in halves though.  A roller coaster finish to last season and this one might not be too boring either!