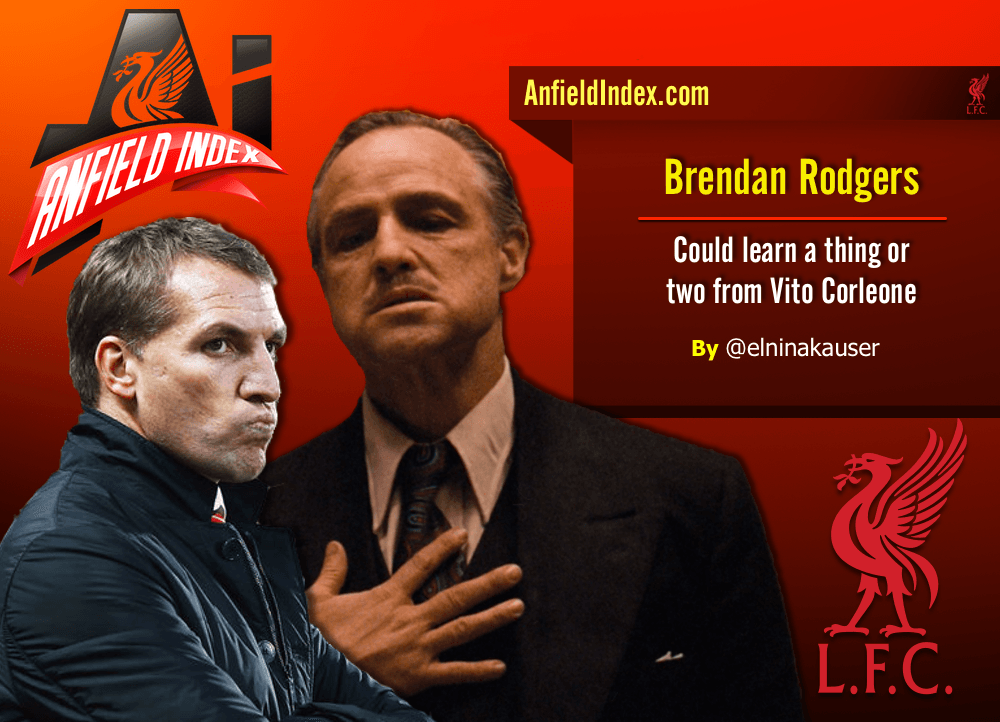 Brendan Rodgers could learn a thing or two from Vito Corleone
Brendan Rodgers has been doing a great job in the second half of the season. He's managed to get the season going and a place for top four finish is still within Liverpool's grasp. A task that seemed so unachievable for the reds back in December. Granted, Signor Rodgers has had an impressive stint but if he's to be the true Don of Merseyside, then I fear he has to take life lessons from Vito Corleone and implement them into his coaching and managing methods. Because who better, than the great Don Corleone? So Brendan bend a knee and kiss the hand. He only offers his friendship once so do yourself a favour and listen to his words of wisdom.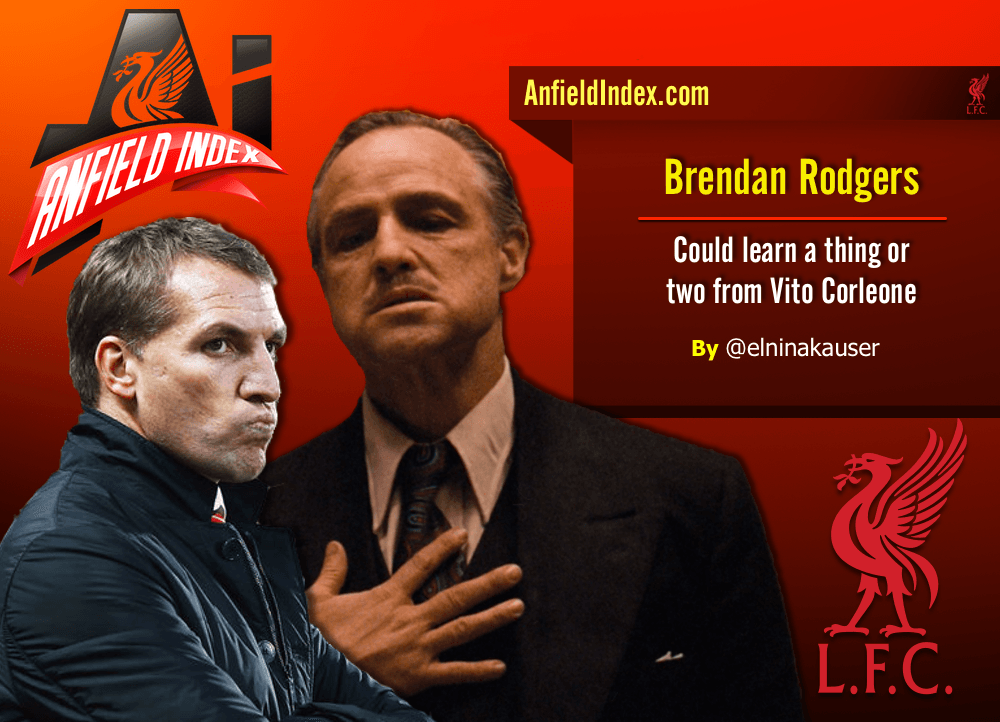 By no means am I suggesting Brendan Rodgers should "make an offer to Raheem Sterling that he can't refuse" nor am I suggesting that he puts a gun to little Raheem's head ensuring him " that either his brain or his signature will be on that contract". Although it would be quite amusing to see Mourinho wake up to Van Gaal's head in his bed. Brendan Rogers doesn't have a hench man like Luca Brasi either, nobody is "sleeping with the fishes" for him. But never fear Brendan, you have Colin Pascoe, who is almost as agreeable and complying as Corleone's pussycat.

True Vito was the head of mafia organised crime and by no means do we want Brendan tainting our good clubs name with any dodgy dealings, but I fear, when it comes to him handling certain situations that he behaves more like Sonny or Fredo a dreadful combination of hotheadedness and cowardice. Neither trait desirable for the man who sits in the hot seat at Liverpool FC.
What Would Vito Say or Do?
Now, it's fair to suggest that Brendan Rodgers has displayed a fair bit of naivety in Europe, the Reds went crashing out of the Champions League at the group stages and were poor in Europa as Besiktas eliminated them last month. Some fans think his lack of rotation cost Liverpool whilst others think that experience comes with time and Brendan will learn to manage a busy football schedule. But what would Vito have to say to Brendan about his poor management in Europe? Lets face it, it's been dire. The Don would probably, scratch his chin, look to Brendan who would be sitting across him in his dark gloomy office and grunt "I spent my life trying not to be careless – women and children can be careless, but not men."
Whilst we're on the subject of Europe, remember Gerrard's on air comments on Balotelli taking Liverpool's penalty against Besiktas? As much as we all adore Gerrard, he had a Sonny moment there and his emotions got the better of him and it didn't put Liverpool or Jordan Henderson in good light. But Brendan, instead of challenging Gerrard did a Fredo and took the cowardly route and didn't address his captain's comments to the media. Vito had similar issues with Sonny, who constantly blew his top off when he was required to keep his cool. But unlike Brendan The Don would hone in his older son and address his ranty outbursts to those who've witnessed them. "I have a sentimental weakness for my children and I spoil them, as you can see. They talk when they should listen." Take note Brendan, that's how respect is earned.
There's no secret that Brendan Rodgers favours Lovren over Sakho despite the later being far more impressive. However Brendan being Brendan chooses to go with his favourites and it drives the supporters insane. What would Vito have to say about the Lovren loving by Brendan? Well, he'd probably advise Brendan "Give him a living, but don't discuss the family business with him" that's right Brendan; keep him away from your set up. But instead Brendan opts for the whole "Keep your friends close but your enemies closer" strategy. Which in the long run could cost him and Liverpool FC dearly.
Everyone knows I'm not Balotelli's biggest fan but the media's fixation of hanging onto everything he does or doesn't do on the pitch has become a tad tedious. The way they look for any excuse to murder him in the tabloids. But true to Brendan's form not a peep to address the negativity and the boss instead adds fuel to the fire. Like him or loath him he's still your player Brendan, you protect your own and Vito would probably break down and say, "Look how they massacred my boy". He loved all his children despite their faults.
And finally, lets move onto Brendan Rodgers' very public disdain towards certain players. Sure he has his favourites we all do even The Don clearly loved Michael above all this children but he never slated Fredo, Sonny or Connie to outsiders, that wasn't how Don Corleone rolled. He was a man of principle and a man of honour. So what would The Don say to Brendan for his very public bashings of his players? Well. He'd probably ask Brendan's entire backroom staff to leave the room and he'd look into Rodgers' direction with a very disappointed look and say "whats the matter with you? I think your brain has gone soft with all that comedy you're playing with that young girl. Never tell anyone outside the family what you're thinking again."
Till Brendan doesn't master the art of being, loved, respected and feared by those around him I fear he can never be capable of serving his enemies a dose of revenge as a dish best served cold.