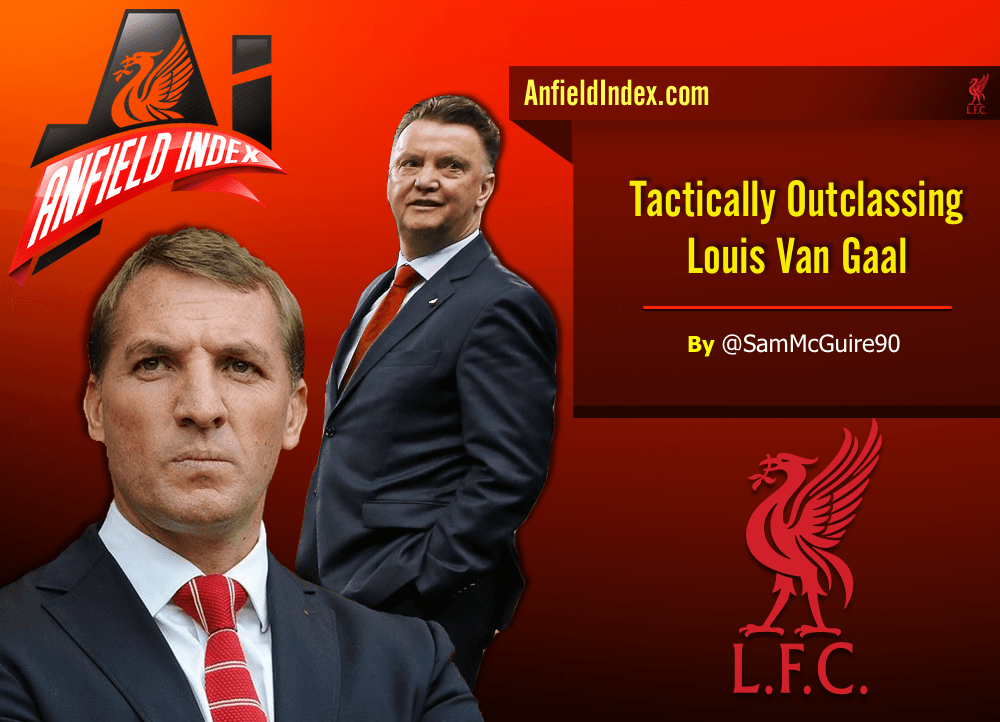 Tactically Outclassing Louis Van Gaal

It feels like we've been saying this for weeks now, but Sunday is a must win. Not only will it propel us into the top 4, it also dents the challenge of a rival. Not just any rival though; the rival. United. For the first time in a while a top 4 finish would be in our hands and we wouldn't be reliant on anybody else at this stage. Incentive enough for the Reds to turn it on at Anfield and deliver, just like they did against City.
United have had this knack all season of playing atrociously bad yet still walking away with three points, whether it be down to a goalkeeping masterclass from De Gea or Tim Krul literally passing the ball to them in the last minute giving them an open goal.  United seem to grab wins. On top of all this it looks like Van Gaal stumbled across a formula on Sunday against Spurs and which meant they recorded a resounding 3-0 victory against Spurs, who aren't out of the top 4 chase just yet themselves.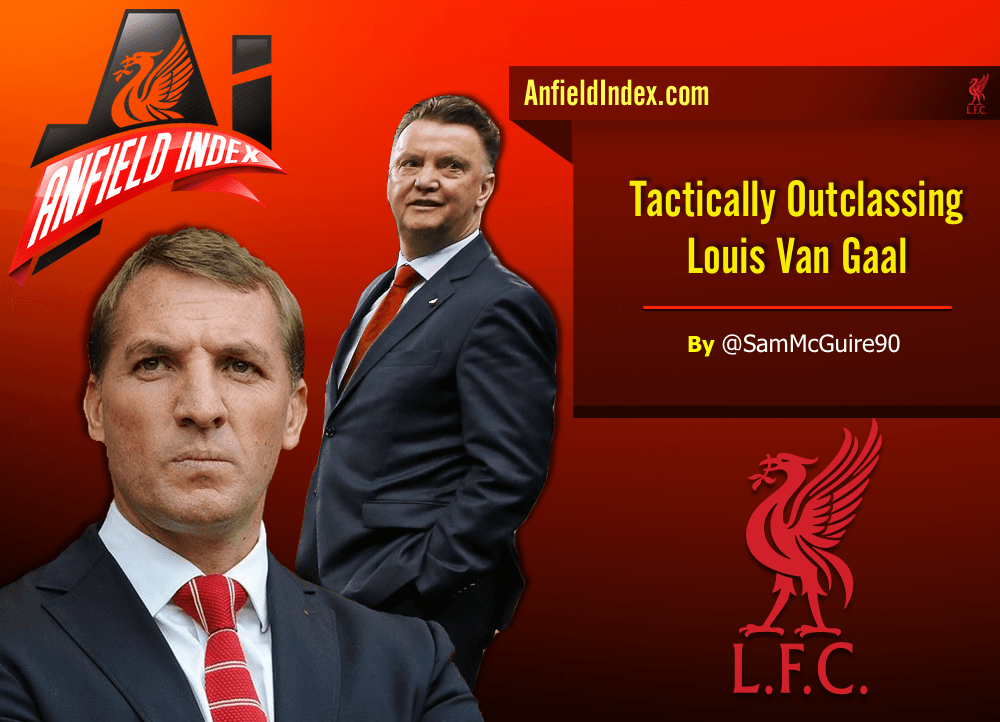 United fans are coming into this confident now. They liked the 4-3-3 formation used on Sunday and are of the belief United will come to Anfield and bully us. Worth noting here that United could come for a point, but I doubt they will because United are as poor in defence as Liverpool were pre-Christmas, with one difference. An inspired goalkeeper. His luck can't last forever though and It'd be magical if Daniel Sturridge could punish the many United defensive errors in the same way Welbeck did when knocking them out of the FA Cup.
Let's just imagine both sides use the formation they used in their last fixtures. United will line up in a 4-3-3 formation with Rooney leading the line, but he won't stay there. He likes to drift and drop back. This could mean the Liverpool back 3 could have nobody to mark for periods and United would have another extra body in midfield, almost as if they were playing a diamond. It'd mean our midfield would be overrun as it has been in a few games lately and it'd certainly leave the Anfield faithful feeling uneasy.
Having said that though, if we switch Emre Can into the Libero role, it'd mean he can push out and get at Rooney if he started to dictate play. This switch in the defence would also help nullify Fellaini, with Skrtel being one to relish these kinds of aerial battles. United, against Spurs, often used the big Belgian as an out ball. A long ball from De Gea would be flicked on and into the path of Ashley Young. So you'd need either Jordan Henderson or Raheem Sterling tracking the run of Young.
From watching previous United games there's been an obvious space between their RCB and Valencia. Being an unnatural position for the United number 25 means he's always looking to get forwards, so his starting position is always slightly higher meaning there is space to be exploited in behind. Coutinho has been in great form cutting in from that position and as seen against City our attacking players like to get across the front of the defenders. In black are the passes that Coutinho has on. In red are the runs the Daniel Sturridge and Adam Lallana could make. Not only that, if Sturridge makes that run it'd open up a wide space for Coutinho to run into with only Carrick to track. I know who I'd back in that instance.
Now, if this wasn't to work and Brendan Rodgers decided to tweak it as he did against Swansea to a 3-4-3 diamond it'd give Liverpool some more options. Not only does it change the dynamic, it also means Liverpool get a foothold in midfield as seen against Swansea.
As you can see above the 3-4-3 diamond immediately gives Liverpool more attacking options. Joe Allen at the base means he can recycle the ball and start attacks. He's effectively an extra man in midfield and can bring it out or simple pass it off. If United have a high press, which I can't see them doing with Mata in their attacking trio, then Joe Allen is always the out ball for the three centre-backs. It may be slighty different if Angel Di Maria is playing but many United fans believe he'll make an appearance off the bench.
This is the beauty of Emre Can right here. If Rooney drops back to stop Joe Allen dictating, or at least being influential, we can put Emre Can in the middle of the defence and have him bring the ball out or be the one to start attacks. This isn't foolproof, but it means we aren't as easy to stop like some teams have been finding. This switch only works properly if the players ahead of him are moving so he's able to pick out passes from deep.
A few things I like about the 3-4-3 diamond potentially being used against United is the space it creates when used properly. An attacking threat United have is usually their full-backs. Both like to overlap with the likes of Ashley Young and Juan Mata preferring to cut inside. By playing Sterling and Moreno so high it means the United full-backs can't get forward and are completely nullified. This then makes United's style of play very one dimensional. As mentioned before both wide attacking players like to cut in so it means the three centre-backs can be a little more compact. In the previous game against Spurs, both Mata and Young where getting into the box as soon as the full-back got the ball in the final third. A ploy by Van Gaal as sometimes Rooney drifted out wide so they needed numbers in the box.
The two highlighted are areas in which Henderson and Lallana can drive into. Space created by using the wide players in such an advanced position. As seen against Swansea, an asset to Henderson's game is how he likes to get forward when he's allowed. He'd see that space and get into it, when the ball comes in from outside he'd be in and around the box with Sturridge and with the form he's in he could nick a goal. Both Fellaini and Herrera aren't the best at tracking back and it'd be too much for Carrick to do with Coutinho lurking. This could be how Liverpool overload United.
These are just some ways in which United could be beaten. Another way of course is if their defence forget they're actual football players which has been the case this season and Liverpool find that goal scoring spark once again. What's fundamental this weekend is to not gift United any goals like what happened at Old Trafford.