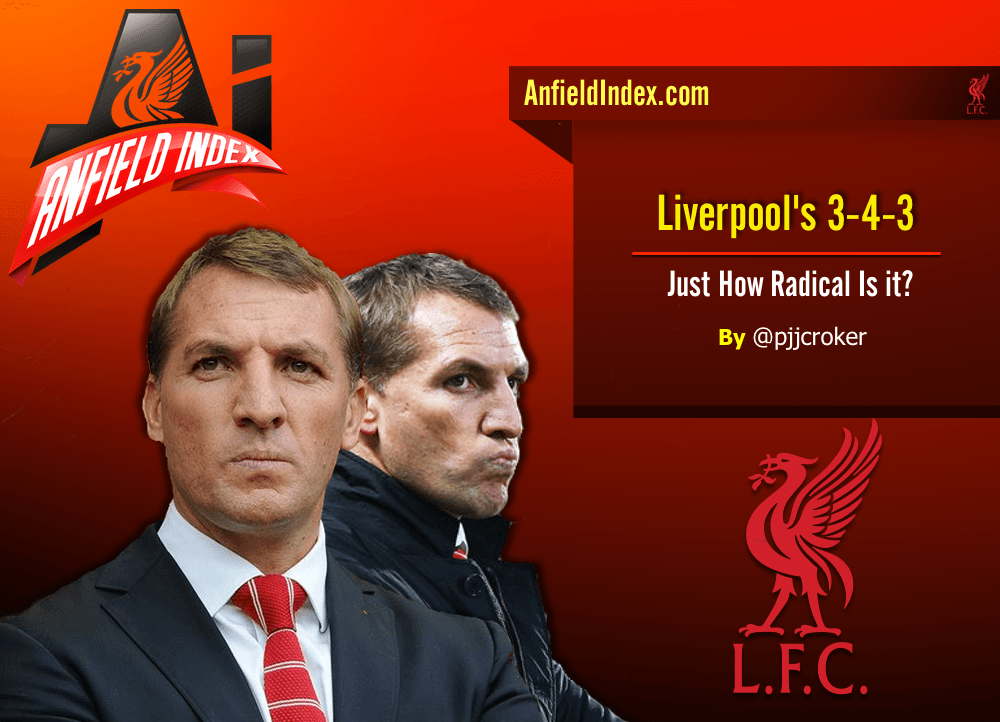 Liverpool's 3-4-3 – Just how 'radical' is it?
Liverpool's 'new' 3-4-2-1 formation has been widely acclaimed by pundits, fans and the media alike. Brendan Rodgers has been, rightly, praised for his brave decision to make such a 'radical' change at such an important stage in Liverpool's season. There have been a number of articles focusing on the new formation; recently the excellent @SamMcGuire90 theorised that Liverpool's upturn in form was due to the player's employed in keys position's in the system rather than the system itself. The theory has held up in recent games, as key players such as Sakho and Allen have been missing while the likes of Emre Can and Sterling have changed position to meet to needs of the team. Performances haven't reached the same impressive level as a consequence. Another notable article by @TomMc_Sports suggested that Rodgers should look at alternatives to the 3-4-3, in order to combat certain tactics and ensure the impressive 4-4-2 diamond of last season is not entirely lost.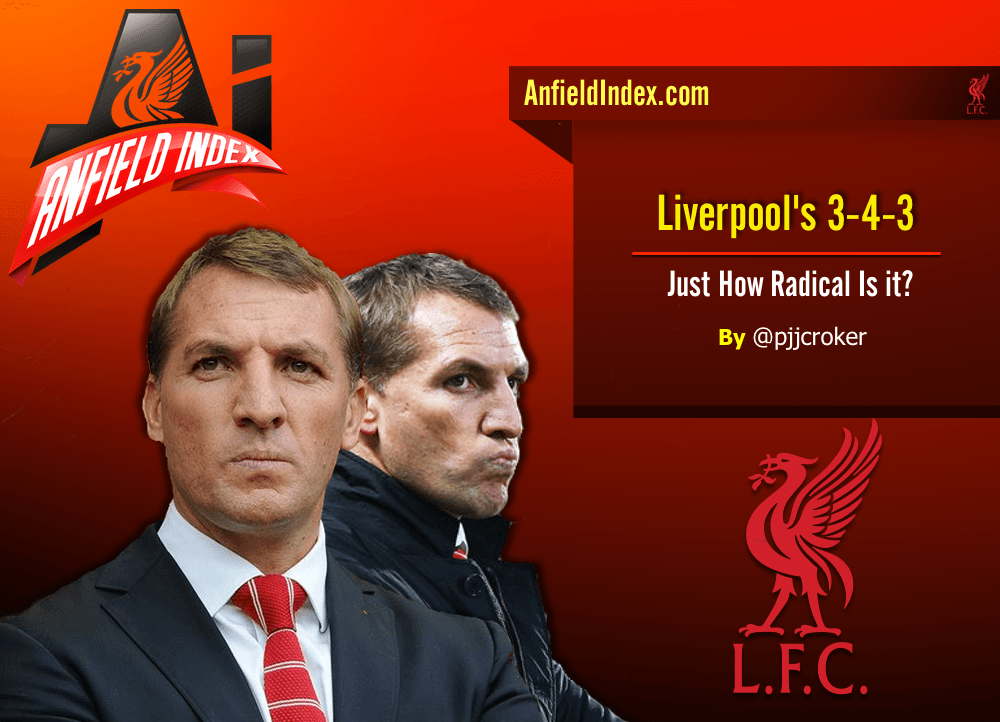 Articles such as those mentioned, accompanied with Rodgers own comments describing how he had to do something 'radical' got me thinking. Is this 3-4-2-1 really such a radical change? I'm not so sure. As far as I can see the 3-4-2-1 of this season, is a slight variation of the successful 4-1-2-1-2 of last year. A quick look back at the preferred system last year bolsters this view; with the two centre halves 'splitting', Gerrard dropping in between and the full back's taking up advanced positions. The diamond clearly resembles the 3-4-3, as demonstrated below.

As you can see, the big difference here is that the two triangles in both attack and defence are 'flipped' when compared to what we see in the current formation. Once I thought about the system from last year in this way, it became clear that one of Suarez and Sturridge would often drop deep and take up the position of the second attacking midfielder we see in the current system; this was Sturridge more often than not. This season Rodgers, even since Sturridge's return, has preferred Sterling up front in the biggest of games, and I wouldn't be surprised to see this selection continue on Sunday against United. It isn't difficult to see that, at this moment, Sterling performs the 'Suarez role' more competently than Sturridge. Eventually, however, one would expect Sturridge to awake from his post-injury slumber and make the striking position his own once more. When this does happen, it'll be intriguing to see Sterling get a run of games in one of the attacking midfield positions alongside our mercurial Brazilian, because Raheem will be excellently placed to join Sturridge further up the pitch when appropriate thus 'flipping' the triangle once more to closely resemble the front three shape of last season.
The fact that the systems are so tactically similar also explains a number of strange selections, tactical changes which at the time were difficult to fathom, both last year and this. The first that springs to mind was Lucas playing on the left hand side of the diamond ahead of Gerrard, which has happened on a handful of occasions, most recently in the 3-1 defeat to West Ham earlier this season. It was a selection that never really looked like it would work, because the position is so physically demanding even with a competent defensive midfielder anchoring the diamond. Add to this that covering a lot of ground in an intense fashion isn't really Lucas strong point, and it is a recipe for failure. The change of system, however, has seen Lucas perform very well in a similar area of the pitch, as his role is much less demanding. Our, less mercurial Brazilian, has flourished with the added security of a third centre half and a midfield partner who covers an immense amount of ground in Jordan Henderson.
Another strange tactical change Rodgers tested on a couple of occasions earlier in the season can also explained by the similarities in the two systems. Liverpool played against West Ham at Anfield in January, the first half finished 0-0 but the team had performed reasonably well and controlled the game. As the players lined up for the second half, Rodgers had made a tactical alteration; Emre Can had moved into the centre of the back three, with Skrtel on the right hand side. At the time I thought it was a move to combat West Ham targeting Can's relative aerial weakness however Carroll was substituted early in the second half and Can remained central. There was no apparent issue and Liverpool went on to win the game 2-0. While this is a more conventional way of employing a back three, with a 'sweeper' positioned centrally primed to move through midfield, and it defines a role that is perfectly suited to the young Germans impressive attributes; I was hoping that it was the last we would see of it for the time being. The reason being Martin Skrtel, the man looks absolutely terrified of the wide areas of the pitch. I'll always remember Rafa Benitez playing Skrtel as a right-back against Middlesbrough, after Carragher apparently refused, and he had an absolutely torrid afternoon. As it happened, Rodgers made this tweak again in the subsequent game against Bolton in the FA Cup; Skrtel in a 'wider' position proceeded to concede a cheap and clumsy penalty. That was the last time Rodgers made the alteration. Can still steps into midfield on regular occasions, from a wider area, producing a shape akin to that of the diamond of last year.
While Can in the centre of a back three resembles a similar role to one that Gerrard played in the diamond of last season, and could be hugely successful in the future, it would require a Centre Half to his right who is comfortable defending in wide areas and impressive on the ball. Luckily for Liverpool, we have a young Centre Half who looks purpose built for the RCB role, out on loan at the moment. His name is Tiago Ilorri. The club also have Andre Wisdom to return, who has been playing right back all season for West Brom, although, I seem to remember him preferring the left-sided role at centre half.
Most excitingly, the potential of the system and the players we have as well as the players returning, is huge. Can playing in the centre of the back three would make the transition from a 3-4-3 to a 4-4-2 diamond practically seamless. Rodgers has always maintained that the 'formation' isn't important as important as the philosophy and style of the team. The way he switches between systems that look hugely different to the average observer, so comfortably, demonstrates this. In our most recent performance, away against Swansea City on Monday night, Garry Monk devised a system which was a variation of the 4-4-2 diamond and game plan that negated the attacking strength of our successful 3-4-2-1. Teams including Manchester City and Chelsea have, in recent weeks, really struggled to cut the supply to our two attacking midfielders. Swansea achieved this in the first half on Monday night by positioning a 'line' of three attackers almost man for up against our three centre halves, and another 'line' of three midfielders between our midfield and attack as shown here:
This resulted in one of Liverpool's poorer first half performances so far in this calendar year. I was talking to a friend at half time and suggested we should change our shape, and match Swansea with a 4-4-2 diamond of last season. Rodgers went one step further and Liverpool lined up for the second half in an adaptation of the 3-4-3 diamond formation, or a hybrid of the two formations this article has focused on. The alteration had the desired effect as it allowed Liverpool's midfield, namely Coutinho and Henderson, to 'break' the Swans midfield line. The other notable change was; Sterling and first Moreno, before his substitution, then Lallana were playing much higher up the pitch. This penned back Swansea's full backs who, in particular Taylor, had been causing Liverpool all sorts of problems until that point. The half time switch meant Liverpool regained control of the game and nullified any advantages that Monk's system had created in the first half, going on to win 1-0.
The sudden use of this formation, which just so happened to co-in coincide with the captains return from injury, got me thinking; was it really just 'off the cuff'? It's a difficult formation for players to adapt to mid-game, not least towards the end of a season, with no prior practice. Has Brendan Rodgers devised this formation solely to make use of Steven Gerrard, in his preferred deep-lying playmaking role, before he departs for Los Angeles in the summer? Only time will tell.
Not many teams in recent history have even attempted this system. Guardiola successfully adopted it notably in one game in his time at Barcelona, as the Catalans romped to a 5-0 win against Villarreal. According to @DaveHendrick_AI only Louis Van Gaal's Ajax has really perfected the system in the last few decades. There's no doubting it's very complex, and Liverpool would need a fair few players to successfully employ it on a regular basis, however it once again demonstrates just how flexible formations really are. They may look totally different at first glance, but it seems to Rodgers and his esteemed opponent on Sunday, they really aren't.