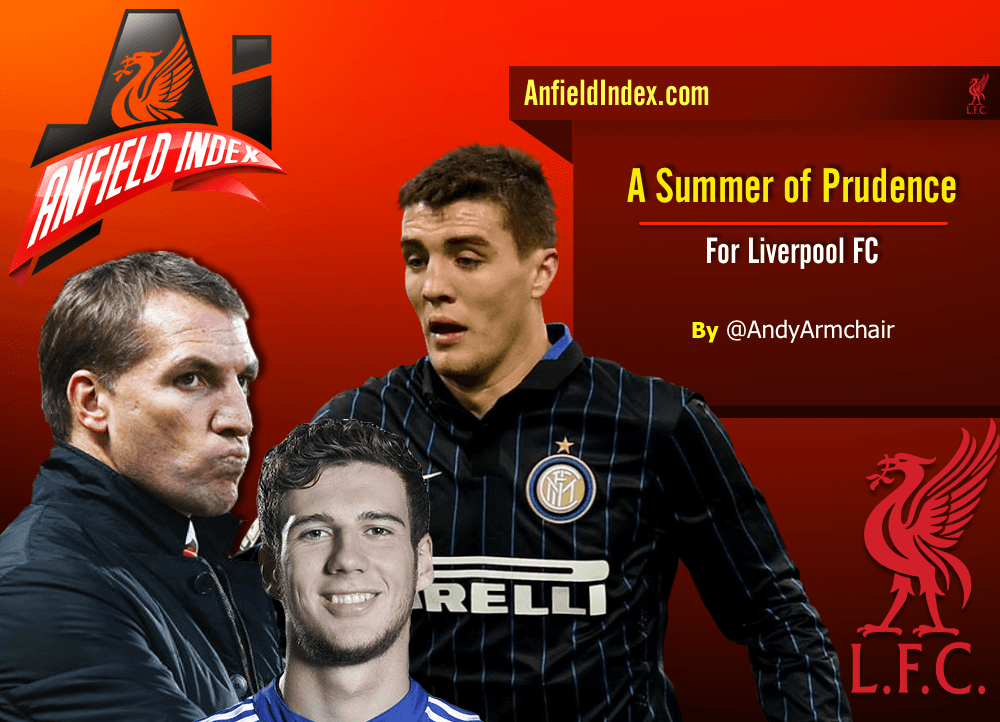 A summer of prudence for Liverpool FC
Here on Anfield Index, Sam McGuire has written an excellent piece on how perfectly suited Kevin De Bruyne would be for Liverpool. I would like to echo those sentiments: he would an exciting and potentially fantastic acquisition.
Unfortunately though, I think that De Bruyne, like Alexandre Lacazette, will not be heading to Anfield this summer. Personally, I think we'll see a summer of prudence in the transfer market and with us needing a goalkeeper, back-up left back, right back, central midfielder and a striker, I doubt our budget will stretch to thirty or more million pounds it would likely take to get De Bruyne. Sadly, for those same reasons of cost, Lacazette will not be that striker that we need.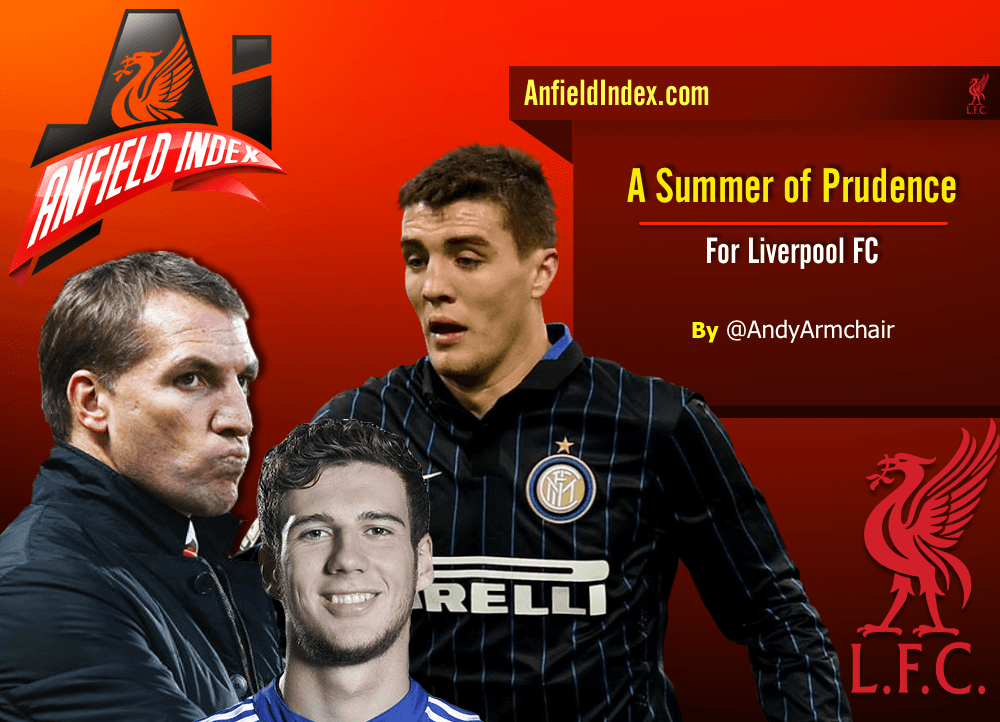 If reports are to be believed, Borini, Balotelli, Aspas and Enrique will all be sold this summer, with Jones and Johnson, like Gerrard, leaving as their contracts expire. Realistically, we'll be fortunate to bring in £35m for Balotelli, Borini and Aspas, and just plain fortunate to find anyone who is willing to employ Enrique as a professional footballer, given his performances this season are reminiscent of "George Weah's cousin" at Southampton all those years ago. I would suggest a career at Facebook, Instagram or Twitter for him, but that's a whole other discussion.
Last summer we spent somewhere in the region of £117m, but against the £75m fee we received for Suarez, our net spend was roughly £40m and I'd expect something similar this summer.
I'm not trying to be the party pooper or suggest any kind of naivety on Sam's part for suggesting Kevin De Bruyne as a transfer target for Liverpool. Quite the opposite; his pace, technical ability, versatility, mentality and profile are ideally suited to us and our style. I also believe we could attract him as I don't feel his stock has yet risen to the point where he's an unrealistic target. However, in those attacking midfield areas we already have Philippe Coutinho, Lazar Markovic, Adam Lallana, Raheem Sterling and the emerging Jordan Ibe. The real issue being that we spent a reported £25m on Lallana less than a year ago and despite him being a two-footed and technically gifted player, he often slows our play down and doesn't have the speed and directness of Sterling, Markovic and Ibe or the insane dribbling and creative ability of Coutinho. He's a very good footballer and in theory should suit us well, but it's just not quite working for him at Anfield. It has to be said that players do need time to settle and adapt when moving to a club with the stature of Liverpool, but the signs are that Lallana will struggle to live up to his inflated transfer fee. Of course, the transfer figure is not Lallana's fault, but like or not, it does impact upon a player's success. Had he been signed for £10m, then using him as a sporadic starter wouldn't be an issue; but when the club invest a significant amount of money in a player in their peak years, then you'd expect them to be commanding a regular starting spot and that's something that is looking unlikely. If the club looked to sell, there would undoubtedly be interest, but it would be at a sizeable loss and the same could be said for Dejan Lovren. Not only would that hurt the club, it would also hurt Brendan Rodgers personally. Selling two of your major signings after just one year at a big loss is not something managers want on their reputation; so I'm sure he'll want to give them more time to succeed and thus the potential of signing more players in their positions will narrow.
It's my belief that our biggest summer signing will be in central midfield. Two players I'm an admirer of there are Mateo Kovacic and Leon Goretzka. Both are not only tremendous talents, but would also be achievable and within our price range. Whoever the club bring in, I suspect it will be a "statement" signing with the loss of Gerrard from that department and with the other squad recruitments needed. So, unless the unthinkable happens and the club accept a huge bid for Sterling, there unfortunately won't be enough left in the kitty for a Lacazette or De Bruyne as we undertake a summer of transfer prudence.