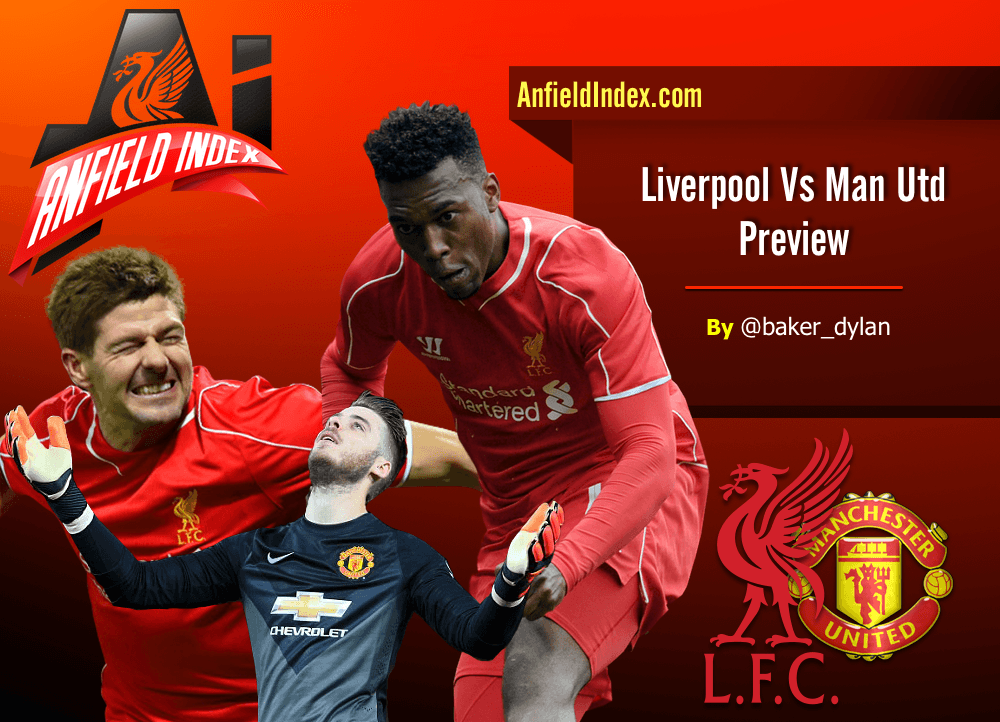 Liverpool v Manchester United | Premier League Preview
I've heard some crazy things in my time as a football fan.  Some say that Real Madrid v. Barcelona is the best match-up in the world.  From the same country, the Madrid derby has been brought into consideration in recent years.  Others will mention the Milan derby, the London derbies.  Even the Merseyside derby has been considered one of the best rivalries of all-time.  But when Manchester United come to Anfield on Sunday, the entire world will be watching.  Two sides with a deeply connected past will challenge one another for crucial points as the season comes to a close.  With a precious Champions League spot at stake, few things could be more enticing than this fixture.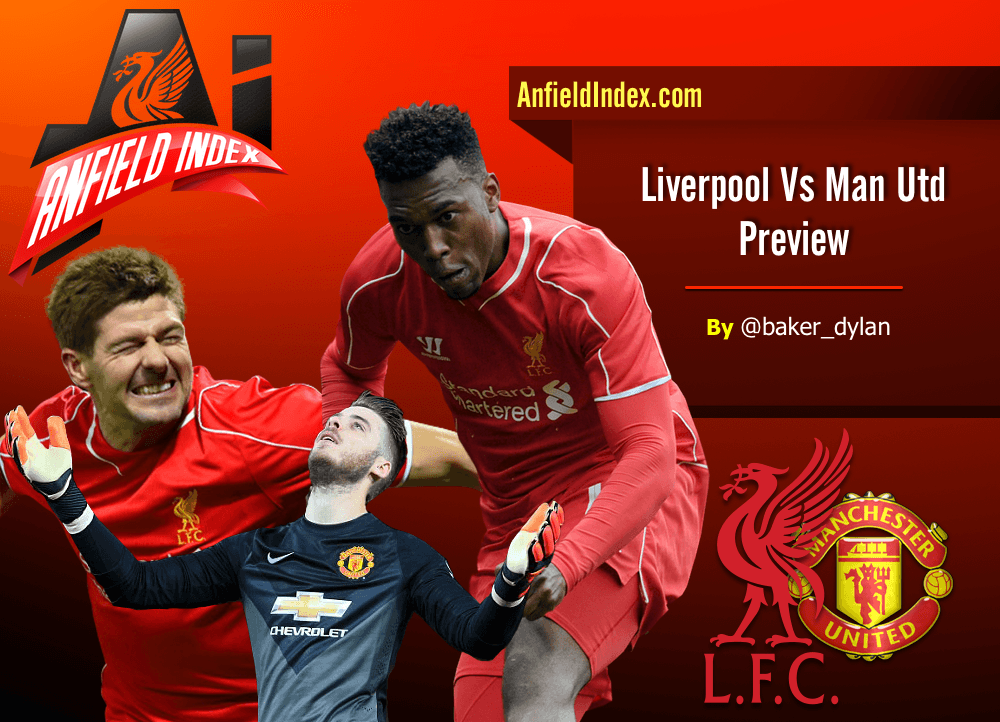 The form club of 2015, against our biggest rivals.  The reason Manchester United don't get a pretty title like ours is because they don't deserve it this season.  Despite their 2-point lead in the table, the Red Devils hardly look as convincing as the Reds do for European competition.  And yet, football is a game of small margins.  Only the smallest actions are required to spark drastic change in a club's season.

Neither side can handle that kind of "deviation from the course."  Manchester United not only finished outside the Champions League places last year, but were exempt from all European competition.  United have been European mainstays for years and years, so their departure was a calamity.  After a rough start to the 2014/2015 campaign, with a big-name manager and more than a £100 million spent on some of the world's top talent, they've finally climbed their way to 4th.
We Liverpool fans have little to say on the subject of "poor starts".  After a September-through-December period of absolute shambles, the Reds have also scratched and clawed their way up the table.  At one point lying in the bottom half of the Premier League, Liverpool now find themselves in 5th with a chance to displace their biggest rivals for 4th.  Remaining unbeaten this calendar year has been a fantastic run to watch, but we're still lower in the table than our weekend competition.
A Debate against a Fictional United Fan
Does that end the discussion, then?  Stop conversation on a dime?  Because Manchester United are in a better league position does not mean they're the better side.  Fans of the Red Devils ought to be shouting right about now that I'm being unfair, perhaps even biased.  Let's take a look at what they're saying, shall we?
What do you mean, United aren't the better side? We're higher on the table!
Course they are.  And I don't want to take their league position from them, except to say that we'll be taking it Sunday afternoon.  When United had a laugh against us back in December, they were flying high.  They were right smack in the middle of their own quality run of form.  After their loss to Manchester City in early November, they didn't lose a match until mid-January.  A healthy string of eleven matches unbeaten, with ten of them against Premier League sides.  When they caught Liverpool out and smashed us 3-0 at Old Trafford, we were in a sore state.  In a week, we'd managed to draw with Sunderland in one of the most boring matches of the season as well as exit the Champions League.  Then we went to Manchester.  With heads down and confidence seemingly destroyed, we wondered just how much worse it could get.
Since that day, however, the state of things has changed.  The way these two sides are playing hasn't reversed, so take heart United fans.  If they had, you'd be back down somewhere around 7th like last season.  While United have continued to win matches, they've dropped some important points along the way.  West Ham should have taken the lot from the Red Devils, but a late Blind stunner salvaged a point.  Swansea opened them up plenty of times a month ago, with several chances to make the 2-1 scoreline even more audacious.  United had little answer for the Swans' possession and ball movement, and ultimately paid the price for it.
They also were pushed out of the FA Cup by Arsenal when many thought gaffer Louis van Gaal might make a big push for the historic silverware.  Prior to the 3-0 shellacking of in-form Tottenham last weekend, I've not been convinced in any of Manchester United's performances since the new year.  A form table will show that United are currently kicking on well enough, but anyone watching these matches knows that few are dominated by the Red Devils.  Win or lose, there seems to be several mismatched eggs placed in a broken handbasket when the XIs are announced.  At any moment, whatever forces are propelling them forward will die out.
I expect that'll be around the time they arrive at Anfield Sunday.
Crucially, Liverpool are the team flying now. Extending our Premier League run to 13 after a shaky 1-0 rout against Swansea, the Reds have it all going for them.  Every week seems to be a new kind of game we can get a result from.  Manchester City required some wondergoals to move past them, and such was the nature of both our strikes.  The professional performance against Burnley proved that Liverpool don't have to be fast-paced in order to win, and the Swansea match was evidence the Brendan Rodgers can switch things around to go from a unsteady first half to a dominant second.
You'll not score against us, not a goal! Our defence has improved and David de Gea is a beast!
There are several universal truths that have to be understood about the game of football.  We say here in the states that "the offence wins games, but the defence wins championships."  Though this upcoming fixture isn't for the title, it'll feel like it when the final whistle blows.  One of the most important aspects to the match-up will be the solidity of either side's defence.
Whether or not it still itches van Gaal's ass, he has switched back to a four-man defence.  The loss of Marcus Rojo was worrying, but the Argentinian should be available for Sunday.  While Chris Smalling and Phil Jones played very well against the Tottenham attack force, they'll have an entirely new level of pace to manage against Liverpool.  Pure, unbridled speed have caused United problems when it's directed through the middle.  And there will be plenty of it when Liverpool come striding out of the tunnel.
United's one shining light in the defense is, without question, the Premier League's top keeper.  David de Gea has been on point in every match he's played in.  His reactions and the way he outthinks his opponents are matched by absolutely no one in this league.  When United haven't convinced or should have lost points in a match they won, it was more likely than not that de Gea saved them a few times.  Should we manage to get past the shoddy Man United defence, we'll have to take shots at a real worldie that's made a fantastic case for himself this season.
On Liverpool's end, of course, the defence is one that we always have to worry about.  After the entirety of last season and the first half of this one playing witness to pretty shambolic defending, Liverpool fans are always on edge.  Even now, in the middle of a lovely run with several clean sheets along the way!  When a single change is made or an error forced, we get instantly nervy that something's about to go incredibly wrong.  However, Brendan Rodgers has jiggered together a defensive system that has done quite well for us.  Three at the back, getting great performances from Can, Skrtel, and Sakho has been an integral part of our current form.  Mignolet has completely forgotten what he looked like at the beginning of this season, performing brilliantly week in and week out.  They'll need to be on top form to combat the likes of Rooney, van Persie, Di Maria, and Falcao.  Oh, wait…
As United have lost van Persie and all hope in Falcao, I imagine they'll bring a similar system they used against Spurs.  But we'll get into that later.  What matters is that Wayne Rooney is the primary player I'm concerned about.  Angel Di Maria hasn't been playing, the strike force has been damaged, and Daley Blind has been pushed to left-back while Ashley Young has gotten a few winger starts.  Nothing about last week's XI scares or worried me, to be honest.  United put three past Tottenham?  Brilliant, so did we.  Twice, in fact.
Fine then, we'll just press and attack and make sure to outscore you!
Alas, my last few comments put this one to bed too, I think.  Without the majority of its strike force, Manchester United will have to rely on its midfield for goals.  Carrick and Fellaini got a goal last weekend, but neither are particularly goal-friendly.  Mata seemed to have lost his boots when he arrived at Old Trafford.  Ashley Young has his pace, but hasn't been prolific in front of goal.  And I'll hesitate to pass judgment on Ander Herrera.  I loved watching him in pre-season and some early Premier League matches, but injuries and recovery of form have kept him out of the side until recently.
Not only does the attack fail to inspire, but pushing forward means leaving the defence open for a counter.  As I said before, pace will murder Jones and Smalling.  A well-constructed counter would be the end for them unless de Gea is prepared to stop everything.
In essence, this match will not end well for United.  Let's look at the lineups.
Predicted Line-ups
Liverpool
Manchester United
The Baker Forecast
This is one of those matches where statistical analysis doesn't much matter until after the match is done.  I could have written this article with particular attention to how well Sturridge tends to play in big games, or comparing Coutinho's key pass percentage to Juan Mata's.  But ultimately, this match is going to come down to passion.  That's why Stevie will come back into the side, whether it's tactically a good move or otherwise.  The match is begging for several huge moments, and we can hope that Liverpool will answer that call.
As a proper Red, I'm willing to bet we do.  I'm going to call a 2-0 to us, and no part of me lacks confidence about that scoreline.  I think we'll just outclass them.  Anyone that wants to bring up the match from December is kidding themselves: these are not the same squads as before.  Our defence will hold steady for a clean sheet and help our goal difference, further proving this system works for us.  Hoping Studge gets another one here, as his confidence would surely like to have it.  And the second is an easy decision: Gerrard.  Farewell, have you a goal against the Devils you lovely bastard.