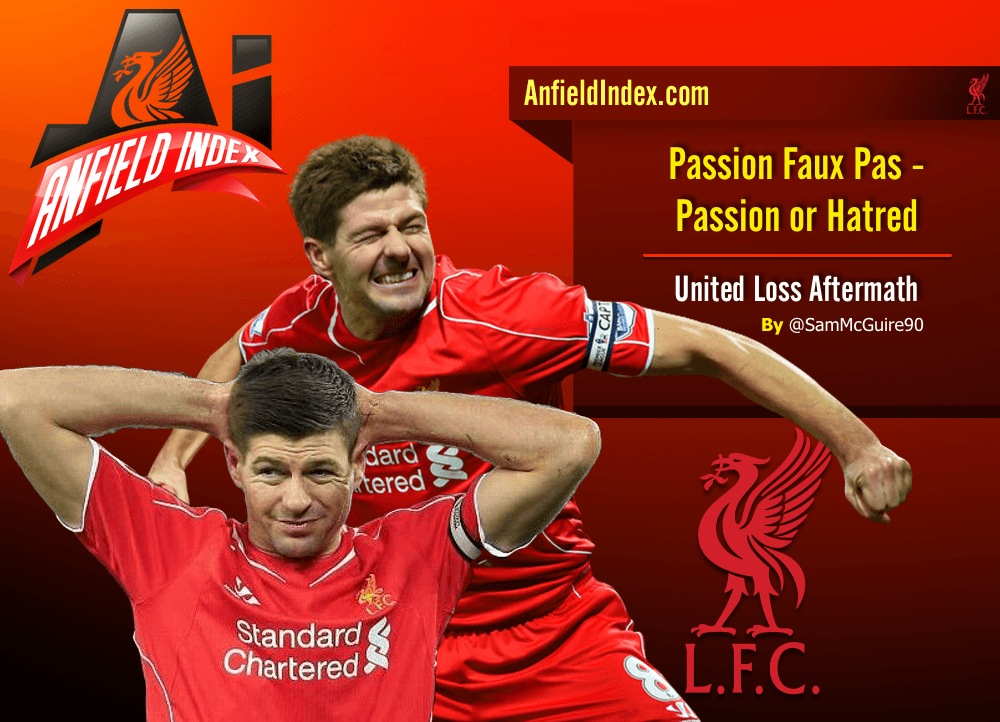 Passion or Hatred from Steven Gerrard? Or a mix of both?
Times are  changing.
I'm sure we all remember the days when Liverpool vs United was won by who wanted it more. Passion fuelled by hatred. The game that felt it was always one tackle away from anarchy. The fans created a hostile atmosphere that the players fed off. Tackles cheered like goals. It's no wonder it was like this, it's installed into you from a young age as a Liverpool fan; beat united at all costs.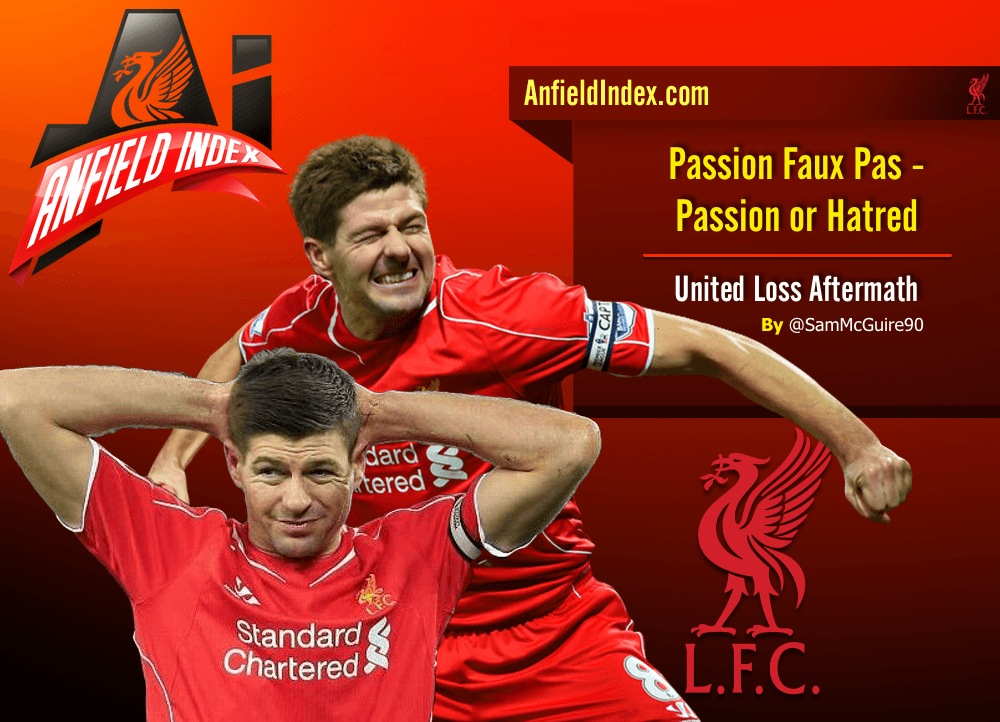 Steven Gerrard epitomised this. A fan that happened to be on the pitch. He and Jamie Carragher had that bond with the fans, you could tell it meant a little bit more to them. You could tell they knew a crunching tackle would light Anfield up.
"(On England duty and David Beckham smiled at him) We don't smile at each other. We snarl. Growing up in Huyton I was taught to loathe Manchester United, their fans, players, manager, kit-man, mascot, megastore workers – everyone associated with Old Trafford. I was convinced in training the United lads would have a pop. They'll try to wind me up. Kick me. I'd love it to go off. United don't like Scousers, so they might kick me. I'll be on my toes."
-Steven Gerrard in his autobiography.
The media play into it all too, the Sky montage of Gerrard was him lunging into a United player for a foul was shown before the game at Anfield. Almost as if that kind of tackle was an achievement. A decade ago it probably was, but these you aren't allowed to make those tackles. Why didn't Sky just show the plenty of goals he's scored against United? Why buy into the narrative that the game has to be feisty. They stoke the fire knowing full well in the past it's delivered. The game has moved on and perhaps it's time for fans to also realise it's tactics that win you games, even in these grudge matches.
We as fans got so used to these sorts of matches that it's almost like Anfield doesn't get geed up without such a tackle. Yesterday Gerrard came on and went through Juan Mata straight away and it was the loudest the fans were all game. Jordan Henderson made a perfect tackle on Valencia and nothing from the fans. With no Gerrard next season is the atmosphere going to be that flat? You should be making noise, win or lose, because it's United. The players can't run off passion anymore, so let them feed off yours.
Passion Faux Pas
At half time if you looked on social media you'd have seen plenty of people demanding Gerrard be brought on at half time because 'we lacked passion' in the first half and United needed to be got into. It's the old "Get into these lads, let them know you're there" Sunday league shout.
What he did wasn't passion, it was built up frustration mixed with hatred.
Frustration from not being selected to start. Steven Gerrard is a coiled spring for these games. Not starting him just tested the boundaries, like when you tighten the spring one turn too much and it explodes. Yeah. That. Steven Gerrard played the occasion instead of the game, and it's ironic after what he says in his book.
"Liverpool fans slaughter United players without realising they are human beings. Rivalry clouds their judgement"
Rivalry clouds their judgement.
"These matches are do or die. During those 90 minutes I wanted United to die. I have never known hatred like United's. At Old Trafford, it's different. Everyone there just hates me because I'm Liverpool"
We as fans know all about this hatred, but as a professional you need to be able to tow the line between passion and hatred.
Social media also liked to highlight we had many players out there who didn't understand the rivalry. Id argue this isn't the case, they just handle it differently.  Look at Pepe Reina in 2009 when he sprints the length of the pitch to celebrate with David N'gog in front of the Kop. Look at Fernando Torres at Old Trafford when he runs to the Liverpool end and grabs the corner flag as if to say 'this is ours now'. Acts of passion, yet in a managed way. Many foreign players get the club and understand the rivalry, they just don't embrace the hatred.
What Liverpool did lack though was experience. Experience of handling these types of games. United seemed to buy fouls during the game. Soft ones at that but cleverly done. Liverpool on the other hand tried to force passes, lost the ball and got frustrated. With experience you won't see us forcing passes, you'll see us holding onto the ball and 'getting fouled' which then relieves the pressure.  People could argue that's what Gerrard brings to the team. It could've been but we didn't get chance to see.
As alluded to earlier, these games aren't the same anymore. Refs have to abide by rules and many tackles are called as fouls which leads the game to becoming a little bit 'bitty'. That's why tactics are what wins them more often than not now. Look at El Clasico, a game with 13 yellow cards, but both teams have tactics.
Rafa was ahead of the curve in terms of this, remember the game at Goodison when he subbed Gerrard for Lucas when the game was 1-1 and Everton were down to 10 men? That's because Gerrard was trying to do it on his own. He wanted the win which is admirable, but it wasn't playing into the tactics of the team. At the time I could comprehend why you'd sub Gerrard in a Derby but looking back it was the right decision. He did the same against United in 2008 at Anfield when Gerrard was left on the bench for a game we won. Tactics were executed perfectly that game and the anger at not using Gerrard from the start was soon forgotten.
So next season when Gerrard is gone and we're left with Flanagan don't be wanting his inclusion just because he's Scouse and will put in a tackle. The majority of the time it's better to play the game instead of the occasion.
Yesterday had Gerrard kept his head that game was there to be won, even after a shocking first half an hour were Liverpool had their tactics all wrong and United easily countered it. The tweak in the first half meant Lallana dropped into midfield and we could match United for players. We got a hold of the game and arguably finished the first half the stronger side. The change at half time looked like we were finally seeing the return of the 442 diamond and it would have been interesting to see how United coped with Phil pulling the strings for both Sterling and Sturridge ahead of him. It would have been a welcomed change as United were using Smalling and Jones to track the runs of Lallana and Coutinho whenever they dropped deep to get the ball with Carrick filling in at centre back. Easy for United to defend against with only one forward for Liverpool.
Many called the players 'shithouses' in the first half for not standing up to United and even blame those players for our loss. It's a lazy insult when the problem wasn't passion, it was tactics. No amount of passion changes that fact. Let's be honest; beating United is better than breaking a United player.