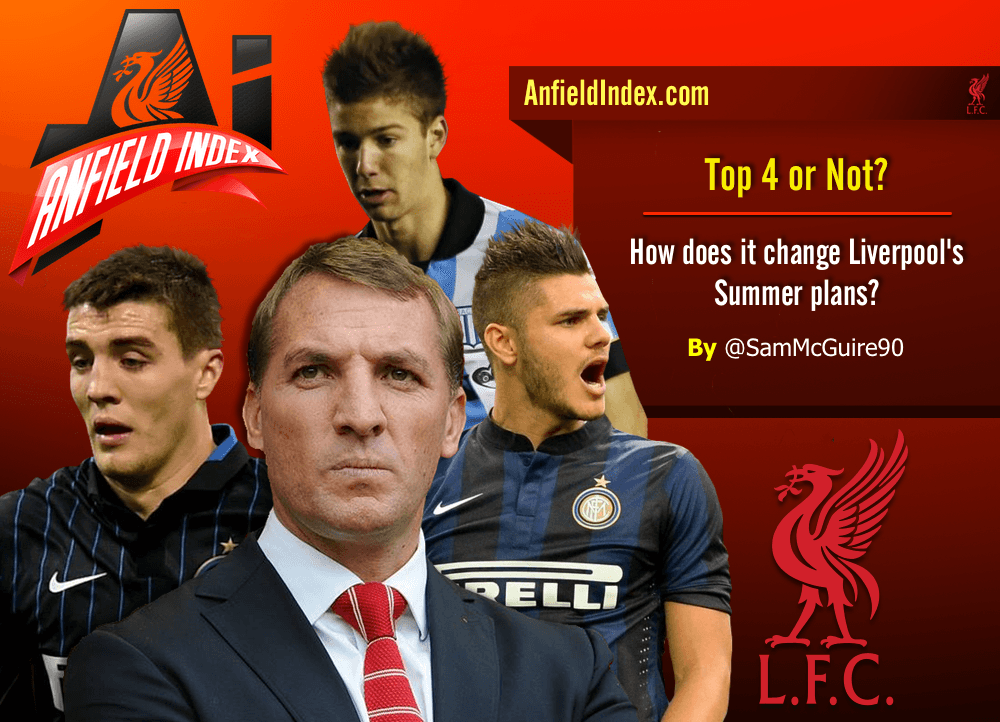 Top 4 or Not? How does it change Liverpool's Summer plans?
The loss to United dented our chances of finishing in the top 4, but just how detrimental would not finishing in the top 4 be to our summer plans?
Yes, we all want Champions League football, but given the first half of the season it was always going to be a big ask and I'd like to think we'd started planning for the summer in January. Surely we've identified players who will improve our side right now, but not only that they also have the potential to be even better and eventually peak with the rest of our side.
Don't get me wrong, if Liverpool were at home in the Champions League and this would be the first summer without it I'd expect the targets to be slightly different. If that was the case the likes of Miralem Pjanic and Kevin De Bruyne would be attainable targets. However for numerous reasons Liverpool just don't have that pull for the time being. So having said that, I'd be guessing that any targets we go for in the summer would have been the same had we got top 4 or not.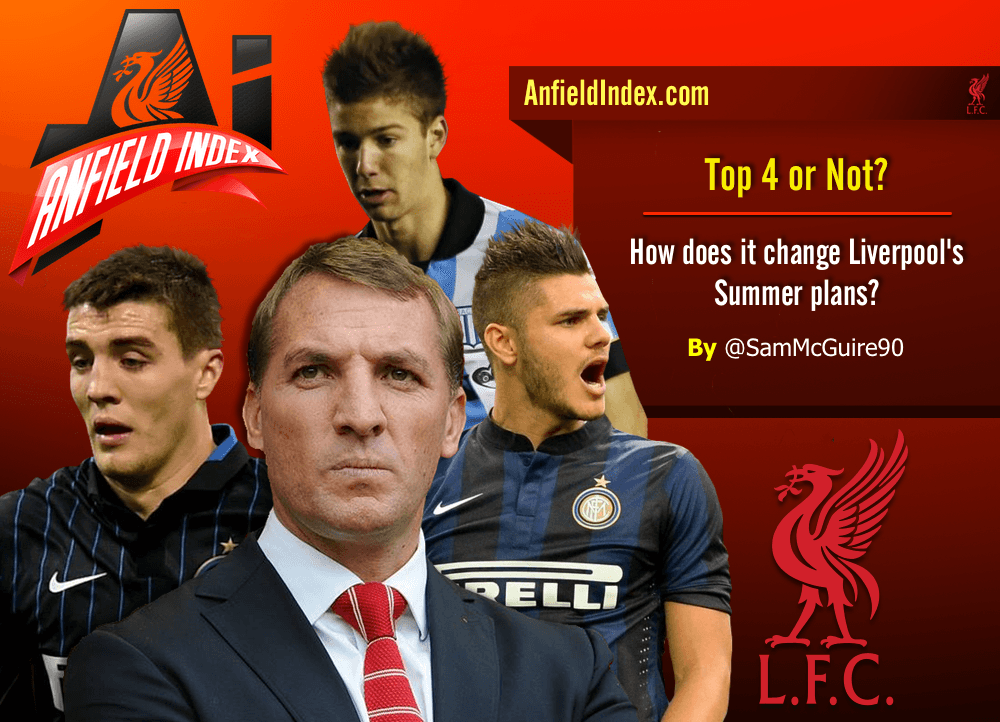 The form of the club side plays a part in the fee a player commands (See Adam Lallana and Dejan Lovren as examples) so if this is true Liverpool could get be in line for a bargain if they were to shop around in Italy, specifically the two Milan sides.
Mateo Kovacic – Now Inter have already done us a favour giving us a magnificent young midfielder for a bargain price so they may want a little more for the little Croat. Compared to Xavi and Iniesta he uses the ball so well, It's no wonder Barcelona have been linked with him but with their transfer ban the window of opportunity may be this summer for Liverpool to swoop. Ideally suited in the majority of ball playing teams, he'd be a treat to have at Liverpool.
Mauro Icardi – This guy has single-handedly won games for Inter this season and has been getting admiring glances from all over Europe. An ex-Barcelona player (They don't turn out too bad) he'd be a shrewd signing if Liverpool were to finally admit Sturridge can't be the main man, he needs to be part of a main men combo. A natural goalscorer, he'd lead the line well and bully Premier League defenders.
Mattia De Sciglio – Now the AC Milan side are in turmoil and this boy needs saving. A right back that can fill in at left back. He's only 22 but would be adapt at playing RWB if Liverpool persisted with the 343 system. The young Italian really needs to get out of the stagnant Milan environment and fulfil his potential at a team that matches his expectations.
Stephen El Sharwaary – Another young Italian who is stagnating in the cess pool at Milan. This talented attacker would fit into the current Liverpool side, he's able to play a number of positions and he scores goals. Something Liverpool certainly lack from all areas of the pitch currently. Suited to playing numerous system, he'd be perfect if Liverpool went back to a counter attacking style as his pace alongside Sterling and Sturridge would ruin teams.
Now if we cast out eyes over to Spain, the three big clubs are out of our reach so we should be looking at teams like Sevilla and Villareal for players.
Vitolo – A talented right-footed left sided player who can fill in many attacking roles. He may be 25 but he averages a goal every 5 games and has European experience. May only be a squad player at Liverpool but would certainly add depth.
Grzegorz Krychowiak – The defensive midfielder has become an integral part of the Sevilla side since his summer move. His performances have led to comparisons to Nemanja Matic, obviously not as good but would certainly add some physicality to the Liverpool side.
Luciano Vietto – I'm sure you've all heard of this new talent. He's averaging 1 in 2 in La Liga in his debut season. He's been compared to the likes of Tevez and Aguero and he's only 21 years old. Undoubtedly talented, he would be an inspired signing this summer and it would be good to have a South American forward wearing that number 7 shirt again.
Then there are countless talents in Germany, one club we should keep our eye on is Bayer Leverkusen. They already gifted us Emre Can but there are plenty of talented players in their team who'd improve our squad.
Tin Jedvaj – A talented 19 year old that Leverkusen prised away from Roma. A versatile defender who has played CB, RB and LB for Bayer this season and has all the attributes to become one of the best in the coming years.
Hakan Calanoghlu – Bought as a replacement for Emre Can, the 21 year old is a specialist from distance. With Liverpool losing Gerrard in the summer, and having lost Suarez last summer, they're in need of a dead ball specialist and this guy could be the man. He's averaging 1 goal every 5 games this season, he averaged 1 in 3 last season and 1 in 2 the year before. He's very much a goal scoring midfielder and a talent that should be welcomed. Rumours have linked him to be Paul Pogba's replacement at Juventus if he is sold.
France has plenty of potential stars, Lyon are getting the credit they rightly deserve so the likes of Nabil Fekir will be wanted by bigger clubs, so the two to look out for both play for Marseille.
Giannelli Imbula – A 6ft 1 defensive midfielder that's been a key part in Marseille's success this season. The 22 year old certainly imposes himself onto teams, not only that though he is smart on the ball. He'd be a cheaper and potentially better version of Geoffrey Kondogbia. He's the kind of player to make a big difference to a team without being recognised.
Michy Batshuayi – He signed for Marseille this summer. The 21 year old was prolific for Standard in the Belgian league and has recently got a run of games in the Marseille side and has repaid that faith with goals. He cost what Rickie Lambert cost Liverpool, Marseille could be tempted to cash in on the star if they get an offer of triple what they paid and Andre Pierre Gignac doesn't leave. It may be a tough ask to sign Michy if they win Ligue 1 though with many more suitors giving him the time of day.
These are the sorts of players Liverpool should and could be eyeing whether they finish top 4 or not. The League is so poor at the moment that any of these players, players who are at inferior clubs many would argue, would improve 18 of the 20 Premier League clubs. We all wanted top 4, and still could get it, but what's important is improving on this season and getting there/staying there next season.