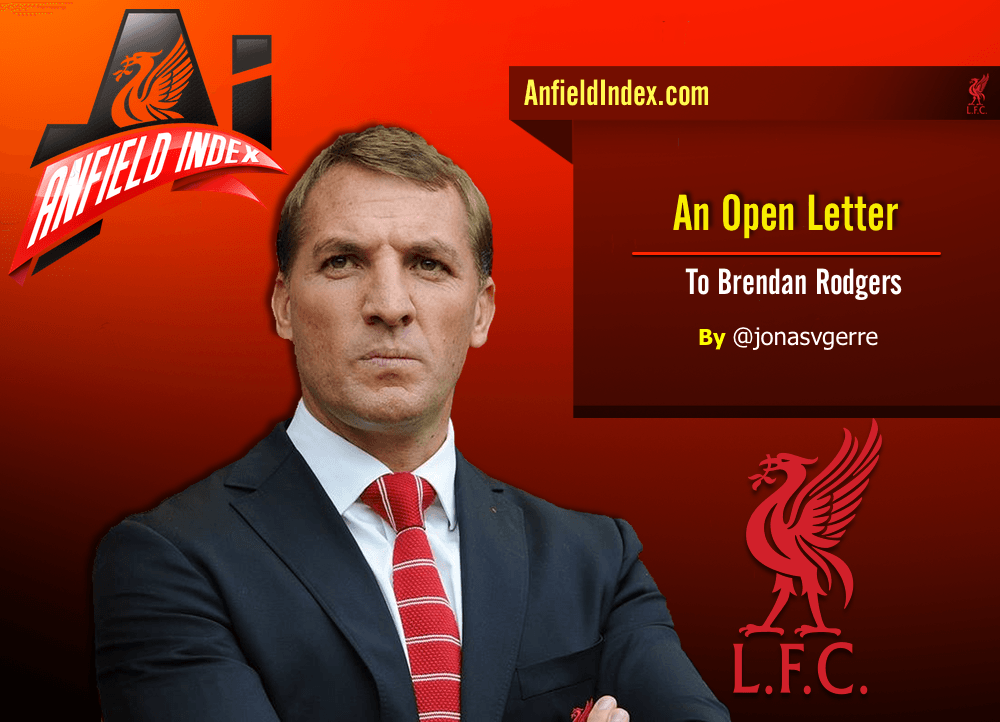 An Open Letter To Brendan Rodgers
Dear Brendan,
Let me start by saying I like you as the manager of my beloved football club.
I admire you for giving young players with high potential a chance to flourish and I have to admit after watching you for 3 years now, you've turned some youngsters into better players.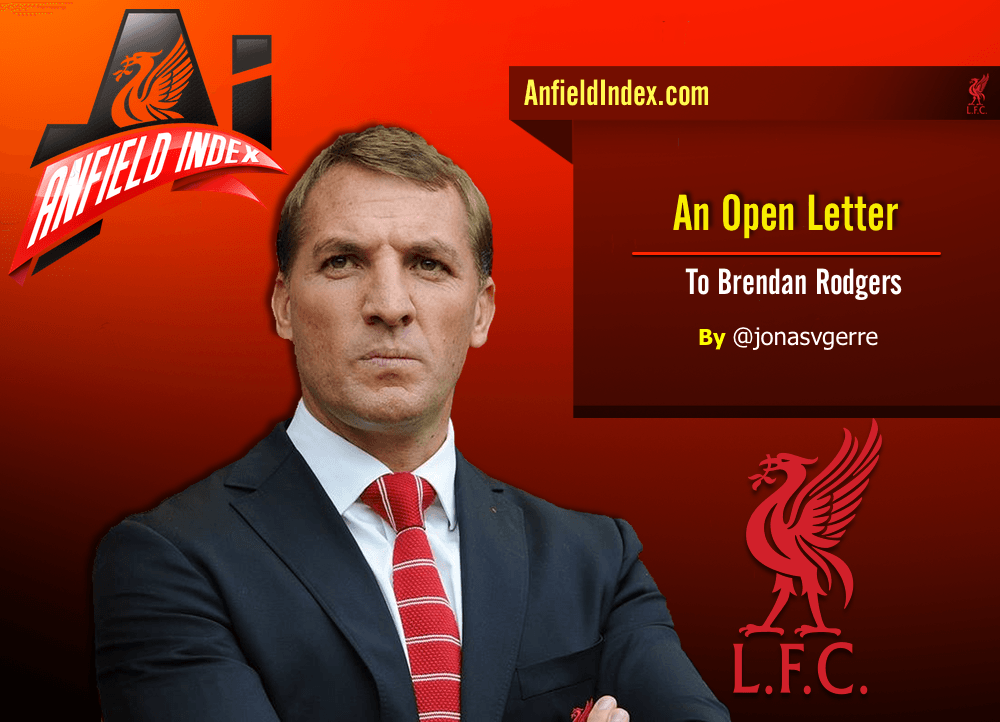 Last season you almost won us the title. Or should I say your world class strike partnership nearly won us the league?
Although, what I admire most about you, is that you ignored your stubbornness (I've erased the first 16 games from my mind so I won't reflect on those) and changed the formation after 15 games  in the season.
While we stopped conceding 2+goals a game you relied on a 20 year old to score goals and a big young Turkish German to win us games. An occasionally Lambert, Lallana, Borini, Markovic goal saved us some games and we were on a winning streak coming into February.
After 5 long months our best player, who scored for fun last season, returned to the squad and the future looked bright.
And so it happened. Coutinho learned how to shoot and scored some wondergoals, Henderson flourished by the absence of our skipper, even 'Loco Mario' scored a goal and Sturridge looked alright considering he was not at full fitness yet.
Except Leicester (2-2 on new years day) and Everton (scoreless draw) we won all our games in 2015, so far.  An amazing achievement although we played some really bad games and lady fortuna was on our side quite frequently.
Last week we played the worst football I saw us playing in years, during the first half against Swansea. You wasted poor (no pun intended) Raheem on RWB and Sturridge didn't see a decent ball on his lonely island for 45 minutes- and a 'diamond' saved our life that game.
Now I have to ask you, with knowing all this coming into the United game, why would you play the same formation as in the first half at Swansea? And even then, why did you change that formation after a dreadful 35 minutes to the diamond again. Do I still admire you for changing your mind and losing the stubbornness or can I blame you for being too stubborn in the first place?
A young, very talented player, probably one of the best in the league was wasted again on the RWB and later LWB. Sturridge who we all agree, is NOT a lone striker, was on his desolated island again. And he offered the only decent ball he got in 45 minutes on a silver platter to your 'son in law' Lallana. This man, who cost us 25 mil, and keeps Sterling from playing his best position ruined this chance. In basketball terms: AIRBALL!
Ok, it's not your fault that our most experienced player lost his mind after 45 seconds. And I really think if we played 11 vs 11 in a diamond (and with Sterling on top of it) against 'the Mancs' in the second half, we would at least got a point out of the game. Or,  even more…
Imagine that, you'd be the best manager in the league again.
'Brendan, tactical genius turned it around again!'
For me that's incorrect. 'Brendan needed 45 minutes to figure out his tactics didn't work!' sounds better to me.
The funny thing is that you actually highlighted the problem in your interview after the game. "We lost the game in the first half, I wanted us to play higher up the pitch" is what you said.
Who's to blame here, Brendan?
Best regards,
Jonas Van Gerrewey