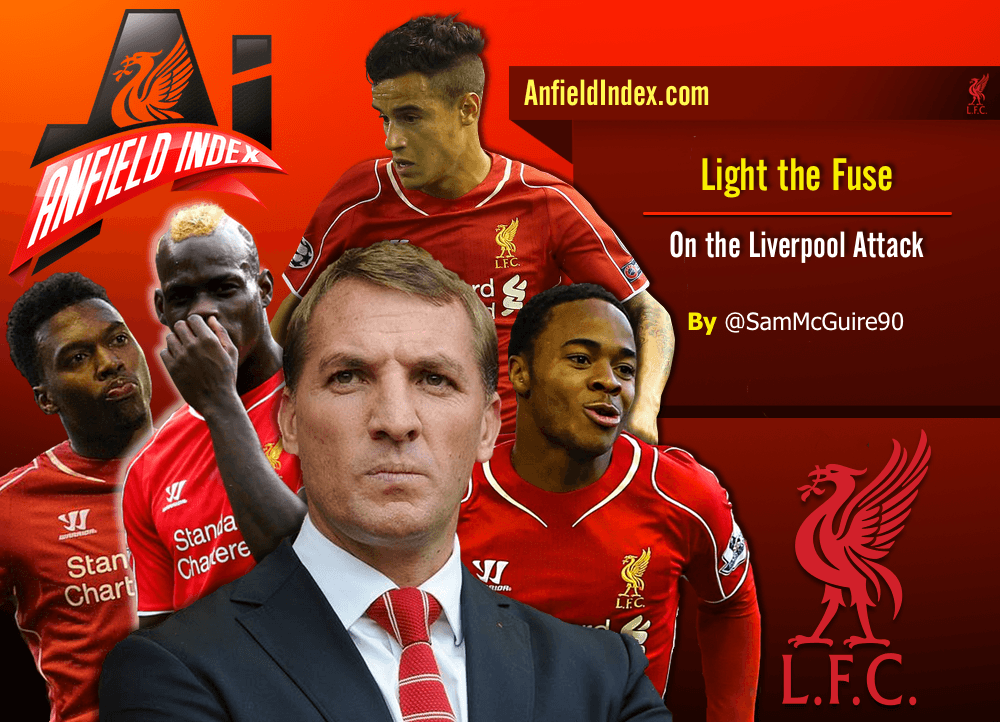 Light the Fuse on the Liverpool Attack
The Liverpool attack, light the fuse.
"Yo back up now and give a brother room, the fuse is lit and I'm about to go boom. Mercy mercy mercy me, but on the stage pitch I'm free"
The current season has left myself and many fans feeling frustrated. A poor start left us playing catch up and even during our impressive run of results the playing form wasn't there. No fluidity, no style and no identity. We've improved immensely defensively since the switch to a 3-4-2-1 and we've been winning games ugly and if you think we've been in form I suggest you look at Arsenal to see what real form is.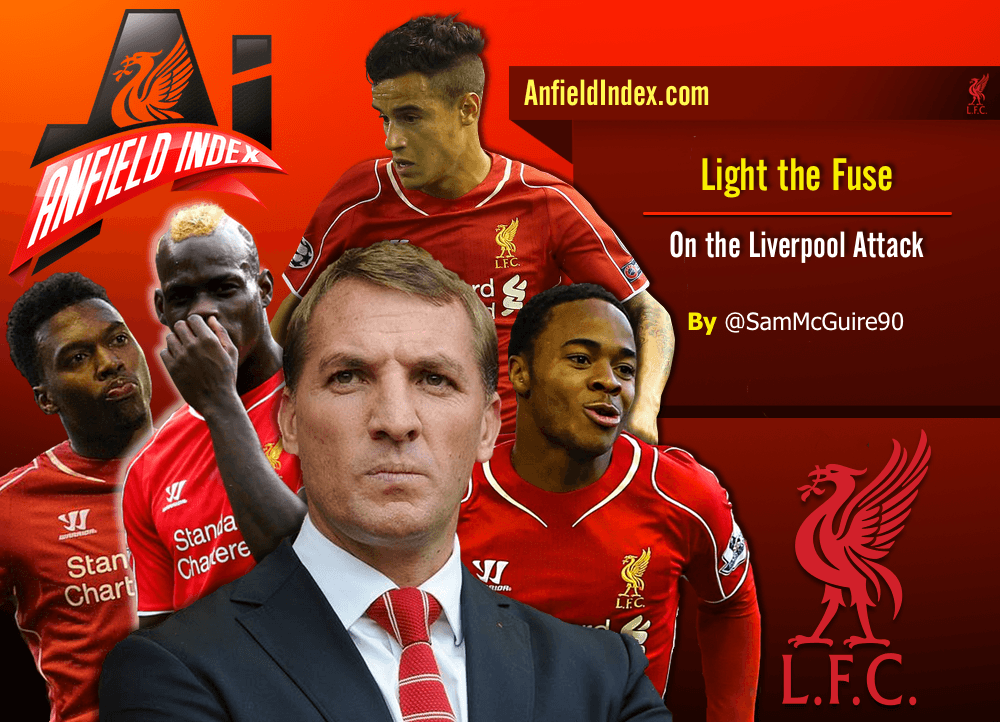 This season, in terms of stylistically, reminds me of Brendan Rodgers' first season. The whole 'Death by Football' ethos. It's an incredible style of play if you have the right players for the system. We don't.  We also aren't playing a system that caters for this ethos. You need to dominate midfield primarily and press the ball as soon as you lose it. Squeeze the play so you're constantly putting the opposition on the back foot. As we've all seen this isn't what Liverpool do. In recent weeks we've seen a poorly executed press which then exposes our midfield two. We've seen Daniel Sturridge as an isolated lone striker.
We're asking Jordan Henderson to sit and be disciplined alongside Joe Allen in the current set up due to the fact there isn't a defensive midfielder playing. Like it or not, in the previous two games we've sacrificed the midfield which was always going to happen when the opposition out number you. Both United and Swansea won the midfield battle (for a period of time) and pinned Liverpool back which meant our wing-backs became full-backs. This just meant the opposition could come at us, wave after wave centrally and it's hard to build from the back which means the two behind the striker end up dropping deeper and the striker gets even more isolated.
United played a high line at Anfield, something we've wanted teams to try all season but as they had numbers in midfield it meant they could do this. There were certain times both Phil Jones and Chris Smalling tracked a retreating Coutinho and Adam Lallana 20 yards into our own half to win the ball. United had us pinned.
United felt comfortable enough at periods to leave Sturridge with Carrick with nearly half of the pitch to run into. That goes to show how Louis Van Gaal didn't see Liverpool being able to get the ball to Sturridge due to his tactics. It could've ended badly but it didn't.
Liverpool need to revert back to tactics that have brought them success in the past. A style of play that not only gets the best out of the players but only gees up the fans. This tactic also works in role reversal; the fans can cheer the players onto a performance. The atmosphere has been questioned at Anfield lately for various reasons. Could one of these reasons actually be due to style of play. Look at last season, it wasn't all down to our league position that got the fans going, it was the style. Two of the seasons that stand out in my mind are 2008/2009 and last season. Both times we finished second but in both seasons we destroyed teams with our direct style of play.
We've got the players now to do this. Light the fuse Brendan
I think it's time. The Premier League in its current state couldn't handle the direct style the Liverpool players could play at. The swiftness of the attacks, the smoothness of the attacking transitions. The ravenous pressing pack we were famed for last season. High intensity all-action performances. If peak Steven Gerrard was a tactic it would be this.
The sort of fluidity that annihilated teams (Madrid, United, Villa) in 2009. The frantic starts to games that saw us break records and embarrass teams home and away in 2013/2014.
This change would probably only occur next season, but switching to four at the back is the way to go. We add a body into midfield which gives the stability and a base to build. We need to go back to pressing from the front also like Suarez used to, so using Sterling higher up is a must.
Hopefully come next season there will be a personnel change but both of these tactics could be used in the hope of changing the style of play. With playing Sterling alongside Sturridge you're effectively replicating Suarez and Sturridge. One hard worker off the ball and both like to drift. However the difference is you've got a lot more power and directness coming from midfield now with the addition of Emre Can. You can imagine Sterling drifting wide, Coutinho dropping deep and both Henderson and Can driving into the space ahead of them.
Not only does this change help offensively but it also helps defensively.
This is how the press could look with those formations. Sterling drifts wide and presses the left sided centre-back or left-back. Coutinho does that on the right and you leave Sturridge on the centre-back that's potentially spare. You have both Emre Can and Jordan Henderson pressing from the central midfield area, which means straight away the opponents have to bring their midfield back 10 yards like we did vs United. Emre Can is confident driving forward with the ball whereas Jordan Henderson makes those runs without the ball. It offers up two alternatives for Liverpool in this system.
The benefits of this system and a quick press means if an attack loses impetus Liverpool can use Jordan Henderson or Emre Can as a defensive number '10'. Someone who is used to breaking up the play of the opposition from high up, specifically targeting their deep lying playmaker if they use one. You can assume this would kill off their attacks and Liverpool would be able to recycle the ball quicker. It may look like the dreaded 4-2-3-1 but it's a completely different tactic due to personnel and instructions.
Alluding back to the United game, the two clear chances Liverpool created occurred from a counter.  It was a directness we've not seen much of this season and something Liverpool haven't been great at, having only scored three times from counter attacks. The Lallana chance towards the end of the first half was a good example of a well executed counter, barring the finish obviously.
You've also got the likes of Lazar Markovic, Jordon Ibe and Mario Balotelli to come into this team. All of whom aren't short of pace and all would be suited to both systems in the attacking third. Even Adam Lallana, not the quickest admittedly, would suit this system better due to his pressing ability.
Teams come to Anfield to sit back and soak up pressure making it difficult for Liverpool to break through, a problem Liverpool have had in recent weeks. Despite the wins we've needed worldies to win us games which won't be a weekly thing. If Liverpool take a leaf out of last season's book and start games like it's the final of the Champions League where you're you're three goals down and times running out we could once again have games won before half time with the added bonus of being able to switch to the 3-4-3 when we're defending a lead.
Give in to your desires Brendan, take the team off the leash. Dictate the destruction of the opposition from the sidelines.