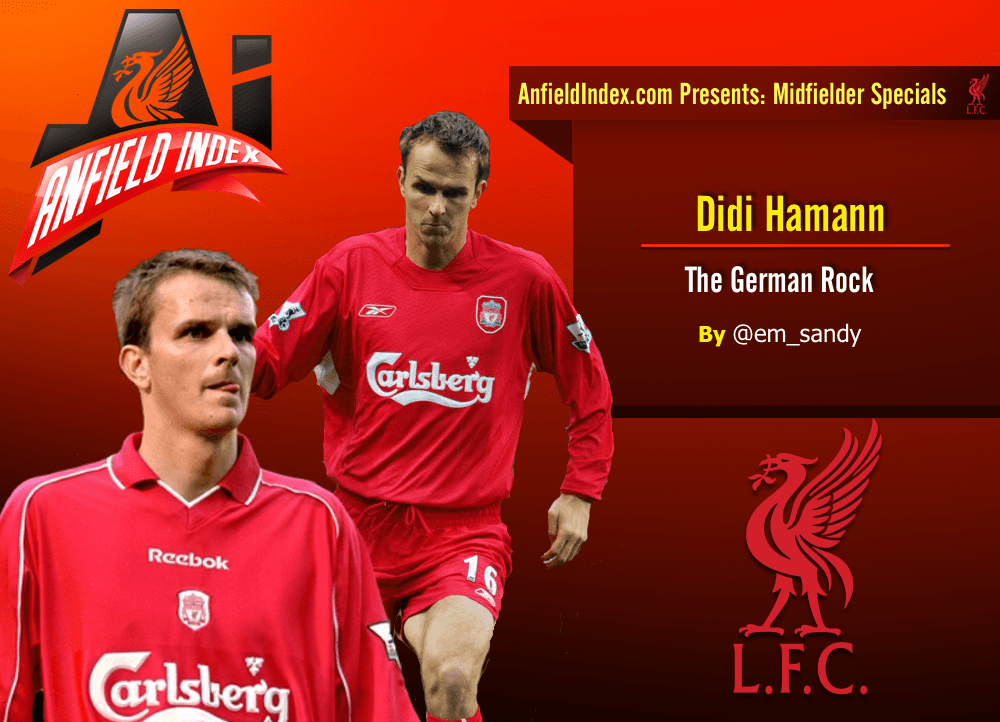 Didi Hamann – The German Rock
What a player.
Didi Hamann was a world-class defensive midfielder. Imagine if we could select him for Liverpool now? He'd slot straight into Lucas' position and provide that all-important protection for the back three – in turn, providing all the ammunition to go forward in attack. The current Liverpool side have all the firepower to attack with speed, creativity and freedom and yet there's something lacking; a spark, a confidence, a Didi Hamann…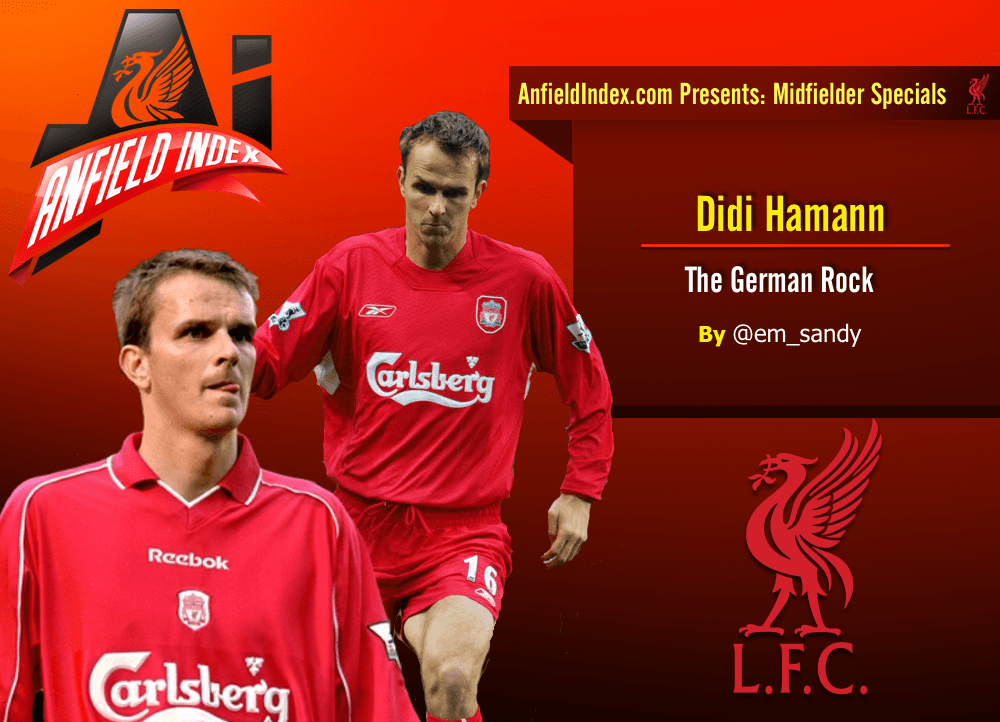 Lucas has had a good season. Liverpool doesn't look the same without him. He's a good player but he's not world class; he's the only out-right defensive midfielder available to us. Hamann however, was a player who could change the dynamic of a team. His protection, vision and awareness in the holding position was critical. Granted, he had strong players around him in what's now being recognised as one of the 'golden generations' of Liverpool Football Club, but his protection gave his team-mates confidence. They knew if the pushed on and attacked with freedom, he'd be there to mop up any mistakes. He could pick a pass too and often created attacks from deep in his own half. If Sterling, Coutinho and co. had that kind of service and protection, this Liverpool side would thrive, there's no doubt about it.
One player can't change a team. But they can change its dynamic. Sometimes, there's a cog missing and everything else just doesn't quite work. Hamann was the cog who allowed it all to work. For example, you have a debutant at centre-back due to injury. What do you do? Well naturally, the midfielders may drop a little deeper, unconsciously trying to give extra protection. The wingbacks would come inside to diminish the threat through the middle and so on. Didi Hamann's inclusion in the Liverpool side was a catalyst for the opposite reaction. He came into the team, added strength to their defence immediately and allowed his midfield and forwards the freedom to push-up. They had the confidence to take a risk because they had an exceptional player behind them. He was the equivalent to two central midfielders and had the presence of Andrea Pirlo without the recognition.
This lack of recognition almost cost Hamann an appearance in the 2005 Champions League final. After starting most games and playing a major role in the 2005 campaign under Rafa Benitez, Hamann was a non-starter in Istanbul. He's since admitted he was disappointed at the boss' decision to put him on the bench and Steven Gerrard has also stated his surprise at the exclusion in his autobiography. Hamann feared his Liverpool career was coming to an end and the chance to enhance his bid for a contract extension had been taken away from him. Instead, he sat on the bench in horror as his side were flattened by an outstanding AC Milan performance in the first 45 minutes.
Benitez turned to him at half-time and told him he was to come on. He had to make an impact. There was no other choice. And that's exactly what he did. Hamann's introduction immediately provided freedom for Steven Gerrard. The skipper pushed high up the field and met Riise's cross to head in the first goal of their come-back. After drawing level, the game went to extra-time and five minutes before the end, Hamann picked up an injury.
In an interview with the Liverpool Echo newspaper in 2012, Didi Hamann recounted his feelings in that moment:
"With about five minutes to go I felt a little crack in my foot. I found out later that it was a hairline fracture of a metatarsal in my right foot. It hurt for sure, but I was in no doubt that on this night of all nights, in this game of all games, I was carrying on.

"The period between the final whistle and the start of the shoot-out must have lasted about six minutes. Rafa came over and asked me a question. 'Do you want to take a penalty?' I had a broken bone in my foot, although of course Rafa was unaware of this, but I said nothing about it and had absolutely no hesitation in replying 'Yes."
The German Kaiser then stepped up to take the first penalty. Of course, he scored. And the rest is history.
His contribution that night gave him his contract extension. But it did much more than that. It gave Hamann the recognition he deserved. Until that night, people had been blind to his contribution to the side and the importance his presence had on the team and the players around him. He's written himself into the history books at the club and into the memories of most Liverpool fans too.
The 2005 final was a match just like every other for Didi Hamann. He wasn't any more spectacular than usual but his story sums up the kind of player he was; determined, fearful, loyal and reliable.
I miss the German Rock.
He only scored Screamers!

Didi Hamann's fact file courtesy of LFCHistory.net
Birthdate: 27 August 1973
Birthplace: Waldasson, Germany
Other clubs: Bayern Munich (1989-1998), Newcastle United (1998-99), Bolton Wanderers (2006), Manchester City (2006-09), Milton Keynes Dons (2010-11)
Bought from: Newcastle United
Signed for Liverpool FC: £8m, 22.07.1999
International debut: 15.11.1997 vs. South Africa
International caps: 59/5 – (42/3 at LFC) – 17.08.2005
Liverpool debut: 07.08.1999
Last appearance: 13.05.2006
Debut goal: 05.02.2000
Last goal: 22.02.2005
Contract expiry: 11.07.2006
Win ratio: 54.06% W: 153 D: 66 L: 64
Honours: FA Cup 2001, 2006; League Cup 2001, 2003; Champions League 2005; UEFA Cup 2001
Total games/goals opposite Liverpool FC: 4 / 0
Liverpool FC league games/goals: 191 / 8
Total Liverpool FC games/goals: 283 / 11