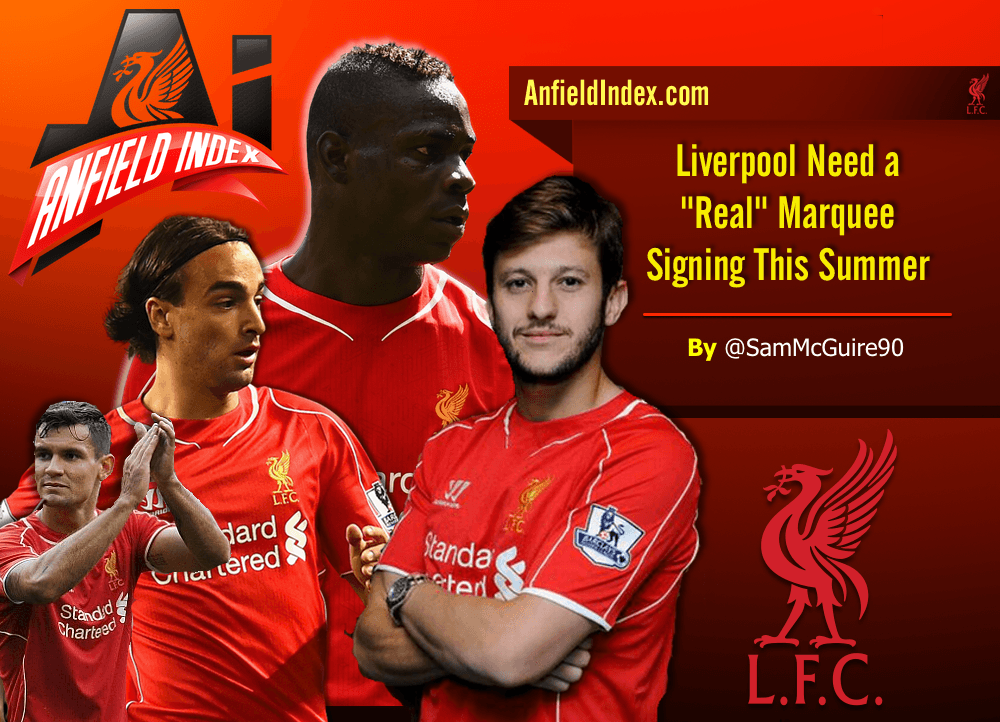 Liverpool Need a "Real" Marquee Signing This Summer

It seems to me that a marquee signing means different things depending on who it is you speak to. Some will argue it's already a recognised star, some will say it's a player that takes your team to the next level but the majority of people will say it's an expensive signing.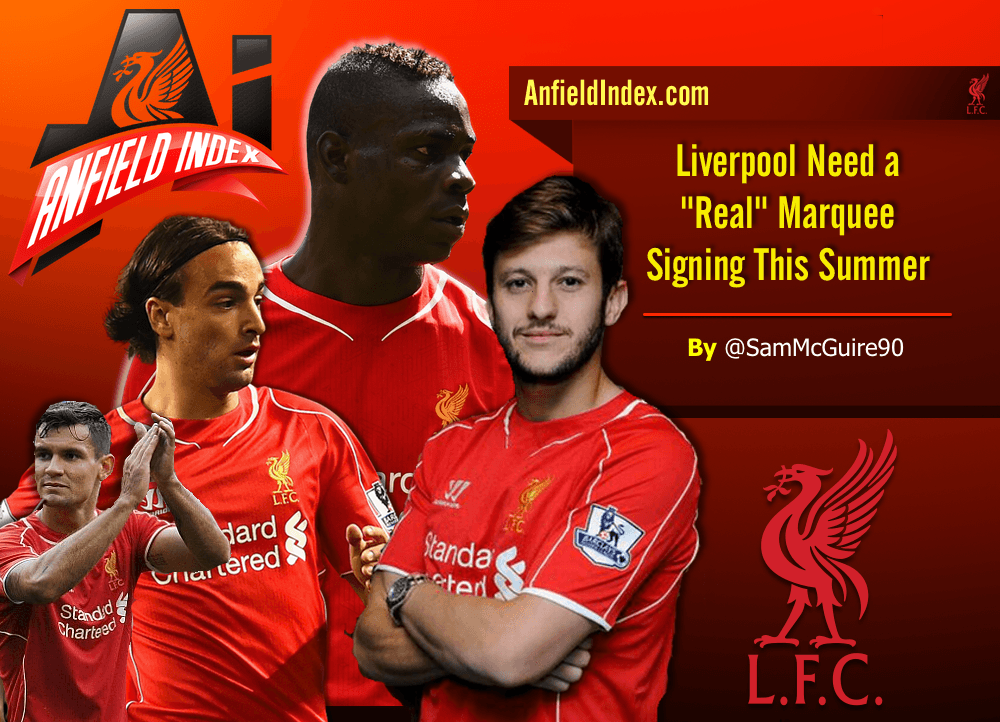 The actual definition of a marquee signing is 'exceptionally popular or skilled'.
Adam Lallana is labelled as our summer marquee signing due to the fact he was the most expensive. Liverpool fans pandered for a 'marquee' name all summer to fill the void left by Luis Suarez. For both, they were using money as the key part of what makes a marquee signing when that isn't the case.
When Andrea Pirlo went to Juventus, he was a marquee signing and, also, a free transfer. Regardless of whether Milan didn't think he could cut it anymore, Juventus were getting a marquee player. He has gone on to play an integral part in Juventus' rise in Serie A once again.
Liverpool in recent weeks have been linked with Alvaro Morata and one newspaper said he'd be a marquee signing at £25million. This is what originally got me thinking. The media push this 'Marquee means money' onto us for clicks and sales. Alvaro Morata is a good player with a lot of potential but currently shouldn't be labelled as a marquee signing for Liverpool.
When Luis Suarez was signed, he was relatively unknown to many of the media, came with a bad reputation and wasn't the most expensive deal of the window. Consequently, he wasn't coined as a marquee signing. When anyone with any knowledge of football, would've seen Luis Suarez as a marquee signing even at such a small price. As I said though, the media like to push the idea of  'money = importance'. Inevitably,  Andy Carroll as the marquee signing was how that window was judged, primarily.
If you pay big money for players,  they need to have the talent to back it up. Look at Fernando Torres when he signed for us. Had mass potential, which he fully achieved at LFC. That was a marquee deal for the club as it was rumoured half of Europe wanted him. So not only was he supposedly popular, he came for a big fee at the time but also came with a readymade reputation he'd  built up for being good at what he does best- scoring.
The same Fernando Torres was the 'marquee' signing for Chelsea. Except this time it was different. Injury prone and out of form, he cost double what Liverpool signed him for. Chelsea have a history (Unlike them to have one of those, ey!) of overpaying for marquee strikers that fail to deliver. Hernan Crespo, Adrian Mutu, Andriy Shevchenko all came with huge tags and none excelled. Does the marquee tag add extra pressure onto already pressurised players?
We've seen that with Adam Lallana in some ways. Not only did we pay big for him, but he's, also, accompanied with the 'marquee' tag that is brought up in nearly every discussion about him at Liverpool. Would it be different had Liverpool signed someone else for more money? A little less pressure on him may have done him a world of good in terms of how people view and judge him.
In modern day football when players are terribly overpriced, a marquee signing could be what others call a bargain. Take Emre Can for example. He cost the club £10 million which is loose change these days. Manchester United and Bayern Munich were two clubs looking at him and yet we managed to sign him. That's a feat in itself. He's extremely talented as he's already shown this season and it's certain he'll improve. He could, and probably will, become a world class star in the coming years and Liverpool acquiring such a talent should be considered a marquee achievement.
With the summer transfer window drawing closer it'd be wise to take the transfer fees with a pinch of salt when looking for that marquee player. Yes we'd all love that £30 million striker because money equals success doesn't it? oh wait…
I'd be more than happy if we started to become wiser with our transfer dealings. I'd rather our marquee signings were talented youngsters trailed by many clubs. After all, they're the definition – talented and popular.