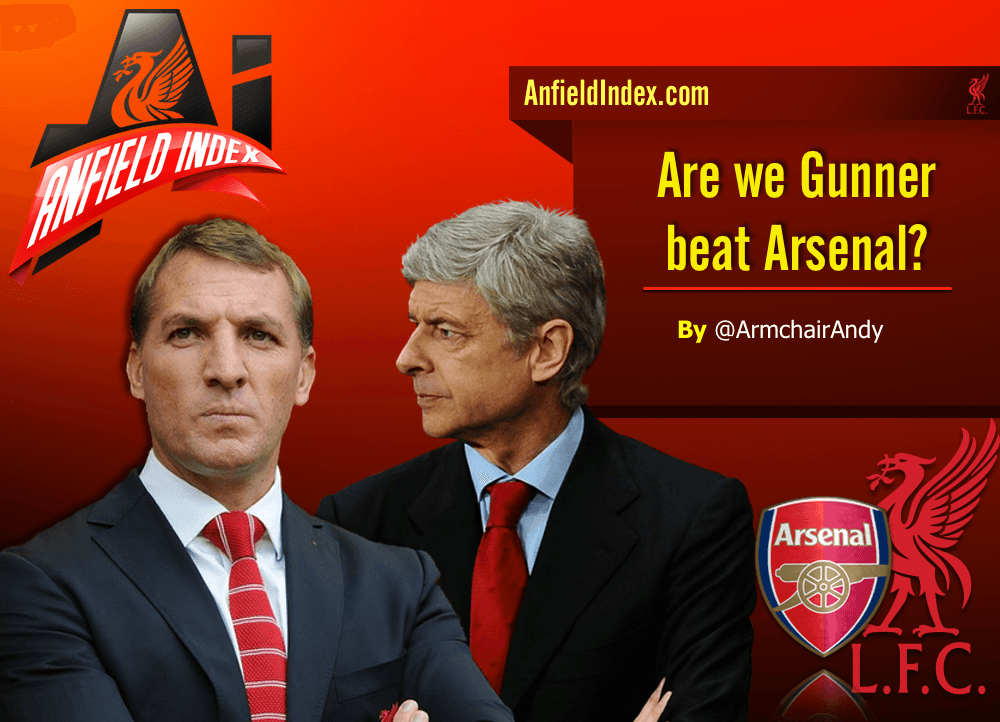 Are we Gunner beat Arsenal?

Now that the dust has settled from the Manchester United debacle and we've endured the hysteria of a Lionel Kane inspired International break, attention turns back to the Arsenal game.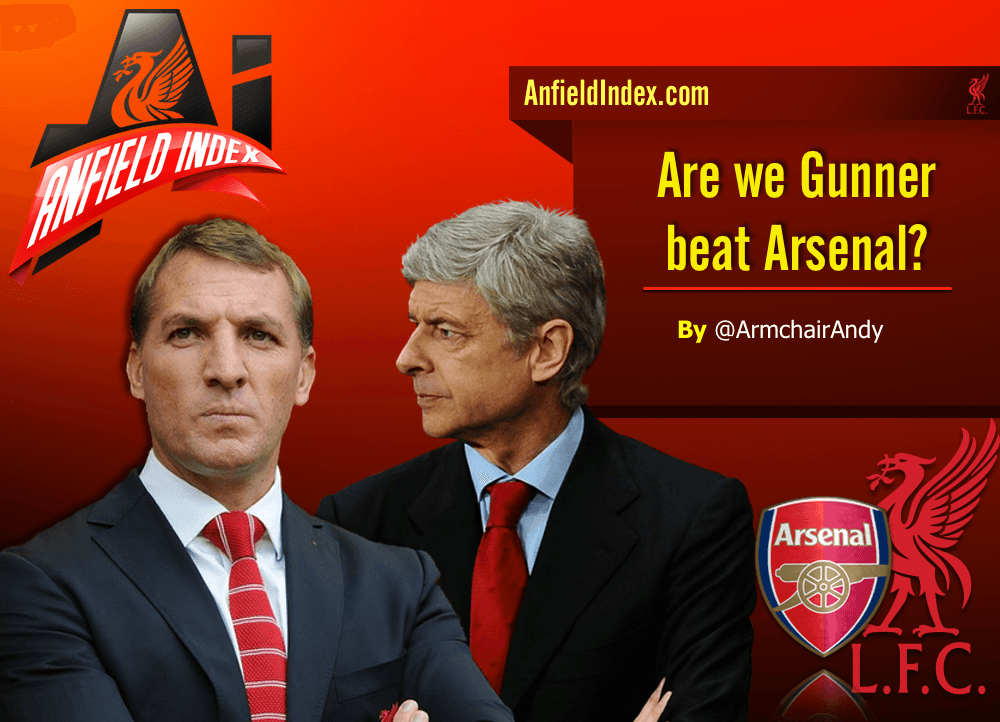 As a kid, I hated Arsenal. George Graham and his drab 1-0 functional football, not to mention them winning the title at Anfield in injury time of the 1988/89 season finale. I still say Alan Smith didn't touch the ball for the first goal and it was an indirect free kick, so the 'goal' shouldn't have counted. To this day, every time I hear his dreary voice on commentary, it reminds me of that game. I'll never forgive him, the big lanky streak of…… anyway; fast forward to the late nineties and Arsene Wenger completely transformed Arsenal and English football with it. Their football was fantastic and they had some unbelievable players to go with it. For my money, the Premier League has never seen a better central midfielder than Patrick Vieira and striker than Thierry Henry. They also had the footballing genius that was Dennis Bergkamp. Without a doubt, he's my favourite non-Liverpool player of the Premier League era. His footballing brain just operated at a different level to anyone else; his technique, vision, composure and touch were breath taking.
Aside from the admiration of some of their players and their style of play, some of my fondest memories have been in matches against them: the beautiful goal where Steve McMahon stopped the ball going out for a throw in before Peter Beardsley dismantled their defence and set up John Aldridge at Anfield, winning the 2001 FA Cup Final in Cardiff, the 4 minute Robbie Fowler hat-trick and the Saturday lunch time destruction of them at Anfield last season.
In fact, that Saturday lunch time game last season was a decimation, a desolation, an annihilation……. It was jaw dropping. In boxing terms, Arsenal were punch drunk before the end of the first round.
Starting like an express train became our hallmark in the second half of last season, sharp contrast to this year. That's not necessarily a criticism because at that point, we had Suarez, Sturridge, Sterling, Henderson and Coutinho all in form together and for that period, it was magic. Saurez leaving was always going to hurt us, he's one of the very best players in the world, any team would miss him and Sturridge's injury misery this term hasn't helped either. Being without two strikers who provide 50 goals a season between them, as well as the other qualities they possess, you have to adapt. Consequently, blowing teams away early in a game is no longer on the menu. What we did do though, was eventually find a system that suited our players and got us winning games again. Things were once more looking positive until cracks started appearing, particularly against Swansea. Brendan Rodgers made alterations in that game and we won, albeit fortuitously and the cracks were papered over. Unfortunately, we never learned our lesson from the Swansea let-off and paid the price against a much more wily and experienced manager; suffering ignominious defeat to our most hated rival. Despite spending over £150m last summer, United were agriculture than culture, but the bottom line is they did a job on us. Those cracks were blown wide open and to make matters worse, Steven Gerrard was deservedly sent off when he lost his head and Martin Skrtel was retrospectively given the same punishment when the FA decided his 'stamp' on David De Gea was intentional.
It was a result that put a dent in our hopes of finishing in the top four this season and a trip away to an in-form Arsenal is hardly what you want in these circumstances. Question marks over Daniel Sturridge's fitness hardly lightens the mood and if he is injured, that would normally mean Raheem Sterling playing as a striker, but the injury to Adam Lallana means he is more likely to play with Coutinho behind the striker. It's partly why Lallana's injury will be seen as a blessing by many Liverpool fans. If it is Sterling and Coutinho behind either Sturridge or Balotelli, then it's probably our best hope of causing the Arsenal back line some real problems.
Conversely, Arsenal's main injury worry will be Danny Welbeck and though his touch may be clumsy and not look the most accomplished of strikers, his pace and discipline to stay out wide when played there could keep our wing back on that side pinned back – a problem particularly encountered against Swansea and Man Utd. We also missed Lucas against United, I feel he would have coped with the physicality of Fellaini better than Joe Allen and although Arsenal don't offer that kind of threat in midfield, Lucas is more likely to get around and unsettle Mesut Özil.
On paper, the match appears to be a question of whether we can hurt Arsenal more than they can hurt us. It's a huge game for us, lose and a top four place would seem to be out of reach, but a win keeps us in the hunt and gives that all important momentum. It's also a big game for Brendan Rodgers personally because it's a game where he has to get team selection and tactics right from the start; he can't afford to keep having to make alterations and substitutions to put right mistakes he's made pre-game.
My gut instinct isn't good, it's the same anxiety I had before the United game. However, I was similarly worried before we played Man City last month and we were splendid that day! The optimist in me says we can do it, and we can, but only if Brendan Rodgers gets it right and the team play to their potential. If I wasn't so useless at betting, I'd put my money on a draw.