The Oxford dictionary gives the definition of a leader as: The person who leads or commands a group, organisation, or country.
Now, for the first time in what seems like an eternity, Liverpool Football Club needs a new leader.
With Steven Gerrard leaving this summer all eyes will firmly be on manager Brendan Rodgers when it comes to naming his full time captain for next season and beyond.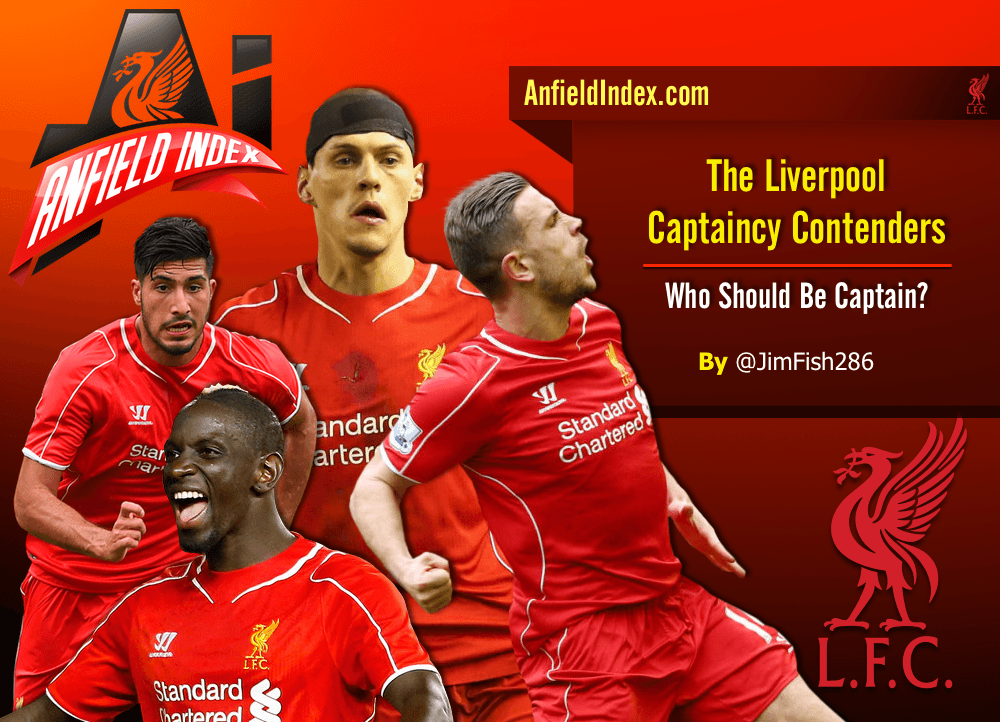 There's no doubt that the new leader will be a different type to Steven. It would be impossible for the new man to become the heartbeat of the club and in many ways the city in the same way that Steven did. It would be foolish for us to expect whoever is named as his replacement to suddenly become 'The new Steven Gerrard' to be the man who made us believe again, to be the man who made the unbelievable, believable. To be the reason players want to join Liverpool FC.
That may well come over time but the reality is, whoever the new captain is, they will have to grow into their new role, as the club tries to grow into theirs.
We may not be the super power we once were but captaining Liverpool Football Club is an honour that can only be matched by leading the club to the major trophies.
There are a group of men waiting in the wings for Brendan to give them the nod to follow in the footsteps of some footballing legends and lead this great club.
Jordan Henderson:
We've seen Jordan Henderson become vice captain this season and many would say he has taken to leading the side out in Gerrard's absence like a duck to water. Henderson has also become a bigger presence on social media and of course stars in that fantastic Nivea for men advert.
But it's on the pitch where he has really grown. So far this season he has once again been our driving force from the centre of midfield. He has contributed 5 goals and 7 assists so far this season. That's a more than acceptable tally from a midfielder who takes no penalties and very few other set pieces.
My concern over Jordan is that we have seen him played out of position this season, both as a right wing-back and as a deep lying midfielder. It's clear that he is at his most effective when given licence to press high up the pitch and make those late third man runs into the box. I worry that if Liverpool spend well and upgrade the midfield area in the summer then Jordan could be pushed out of position once more.
Most would say he's nailed on to get the armband officially, but in my humble opinion, it's not as clear cut as that.
Mamdaou Sakho:
When Mamadou stormed out of Anfield on September 27th 2014, you'd have gotten extremely long odds on him becoming the next Liverpool captain. In fact, many believed his days as Anfield were numbered. Having been mis-managed by Brendan Rodgers initially and then being replaced by Dejan Lovren at the start of this season there seemed little chance of the Frenchman ever wearing the red shirt again.
However, lady luck intervened.
Firstly with injuries and then a change of formation leading to Mamadou taking his rightful place on the left side of our new back three defensive unit.
Since his return he has excelled. His ability on the ball, which is still ridiculed by most pundits is exceptional. His pass success rate of 89.9% is further evidence of that and the way he moves effortlessly into midfield with the ball at his feet can only be matched by his German counterpart, Emre Can.
Given Liverpool's propensity to only attack down the left hand side, his contribution to our attacking play cannot be overlooked also.
Equally at home in a back 4 or a back 3 Mamadou has become Liverpool's number one centre-back and arguably one of the top 3 defenders in the country this season.
Whilst at PSG he became their youngest ever captain aged just 17 and 8 months in 2007 and has also experience of captaining France U21's.
All in all Mamadou looks like the ideal candidate, however doubts still remain over how highly Brendan Rodgers rates him. Could he try to replace him again in the summer?
Emre Can:
It's extremely hard not to be impressed by the young German starlet. He strolls into the club and immediately takes on Robbie Fowler and Jamie Carragher's old squad number of 23, saying "I'm obviously aware of the importance of number 23 in Liverpool history.
"It's a big honour for me to wear the number 23 after Carragher retired but I don't feel any extra pressure as such.
"At the end of the day it's a number that you play and the team has to pick a number.
"For me it wouldn't make a difference to wear 23 or 99, I always go out there and do my best for the team.
"But I definitely wanted the number 23 because there is a high importance for this number – I actively asked for it."
I wouldn't be surprised to see him walk into Rodgers' office in July and demand the number 8 shirt and the armband that goes with it.
Equally comfortable in numerous positions, Can has made his current home on the right side of Liverpool's back 3. As previously mentioned he positively purrs when moving seamlessly from defence into the midfield area, allowing Liverpool tactical flexibility when both in and out of position.
Strong in the tackle and good in the air, Can could find himself as a centre-back for the foreseeable future at Liverpool, although many believe he will develop into a world class box to box midfielder. He could find himself in direct competition with Jordan Henderson for one position next season and perhaps the captaincy will swing that his way?
Although not a full international, Can recently captained Germany U21s in their 3-2 defeat against England U21s.
Perhaps Can's age and relative inexperience will count against him for the captaincy this time around, however it'd be brave man who bet against captaining this club in the future.
Martin Skrtel:
Perhaps the most surprising candidate for the arm-band, Skrtel has appeared to be on his way out of Anfield on more than one occasion under Brendan Rodgers.
However, you can't help admire the Slovakian's resilience and since the switch to 3 at the back Skrtel has been mightily impressive.
Having appeared in 27 league games so far this season Skrtel leads the way in the stats department. Making an impressive 49 interceptions, 277 clearances and blocked 34 shots it would be hard to criticise him.
However, playing as the middle defender in our current system Skrtel's role is by far the easiest. His job is to solely see ball, head ball, see ball, kick ball. And to his credit, he excels at that. The problems come with Skrtel when he has more to think about than just that.
Do we make him our captain knowing that he can only perform in a 3 man defence or do we actually do what many have been crying out for and actually replace him?
So there we have it, four candidates as I see it. Four very different men and I'm sure, four very different captaincy styles.
I know who'd get my X in the box, who gets yours?