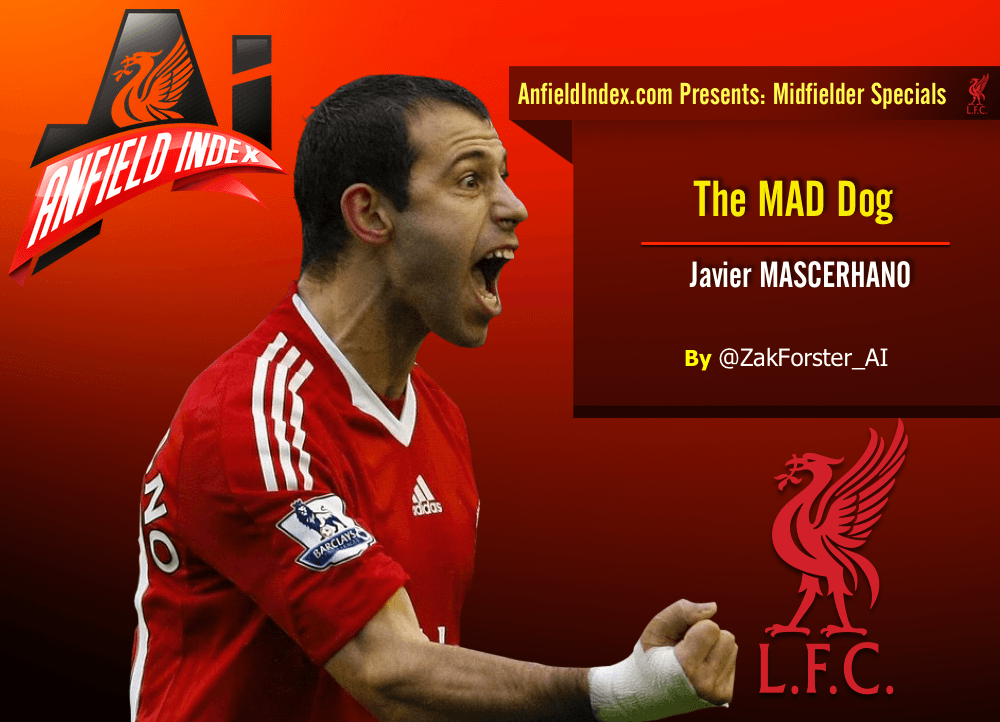 Midfielder Week Special: Javier Mascherano - The Mad Dog
There's a great saying that sums up Javier Mascherano: "It's not the size of the dog in the fight, but the size of the fight in the dog that counts". This sentence really sums the Argentine warrior up because at 5ft and 8.5 inches tall, he isn't your archetypal defensive midfield powerhouse a la Chelsea star Nemanja Matic. Mascherano is a fantastic footballer but most of his power comes from his heart and sheer desire to win.  He will not be denied and his work ethic is perfect for any team in the world. Along with his hard working mentality, Mascherano is versatile, strong and physical in the tackle. Despite not being the most skilled player in the world, he fits in beautifully into the Barcelona mould and his success over in Spain is fully deserved.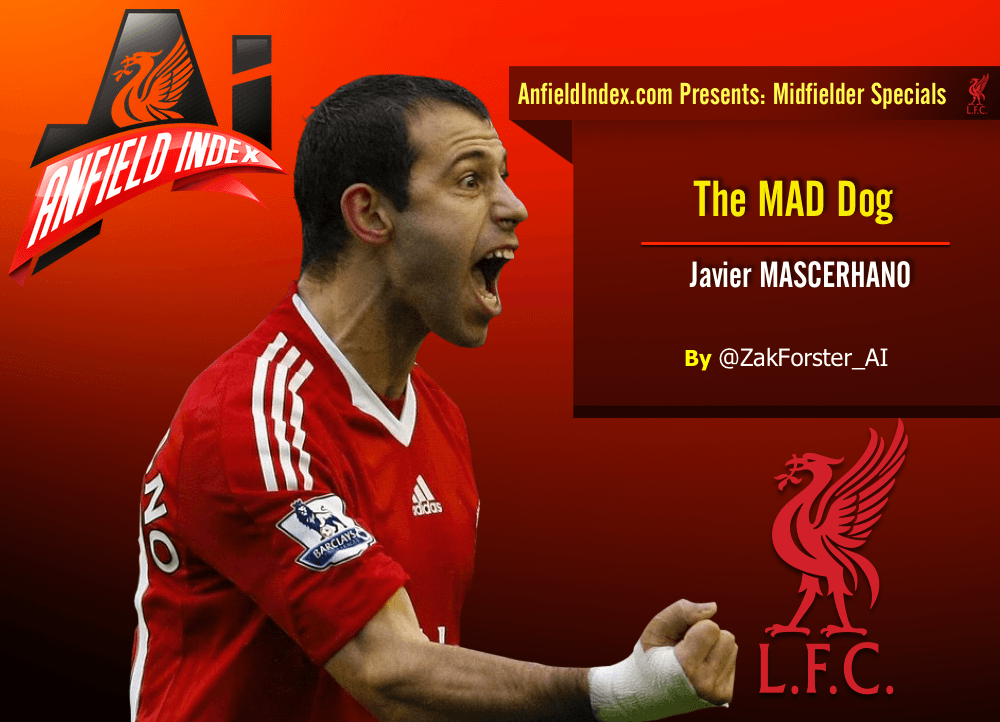 If one image ever summed up Mascherano's attitude and strength of heart then this is it. That South American street toughness that we Liverpool supporters love to indulge in, is something that "Mascher" had in abundance – I can't quite remember who else had that quality – and his fearless nature is what I loved about him the most.

It's the Argentine midfielder's strength of character which actually allowed him to flourish at Anfield in the first place. After a torrid spell at West Ham, following a move from Brazilian side Corinthians, Mascherano moved to Merseyside on loan, opting to stay in England despite apparent interest from the majority of Europe's biggest clubs. A lesser man may have quit English football altogether after the confusion and apparent footballing struggles which dogged his short career in London, but the mad dog didn't hide. He was finally allowed to join Liverpool on loan on the 20th February 2007.
Mascherano's impact on the club was instant with manager Rafael Benitez labelling him, "a monster of a player". Captain Steven Gerrard and Kop favourite Xabi Alonso were, also, full of praise for the new recruit during those early weeks. However, this instant adrenaline fuelled start was no flash in the pan and Mascherano quickly became integral to Liverpool's charge towards a sixth Champions League title. Reds fans will bitterly remember that 2007 final defeat to AC Milan but Javier Mascherano can at least look back with a small sense of pride as he was voted the supporters man of the match on the club's official website shortly after the final whistle.
Having played for Liverpool on loan up until February 2008, Mascherano finally joined the Reds on a permanent basis for a fee that was thought to be around £19 million.
Mascherano never quite won a trophy with Liverpool despite seriously close calls in both the Premier League and Champions League. This, missing out on the 2010-2011 Champions League and a certain managerial appointment made keeping hold of the Argentine star impossible and following an extended break after the 2010 World Cup, Mascherano had decided he wanted to leave Liverpool. His exit was acrimonious and the relationship between Mascher and the Liverpool faithful was thought to be completely ruined. That is, until his post match interview after Barcelona's Champions League final victory over Manchester United in 2011 he tried to make amends.
Those short words about dedicating his win to the Liverpool fans was a good way for Mascherano to repair his bridges with them and I think he is now even more revered by Red supporters, thanks to a short and simple apology. Personally, I wish the mad dog all the best for the remainder of his career.
Javier Mascherano's fact file courtesy of LFCHistory.net
Birthdate: 8 June 1984
Birthplace: San Lorenzo, Argentina
Other clubs: River Plate (2003-05), Corinthians (2005-06), West Ham United (2006-07), Barcelona (2010-)
Bought from: Global Soccer Agencies and Mystere Services Limited
Signed for LFC: £18.6m, 30.01.2007 (loan) – 29.02.2008 signed permanently
International debut: 16.07.2003 vs. Uruguay
International caps: 111/3 (41/2 at LFC) – 01.04.2015
Liverpool debut: 24.02.2007
Last appearance: 15.08.2010
Debut goal: 15.03.2008
Last goal: 25.02.2010
Contract expiry: 30.08.2010
Win ratio: 54.68% W: 76 D: 37 L: 26
LFC league games/goals: 94 / 1
Total LFC games/goals: 139 / 2