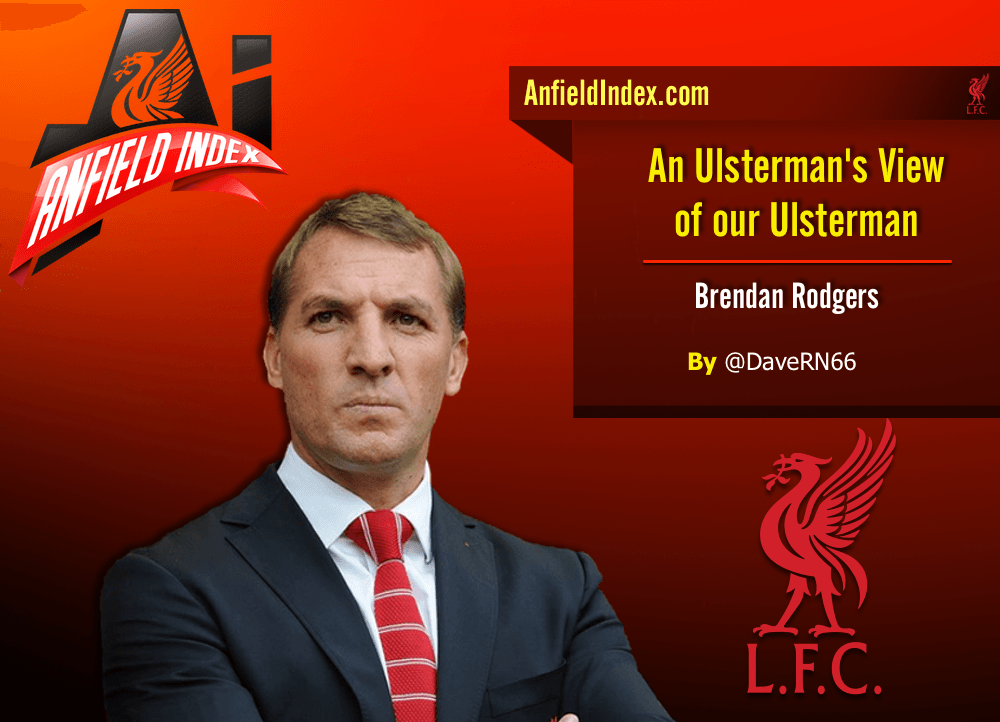 An Ulsterman's View of our Ulsterman Brendan Rodgers
As Brendan Rodgers approaches 3 years at the helm of Liverpool Football Club, he has given fans a rollercoaster of a ride. From "nearly" winning the league last season, to the depths of the August to December period this season. Then the hope of a decent run crashed with back to back defeats to top 4 challengers who we needed to take something from. So what will the future hold for my fellow countryman and will he still be at helm of the LFC ship next season? A lot will depend on the FSG mindset and whether they feel it's the end of the road for the Brendan experiment. Given the time and money he has been afforded by the club, FSG will have more questions than answers when they review the manager this term. I want to outline why I think its better for FSG to bite the bullet and remove him from his position before its really too late. I know this type of thought will upset many in the fanbase who are devoted followers of Brendan, but the slide needs to stop now before we really are just another team in the EPL.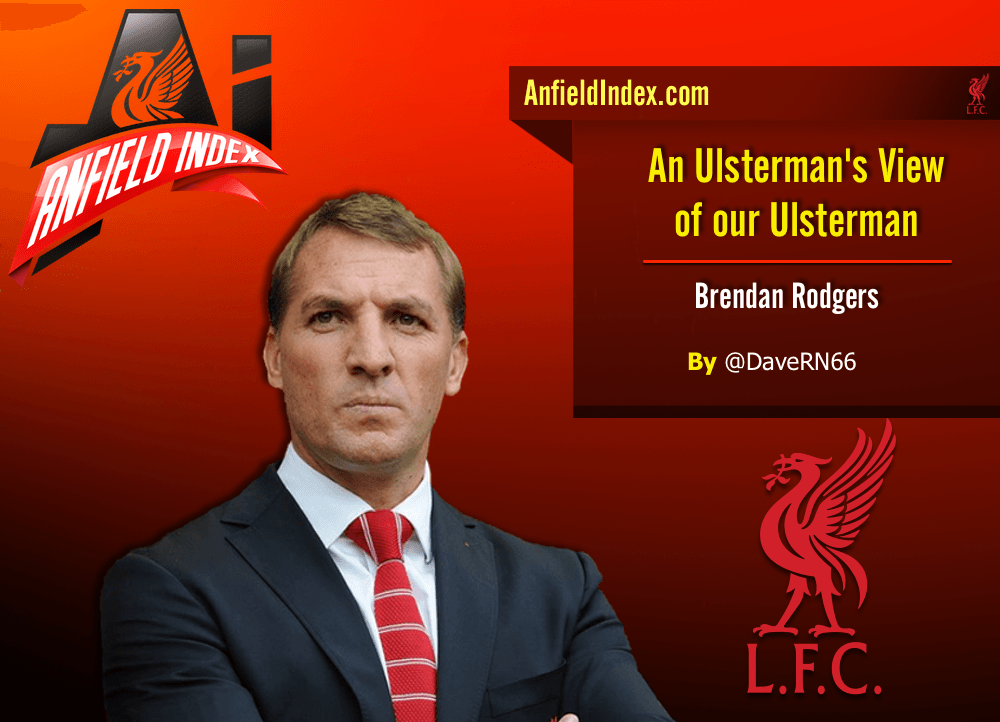 I have always had several deep issues with Rodgers as LFC manager and with every passing season he reenforces those issues. My concerns started not at LFC, but at Swansea. I used to watch his press conferences, as a fellow Ulsterman, and so many times thought "wind your neck in lad". So when he was appointed manager of LFC, complete with his 180 page reinvention of football, I was deeply worried. He began by giving us his "Death by Football" speech. Mighty words indeed from a man who had won nothing. But the fans hung on his every word, Death by Football was the new buzz phrase, and they all loved him. The football that followed had us wishing for death as the easier option, so he didn't really lie, we just misunderstood his definitions. His appointments in his backroom gave Google and Wikipedia a headache, who were these people? Who is Colin Pascoe? Then we had the 'Being: Liverpool' show which was the start of a cringe fest of PR that has grown year on year. His first season saw us 7th in the EPL, made 4th round exits in both domestic cups and a last 32 exit from Europa League. But they told us it was his first season, he's a young manager, he will only get better was the cry. Fair enough, I thought, people seem to like the guy, he's the manager whether I like it or not, I support the club, he's just a staff member, my sanity was restored. His second season he "nearly" made me eat humble pie, "nearly"! Instead the Mourinho bus rolled up to Anfield in search of a 0-0 draw, the same draw that most of us would happily have taken pre game, and more importantly all we needed to take from the game. But of course Brendan did what Brendan does, went for the ego boosting glory of beating his old master, ended up colliding with Mourinho's tactically placed iceberg, and a serious tilt at the EPL title sank without trace. All the season's effort and momentum gone with one slip of the boot by a legend, a lack of game management and tactical flexibility, unforgivable!

Chances to win the EPL don't come along too often these days if you are an LFC supporter. Gone are the days when we fans thought the league title was a god given right, rather than an expectation. That's why this failure should never get lost in the romanticism of how great and breathtaking the football was at times last season. But with his second placed finish Brendan Rodgers was declared, by media, the next big "British" manager. Meanwhile in the real world I recounted those famous words "second is nowhere". While his rival managers went away to look at players at the World Cup in Brazil, Brendan was busy soaking up the atmosphere of that citadel of football, Boston? Unknown to him our stand out world class player was busy in Natal, satisfying his hankering for the taste of Italian shoulder and activating the escape chute to Barcelona. To add further insult to injury Arsene Wenger was wise enough to make the trip to South America to whisper sweet nothings in the ear of a certain Alexis Sanchez who proceeded to reject the Reds and go to play for Arsenal. We were told his wife didn't fancy Liverpool, when in reality Alexis probably didn't fancy Brendan! His next moment of madness came when he then decided that snubbing a conference of Champions League managers was the way forward. Could it have been at that time he saw himself as way above them as he polished his Manager of the Year award? We are told he's a young manager learning his trade, if this is the case surely he, above any other, should have been there on the conference's front row learning? It beggars belief he didn't attend, especially in light of what can only be classed as a disgrace in Europe's Elite competition this season. That night in Madrid, that was not Liverpool Football Club, it was a timid white flagged surrender before a ball was even kicked. Zero fight, zero desire to try and get a result, just the acceptance of defeat so play the kids, who did themselves proud! Such actions are just not the Liverpool way I grew up with! Surely it is time we had a manager who is proven, a winner, a fighter? We have enough players coming through the doors who need development without the manager needing development also, it seems so detrimental to the process.
So our Brendan starts his third season in charge without the outstanding talent of Luis Suarez, any team is going to be lesser with such a massive loss. But Brendan was not concerned, he had been shopping in the Magic Bean Store and had secured the magical talents of Dejan Lovren, Rickie Lambert and Adam Lallana. All was going to be OK, after all he's the new media darling, who would question a man who came second last season? Right? Thankfully the transfer committee came to the rescue with some pretty decent prospects, especially Emre Can. Mario Ballotelli was added for what appears to have been "the criac" after Brendan telling us there was no way he was coming. But rather than introducing these new players to the squad, these new transfer committee signings were reduced to bench fodder while Brendan's Magic Beans took to the field week after week serving up the same uninspiring dross as they went. Sakho, one of our best players this season, was overlooked to the extent he walked out of Melwood, but Lovren was still immovable until injury blessed us with Sakho. Sturridge got injured earlier than usual, and stayed out for a considerable time. Balotelli was left to take the flack for just about anything that went wrong during that period, even when he wasn't playing. And whilst Mario has not set the world on fire at LFC, he has taken more flack than was deserved or required. 15 points after 14 games was the fruit of this stubborn persistence and we have no evidence to suggest it would have changed had it not been forced on him by injuries. But Brendan gave us another speech outlining how he was pacing the floor of his kitchen in the wee small hours and came up with his new system. Problem was it wasn't exactly novel as it was the same system Terry Venables came up with for Euro 96, wing-backs! And just for good measure he publicly ripped an already fragile Simon Mingolet apart, dropping him "indefinitely" for the much inferior Brad Jones. Thankfully the fate of injury intervened on that occasion also, and Mingolet has returned better than ever in an incredible show of character since. I wonder how much of it is down to his determination to prove the man who threw him under the bus wrong? If this was Brendan's design to fire up the player, the public arena was never the place to air it. We then had the Lallana love in, and a persistence to continue with him at wing-back, or playing him in positions which pushed Sterling out of position. I like Lallana, I hope he will be better in the coming seasons as there is a player in there, he has just used been incorrectly and at all the wrong times, in the wrong positions.
In reality this season has been a disaster from the moment Suarez left Melwood and Sanchez refused to come to replace him. The Sturridge injury was unfortunate, but its was not like injuries are new feature for him and that the club didn't plan around his injury record is criminal. Brendan Rodgers has been living on good fortune and goodwill not only from Liverpool fans, but also the media. Take off your red tinted goggles for a moment and take a look at how easy a ride Rodgers gets from the press because he's a British manager, then compare it to a foreign manager like Rafa or Houllier, it is night and day. It is also worth noting that Benitez and Houllier were very nice, humble gentlemen, but it didn't spare them the wrath of the tabloid press. It's even more frustrating when you compare it to the nonsense Rodgers subjects us to, and escapes unchecked, week after week with a free pass from the media.
We fell to defeat against a much superior Arsenal side, complete with a goal from Alexis Sanchez to add to the irony. The problem lies not in this defeat, but rather the loss to United in the previous game and the dismal start to the season. The responsibility for all of this whole sorry mess lies at the door of one man, the manager. Brendan Rodgers. We could and should have won the United game, as we are better than them. But here we are, top 4 all but gone and now the Rodgers Fan Club are telling us he can still win the FA Cup and keep his job. Well a trophy didn't save Kenny, a legend, the king, who has more credit in his account than Brendan will ever have at LFC, so I would suggest the time is now to part company with Brendan for the good of the club. I don't know who we turn to, that's for FSG to decide, but I'm sure they are and have been looking at other options since November. One thing is for sure, there will be serious questions coming out of Boston in the next few months. Don't delude yourself into thinking he could win the FA Cup either, he wont! To win we need to beat the side that made us look very ordinary today, it would require a massive slice of luck. And most seem to have forgotten there are still two games to play before we get to the final. I'm sure Blackburn will be well up for it at home, and Villa at Wembley, to me, is a coin flip at best on current form.
I'm sure FSG have an escape clause in Rodgers' contract that is tied to getting 4th this season, they seem too astute with such matters for a such clause not to exist. I fully expect they will see their experiment as a failure and for all Brendan's fancy talk, when you strip it back, its just talk without any substance. They gave him £120 million to spend, the same money that Spurs spent when he declared they should be winning the league. Again his own words should return to bite him. If you want to experience "nearly" for the foreseeable future, by all means stick with Brendan, but I think the FSG ambition reaches a lot higher than just "nearly". There is of course another way to deal with Rodgers by taking the power away from his hands, replace his staff with people who are winners, and give him zero say over any transfers. Great idea in principle, but the sad reality is the ego of the man would never allow for such a reformation. The band will play on until May with the season sinking all around him, just like that other great Northern Ireland disaster, the Titanic. The Mourinho iceberg caused a lot more damage than could have ever have been imagined last year. The time is now to grab a space in a lifeboat, because the good ship Brendan is going down, and like all good Captains, he must go with it!