Five wins on the bounce, including an impressive thirteen matches unbeaten had Liverpool dreaming of a second place finish and an FA Cup winners' medal to show for by the end of this campaign. Catching Chelsea would always be a near-impossible task, however, Brendan's men were nailed on pipping City to the runners-up position.
Fast-forward a mere two matches later, and 95 % of reds fans would bite your hands off for fourth place. Yes, that's the beauty (or rather 'misery') of the Premier League, as the reds have fallen eight points behind the Champions League places, with Rodgers' job being questioned once again.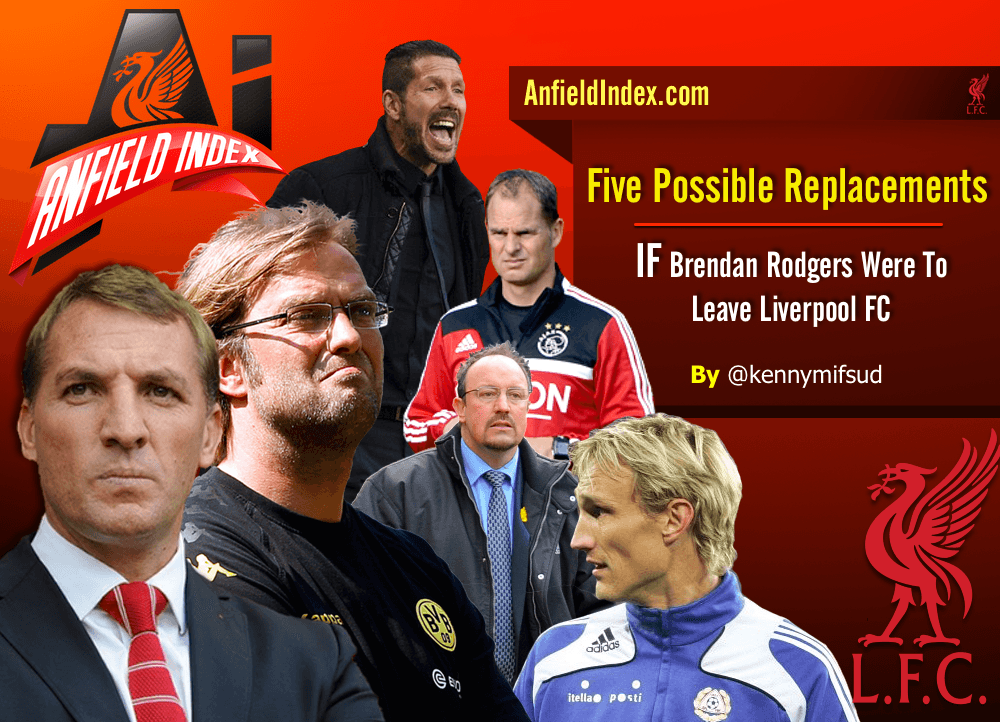 Kenny > Rodgers?
Roll back to the 2011-2012 season and King Kenny's final campaign in charge before getting relieved of his duties. We finished eighth that season, and the Capital One Cup was clearly not enough to keep the king at Anfield. Now, these last two 'disaster-stricken' results make this Wednesday's FA Cup battle with Blackburn a colossal fixture that can make or break Brendan's future. If we do not WIN the competition, we will find ourselves in a similar position to that in Kenny's final season. The only difference? Kenny Dalglish led us to two cup finals, winning one of them. With that being said, why should we stick with Brendan and support him, when we didn't show the same faith with Kenny? After all, they both spent mammoth-sized amounts on 'average' players. What makes Brendan different to the king?
No Champions League Football, Fall From 2nd to 5th… Is The Club Going Backwards Again?
Fergie guided Manchester United to the top for a number of years on the trot. Mourinho, although briefly, did the exact same, and so did Wenger. Brendan guided Liverpool to the top for one season, and in that season, failed to win us the league. Now, we find ourselves in fifth spot and facing an uphill challenge to regain our place in next season's Champions League.
We failed miserably in our first season back in the competition, and if this summer's transfer window is a similar to the last one, we may see Liverpool deprived of Europe's biggest club competition for a number of years to come.
He Cannot Handle The Big Decisions
From Luis Suarez's abrupt exit, to allowing young Raheem do whatever he pleases and when he pleases, Rodgers is proving that he cannot cope with a number of crucial decisions that come his way. Firstly, onto Raheem Sterling, who seems to have Brendan on the tip of his finger right now. The 20 year-old should NOT have been allowed to conduct that interview with the BBC and Brendan should have punished him for going against the club. Fine him, place him on the bench, do whatever it takes to prove your point to the troubled youngster. We are Liverpool after all, we should be able to replace him.
Secondly, Brendan Rodgers NEEDS TO toughen up. Gerrard, Skrtel, and Can's dismissals in the last two matches were all acts of carelessness and recklessness. Yet, Brendan seems content on praising his players and stating that they all showed 'great character' and were 'unlucky' with the decisions. Brendan, none of the three red-cards were 'unlucky', and they were all rightfully given their marching orders.
If Brendan is to be given the sack this summer, we will need a new man to enter the fold. Here are five individuals who may be given a look-in by the owners.
Jurgen Klopp (47, Manager of Borussia Dortmund)
Now, I am not beginning with my most preferred and ending with my least. The managers on this list are jumbled up, as we start with a people's favourite in Klopp. The Dortmund boss has dragged his team through thick and thin, glory and despair, and most importantly, he has shown loyalty when the bigger teams have come calling. This season however, Dortmund have declined rapidly and have only just began to recover and move up the table. Securing a European spot looks unlikely for the club, who may find themselves loading out some of their big stars due to this, including the man himself.
There is no doubt Klopp would be THE PERFECT FIT for a club like Liverpool. Loyal, passionate and most importantly, experienced at the top level. A perfect match for the ever-passionate Liverpool die-hard supporters.
Frank De Boer (44, Manager of Ajax)
Not much is known of Frank De Boer, unless you're a keen follower of the Eridivisie, that is. The 44 year-old had a blistering career and has echoed that in suit and tie, guiding Ajax to four successive Dutch titles in his four years in charge. He is young and possesses the knowledge and determination to thrive in a bigger league. Would he make the move now or continue to develop as a manager and seek a move later on?
"If I get an offer from a club in the future, I will consider the possibility and then follow my feeling. Liverpool and Spurs are clubs I could manage. Liverpool approached me in the same way Tottenham did this year, wanting to hold exploratory talks first."
A quote from the man himself for you reds fans to ponder about.
Diego Simeone (44, Manager of Atletico Madrid)
Possibly THE best young manager in world football at the moment, Diego Simeone has excelled, more than some, since becoming Atletico boss in 2011. He won the Europa League in his first season and then went on to pip rivals Real Madrid to the La Liga title two years later, whilst coming within minutes of repeating the feat in the Champions League final. Unfortunately, the double wasn't to be.
This season Simeone's men are playing the 'observing' game and currently find themselves nine points behind league leaders Barcelona. Could Simeone be tempted by a new move and challenge in the Premier League? Charisma, energy, passion and knowledge, the Argentine has it all in abundance. At only 44 years of age, he could well be on the way to transforming into one of world football's greatest managers. Will he become that at Atletico Madrid? I highly doubt it.
Rafael Benitez (54, Manager of Napoli)
The most controversial choice on this list is Rafael Benitez back at Liverpool, five or years or so after leaving the club. (On quite the sour note, let's be frank) Let us face the facts- that night in Istanbul is THE reason for which Rafael Benitez is where he is at the moment. Istanbul is why Rafa remains wanted by a select few reds fans and, also, why he is on my list today.
I, personally, would not be as enraged as the majority of Liverpool supporters out there if Rafa is to make a second coming to the club. He showed in his time on Merseyside that he is a manager capable of winning league titles and attracting world class names, unlike Brendan Rodgers. While both his FA Cup and Champions League triumphs had their own touch of luck to them, he remains one of the greats and someone that would jump at the chance to return and make things right. Now, before you begin to type in negative comments, think about this one for a second- What has Brendan done to make you prefer him to Rafael Benitez?
Sami Hyypia (41, Currently Looking For A Club)
The ex-red defensive powerhouse is the final but surprise member of this list. After retiring from the game in 2011, he went on to manage Bayer Leverkusen, where he excelled and guided them to the summit of the Bundesliga. At his second club Brighton, however, he failed miserably and resigned after a few months with the Seagulls.
He is now jobless and on the look-out for a new challenge. Would he suit a team like Liverpool? He is young, after all, and does possess the knowledge about the club from his playing days. I personally reckon this move would be a colossal risk to take. Sami lacks the experience to manage a club like Liverpool and has showed in his tenure down the south-coast that he he still has a lot to learn. With this being said, we all still have a place in our hearts for Sami and this video below is one of the many reasons why:
Stability Is Key To Progress
I will conclude this piece by stating the main reason why the owners should stick with Brendan Rodgers, even if he guides us to seventh place and a trophy-less season.
Stability. Fergie was on the brink of the sack as he led his United team to near-relegation in his first season at the club. As much the fans did wish they sack the Scot, the club stuck by him and since then he won them 13 league titles, five FA Cups and two European Cups. (Which is one less than Paisley won, just to state the fact). The same applies to Wenger who has been criticized numerous times in the past three-to-four years, yet, never fails to guide Arsenal into Europe season after season. The owners of these clubs have supported their managers through the good and bad.
Stability is key but progress is essential. David Moyes showed an ample amount of loyalty whilst at Everton, yet failed to win them a single trophy in over ten years. John Henry and Tom Werner have a crucial decision to make this summer as the Reds faithful become more and more restless with every passing day. Is a change rightfully due, or is three years far too early for a managerial merry-go-round? Have your say in the comment section below!