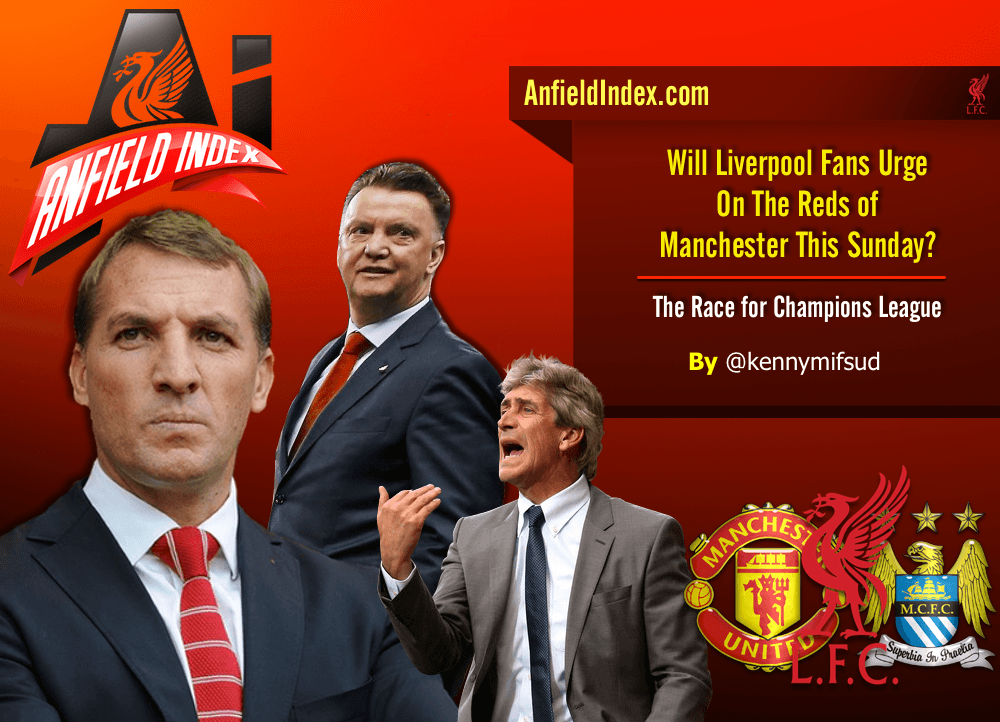 Will Liverpool Fans Urge On The Reds of Manchester This Sunday?
Liverpool fans have utterly enjoyed Manchester City's rise and United's fall of late. That 'Aguero' moment back in 2012 got us in a frenzy of celebration and jubilation at the fact that Manchester United lost the league title to their bitter rivals. Why United and not City then? They are both Manchester teams after all. No, Liverpool and Manchester United have been fierce rivals for over twenty years, in contrast to City, who have ascended to the top in the last three-to-four seasons. This time, however, Liverpool may be about to rely on their bitter rivals to give them a helping hand as the Anfield side look to pip Manchester City to fourth spot.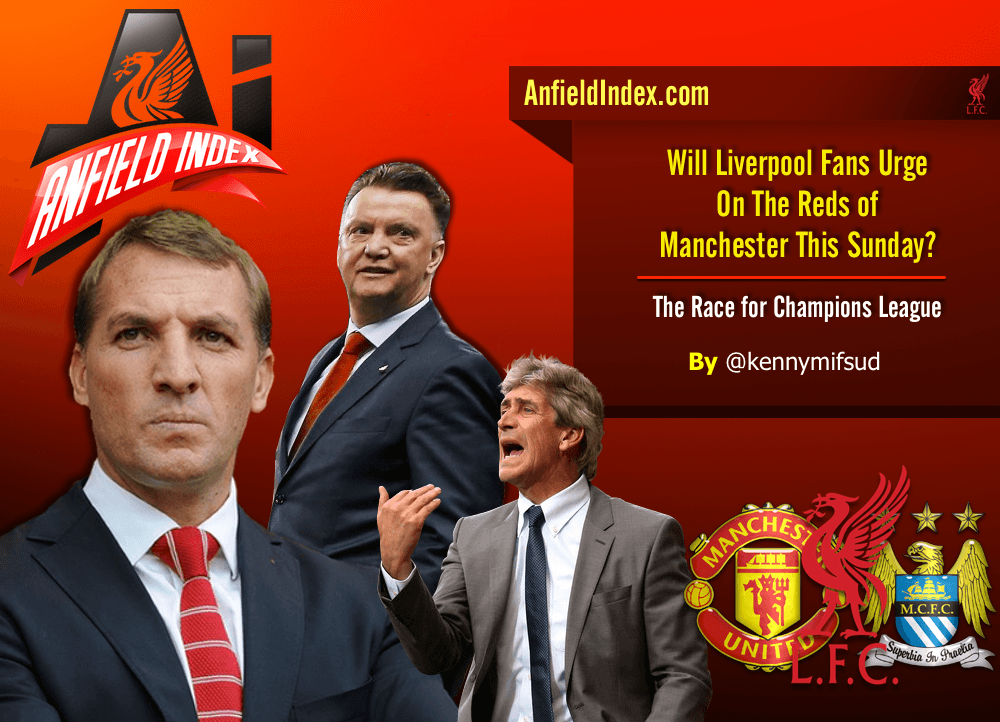 Why United and Not City?
At a point in time earlier on in the season, Van Gaal's side found themselves in seventh position, five or so points behind Liverpool. Now, they are battling Arsenal for second place. They and the Londoners are THE form teams at the moment, whilst Pellegrini's City have gone from title contenders to a scrap for fourth place in the matter of a few weeks. This is the main reason why the blues seem a more realistic target for Rodgers. FORM.

Here is how the top half of the table looks like at the moment:
Brendan's boys find themselves seven points behind City, eight behind United and nine behind Wenger's Arsenal. Form shows us that finishing second or third will be a near-impossible feat. Fourth-place City on the other hand, although mightily difficult, can be achieved after the blues' 2-1 defeat to Palace the other night.
Liverpool's Trip To the Bridge Will Determine Top Four Outcome
Hopefully, Mourinho's men will be crowned champions by then, thus, easing the pressure on them performing against us. One thing's for certain, that fixture on the 10th of May is a pivotal one if Liverpool still find themselves hot on the heels of fourth spot by then. Rodgers' men WILL NEED a result that day in order to stand any chance of overlapping the blues. Another uphill task for the reds, as Chelsea are yet to loose a home fixture thus far this season. Hey, records are meant to be broken, aren't they?
It Will Be a Struggling Day, But We Will Have To Get Through It
Supporting a team like Manchester United for the sake of the side you support is depressing in the best of times. However, unless Van Gaal's men find a dip in form out of nowhere, we will have to stick by them and hope they defeat City this Sunday and propel us to within four points of the European places, as long as we win our game against Newcastle. The match is at Old Trafford as well, which will give us further cause for optimism. (Or doom, I am not too sure)
If all goes to plan, the four points gap will definitely urge our players on. Let's do it for Stevie, Rodgers and to see Liverpool trot out to the anthem of the UEFA Champions League once again in the 2015-2016 season.
I will conclude by listing the remaining seven matches for both Manchester clubs, including Liverpool's as well.
                     Manchester City                                                      Manchester United

GW32           Manchester United (A)                                             Manchester City (H)
GW33           West Ham (H)                                                            Chelsea (A)
GW34            Aston Villa (H)                                                          Everton (A)
GW35            Tottenham (A)                                                         West Brom (H)
GW36             QPR (H)                                                                  Crystal Palace (A)
GW37             Swansea (A)                                                             Arsenal (H)
GW38             Southampton (H)                                                        Hull (A)
                                                               Liverpool
                          GW32                         Newcastle (H)
                          GW33                         Hull (A)
                          GW34                         West Brom (A)
                          GW35                         QPR (H)
                          GW36                         Chelsea (A)
                          GW37                         Crystal Palace (H)
                          GW38                         Stoke (A)
Looking at the run-in, I reckon Liverpool have the easiest set of fixtures ahead, with Manchester United the toughest. Could we witness Pellegrini's men rise in form towards the latter part of the season, resulting into United loosing out instead? Maybe. I am going with form and gut instinct by saying that it is more likely we will be battling Manchester City to fourth spot by the end of next month.
Do you think differently? Let me know in the comment section below!