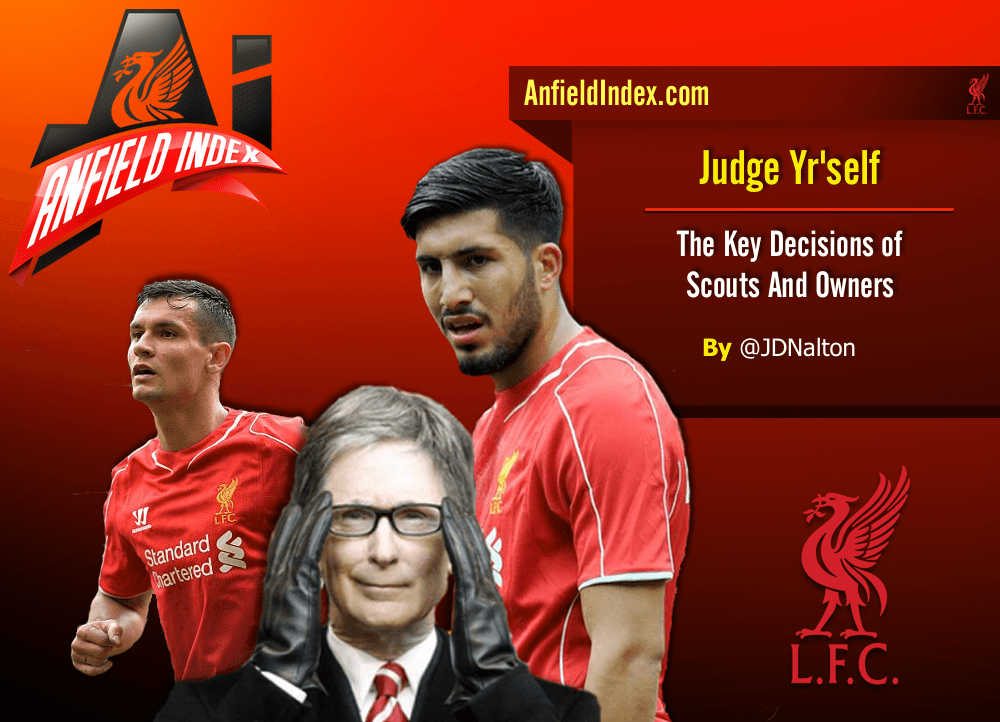 Judge Yr'self - The Key Decisions of Scouts And Owners

Judging. There's a lot of it going on lately. The manager, the players, the owners, and the judges themselves, are all being judged.
Football is about being a good judge. From the owner choosing whether or not to buy a club, to appointing the right manager, instilling the right philosophy, employing the right staff and buying the right players.
Then journalists and commentators will then assess the results of these things and the fans will also react to what happens on matchdays, in real time.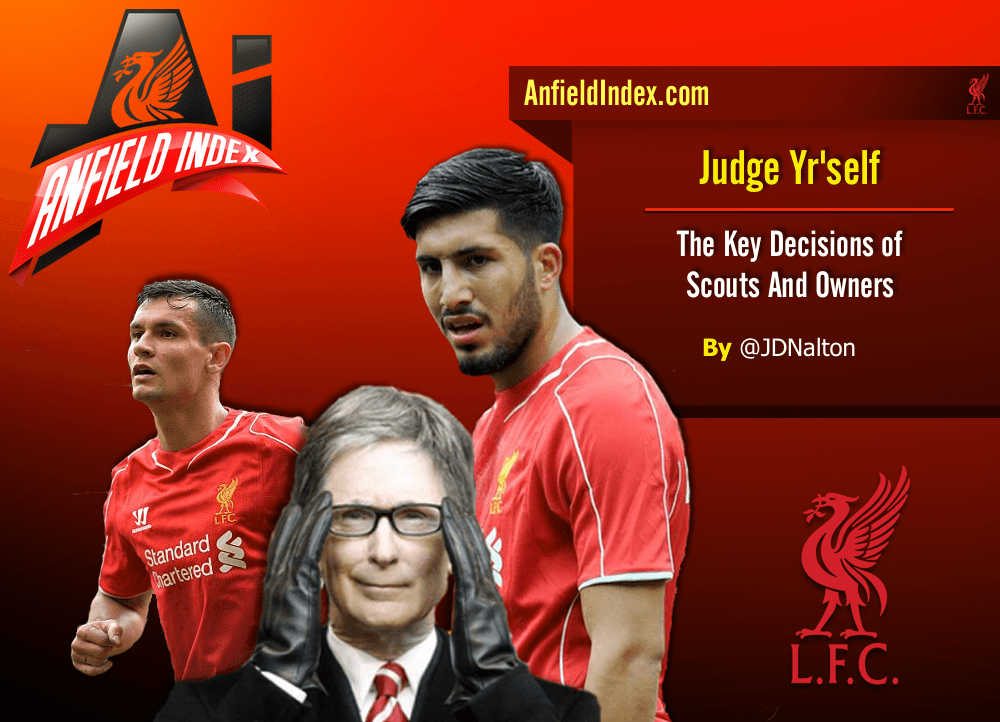 The Importance of Journalism
Ever since the 1920s, when James Catton judged that football in England was falling behind the continents to which it exported the game, journalism has been an important part of keeping the game on the straight and narrow.
No one listened to Catton back then, just as few listened to Brian Glanville after him and the English (and Scottish) game still suffers to this day as a result of this ignorance. It's for these reasons that pointing out error, giving constructive criticism and general judgmental journalism is still important for the sport.
Today everyone is an amateur journalist thanks to the ease with which opinions can be aired, blogs written and tweets sent. Those who pay a large percentage of their wages to Sky, BT and their clubs to fund football, should be entitled to a voice.
As a result of this, football clubs exist in an environment where every decision is scrutinised and as they take part in competitions where certain clubs had crossed the moat before FFP destroyed the drawbridge, the criticisms can be scathing and plentiful. Nonetheless, there are certain decisions a club needs to get right more often than not.
Scouting Success
One thing Liverpool Football Club needs to be very good at is judging players and their value. Without the billions of Chelsea and Manchester City, the lucrative stadium of Arsenal and the commercial pull of Manchester United, the difference needs to be made up elsewhere. Choosing the right players is of the utmost importance at a club who have less margin for error.
There are a large amount of talented footballers out there, but judging talent isn't even half of the job when it comes to deciding if a player can improve a team or squad.
A player's mentality is just as important, if not more important, when it comes to deciding whether to get the cheque book out and spend the money, and there are only a few ways in which players can attain the required mental strength.
One is through training in the youth academy. This is a good choice for a club like Liverpool and something the owners obviously push, but even then a strong character can only be really tested at the top level in big games.
The Manchester United team which came through in the nineties would be a good example of this, as would Guardiola's Barcelona, but even then the club's own talent needs to be complemented with world class players from elsewhere.
Which leads on to the second method: buying players who already have the mental strength built in. Players who have already played at the top level, won trophies, and have big game experience. These usually cost a lot more but, as Arsenal recently demonstrated, having a couple of World Cup winners and a tireless top level player like Alexis Sanchez, can pay off at vital times.
The third method is a combination of the two. Spotting the young players at other clubs who already have this strength built in, signing them, and bringing them through without denting this confidence. These players will need to be given ample game time to continue their development, and be man-managed well in order to maintain their strong mentality.
There's no reason why a club like Liverpool can't utilize all of these options. However, it all comes down to how good the scouts are at identifying and judging players, and then how good those in the higher echelons of the club are at actually getting them to sign.
Transfer Success
Research by the Tomkins Times found that 40% of transfers are successful: Paul Tomkins himself commented that:
"One of the things to come from our TPI work is what Dan Kennett termed 'Tomkins' Law', which relates to my conclusion that less than half of all transfers work; around 40% being successful on average, but you could round it up to 50% if being generous."
Tomkins went on to explain that this is logical, as not all squad signings can be seen as successful, which is an important part of these findings:
"Now, even though I used only objective data points to prove this fact, this is actually logical, as roughly only 40% of any given squad will be in the starting XI. Everyone has to buy squad players, but not all of your squad players can be seen as successful – indeed, most of them won't be, because by virtue of being a squad player you are not in the team."
Do squad players only become squad players because they were poor signings? Dejan Lovren and Adam Lallana suggest so, which shows that getting your big money first team signings right, is more difficult and much more important than getting a good solid squad player.
Most judges will accept that Lallana is a good squad player, but he's demonstrated in some games that he's not the consistent first team player you expect for the money paid. Many will have told you this before Liverpool signed him, while some warned that Dejan Lovren wasn't a signing we needed.
This comes back to the idea of judging the judges. Someone at the club decided that these players would give Liverpool the edge when it comes to challenging at the top of the table, help the club perform in the Champions League and enable the club to at least finish in the all-important top four.
Taking into account what happened in the 2014/15 season, they were wrong.
The failure to sign the required players and the failure of the big money first team signings to improve the squad has meant that Liverpool haven't met their targets. If anything they've made the team worse.
Lazar Markovic is an interesting case as he may have been a type three player, that is, one who's won titles in other leagues and has a winning mentality built in. However, his confidence has been dented and he's regressed at the club thanks to lack of games at key stages in his development. The latter part of this point could also apply to Javier Manquillo.
Future Success?
Every action a club takes will be judged by someone at some point. In an ever increasing pool of fans, journalists and pundits, each and every area of a football club will be analysed. A range of things will be assessed, from the social media person who decides that they should send that cringeworthy tweet, to the sports science team who decides that Philippe Coutinho is okay to play another ninety minutes.
However, there are several key areas which Liverpool need to get right in order to catch up with the billionaires and rebuild the drawbridge.
Any future success is likely to come from a combination of clever scouting, transfer dealing, coaching, tactical evolution and marketing; all being done on the basis of one underlying club philosophy which allows the staff in each of these areas to work in synergy.
It's no good signing a group of players, only for them to go onto the pitch in a position which doesn't make the most of the strengths they were originally signed for. Similarly, signing a top quality player and running him into the ground until he's ineffective is also futile.
It's not easy. As soon as a club gains an advantage in one area, others will catch up. The important thing is to not stand still and be constantly looking for that new hotbed of talent, analytical edge or tactical tweak which will give your club the edge.