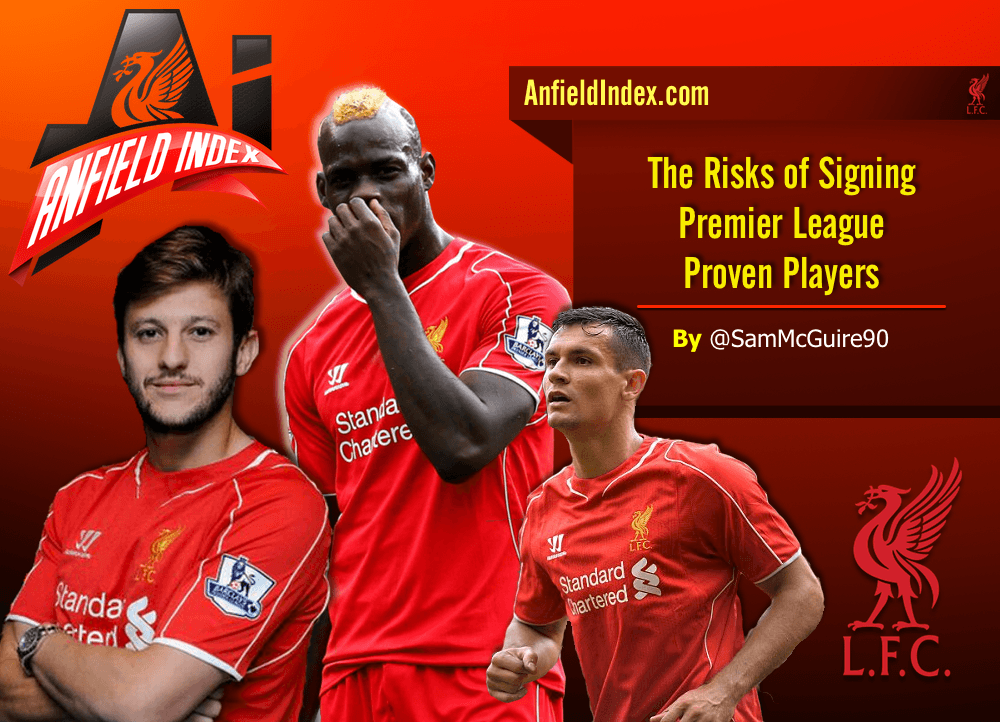 The Risks of Signing Premier League Proven Players
Premier League proven vs Foreign League signings is a debate that continues to rage on. The transfer window fans the flame of this topic and the signings made, or not made, during those windows keep this topic of debate relevant until the next transfer window is upon us.
This isn't a new concept, not by a long shot. It's just a newly coined term. 'Premier League proven'. Premier League proven doesn't actually mean you've proven anything in the Premier League, just you've started a few games for a club. This started upon the birth of the Premier League.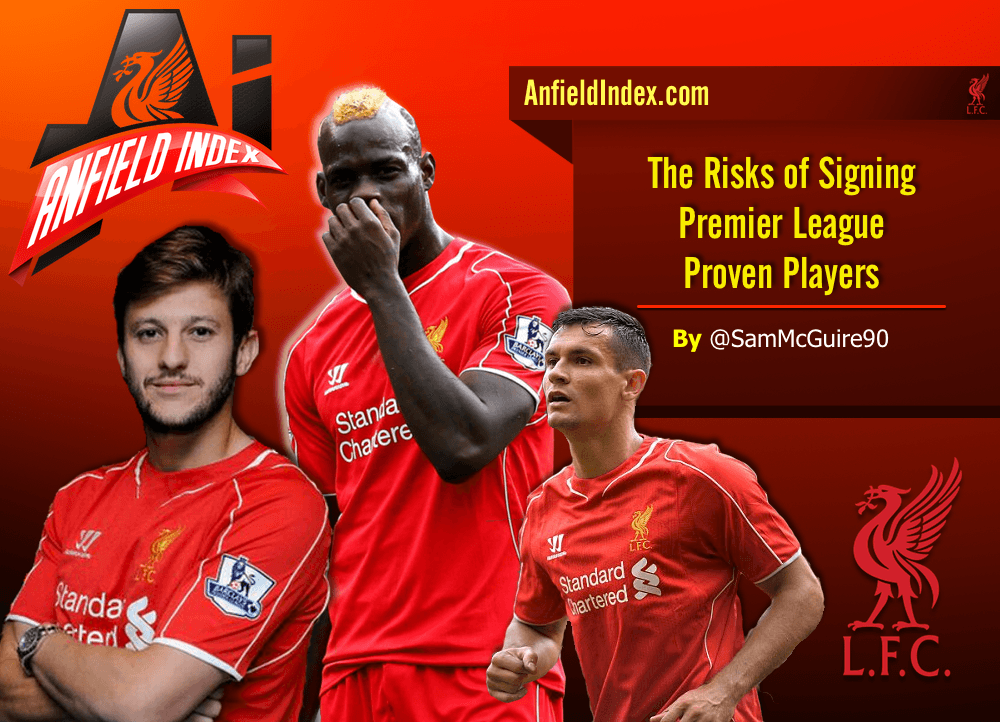 If I offered you something you recognised for £25 and then offered an alternative, two things for £20 that you know less about what would you go with? Personally I'd take a calculated risk and go for the latter. Money doesn't equate to quality and familiarity of something doesn't mean there isn't better out there. Same idea goes for players but this was, and still is, lost among certain sets of fans who believe the media hype.
"Buy British, they already know the league" was the argument back then. However, as the league evolved and it became painfully obvious that English players were inferior to their foreign counterparts, it changed to "Buy Premier League proven players, they'll find their feet quicker and you know what you're getting". Does this opinion ring true? Do Premier League players adapt to the their new clubs quicker as opposed to foreign players?
There are certainly arguments to back up both opinions. For every Thierry Henry there is an Andryi Shevchenko. For every Emile Heskey there is a Stan Collymore. Plenty will say there have been more foreign signings at Liverpool, so statistically there is a higher % of successes as opposed to British players signed by Liverpool. This could be true, however with the supposed hit rate and adaptability of British players, you'd expect a higher success rate per signing which blatantly isn't the case.
This leaves the clubs with an easy decision in my opinion- If both British and foreign signings have the same success rate, you'd opt for the cheaper alternative which is usually, but not always, the foreign option.
Liverpool have invested heavily in British players throughout their history and carried on the trend in the early days of the Premier League.
Here is the highlight real:
Neil Ruddock – £2.5 Million
Nigel Clough – £2.2 Million
Julian Dicks – £1.5 Million
Stan Collymore, Phil Babb, John Scales and Mark Kennedy signed in one summer for a combined total of £17.1 Million
Jason McAteer, Danny Murphy and Paul Ince signed over 2 seasons for a combined total of £11.7 Million
These 10 players signed for £35 million. A fair amount of money in today's market, let alone, when you consider this was between 1993-1996. Liverpool sold all of these players at a great loss when they eventually left the club. In today's market with inflation added, when using www.thisismoney.co.uk, this works out at £61million spent.
Throughout the Premier League Era, Liverpool have spent £268 Million on 40 British players which equates to £6.7 million per signing. This is just transfer fees alone so the Joe Cole debacle won't be included.
You may argue this figure is skewed with the Andy Carroll and Robbie Keane signings, but it's not. English players come with a premium.
Gone were the days English passion made an impact in the Premier League. It wasn't about brute force, it was about tactics and technique. Something lost amongst the media and many fans. Football games are a game of chess, you out think your opponent, you don't smash through them. As times changed, the terminology changed. Out of the window went the 'Buy British' narrative and in came the buy abroad mentality with which, presumably, arrived the influx of foreign managers. Gerard Houllier arrived and with him he brought in the likes of Sami Hyypia, Markus Babel, Stephane Henchoz, Vladimir Smicer and, erm, Sander Westerveld. All of whom had a massive influence on the success Liverpool had under Houllier and many of these signings made up what became a formidable defensive unit.  In the same window Liverpool also signed Gary McAllister and Emile Heskey. Both Premier League proven but not signed because of that fact. They were signed because they're what Liverpool needed at that time and arguably you couldn't have signed better when looking abroad.
Houllier continued this type of recruitment with the likes John Arne Riise, Jerzy Dudek and Milan Baros. Each of those individual deals happened to be below £5 Million. As spoken about before, a British player was signed to play an integral part, Steve Finnan.
Then came the overspending on players which drew criticism of him. El Hadji Diouf, Salif Diao and Djibril Cisse all arrived at Liverpool over a period of time for vast sums when you consider their talent and what they brought to Liverpool.
Rafa arrived and the Spanish invasion began – Jose Reina, Xabi Alonso, Luis Garcia, Antonio Barragan, Alvaro Arbeloa, Fernando Torres all arrived. Rafa's signings towards the end went off the boil with the likes of Alberto Aquilani and Glen Johnson for huge sums but his hit rate for transfers was seemingly above 50%.
Throughout the Premier League era Liverpool have spent £381.7 million on players that weren't Premier League proven. There have been 95 signings that fall into this category which works out at about £4 million per signing.
£113 million more than British signings.
Now, the media and fans alike seem to be fond of the Premier League proven tagline.
Liverpool embraced this the past summer by forking out £20 million on Dejan Lovren and £16 million on Mario Balotelli who followed Simon Mignolet and Fabio Borini as players that were PL proven when signing for the club. Success transfers of this tactic include Javier Mascherano and Dietmar Hamann.
Throughout the Premier League era Liverpool have spent £109 million on Premier League proven foreigners, so that's foreigners who played or have played for another English side before signing for Liverpool.  According to that, there have only been 14 signings that fall under this category and this means the average signing costs £7.7 million.
The least amount of money has been spent here out of the three categories mentioned but on average it works out more per signing.
With all signings there is a bedding in period whether you've played in the Premier League or not. Just because you've played in England before doesn't meant you'd adapt to moving to the North West. You can be homesick whilst being in the same country. Not only this but the expectations of playing for a club can mentally weigh people down. We've seen many players join from rival Premier League clubs and fail to live with the expectations and pressures of Liverpool. Equally we've seen foreign players arrive and just not adapt as expected but this is seemingly highlighted more by the media to fit their narrative.
It's not about the short term but the long term with these deals, hence the 5 year deals they sign. With clubs looking at value for money buys, it makes sense for them to look abroad and the whole PL proven, whether it be English or foreign, better be put to bed. Very rarely in the case of Liverpool do PL proven players actually come in and improve the squad. They're usually expensive mistakes – the aforementioned Andy Carroll and Robbie Keane. England as a nation and as a footballing force are falling behind their competitors yet clubs still sell players for fees you'd expect to see match winners going for.
Liverpool have spent £377 million on players from the Premier League – that's British players plus PL proven foreigners.  So that's 54 players signed which means the average cost is £6.9 million per PL proven signing.
As mentioned before £381.7 million has been spent on 95 foreign players, only £4 million less has been spent on Premier League proven players yet 41 less players have been signed. This alone highlights how Liverpool are not getting value for money from within the Premier League as theoretically, if Liverpool had signed 95 players from the PL they'd have spent over £800 million.
What I'm trying to say is those people still saying Memphis Depay at £25 million is a risk could be right, but it was also a risk paying £23 million for Luis Suarez and £24 million for Fernando Torres and look how those turned out. It was also a risk paying £20 million for Robbie Keane who we made a loss on and Adam Lallana who we probably will make a loss on if he's sold. That isn't a knock on Lallana, he's clearly a niche within the English ranks but he's not exactly an elite player the price tag could've bought. Players of similar standard or better are littered across Europe, specifically Bundesliga and Ligue 1. His price tag isn't his fault, what troubles LFC fans is the fact the club could've signed two players for that price.
There are bargains out there, the likes of Steve Finnan and Daniel Sturridge, but the value for money has and always will be abroad. Look at the likes of Emre Can, Alberto Moreno and Lazar Markovic. All relatively cheap for their current level and future potential. Had these players been PL proven they'd have cost double?  Luke Shaw cost three times what Alberto Moreno cost. With the Premier League crumbling and the National team stagnating, why would you build a squad made up of these players and hope to succeed?
It makes more sense, business and playing style wise, to spread the budget on foreign players in the hope of finding successful signings. Why sign 3 PL proven players for £60 million when you can sign 5/6 better ones for the same price from a foreign league? To improve you buy from the leagues at the summit of football in terms of quality and footballing style. That means Liverpool should be shopping in Spain, Germany and France and avoiding English players unless trying to fill the quota needed to meet Premier League regulations. You don't see European power clubs signing English players and it's not because they're too expensive, they just lack the requisite quality to compete at the top. Top 4 challenging sides don't build sides on Premier League proven players, it's time for Liverpool to start acting like challengers.
All figures from – http://www.transferleague.co.uk/liverpool/english-football-teams/liverpool-transfers