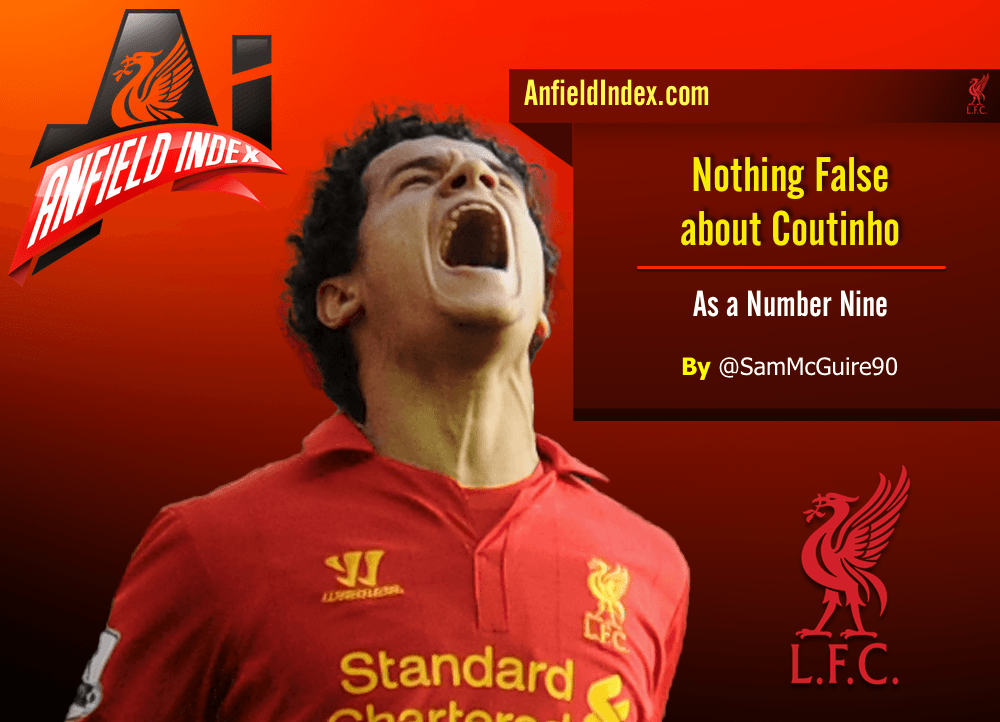 Nothing False about Coutinho as a Number Nine
False starts. Many could argue Liverpool had a false start to this season but there was nothing false about Coutinho's performance as a false 9 against Newcastle and that can only be a positive for Brendan Rodgers moving forward.
Liverpool showed some arrogance and confidence in their win against Newcastle, especially in the first half. The way the Reds lined up surprised a few people, myself includes, as it was expected that Sterling would once again lead the line. Many thought this might be a defensive side on paper but these concerns were squashed right at kick off when we saw Liverpool employ a high press on Newcastle with Coutinho being backed up by Jordon Ibe, Jordan Henderson and Raheem Sterling.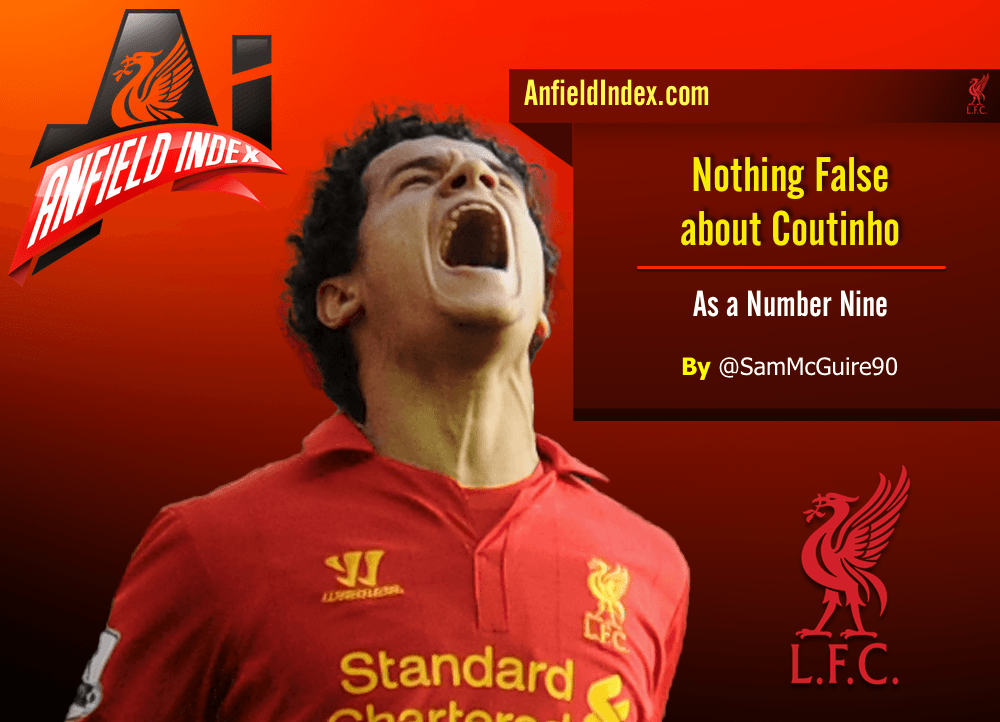 It was good to see Brendan Rodgers entrusting Emre Can alongside Dejan Lovren as a defensive partnership, the German had played there for Germany U21's in the past but never for Liverpool and there must have been a temptation for Rodgers to play Johnson as a centre-back in a back three. Credit to Rodgers for this, it would've been easy to play the 3-4-3 and not concede after the 4-1 drubbing to Arsenal. Newcastle were there for the taking and rightly so we went out to attack.
If you think back to December when the line up for the United game was announced many thought Coutinho would be the false 9 that game, it was certainly something that had been mentioned on twitter with the only question mark hanging over whether we had enough goals from the wide forwards for this system to actually work. Coutinho though once again showed his worth to Liverpool and excelled in this new position. During his spell at Liverpool he's been magic as a number 8 as part of the diamond last season, a revalation this season in a 2 behind the striker and now added this to his impressive CV. That £8.5 million looks more and more like daylight robbery every single game.
During the first half Liverpool almost played a 4-2-3-1 formation with Henderson the advanced midfielder out of the three. This meant Liverpool were able to put a high press on a weakened Newcastle backline and meant they won the ball back in dangerous territory. This played to the strengths of those selected. Ibe, Sterling, Coutinho and Henderson are all able to press the ball effectively which pulls the team 10 yards forward. This small tweak meant unlike in the previous few games Liverpool werent camped in their own half with a back 5 on their 18 yard box or deeper. You often seen Lovren and Can split and Lucas drop in between them about 8-10 yards away from the half way line which is fairly high for a Liverpool defence these days.
The inclusion of Coutinho as the false 9 wasn't for his finishing, but more for what he does on and off the ball in bringing others into play. He won't mind making those selfless runs and with Ibe, Henderson and Sterling all getting into the space vacated by Coutinho it meant Liverpool had numbers when attacking, like they did against City but have seemingly lacked ever since.
Throughout the first half we seen Henderson take up the space centrally when Coutinho dropped to get the ball. It meant the defence was dragged out of position and Henderson was an able bodied runner offering to get in behind. Not only this but his physicality and just his presence in the attacking third was a problem for Newcastle, as mentioned earlier a weakened Newcastle defence seemed to not to be able to cope with him. He also showed his effectiveness when he isn't tasked with as much defensive work. The Henderson to Sterling combination worked a number of times and the stand in captain impressed with his passing. Often criticised for his 'basic' passing he was pulling the strings in the final third with some pin point passes and on another day would've had a hattrick of assists if Sterling had his finishing boots.
There was an added dimension to the Liverpool attack yesterday as not as many players were tasked with defending, it was similar to a typical Brendan Rodgers side we'd all come to expect after last season. Directness in attack with numbers in the attacking third.
I've seen a few people criticise Jordon Ibe after last night, he wasn't as influential as he had been at right wing-back but you've got to remember he wasn't afforded as much space as he'd been used to and he's only just come back from injury. His presence alone kept the Newcastle left side occupied and with Jordan Henderson pushing onto the spare centre back at times it meant Ibe was actually left one on one with their left-back which so there was always a threat of switching the ball to him and knowing he had the beating of Anita.
The Second Half
As Newcastle got into the game a little more to me it seemed like we tweaked it slightly and went to a variant of 3-4-3 as shown above with the hope to hit Newcastle on the counter with the pace we had in the team last night. This only becomes a risky tactic if you allow the opposition to dictate play and Liverpool start dropping deeper and deeper. They didn't last night and despite a few rocky moments the clean sheet was kept intact, largely thanks to the brilliance of the rejuvenated Simon Mignolet.
Whoscored backed this up with the above image of average positions in the second half. So Liverpool dominated the first half and then tried to see out the second half. Against a better side this may have been a dangerous game but with the opposition being Newcastle it was a good tactic. A few more goals would've been welcomed but that would've have been a problem had Liverpool taken some of their chances.
If Brendan Rodgers wants to keep this type of formation as an option for next season then a key part that needs improving would be to buy someone to play right wing. Ideally you want someone who is left footed, or at least strong on his left foot to cut inside like Sterling did. They both cut inside and attack the space the false 9 has created which would almost create a two man attack. Much like Barcelona and Bayern Munich do. An article on the importance of Inside forwards can be found here if you'd like a read. It may be a system used by Liverpool a little more next season if they don't invest in a striker and Daniel Sturridge continues with his bad luck injury wise.