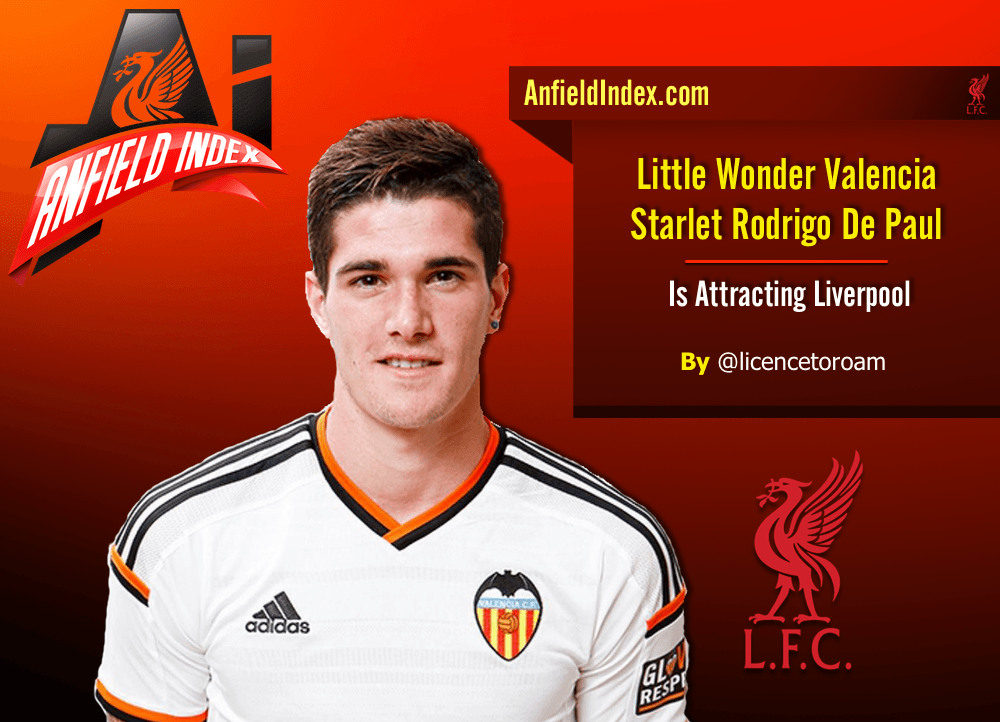 Little Wonder Valencia Starlet Rodrigo De Paul is Attracting Liverpool
When Valencia's former manager Juan Antonio Pizzi announced the signing of Rodrigo De Paul last year, he knew what a special player he'd secured for the Bats:
"Rodrigo is the best prospect to come through in Argentina in the last five years. This is great news for Valencia." "He's a player who has proven himself in Argentina. Despite his youth, he was the captain of his team. He has an abundance of talent and he also shows great maturity in his play. We believe Rodrigo has everything to triumph at Valencia and in European football."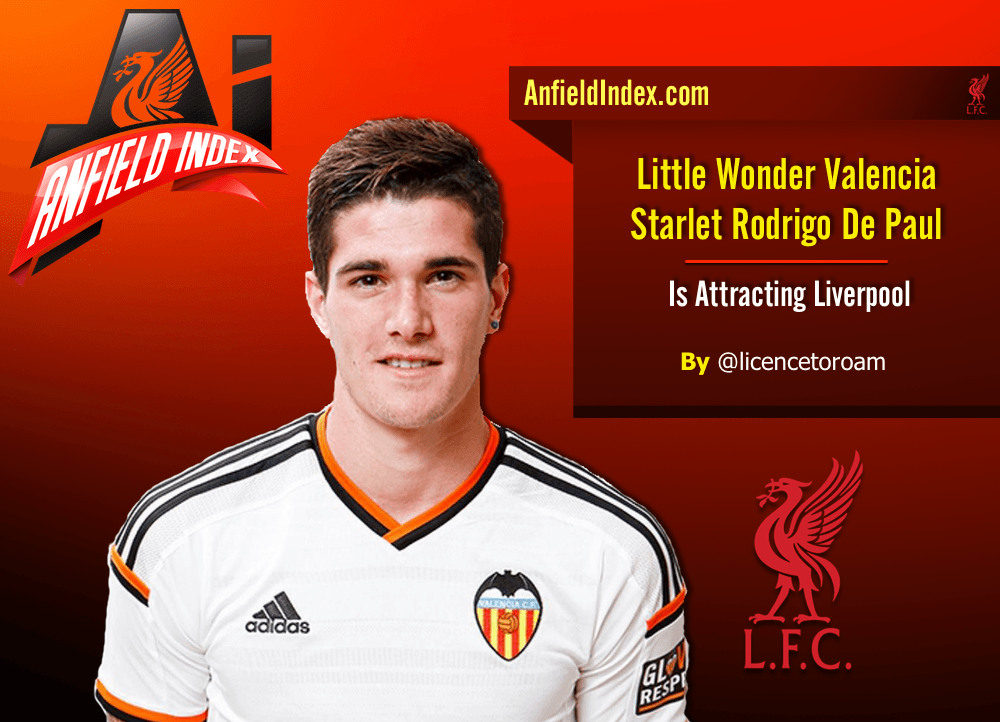 With such fierce competition for places at Valencia, it's been of little surprise that the 20-year-old has played a largely peripheral role this season. Being sent off against Sevilla within 63 seconds and consequently receiving a four match ban didn't exactly help his cause either. Nonetheless, when he has entered the playing field, it's been hard not be awestruck by his immense technical capabilities and appetite for work. Coming on in the 27th minute for the injured Pablo Piatti against Athletic Bilbao in Valencia's recent 1-1 draw, de Paul slotted into the number 10 role wonderfully, and instantly demonstrated his quality. Scoring a goal was his most obvious contribution, but the performance consisted of so much more. The calmness and composure De Paul has in possession was a joy to behold, as he showed his brilliant penchant to weave himself out of trouble in tight spaces.
The possessor of razor-sharp ball control constantly manouvered his way out of a jam beautifully, using his catalogue of nifty foot work and body feints to ensure he was rarely dispossessed. In combination with his terrific awareness and vision, this meant Valencia looked a lot more assured in possession, for with De Paul's thoughtful approach they didn't rush their moves as much. He was a cool head in many tight, high-pressure situations.
David Cartlidge summed things up well by noting: "Valencia overall pretty average, offered little until De Paul came on. One of few players who takes his time on the ball and assesses options".
As per Nuno's desire, he exhibited some very purposeful, high intensity pressing, in a game where he made life hugely different for Bilbao to pass out from the back. The sheer intensity of his pressing was unbelievable. The pace with which he closed down the likes of Mikel San Jose and Mikel Balenziaga was truly remarkable and forced multiple turnovers. More than that, the Argentine didn't appear to tire much at all despite the relentlessness of his work, as in the dying embers of the match he was still hunting the opposition like a lion after its prey. "I consider myself a player who trains at 100% and who always wants to be an option for the manager," the player said recently, and it showed against Bilbao.
In relation to recognising and finding space, he did both of these things in an intelligent manner. The area he's determined to be the most fruitful was the space just to the left of Mikel San Jose (Bilbao's left central holding midfielder). He'd exploit these areas by sliding across and in behind the Spanish International. His aforementioned desire to work also applied to the offensive side of the game. The former Racing star was constantly working into spaces in his quest to be a readily available options for his teammates to find. Once on the ball, by using a combination of direct dribbling and incisive passing he provided a massive threat. Valencia's official website provides an appropriate description of him. "He is fast, smart, intuitive and possesses a powerful shot from distance. His game is the perfect blend of speed and directness," it reads. It was only fitting that De Paul scored Los Ches' only goal on the night, where following a well executed dummy by Paco Alcacer, who left the ball for his teammate, de Paul took one touch to control the ball and assess the situation, and then a second to place the ball into the bottom right corner. It was clinical and gave an insight into how well he's adapting to this level of football. He just took his time, and played out the scenario with a maturity that belies his tender years. "I feel good and have already adapted. My teammates have made everything very easy for me," he said. "I feel most comfortable playing in the centre of the attack, although I've also played on the left and a little less so on the right, but I'm here for the manager and to play wherever the team needs me," he explained.
So after a fine showing in a central attacking midfield position, it would seem as though this would be the ideal position for the youngster to thrive. The position ultimately allows him to get the most out of his incredibly diverse skill set. He can move, dribble, drive at the defence, link play to either side of the pitch and make room for himself to shoot. And when you combine all of the above with his superlative set-piece taking ability, the €4.7 million fee Valencia paid for him seems like a fabolous piece of business for such a multifaceted player. With reports suggesting Liverpool and Arsenal are interested in him, despite his obvious talent, it would definitely be in his best interests to stay at Valencia, in order to continue his development. Working under Nuno and his Scottish assistant Ian Cathro will only serve to benefit him, as the pair share a wonderful footballing philosophy and are in the process of creating what looks to be a very bright future for the club. Whatever happens next for this inordinately gifted Argentine, be sure to to keep track of his career, for its destined to be one full of highlights. His ability will see to it.