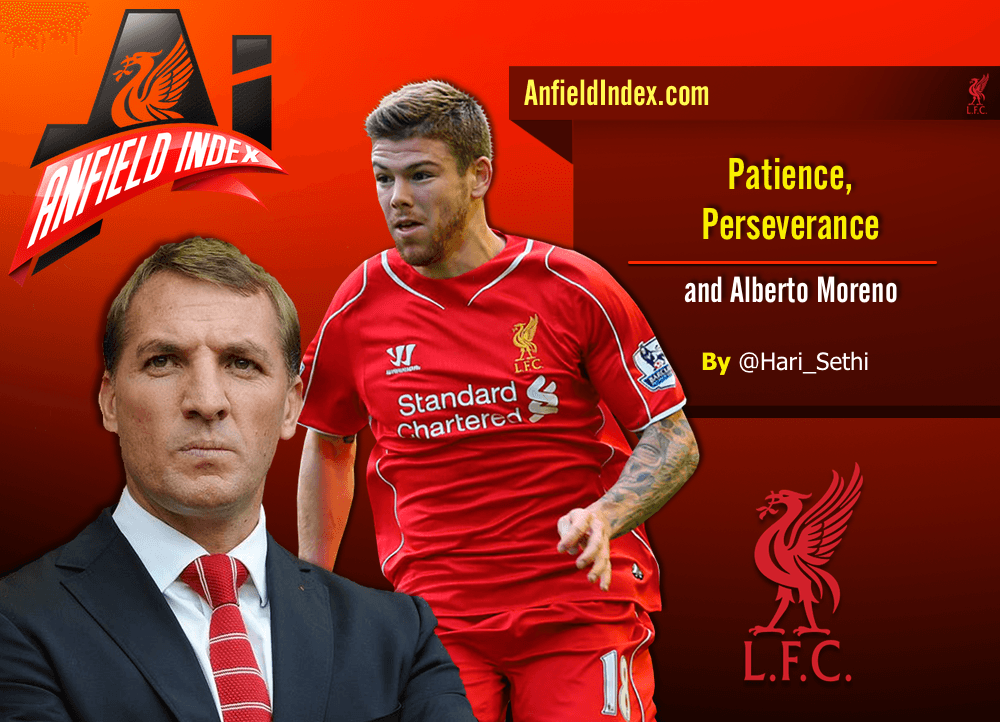 Patience, Perseverance and Alberto Moreno
Only just introduced from subs' bench, Andros Townsend looked on as the player who'd dispossessed him faded into the distance and fired a well placed shot past Hugo Lloris. Whilst the sight of a pacey left-back gliding down the wing to score at White Hart Lane may have stirred some fond memories amongst Spurs' fans, this time it was a Liverpool player announcing his arrival: Alberto Moreno was here.
The Spaniard's goal was the highpoint of an excellent team performance from Liverpool, his tenacious pressing exemplifying the high intensity approach from Rodgers' side that afternoon. Such a display was especially praiseworthy given the tough outing the full-back had endured during his debut in the PL a few days earlier.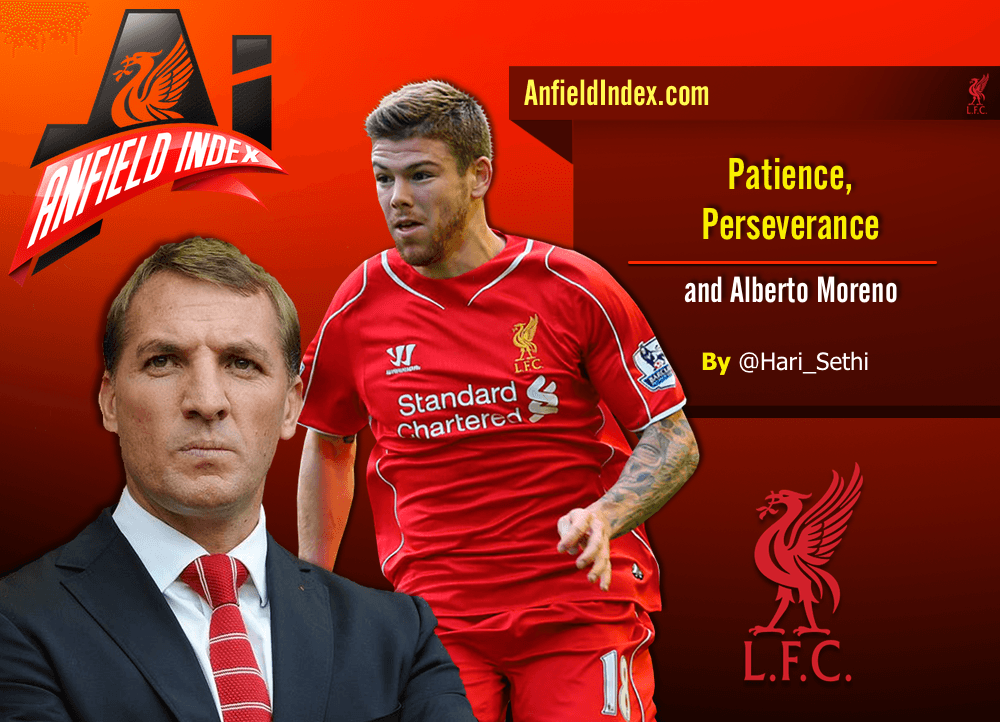 Having sealed his £12m move from Sevilla only ten days prior to making his Liverpool bow, there would be no gentle introduction for the young defender, as he started against Manchester City at the Etihad. Despite a steady beginning to the match, Moreno would be directly involved in Stefan Jovetic's goal for the home side; his delayed clearance pounced upon by the Serbian striker after Lovren failed to contend with Silva's movement. Though this wouldn't be the last time he would learn such a harsh lesson, by the time the final whistle arrived the youngster was surely aware of one PL truth; against the top sides, you don't get much time to think.
In a way these two games can be regarded as a microcosm of Moreno's debut season for the Reds, which has featured both moments of great promise and youthful naivety; a frustrating blend for fans to get to grips with. In recent weeks, high profile errors in games against Manchester Utd and Arsenal have seen the full-back receive a great deal of criticism, with some seemingly ready to label him a waste of money. Numerous pundits have now correctly highlighted Moreno's tendency of holding his hands behind his back when defending a one vs one situation, however, this is a basic error that should be easily eradicated through coaching. Similarly, his questionable positioning when deployed as a wing-back this season is a weakness that should be lessened by time spent on the Melwood training pitch.
Whilst there is no denying Moreno is still a raw talent and one undoubtedly in need of coaching to improve the weaker areas of his game, the youngster's potential means he deserves both patience and perseverance. There also needs to be a greater sense of perspective applied to any analysis of the left back given his age and tactical use this season. LFC's decision to offer him a 5 year contract speaks volumes to the club's long-term intentions for the player, as they look to him to develop in the role for the foreseeable future.
When looking back over the past two decades of Liverpool left-backs the lack of consistency and quality in the position reveals a perennial weakness that needed to be addressed. From Champions League winner Djimi Traore to the undoubtedly gifted but tragically temperamental Fabio Aurelio, the list of LFC's former left-backs doesn't make for comfortable reading.The signing of Sevilla's prized young star was seen as an opportunity to rectify this weakness and given the attributes the defender possesses, it's clear to see why he was pursued so persistently.
Moreno's tremendous pace has seen him act as a useful attacking outlet for Liverpool this season, providing Rodgers' often centrally creative side with much needed width. The full-back's speed has also proved a useful asset in terms of his defensive contribution, with numerous recovery tackles and interceptions   preventing dangerous counters from developing.
The lack of stylistic clarity evident from LFC's football this season has also appeared to hinder Moreno's ability to play his natural game. Liverpool's build up play has been far slower at times this season than fans grew accustomed to in their last campaign. Where his bursts of acceleration and overlapping runs would've added another dimension to Liverpool's formidable attack last season, the lack of emphasis on a high press and fast transitions has stifled Moreno somewhat. Should Liverpool return to a more direct, high intensity style in the future it's likely that Moreno's attacking contributions will notably increase, though as with most full-backs the quality of his final ball must improve. Capable of pressing high and winning the ball in dangerous areas, the Spaniard's aggressive approach should be useful in helping his team to maintain an intensity going forward.
When interviewed recently on the decision to leave his boyhood club for Liverpool Moreno's answer was telling, "Liverpool always have been and always will be one of the great European clubs…They are a historic club and it is not a decision I would change for anything. I am totally vindicated in my decision."
Though music to many fans' ears, for a young European player to talk about Liverpool in such glowing terms not only showcases Moreno's commitment to his future on Merseyside, but also demonstrates why the club is so eager to target young talents before they hit their prime. Players such as Markovic, Can, Manquillo and Moreno may not arrive as the finished articles but by targeting them so early, LFC hope to see them develop at the club and nail down their respective positions for the foreseeable future. Liverpool's current left-back is open about the fact that he still has plenty to learn but as he embarks upon ending his first season at a new club on a high, he's keen to make his intentions known.
"I'm determined to get the best I possibly can out of the five years I'm here…and I hope that during those five years I can do enough to make sure my name will remain etched into Liverpool's history alongside some of the great players who have played here."
Lofty expectations for someone so young, but with time on his side and potential to fulfil, Moreno intends to consign Liverpool's left back woes firmly to the past.