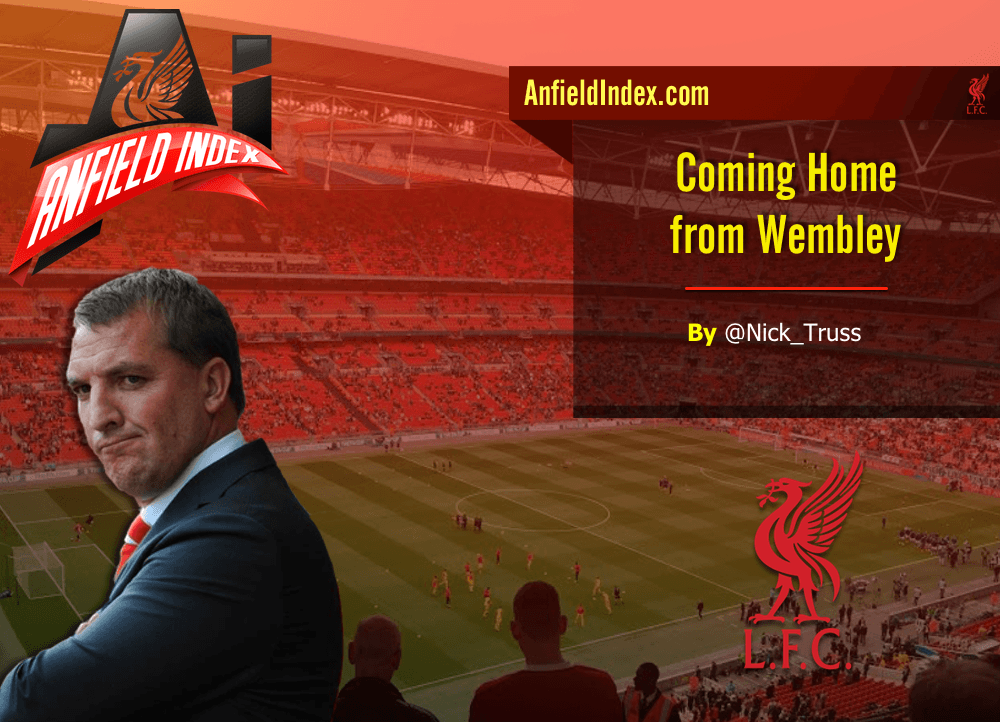 We're Coming Home from Wembley
It's 19:23 as the Virgin Super Voyager speeds towards Chester. Should I be on this train? Quite frankly no, I had reserved seats on the 21:20 from Euston (sorry Virgin).
How did I get here? Well it all started 
on Saturday morning
 with 
a 4:15am
 alarm, a quick open of my birthday presents/cards and 
a 5:50
 train to Crewe. After getting on the Virgin Pendolino at Crewe (which is a much nicer train than the Super Voyager despite the lack of plugs) I arrived in London 
at 8:10am
. The rest of Saturday involved wondering around London on a very sunny day which obviously has nothing to do with Liverpool Football Club so I'll move on.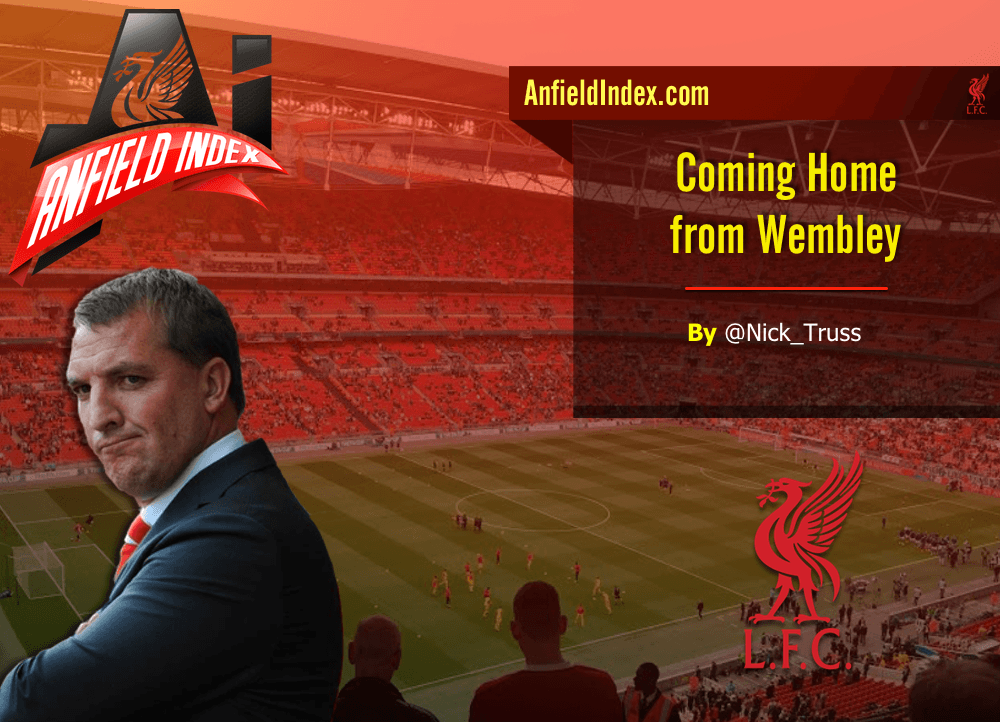 Sunday morning we woke up and headed back to Euston station to store our bags for the day, grabbed some food then jumped on the tube to Wembley Park. On the Jubilee line if anyone is remotely interested.
12:45:
 we began the walk down Wembley Way, filled with hope, optimism and excitement as well as a few nerves. Obviously being so early we weren't going into the ground straight away so we hung around outside. Before we knew it a football was flying over our heads as the fans enjoyed the build up to the match.
(Wembley Way)
13:45:
 I met with Gags (Mr Anfield Index) then headed into the ground. Once inside I bought two 330ml Budweiser's for £10, only to walk around the corner to see pints for £5.20 not much better in terms of quality but slightly more bubbly piss for your money. Also some advice, don't buy the nachos.
14:30:
 we got to our seats, a montage of Aston Villa's road to Wembley ran on the screen with a cringey song. "Aston Villa that's who" this was then followed by Liverpool's accompanied by the sound of You'll Never Walk Alone.
(Inside Wembley)
14:55:
 the teams enter the pitch for the start of the match, the only real surprise (for some not me) being Steven Gerrard starting the game. The game kicked off and everyone seemed in good spirits, renditions of Fields of Anfield Road rang around Wembley, but I'd say after less than 10 minutes the crowd died. A group of people just in front of us in Block 505 probably rows 5-8 sat down. Not only that they then went to a steward and complained about the people stood up. Want to guess what type of fan he was? A half and half scarf wearing idiot? No he wasn't. He was a 'normal' guy, someone who nobody would blame for the terrible atmosphere because he didn't stand out as he wasn't taking a selfie or whatever… So the steward comes and tells the lads in their early 20's to sit down, they weren't happy and fair play to them, if you are reading this I'm sure you know who you are and to quote you: "it's a semi final enjoy yourself you soft ****"
Onto the football now, the football… How do I describe it? Not good enough in simple terms. Rodgers got everything wrong and was outfoxed by Tim "Tactics" Sherwood, it's like being beat by a 7 year old at FIFA. The players, absolutely awful, in a game like this you need your big players, all week people were crying for Gerrard to start, but much like every other big game this season he was anonymous. I've been told he can change a game at any moment but except for two free kicks against League Two AFC Wimbledon what has he done this season? He shouldn't have started, however today not one single Liverpool player impressed, if I'm looking for one positive, Coutinho took his goal well. Back to the manager; for me he doesn't know how to change a game, why bring Lambert on in the 90th when you are 2-1 down in an FA Cup Semi Final? Why not bring him on at 80? Or even 75 or 70? So what if you get beat 3-1 the product is still the same, you go out the cup but at least you've tried to attack. As for his post match comments I'm actually appalled that the manager of Liverpool Football Club would come out with such crap, "overwhelmed by the occasion"? We came 2nd in the league last year, we've already played a Semi-Final this season, that's no excuse and he really has some questions to answer now.
16:53:
 making the return journey down Wembley Way, only this time filled with disappointed and heartbreak. Liverpool's season is all but over, a miracle could see us snatch top 4 but that's a pipe dream.
FSG have some big decisions to make, the squad needs another overhaul, but rumours are that the money pot isn't very full, there's also the recruitment itself, who gets final say? How does it even work? Well clearly it doesn't… Finally the manager, what do FSG do? Stick or twist? Klopp seems to be the name on everyone's lips but I can't see that happening. Whatever the decision, will Liverpool hit 21 or like me this weekend land on 22 and out.