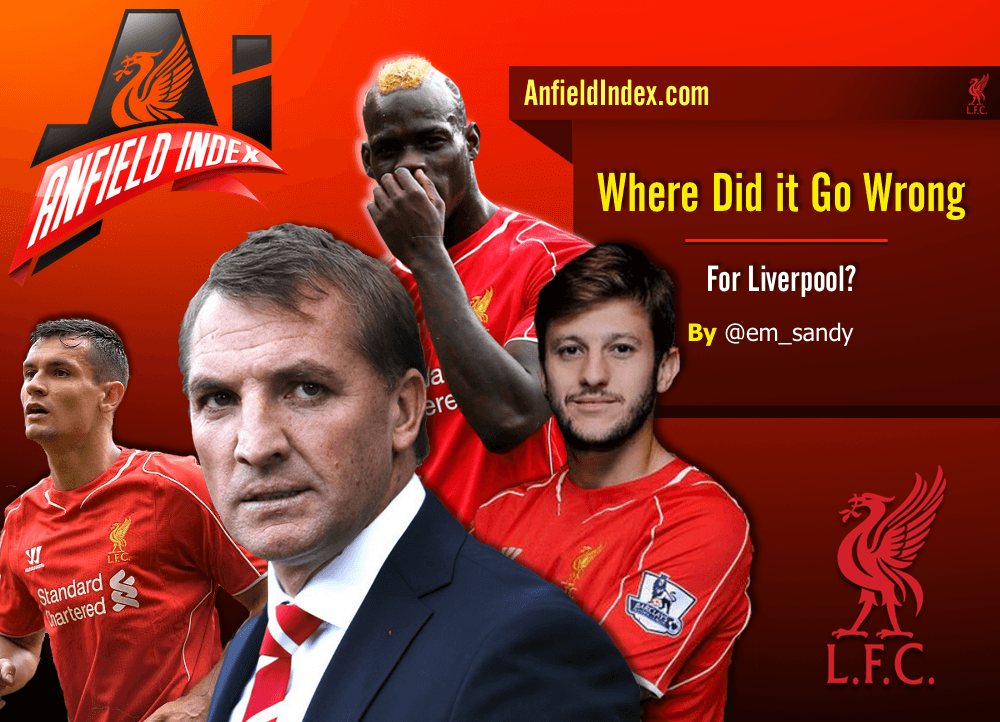 Where did it all go wrong for Liverpool?
In the space of a month, Liverpool's season seems to have fallen apart. They're out of the FA Cup and the possibility of a top four finish looks slim, although there is still hope. Liverpool currently sit in fifth place, on 57 points, seven points off Manchester City who are in the running for the final Champions League spot. The Reds have got a game in hand but with away ties to both Chelsea and Stoke still to play; it looks unlikely Rodgers' men can fill the gap.
After last season, Liverpool fans were hoping to build on the heaps of promise the players provided and expected the Reds to comfortably secure a top four position. Whilst the FA Cup is by no means comparable to a place in Europe's elite competition, it gave fans the opportunity for some condolence after the league disappointment this season. However, the loss against Aston Villa on Sunday in the FA Cup semi-final only confirmed Liverpool's trophy-less season and made the possibility of a top four finish seem much less likely.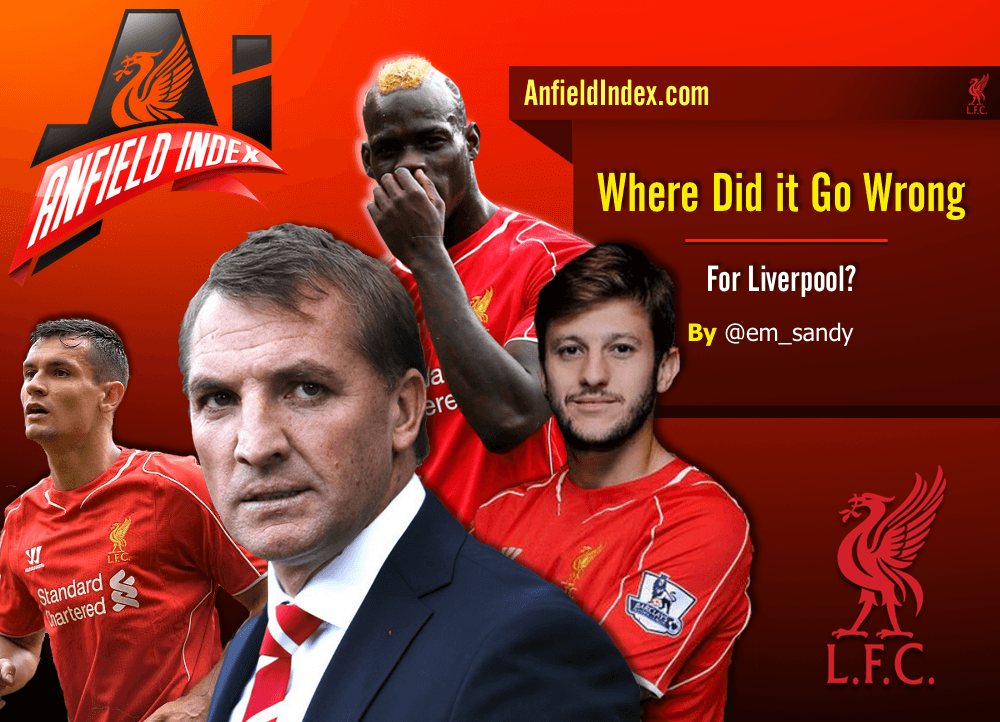 The new signings that were brought in the summer have failed to improve the squad as a whole and that's been both due to poor management, and poor selection. Some of the signings have been woeful to say the least, which is disappointing given the younger players that have joined the squad and look to show real promise and leadership. Injuries and suspension have plagued the season after the demands of European and Cup football took its toll and Rodgers and the players have once again proved they're unable to see out a full season with consistency, often bottling at the last hurdle.
I've looked at each of these factors separately;
New Signings
Ten new signings were completed in the summer, totalling around £120 million in transfer fees alone.
Emre Can – £8m from Bayer Levekusen – appearances 34 (6,) goals 1Ro
Mario Balotelli – £16m from AC Milan – appearances 26 (14,) goals 4
Adam Lallana – £25m from Southampton – appearances 35 (7,) goals 5
Rickie Lambert – £4m from Southampton – appearances 31 (21,) goals 3
Dejan Lovren – £20m from Southampton – appearances 33 (6,) goals 1
Javi Manquillo – Loan, Atletico Madrid – appearances 19 (1,) goals 0
Lazar Markovic – £20m from Benfica – appearances 32 (9,) goals 3
Alberto Moreno – Undisclosed from Sevilla – appearances 39 (4,) goals 2
Divock Origi – £10m from Lille – sent back on loan
Kevin Stewart – Free from Tottenham Hotspur
Out of the new signings, only three of those have showed signs of promised progress at Anfield. Emre Can, Lazar Markovic and Alberto Moreno have brought bursts of youth and forward-thinking to the Liverpool squad. Though they are far from the finished products, Can in particular, has developed a reputation for leadership and has started to become a senior figure within the team despite only really featuring in the second half of the season. Markovic, although very unflattering when he first arrived, has begun to settle into life at Liverpool and he now gives a more direct option on the right-wing. However, the return of Jordon Ibe from his loan spell at Derby County, threatens Markovic's position in the starting XI but the Serbian no doubt adds further strength to the squad. Liverpool have been without a consistent left-back since the departure of John Arne Riise and Alvaro Arbeloa but Alberto Moreno's arrival have given Liverpool a fresh option. From the full-back position he gives an attacking threat going forward and with pace of his own, combats threat of a counter-attack from the opposition. However, the young Spanish full-back has been caught out on far too many occasions and his defensive weakness is something that will need improving on if he is to be a reliable option in the future.
Balotelli has divided the opinions of many fans and it's clear the feeling is mutual in the Liverpool camp. Although he has failed to deliver, Rodgers' openly critical dislike of Mario has become a huge concern and whilst acting as his manager's scapegoat, it's easy to suggest his football isn't going to improve any time soon. Lallana is a technically gifted footballer but he lacks in vital areas of his game. There is a clear weakness in his lack of pace and shooting ability and this has been highlighted on too many occasions. The price tag that was put on his head was far too much and he has failed to deliver his worth. Lambert and Manquillo were brought as squad additions but when recalled upon, have failed to make an impact worthy of recognition. However, Manquillo has some promise and the youngster hasn't been given as much opportunity as he could've been. Origi remains on loan and isn't having the best of seasons with Lille and Dejan Lovren has been woeful since his arrival at Anfield.
Lovren's weakness in defence has caused more problems than one and when injuries and suspension came about, Rodger's inability to play with formations effectively, made it hard for the Liverpool defence to gain any real structure. If there's one player who sums up Liverpool's summer spending its Dejan Lovren; too much money for somebody who has shown nothing which excites the fans. If anything, the squad as a whole appears weaker than last season's, despite spending over £100 million on new players.
Rodgers' implementation of signings

Not only were many of the new signings disappointing, Rodgers' inability to use them effectively has damaged Liverpool greatly.
Lovren remained at the heart of the defence for far too long, meaning games were forfeited from the beginning when confidence was low and the defence was completely unsure. Rodgers' overlooking of Emre Can earlier in the season has been criticised by many who expected the youngster to perform and since his inclusion, has done so for the most part.  Moreno's weakness in defence was made clear when playing as part of a weak back four and the decision to play as a back three, which was stumbled across by Rodgers more than anything, has allowed Moreno to play more effectively, but again, it was a change made too late.
Rodgers' insisted on playing Lallana and although he was in good form before his recent injury, included him at the expense of pushing Raheem Sterling into a wider, wing-back position. Lallana's lack of pace and shooting ability meant goals were hard to come by and one of Liverpool's best player's, Sterling, was forced to play with defensive duties and a lack of freedom in attack.
Perhaps the most concerning was Rodgers' continued dislike for Mario Balotelli. Whilst the Italian has been far below his best, he's often been thrown into the team in a position unfamiliar to him; playing as a lone striker at the tip of a diamond midfield or as a wide front player. Whether it's been a fault of his own or not, Rodgers has continued to overlook the striker, opting for the option of Rickie Lambert or Fabio Borini as a substitute. If Liverpool are to get the best out of Balotelli, the manager needs to show some faith in him and he needs to be applied in an effective position.
Injuries & Suspension
Liverpool have been unfortunate with injuries and suspensions which have arrived when Liverpool have needed victories. The recent suspensions of Skrtel, Can and Gerrard have all coincided with defeats against Arsenal and Manchester United whilst Sakho, Lucas, Lallana and Ibe's injuries added further dent to the Liverpool squad.
Sakho and Skrtel's absence are perhaps the most difficult to deal with because they are two who can provide some solidity in defence. With one of them absent, Rodgers and the rest of the Liverpool team seem to panic and formations are tampered without anyone really knowing what position they're meant to be playing.
Daniel Sturridge's absence from the Liverpool side has meant the Reds have had to cope without a goal threat for most part of the season. Balotelli, Lambert and Borini have failed to offer up a real replacement and Sterling, although effective as a front man, is not a natural goal-scorer and his miss against Newcastle summed up his lack of shooting ability.
Big games
Many say Brendan Rodgers' record against the top 4 teams is poor and this season's results supports that claim.
Against Manchester United, Manchester City, Chelsea and Arsenal, Liverpool have only recorded one win against those sides in all competitions in the 2014-15 season. The 2-1 victory over Manchester City on the 1st of March was the only time Rodgers' side have taken all three points off their rivals. A draw against Chelsea in the first leg of the League Cup and a draw against Arsenal in their home tie in the Premier League are other results which despite not losing, probably favoured their opponents more than themselves. Liverpool have suffered seven defeats including the double league defeat to Manchester United and the semi-final League Cup loss to Chelsea.
If Liverpool are to challenge for a Champions League spot, they must take points off their nearest rivals and Rodgers needs to demonstrate his ability to manage a side against the top teams.
Contract talks
In recent weeks, distraction off the pitch may have played some part in Liverpool's woeful performances.
The saga surrounding Raheem Sterling's contract refusal and his demands for £150k, seem to have affected his performances and in recent games that price tag appears far too much for such a young player. Jon Flanagan and Jordan Henderson have yet to confirm they'll be staying at Anfield and as the team's worries continue, the speculation of their futures outside of Liverpool continues.
Gerrard's decision to leave the club added more pressure for his team-mates in the closing stages of this season's campaign. The idea of giving Gerrard the FA Cup as a final-game birthday present was romanticised too much to the point of it becoming an extra weight on the player's shoulders. There was a lot to gain and the loss on Sunday ended hope of a successful end to the season.
Bottlers
The record against the top teams suggests Liverpool crumble under pressure. If there was anything we learnt from last season, it was that they always seem to fall at the last hurdle when they're favourites. Sunday's FA Cup semi-final defeat confirmed they bottled under the pressure of winning a trophy and signposted an early end to the season.
Although it appears bleak, Liverpool can still qualify for the Champions League but they'll need to win all of their remaining games and hope Manchester City's problems become more aggressive in the closing weeks.
Brendan Rodgers
It appears likely that Rodgers' departure is imminent and it's easy to understand why. The young manager has shown promise of what he can achieve as a coach last season. However, the attractive style of football he holds so close to his philosophy has all but disappeared for most of this season and when the team have needed strong tactical decisions to be made, they have not arrived.
His substitutions have failed to impact the majority of games and often seem ill-judged whilst his decisions on formation have been inconsistent all season. After almost a full season, it's hard to truly describe the formation and the positions of each individual player!
His public criticism of a number of players, most-notably Kolo Toure and Mario Balotelli are concerning to see and his continued favouritism of players who have failed to impact success are also worrying.
Is it time for the owners to change management at Liverpool? I think so.
Overall, it appears there is much to work on at Liverpool but the season is not quite over. Champions League qualification may save Brendan Rodgers his job…