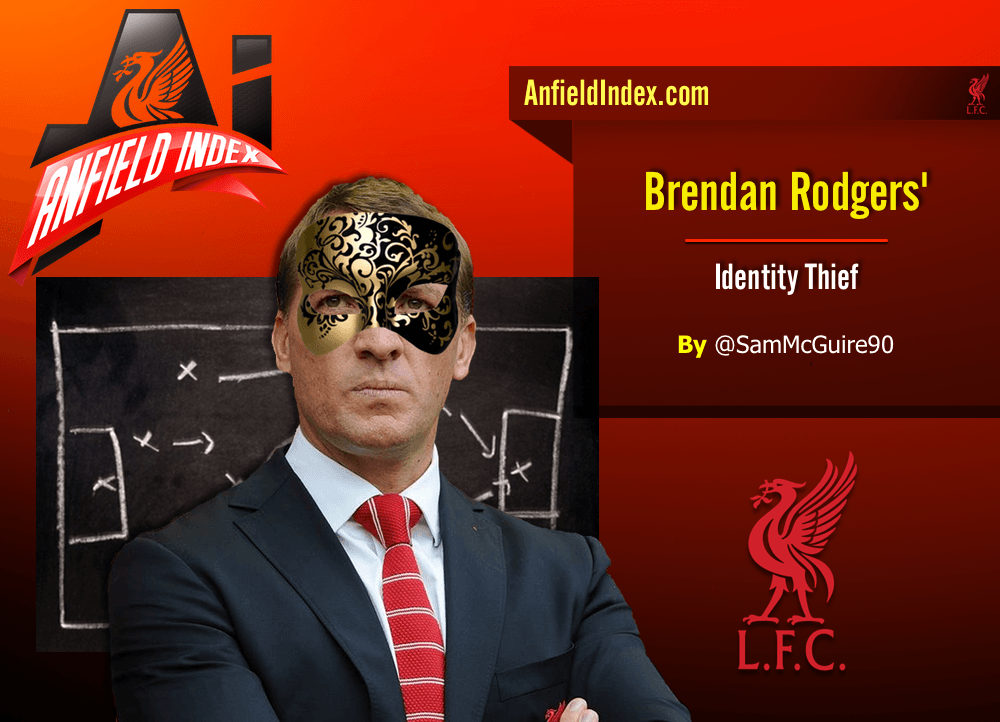 Brendan Rodgers' Identity Thief
So, does anybody know what happened to Brendan Rodgers?
You know the one I mean, right? The one that had the dossier that impressed FSG so much they broke the structure they had in mind to appoint him. The one that had an ethos that the Liverpool fans got behind straight away, the whole death by football idea. The man with the supposed plan.
"You can take a swing at my ego, you can make a run at my crown. Even with an army of people, you ain't gonna take me down"

– David Guetta feat Skylar Grey (Supposedly written with Brendan 2013/2014 in mind)
He's been missing a while now, no?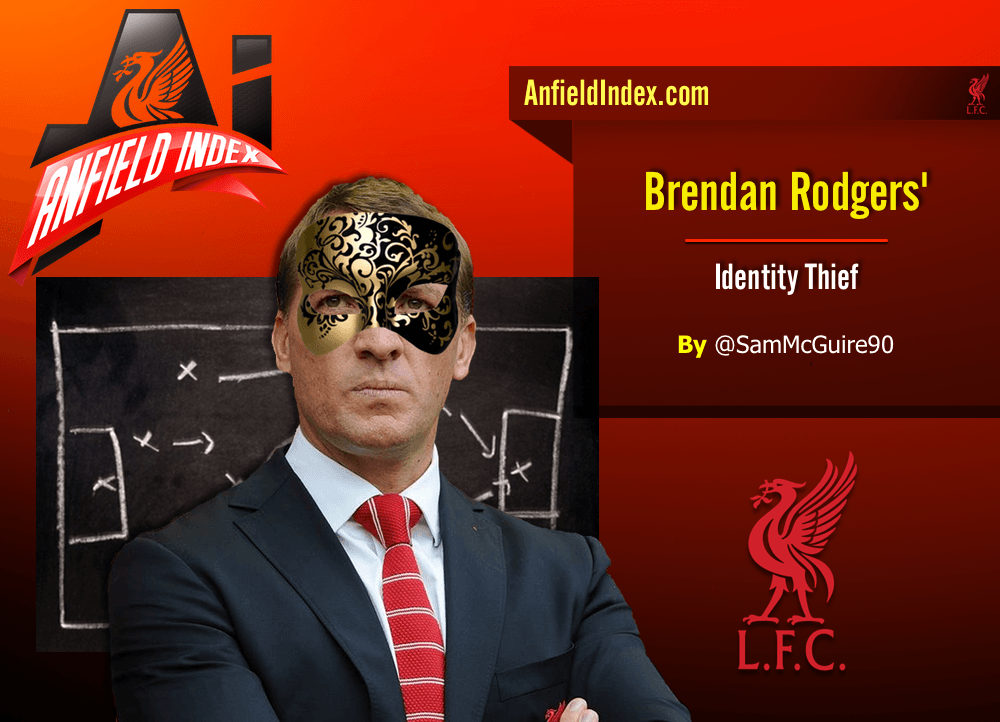 This car crash of a season has been down to a series of unfortunate events. Some brought on by the club itself and some by the manager. Taking the treatment of some players out this because, well let's face it, nobody actually knows what goes on behind closed doors so for me to comment on rumours about Balotelli and co would be unfair. What I am able to comment on is the playing style, or lack of it.
Forever in transition
Liverpool have had more identities under Rodgers than Steven Gerrard has had positions.
What is it Liverpool actually play these days?
Liverpool seem to be in transition. Every single season. Brendan Rodgers is nearing the end of his third season in charge and people are speaking about next season as being another transitional season. Why should he be afforded this luxury?
He came to the club with a mentality, a way of playing and a vision for the future. The youth set up was changed, in came some exciting new coaches and a way of playing was instilled from a young age. We were to play with the ball, press the opponents and squeeze them into mistakes. There was always a purpose with the passing and it was never done for the sake of it. If you watch any of the academy teams it's all done this way. The directness of these teams is what's exciting about them and makes them successful. So why has the first team boycotted this idea?
Granted, I wasn't blown away by year 1 of the Rodgers project but I was fully behind his ideas. He didn't have his team then and it really was transitional. The second season though, wow. We were spoilt. We didn't dominate with the ball, as shown against Everton and Arsenal at home we were happy for them to have it before blitzing them. I fell in love with this style, this is what wins you games, Championships and trophies. We got so close last season and then went back to year one this season. The pointless passing. The odd formation choices. Playing to the strengths of a few players as opposed to the majority. It's little wonder the squad has struggled.
So why the change? It's easy to say the loss of  Luis Suarez and Daniel Sturridge is why this season has happened but that's giving Rodgers a pass. That obviously played a part but there's no excuse for some of the teams he's selected in big games. The must win vs Basel? Continuously playing a formation that isolated Balotelli? Sacrificing the midfield in big games – United, Arsenal and Villa.
Point is, Brendan Rodgers last season may have been naive in those games but at least he would've had them competing unlike the aforementioned games. We've gone out and gone through the motions without actually troubling them and that for me is down to tactics set out before the game because the players have showed quality when used properly, that's not debatable.
The Semi Final
"See no reason why we can't do all the things we've always done. Still in my heart I know that's just what, but it's hard to fight tempation"
Steven Gerrard is the temptation.
The semi final looming and Rodgers makes a bold statement by changing not only a winning team but a winning formation and a winning tactic all to seemingly accommodate Steven Gerrard whom if it wasn't for his legendary status wouldn't even be in contention. To put it bluntly, there is no room to be sentimental in football. Give Gerrard the send off in the last game of the season, you shouldn't be making a song and dance about every single game.
"His last game vs Everton he'll definitely be up for it"
"Bring him on against United, let him show everyone what it's all about. It's his last chance to play them"
"Semi final vs Villa, he'll definitely make his mark. It's in the stars, the final is on his birthday"
When will it stop?
"Oh leave him to it, it's his last shit at Melwood. Let him leave without flushing"
Surely common sense and tactics come into these arguments at some point?
Steven Gerrard gave Rodgers an out in January when announcing he was leaving, it meant Rodgers didn't need to pick him in games anymore. Plan for life without him. Yet he hasn't he's still played in games when fit, and must win games at that.
His inclusion isn't why we lost. I made said in the week if Gerrard starts Villa have an advantage and I didn't want to be right but I always thought the pace of the Villa side would cause an aging Gerrard problems and he'd be a passenger. Tim Sherwood isn't a tactical master. His tactics were always going to be direct, whether it be with pace or a long ball to Benteke. We should have foreseen this and planned accordingly but we weren't prepared for either and the countless tactical tweaks Rodgers made in game didn't help.
The biggest worry for me is Brendan Rodgers, the confident tactician who had us all on strings last season, is a shell of his former self. The numerous tactical tweaks this season has showed he doesn't trust his players or his tactics. He had no answer for Villa's obvious tactics. Have the expectations of the club got the best of him? Has the self assurance vanished because of the failings this season and the realisation he might not be as good as he thinks? I've always said he deserves another season but with this loss of confidence I'd be concerned about his ability to actually take us forward next season.
Jurgen Klopp wouldn't be being spoken about had Liverpool kept their identity Rodgers spoke about. Results can be overlooked, misfortune can ruin seasons but you need an identity. Without one you're just an impersonator.