Nearing the end of a forgetful season it's easy to do one of two things; either remind yourself of the poor start of the season or at every given opportunity brag about the unbeaten streak we had at the start of 2015. In isolation both tell a completely different story but the season should be judged as a whole and it's interesting to see that in the big games for The Reds they've not matched expectation or performed as expected. Who is this down to? Many blame the players, others blame the manager but could it be a mix of both? Tactics the manager puts into place may not suit the players and their standards drop.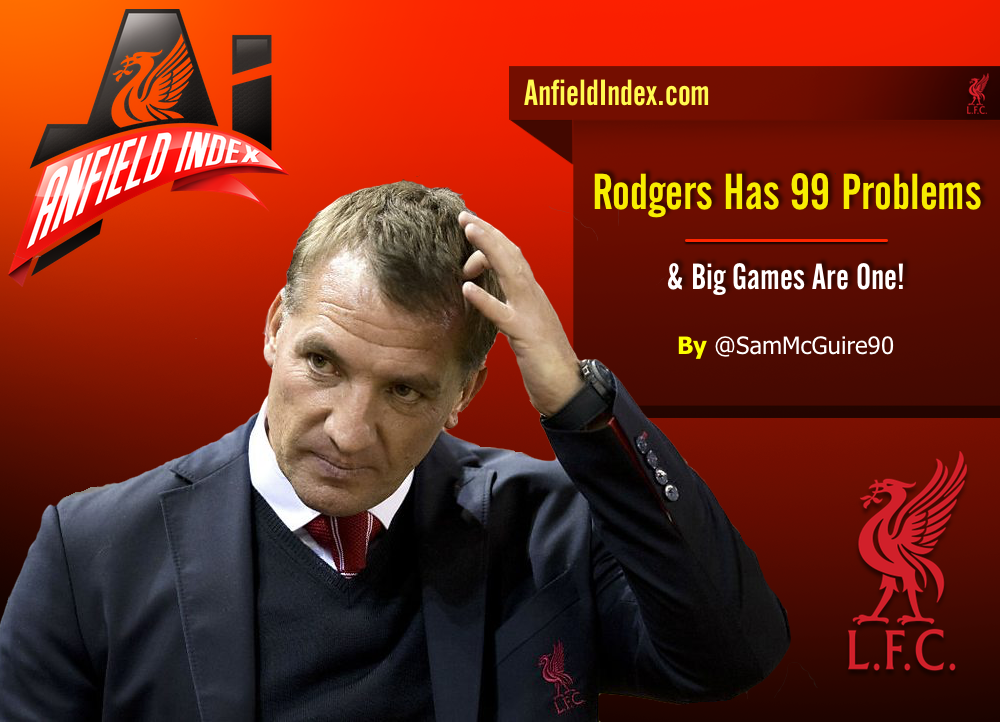 For me when the pressure is on Liverpool they seem to freeze, whether they're channelling their manager on the pitch or not is questionable but the facts are there.

Liverpool 1-1 Everton
Liverpool lined up with Gerrard and Henderson in centre midfield, a combination that hasn't ever worked yet it was persisted with. This game will forever be remembered for the Jagielka goal but anyone that remembers it will note that for the last 20 minutes Everton were actually the better side. This may have been because Gerrard played the whole game and by that point was tiring having been up against a 3 man Everton midfield. Yes, he scored the goal that put us infront but had Rodgers subbed him earlier could Liverpool have got a foothold in the game and won?
Ludogorets Razgard 2-2 Liverpool
A game before kickoff everyone seen as a certain 3 pointer ended up being a measly one point after a subpar performance from Liverpool. Once again a fresher midfielder from Ludogorets meant they had the upprt hand in the middle of the pitch and The Reds lacked an out ball with Rickie Lambert a lone forward. Jordan Henderson was expected to be an attacking threat down the right side but also cover in midfield and be the legs for Gerrard. Odd when looking at the bench and you see the likes of Coutinho, Emre Can, Fabio Borini and Adam Lallana who all could've made a difference in this game.
Liverpool 1-1 Basel
A must win game for Liverpool and we line up like this. I repeat this was a must win game and Rodgers kept the likes of Coutinho, Markovic, Can and Lallana on the bench once again when all would've offered a little more in an attacking sense than lose actually selected. 1-0, 2-1, 9-8, whatever the score Liverpool needed a win. Jose Enrique starting was a waste of a sub straight away as he was never going to play the 90. You're wasting Henderson as a left winger almost to make up for Jose Enrique being Jose but he's also once against expected to be the legs for Gerrard at times.
Manchester united 3-0 Liverpool
The impetus change. Liverpool may have been beaten but with better finishing it could've been so different. However, you can't ignore the fact it could've also been different had Henderson not been moved to right wing back. This was the first time we'd used this formation and obviously it took United by surprise but you have to acknowledge it's a problem playing 4 players out of position. Sterling for slaughtered that game for missing so many chances when he's a 20 year old winger, not a natural striker.
Everton 1-1 Liverpool
Everton on a poor run face a resurgent Liverpool side and come away with a point after being rarely troubled. This was perhaps the game in which the wing backs became fullbacks and we saw a less attacking side. When we played an attacking 343 having wingers as fullbacks wasn't a problem but it becomes an issue when they're being asked to be defensive. It stunts their impact on the game and makes Liverpool very one dimensional. Once again Liverpool don't have the midfield numbers and once again Steven Gerrard is a luxury for the 90 minutes when better players were available. As noted earlier Liverpool played 5 players out of their normal positions so a lapse in form and cohesion may have been incoming, no? How are you expected to perform at the highest level when you're continuously learning on the job. Without such attacking aggression Everton were allowed to press us and get control of the midfield throughout.
Besiktas 1-0 Liverpool
A hard earned 1-0 lead was taken away to Istanbul and surprisingly Rodgers named an attacking side in the hope of killing the tie off early I assume? However this didn't go to plan and in the second half it was all Besiktas. The change should've happened after 60 minutes, Sturridge should've been subbed having only recently returned from injury and another body should've been brought on in midfield. This didn't happen and Besiktas dominated the midfield and Liverpool faced wave after wave of attack before eventually conceding. There was no link in midfield and it was tactically naive of Rodgers to leave it like that for so long.
Liverpool 1-2 Manchester United
This one really grated on me. Win this game and we're in the top 4 and the pressure is finally on United. Having watched their game against Spurs you knew they'd dominate the midfield and use Fellaini's aerial ability as a link between midfield and attack. Contingencies should've been made for this but it seemed like we hadn't watched United at all. The respect we showed them at Anfield to knock the ball around like they owned the place. It took 35 minutes and being 1-0 down before Rodgers tweaked the team. It was clear Fellaini would target the right side of the Liverpool defence so why not anticipate this by switching him and Skrtel? Why allow United to build from the back with no pressure? They had us pinned in our own half knocking the ball around with ease.  This game came after a long run of games with very little rotation and once again had 3 (arguably 4) players out of postion. The mental strain on these players is immeasurable and having to perform in an unnatural position in such a big game, maybe you're asking too much? Was this once again tactical naivety by Rodgers to put Sterling at right wing back when he'd have been much better at right wing to attack Daley Blind?
Arsenal 4-1 Liverpool
Lose this and top 4 is probably gone so why do we line up naively yet again? A two man midfield against an Arsenal three. Henderson at right wing back? We seen last season how susceptible to direct football Arsenal are, you need a base to build which would've been midfield. Arsenal had that much control that Mertesacker, who has been outpaced by a dead snail, was sat at the half way line babysitting Sterling without a care in the world. If he can do that you know you've got your tactics wrong.
Aston Villa 2-1 Liverpool
One win and you're in the FA Cup final. Aston Villa under Sherwood are one dimensional, show them respect but don't treat them like Real Madrid. Their pacey athletic midfielders are there to support the front three. The second balls from the knock downs off Benteke were an obvious threat. The runs from the Villa midfield must've been scouted in the previous game so what do Liverpool do? They allow Villa an extra man in midfield which immediately puts Liverpool on the back foot. Rodgers notices this and changes the formation after 20 minutes, then 25 minutes, then 40 minutes and so on. How badly could you have planned for a one dimensional team were you change the tactics at least 5 times without actually gaining control? 5 players playing out of position, not only expected to cope with a pressure of a semi but also keeping up with the various tactical and formation changes. It's little wonder the team looked lost and confused at times
A recurring theme throughout all of these games is the little value Rodgers puts into winning the midfield battle which is odd when the likes of Pep and Simeone both put emphasis on being solid, or creative in that area when Liverpool are neither. Unless your quality of personnel is of the highest order you'll always struggle when you play a 2 man centre midfield against a three. You could argue Liverpool beat City in a must win game. The difference in that though was City played a 2 man midfield so we watched them man for man and beat them for passion and hunger.
In these mustn't lose game it's clear Rodgers has come adapting to do. If he is to stay another season personally I'd like him to keep a formation and buy players to fit it and improve what's currently here. First port of call if he's keeping a 2 man midfield should be a dominative midfielder or we'll continually have this issue.
Thanks to Whoscored.com for the match graphics