"We've got the best midfield in the world!" is what reverberated in Anfield and mainly on the Kop in the heights of Rafael Benitez's reign at Anfield. The song mentioned Xabi Alonso, Momo Sissoko, Gerrard and Mascheranoooooooooo! We loved that song, we loved that midfield quartet. Since then we've undergone a total transformation in midfield, no longer does it have the passing range of Alonso or the terrier like tackling of Mascherano or Sissoko.
The 2008/2009 season was our best performance in the league, since Kenny Dalglish was last manager, and our midfield consisted of Lucas, Mascherano, Xabi Alonso and Steven Gerrard. However Stevie G spent most of the season playing off of Fernando Torres up front so he was rarely used in central midfield.
That left Javier Mascherano, Xabi Alonso and Lucas Leiva as the midfield marshals. Part one of this article is going to be looking at the passing performances of all three players throughout the season with the use of Opta statistics.

The first table below shows season long accumulative passing and zonal pass statistics. Before we continue, it's worth noting that Lucas has played the least amount of minutes between the three but to be fair we'll be dividing everything by the minute or game on average, where we can. This should provide a realistic view of how each player performed on average throughout the season.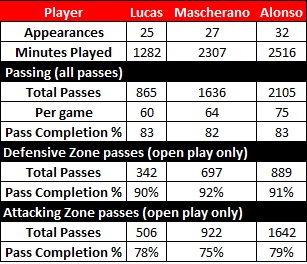 The number of appearances between Javier Mascherano and Lucas Leiva may seem very similar however number of minutes have been added to put this in to context. Lucas was involved in 25 appearances however he only started 13 of these games in comparison to Mascherano's 27 starts.
We were very surprised by the pass completion statistics displayed above. Lucas definitely matched the far more experience Mascherano and Xabi Alonso. The argument can definitely be made asking whether Lucas could continue to pass this way in a longer season and at a consistent percentage? Well he's answered those questions this season averaging a slightly higher 84%.
Looking at their zonal passing statistics Lucas has made approximately 40% of his open play passes in the defensive half. This can be compared to 43% of Mascherano's passes being in the defensive half and Xabi Alonso averaging just 35% of all his open play passes in the defensive half. So Xabi making 65% of all of his open play passes in the attacking half is an incredible statistic and just shows what Liverpool are missing at this moment in time. Especially with the fact that Xabi was completing 79% of his passes in the attacking half. In this current season none of the Liverpool players are averaging anywhere near 79% completion in the attacking half. A superlative effort from our past pass master Xabi.
Now onto Javier Mascherano, who has a 92% pass completion in the defensive zone and 75% in the attacking zone. This may contradict many supporter's observations that Mascherano couldn't pass a ball. The stats seem to state that he could pass the ball pretty accurately, but we'll touch on this a little later. Lucas's numbers are also surprising seeing the amount of stick he has taken in the last few years, however his accuracy has decreased in the attacking third this year (as it has with the whole of the team).
To try and get a closer look at their passing ability we've taken their best performances of the season (pass completion wise) and will use Guardian chalkboards to analyse what their passing patterns seem to be.
Alonso's best performance 08/09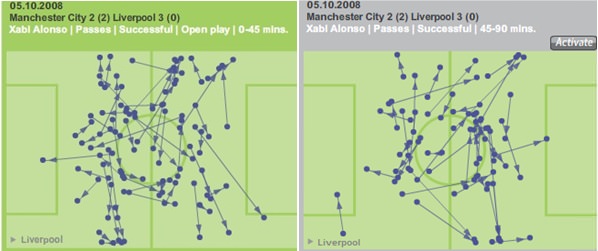 The chalkboards above show Xabi's passing performance against Manchester City (A) in each half. He managed a 90.2% pass completion in this game, which was his best pass completion in any games he'd started that season, and managed 92 successful passes out of a total of 102. Quite an achievement as Liverpool were down by two goals to nil at half time. This is a measure of Xabi's composure and style which never seemed to change regardless of the score line.
Judging from the chalkboards quite a few of Xabi's passes were side to side. A quick look at his other performances and this is a repetitive trend. Xabi also rarely made passes in the defensive third or the final third of the pitch, doing the majority of his work inside the central area of the pitch. A trait of his that sets him apart is his distribution over long distances. There are quite a few long passes shown in the chalk boards above, a quick check of our stats centre shows that Xabi completed fifteen long passes in this match, with the majority being forward long passes.
Mascher's best performance 08/09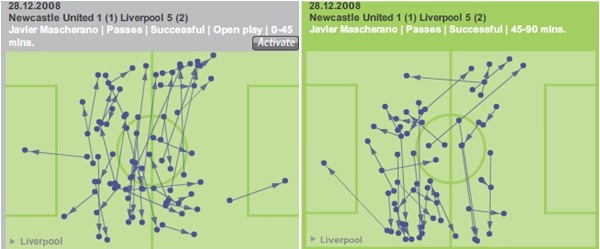 Javier Mascherano's best performance in the 2008/09 season came away at Newcastle United (A) where Liverpool won 5-1. Mascherano's pass completion percentage was an impressive 93.6% completing 73 of 78 passes.  A somewhat surprising statistic, checked on our own Stats Centre, shows that Mascherano's passing wasn't limited to short passes. He made 16 successful long passes, but this is misleading as the majority of Mascherano's long passes were square passes and not defence splitting or more difficult forward passes. You can see these on the chalkboards above.
Overall, in comparison to Xabi's passes it is quite evident that Mascherano passes the ball to his left or right a lot more than Xabi does which indicates that Mascherano would make a lot more easier passes than Xabi would.
So back to the argument we touched on earlier regarding whether Mascherano was a good passer of the ball. In our opinion anyone who has a season long pass completion percentage above 80% would have to be recognised as a player that can pass even though the chalkboards seem to show his stats are on the higher side because of his tendency to pass the ball square rather than forward.
Lucas's best performance 08/09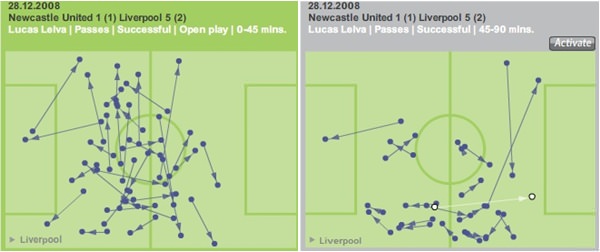 Lucas Leiva's best performance of the 2008/09 season, unsurprisingly, also came in Newcastle United (A) game. His pass percentage was at 90% with 54 passes completed out of 60. The first half chalkboard above shows that whilst the game was tight Lucas, like Mascherano, was content in playing the ball square and back and kept possession well. The 2nd half chalkboard definitely shows less passes overall but more, albeit shorter, passes forward and a few long passes too.  One of these passes was an assist for Steven Gerrard'ss 2nd goal of the game. Lucas's long passes total was low in comparison to his colleagues with only seven long passes in this game.
Xabi Alonso came on as a substitute in this game (last 30 minutes) when the score was 3-1, scored a penalty and had a 96% pass completion percentage, completing 22 out of 23 passes. Four of these were long passes. We didn't use this performance in the comparison as he only played 30 minutes and came on when the game was pretty much won so this would have been unfair on the two other players in the comparison.
Passing Summary
Looking at all three players passing stats and chalkboards; Xabi is definitely streets ahead even though the pass completions are similar. All three midfielders have played the ball sideways a lot but that is part and parcel of their role however Xabi's chalkboards show that he is always looking for a forward pass whereas this is not the case with Lucas or Mascherano. The stats/diagrams also showed similarities in the zonal passing areas with all three players passing more in the central areas and not dropping too far back or committing themselves forward. Rafa had the team well drilled with Benayoun, Kuyt, Gerrard & Torres doing the majority of the work in the attacking third of the pitch (We'll be covering goals scoring and creativity in the third instalment of this article next week)
To conclude, the fact that Xabi's passing is consistent even when the team is under pressure shows his natural ability to remain calm and keep passing the ball no matter what the situation. This is something Liverpool require in the current team and even though Lucas is passing the ball well at the moment he cannot imitate some of the characteristics that Xabi Alonso brought to Liverpool.
Javier Mascherano's qualities will be displayed in the next instalment of this article next week when we look at defensive / tackling comparison between the three midfielders! The third instalment will look at creativity and goal scoring so that we cover off all areas of their game also next week whilst the International break is upon us!