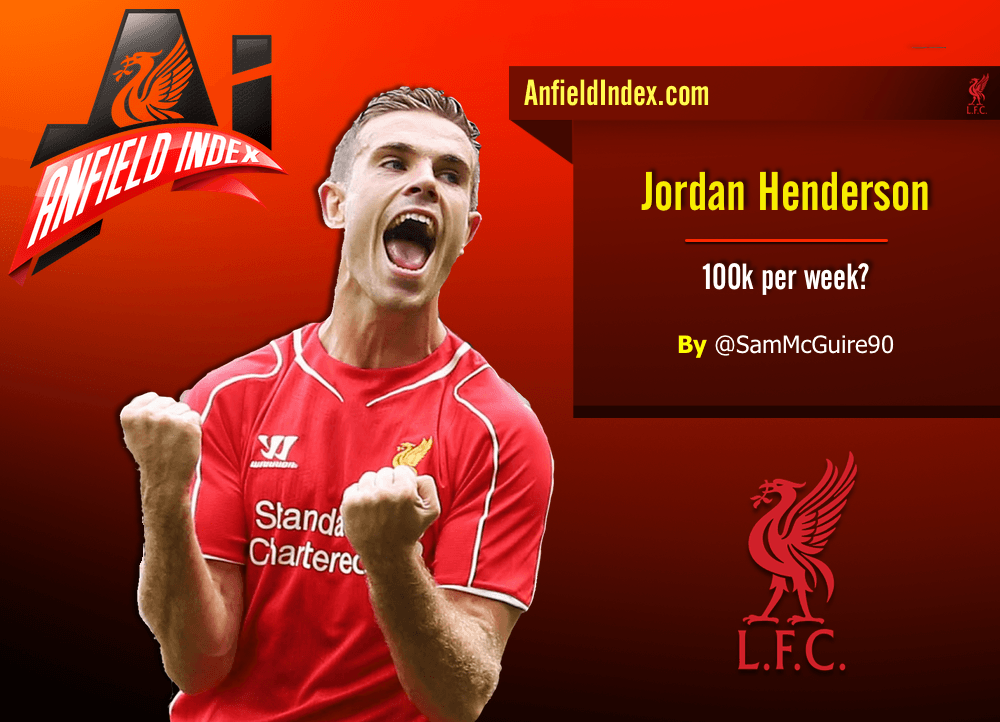 Jordan Henderson - £100k per week?

"I've got no strings to hold me down, to make me fret, or make me frown. I had strings, but now I'm free. There are no strings on me"
That could well be the theme song for Liverpool's captain in waiting next season, Jordan Henderson.
For well over a decade Steven Gerrard has been the cornerstone of Liverpool's midfield. The goal scoring, match winning, tempo setting captain. He's played infront of world class players; Didi Hamann, Xabi Alonso and Javier Mascherano, and he's had the misfortune of being in a midfield that's contained Christian Poulsen and Charlie Adam. One aspect that's never changed throughout is the importance of Steven Gerrard. Fortunately for opposing teams, Steven Gerrard can't play on forever.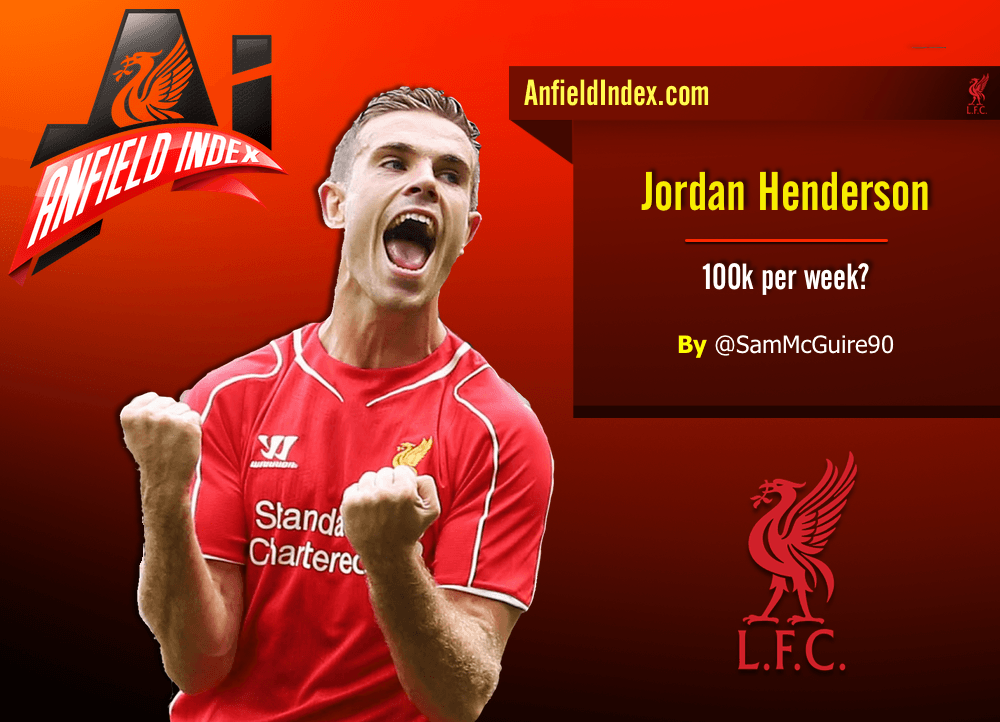 Liverpool started to plan for that day in the summer of 2011, when they signed Jordan Henderson for a fee reported to be £16 million. Liverpool fended off interest from Chelsea and Manchester Utd to complete the signing. The latter being an odd potential destination, as Alex Ferguson has since come out and criticised Jordan's gait, despite having an interest in him. That didn't come across as bitter at all, honest.
Eight days short of his 21st birthday, he was by no means the finished article. He was a boy with potential. Potential he showed in his two full seasons at his boyhood club, Sunderland. The twenty year old was integral to the clubs unbeaten run against Manchester City, and future admirers, Chelsea and Manchester Utd, even adding a goal at Stamford Bridge. A first time finish that oozed confidence.
Jordan Henderson had certain characteristics about him that lead to young Steven Gerrard comparisons. A dynamic midfielder who loved a tackle and certainly had an eye for a pass. Long or short, he was able to pick out a colleague. His first season, under the tutelage of Kenny Dalglish, he was deployed in an unfavoured and unnatural position. This couldn't have helped the bedding in period for the young Englishman. Stepping up to the expectations of a club the size of Liverpool isn't easy for any player, but it's even harder for a youngster, who at Sunderland was a key central midfield man, was now playing on the right of midfield tasked with providing ammunition for Andy Carroll. This position limited his effectiveness on games. The fans got on his back, for such a large fee some fans demanded instant success. The shadow of Steven Gerrard was cast all over Anfield. This was never the plan when he was signed, he was for the future. However, this didn't dampen his visible passion for the club.
Brendan Rodgers introduced a 'Death by football' ethos, with Joe Allen as the poster boy for it. Toward the end of Rodgers' first season, glimpses of how key Jordan could be for Liverpool were evident. In the demolition of Newcastle at St James' Park his pressing and forward runs were key in a 6-0 victory. Coutinho got the majority of the plaudits, but Henderson's runs from deep created the space for Phil to pull the strings in. Backed up by a midfield two of Lucas and Gerrard, he had the freedom to affect the game in the final third, two goals capped off a magnificent performance. This was the kind of performance Liverpool fans had expected.
The 13/14 season began and a bulkier Jordan Henderson was visible. The season before, having to prove his worth helped mature him physically and mentally. He was now a man. He now had the physique to help him power past people. His hairstyle also improved; Brendan Rodgers deserves plaudits for his man management right there.
As the season progressed it was evident that the 'Death by football' ethos had been replaced with a 'Score more than you' mentality. The day came when. 15th December 2013. Liverpool away to Tottenham it what was a bogey game for the Reds. To make matters worse, both the skipper and Sturridge were out injured so a new midfield trio was used; Jordan Henderson, Joe Allen and Lucas. Would a weakened Rodgers' midfield get the better of Andre Vilas Boas' midfield?
The answer was a resounding yes. Jordan Henderson was pivotal in an emphatic 5-0 victory, scoring one and having a hand in another two. Free of having to do as much of the defensive work he would usually have to do had Gerrard been playing; he was able to push further forward at many opportunities. He took charge of the midfield in the skippers absence.
The 2013/14 season was bittersweet for Liverpool, within touching distance of their first title in 25 years but falling short towards the end. It was successful though, qualifying for the Champions League and turning Anfield into a fortress once again. Jordan Henderson's importance was shown in the games he missed through suspension. It was a successful season for the maturing midfielder, fewer goals than the season before, 4 goals, but he did manage 7 assists. This is even more impressive if you factor in that Henderson, although decent, doesn't take set pieces for Liverpool. Rodgers's influence on his game was evident with his passing stats.
In 2012/2013 he had a pass completion of 84%, from 987 passes attempted. However, in 2013/14 he had an 87% pass completion rate from a staggering 2015 passes. Over a thousand more passes attempted and he still managed a better pass completion. He formed quite a relationship with Sterling, Sturridge and Suarez. All buzzing around the final third knowing Jordan's eye for a pass would eventually lead to them getting the ball. His tenacious pressing often ended up with Liverpool getting the ball and hitting teams on the counter.
What lies ahead for Henderson? Well, as Ryan McTernan writes, Jordan was the defensive midfielder for Liverpool last season. Not in terms of being the deepest midfielder, but with the defensive shift he puts in. Steven Gerrard needs two runners beside him for protection, and Liverpool have an abundance of attacking talent, yet very few who run in behind.
When the day comes that Gerrard is phased out to play less often, could Henderson have a role higher up? The leash would be off, the strings would be cut with Gerrard not anchoring the midfield. He would be able to affect the game in the final third. He did well last season when in the final third, pulling off some outrageous passes that would usually be associated with Coutinho. Who better to lead the pressing assault than the pressing machine himself, Jordan Henderson?
A midfield three of Henderson, Allen, Can/Coutinho is not only flexible but is also effective in many aspects. All are similar with regards to keeping possession, but all have different strengths. Coutinho playing deeper, with runners ahead of him, Henderson, Sterling and Sturridge could be devastating. Chaos for the defenders having to get to grips with.
Critics of Henderson lambast his lack of goals. He isn't prolific by any means, but he is still young. It is worth noting the following;
Frank Lampard, Chelsea's leading goalscorer averaged only 6 goals a season until at the age of 25, Chelsea signed Claude Makelele, which freed Lampard up from defensive work. He also takes penalties.
Steven Gerrard, inconsistent goals wise in his earlier career didn't hit double figures in the league until 2005/2006 when Liverpool had Didi Hamann and Xabi Alonso doing the dirty work. Again, he is the club penalty taker.
Michael Ballack, up until 25, hadn't hit double figures in the league.
Paul Scholes, despite his reputation for goals only hit 10+ in the league twice throughout his Utd Career. Both seasons when Roy Keane was injury free.
Yaya Toure, only excelled when City signed Fernandinho which lifted defensive work form Yaya. He is also a penalty taker.
Looking at those stats, you will see a trend. Gerrard, Lampard and Ballack didn't hit double figures until they were 25 and had specialist defensive midfielders in the team.
Liverpool may not need a specialist defensive midfielder, they could do defensive work as a unit. However, if they were to sign William Carvalho, for example, he would do the defensive side of the game. Not only is he imposing physically, he is also decent on the ball which then gives Liverpool a different dimension to their game which would potentially lead to Jordan Henderson forfeiting 90% of his defensive work and allowing him to make the late runs into the box, and getting in amongst the goals more often. The man billed as Steven Gerrard's successor in terms of play could potentially be the heir to Frank Lampard's crown.
Jordan, the once ugly duckling of Rodgers' Reds revolution, has now turned into the midfielder that many youngsters idolise. Two seasons ago he was on his way out of Liverpool. Now, the newly appointed vice captain is a key cog in the Liverpool machine that's ready for success. The leadership will suit him, having had experience captaining the England U21's for a time. He leads by example, he sets the tone for what Rodgers is trying to encompass in his teams. He fits the role perfectly. Rodgers and hard work have helped transform him into Liverpool's captain in waiting, and what's more, he deserves this honor of those within the current squad. In the future we may once again see a stringless free scoring midfielder, captain of Liverpool and fans favourite bundle. Remind you of anyone?