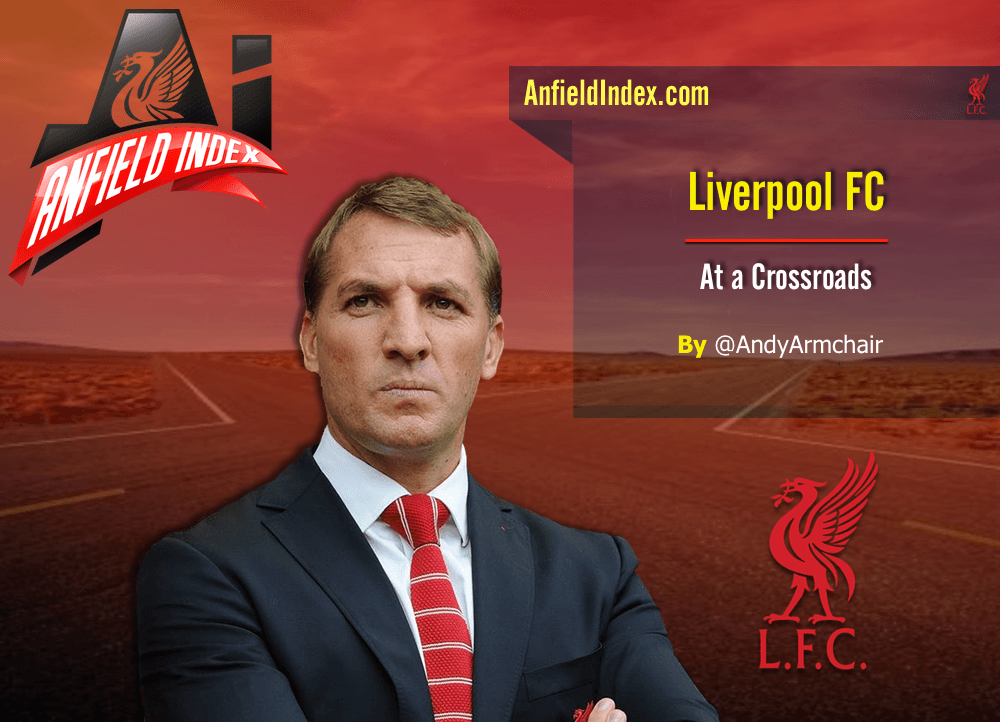 Liverpool at a Crossroads
Defeats are always hard to stomach, some more than others. Sometimes though, it's not just about the defeats or the manner of them; it's an accumulation of things that change the landscape.
For over 50 years, trophies have been the currency that Liverpool Football Club has dealt in and the sad fact is that 10 major trophies in the last 25 years, including just 3 in the last 10 years, is simply not good enough for England's most successful club.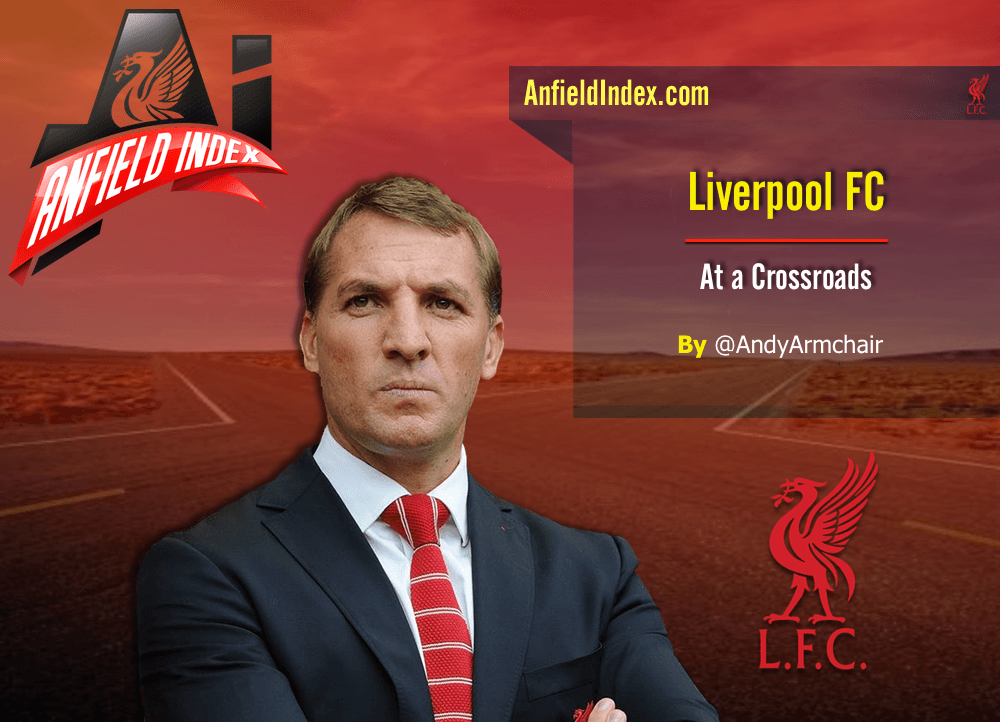 Undoubtedly, football has changed. In the 1990's, it became a commercialised, multi-million pound business that is now a multi-billion pound industry. It's top stars and hangers-on are so far removed from the ordinary fan, that it sometimes seems to get lost that football is actually still a sport. Liverpool got left behind in that shuffle and although the club is now beginning to make up ground commercially, it still lacks the necessary financial muscle.
Sure, we've had spending sprees here and there, but we're not consistent big spenders. When we do "splash the cash", it's with varying success. So, without the ability to gregariously spend our way of trouble, we need the right scouting network to enable us to make smart signings and a manager with the tactical nous to get the required results in key games. Sadly, we've been lacking in both areas for some time.
So, as we glare at the impending reality of another season without Champions League football and reflect on the last chance of a trophy this season disappearing down the toilet with that stinker of a performance in the FA Cup semi-final, the future of the club moves into full focus. Most of which, will inevitably fall upon Brendan Rodgers. I it find uncomfortable that we are again looking at a change of manager after just 3 years. Although ideally, you'd want an extended period of stability at the club, especially after such a tumultuous few years that saw Liverpool Football Club on the brink of financial meltdown and Roy Hodgson as manager. Those were truly dark days in the history of the club and that was only 4 years ago. Kenny Dalglish did an admirable job in settling the club down, but his full season as permanent manager sadly couldn't live up to his previous tenure. So, despite winning a trophy, the League Cup, the clubs owners showed their ruthless streak by sacking arguably the biggest legend in the club's history.
Brendan Rodgers appointment in 2012 was to be the signal of a new direction. A younger manager, to lead younger players with passion, hunger, vigour and ambition with the promise was of fantastic football. The first half of 2012/13 was an embarrassment, but the second half much improved and with new arrivals Daniel Sturridge and Philippe Coutinho immediately firing, it brought promise. That promise was carried into 2013/14 and gave us that unforgettable season where we nearly won the league. Nearly. That's a tag we carry – the nearly men. We nearly won the league, we nearly got to the League Cup final, we nearly got to the FA Cup final. Nearly, nearly, nearly. But this season's Premier League and Champions League campaigns have not even been nearly. They've been nowhere near and simply not good enough.
This isn't a reactionary lashing out or the knee jerk reaction of wanting a manager sacked because he's lost 3 games. This is a reluctant acceptance that our current manager's limitations are there for all to see and unfortunately, he can't take us where we want to go. Let me make this clear, I appreciate what Brendan Rodgers has done at Liverpool. On the whole, our style of football has improved, some players have been developed, young players have been brought through to the first team and we had that memorable rollercoaster of excitement last year. Whilst they're all plus points, the reality is when the pressure of expectation is on our current set up, we bottle it. We fall short. We don't have what is required. However you want to say it, it amounts to the same thing.
Brendan Rodgers tactical naivety was cruelly exposed in the 2-0 defeat to Chelsea at the end of last season, the game that will be eternally remembered for Steven Gerrard's slip. After a dreadful start to this season, including that disappointing Champions League campaign, we changed defensive formation. A significant change that stemmed the flow of goals we were letting in and added wins along the way. It was a change that worked well for some time until teams began to work it out. A fortunate win against Swansea was the warning sign not heeded and it was followed up with embarrassing defeats to Man Utd and Arsenal. We reverted to a back 4 in wins against Blackburn and Newcastle, but then came Wembley. Tim Sherwood is no tactical genius, he simply had to look at how Swansea and Man Utd shut us down and we duly played a back 3, before switching formation 25 minutes in and again at half time and a few more times in the second half. It was a sign of desperation, a manager unsure of how to find answers in pressure situations.
In his 3 years in charge, Liverpool have never won a game against any of the other top 6 teams after conceding the first goal – a disconcerting statistic; no trophies in 3 years is another one.
"I could've made it work if I'd been given more time" is the mantra from most sacked football managers; even the hapless Roy Hodgson used it after his catastrophic 6 months at Anfield. Regrettably, I don't think more time can be given. Last season's transfer fund and the money received for Luis Suarez was not invested well. Arguments will rage over whether certain players were Brendan Rodgers or the committee's signings, but he's said he has the final say on them all, so he must accept responsibility. The treatment of some of those players has not come across very well; dragging the 20 year old Lazar Markovic off after 45 minutes, four matches in a row, can't be good for his confidence and smacks of making him a scapegoat. The same could be said of Mario Balotelli and what appeared to be a refusal to use him for a period. Balotelli is a player I never wanted us to sign as I felt he didn't suit our style. That is, our high tempo pressing style of last season. We no longer play that way, in fact, what is our style now? After three years, you would expect a manager to have a definitive style, his team have an identity. How can you have a transfer strategy when you can't be sure what formation you're going to play or how you're going to play?
At this stage of Brendan Rodgers career, I feel he's taken the club as far as he can and in football, if you're not moving forwards, you're going backwards. If the clubs owners did not at least try to capitalise on the availability of Jürgen Klopp this summer, I'd be hugely disappointed. Of course, there's no guarantee Klopp would come to Liverpool and Man City are understandably favourites to be his destination, but we'd certainly have a chance. Whether FSG decide to stick or twist, Liverpool Football Club is at a crossroads and this summer will be a test of the owners' ambition.