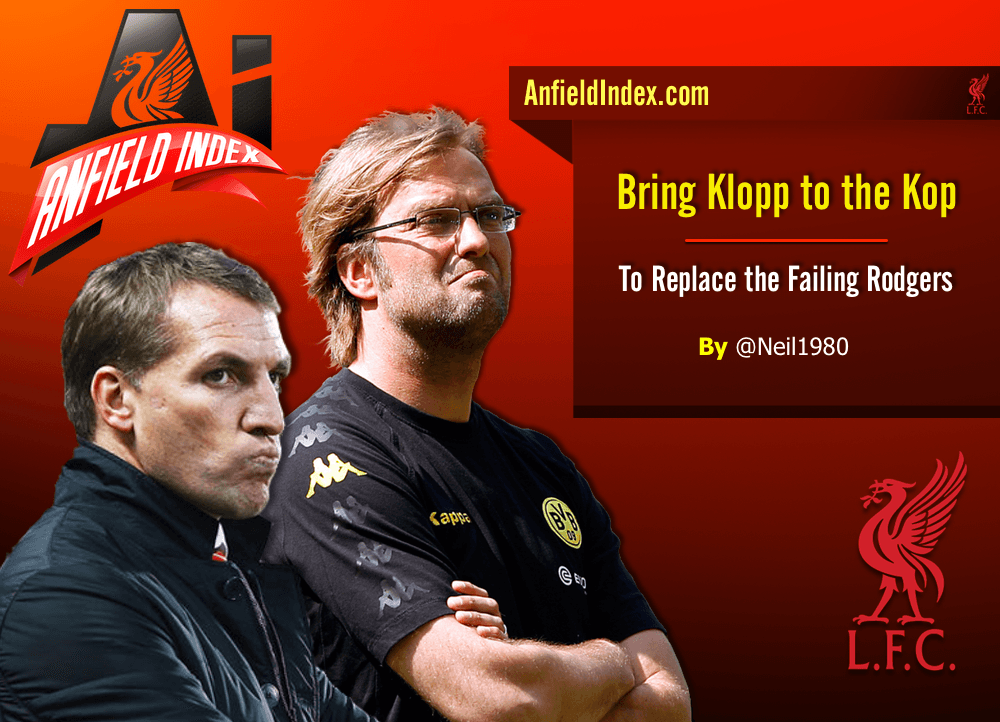 Bring Klopp to the Kop to Replace the Failing Rodgers
Many moons ago (roughly ten), last season ended in glorious failure, of sorts, for Liverpool Football Club and its fans. That failure (to get a point against Chelsea/to keep a lead against Palace) was however, very much tempered by the fact that nobody had truly expected us to ever have been in the position which would have made such a heart-wrenchingly tragic collapse possible. Yes, we were buoyed, despite not winning the title; kept afloat by the fact we'd come so close, playing such an exciting (if kamikaze) brand of attacking football; enthused with the self belief that battering all our main rivals (bar one) brings. Unfortunately, that optimism, belief and confidence wasn't to last, and now here we stand, amongst the shredded tatters of our dreams once again; disillusioned, deflated and, yet again, divided.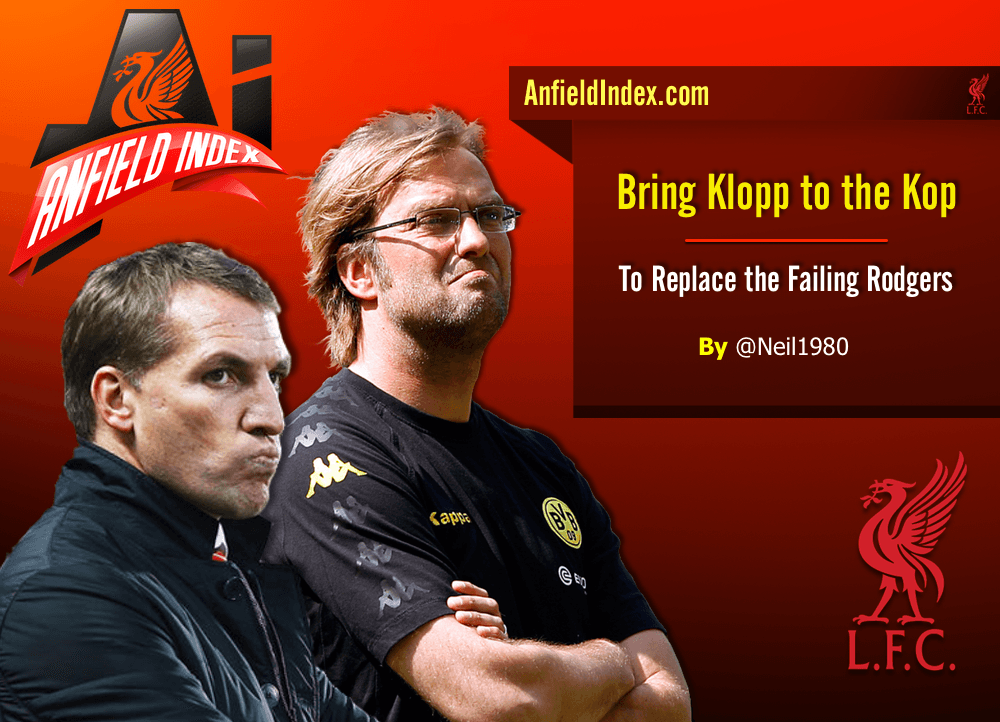 Rumours of dressing room unrest are taken with a pinch of salt to begin with; however, when the whispers persist, and performance level drops, leading to poor results, over a sustained period, people begin to pay attention. On the pitch the team look jaded, the focus absent; individual players flummoxed by the positions the manager is asking them to take up. Tim Sherwood said that Villa bamboozled Liverpool during his side's 2-1 victory at Wembley; I've got news for Tim: they didn't. The reason why? They didn't have to, Liverpool had been bamboozled long before they sniffed Timmy's inflated sense of self worth.

The reality: after Saturday's tediously blunt final third performance, against a team that had shipped seven in their previous two home games, was one semi-decent performance in six, and that against a Newcastle side that's an outrage to the city and the footballing tradition it represents. Last night's embarrassing, but in no way surprising, surrender at Hull means Rodgers's Reds have netted just five goals in the last nine games, in all competitions, and have just three wins from those fixtures.  On top of that, we've now handed Hull four points this season, doing our bit to keep Steve Bruce's ugly pus in the Premier League for another year – sigh.
Fans, who've had the excruciating misfortune of witnessing this drama-cum-tragicom, have inevitably become involved; pitted against each other, as the game of "he said she said" is all too familiarly played out in the press. Liverpool appear to be no further on, on the pitch, than when Brendan Rodgers took the job. Three years on, the cup runs and poor league results; lack of goals and invention in the final third, it's like last season was dream that's becoming crueller by the week; every so often hazily intoxicating the mind, just for a moment, only to come round to the numbing realisation that any, and all, progress made then, has been utterly and fatally eroded now; vanished even. So, as farce threatens to engulf the club, not for the first time in recent years, the owners stand with a managerial decision to make – one which splits opinion, but one which must be taken.
Brendan Rodgers's first mistake of this campaign actually came before last season had ended. The capitulation at Selhurst Park has already been mentioned, and I don't like to dwell, however, when Sakho was highlighted, ahead of Skrtel and Johnson, in Brendan's mind as the reason for the side's desperate concession of three goals in ten minutes; when he was made a scapegoat, and dropped from the following game, that was a harbinger of things to come, and where this season's problems began in earnest.
This mental, and later verbal, assertion led Rodgers to abandon any thought of signing a right centre-back, which was desperately needed to partner Sakho – our best centre-half. Instead he opted to look for a replacement for the €20m former PSG and France captain that the club had just signed. Now misidentifying an area in need of strengthening is one thing; however, identifying a player as poor as Lovren to be your main "marquee" defensive signing is another.
Rodgers receives no sympathy whatsoever for this cock-up of gargantuan proportions. Those who say "but Lovren had a great year at Southampton", ostensibly perhaps, but even a superficial glance into the defender's past would have exposed his catastrophic shortcomings. A man paid millions to know, check, listen to advice, be an expert in this field, simply has no recourse for getting it so wrong.
Signings have been an area of incendiary debate since Rodgers took over (an example of how he uses the media to muddy the waters), but it has become clear in the last two weeks that Rodgers provided the list of first team transfer targets last summer; that he named targets, and that those targets were pursued and, in most cases, landed. There are those that point to the investment levels at United, Chelsea and Arsenal being higher than our own, and that we "lost" Suarez, as being reasons for the shocking decline in quality this year, and even as a way of excusing poor signings; I'd like to put these arguments to bed now, if I may?
The club knew, as did Brendan Rodgers, that Luis Suarez would be leaving Anfield last summer. Suarez himself has said that Gerrard persuaded him to stay for one "last" season, and that he'd be free to move on the following year – which he did. The new contract, complete with cast-iron, get-out clauses, ensured that (barring self-delusion) nobody should have been operating under any false hope of persuading the precociously talented, former Ajax star, to stay. That known, and said, means that Rodgers and the rest of the committee knew the very real likelihood of Suarez's departure a full 9/10 months before his actual departure, and did very little to find a replacement; even less to secure the services of one. All the talk of Lallana and Lambert "making sense with Suarez still there", is shown up to be preposterous when considered in this light.
We know for fact that on the question of Lallana, Suarez wasn't an issue to consider; we'd already officially agreed to sell him, by the time we'd had our collective arm broken by Southampton's outrageous demands, and Brendan's desperation to splash the income on "his man". What about all the smoke and mirrors with Balotelli? Balotelli was a Brendan Rodgers signing by all accounts – he's said as much himself, although he's contradicted himself on that too (quelle surprise). So three signings for the first team Lovren, Lallana, Balotelli at the cost of around €75m, all Brendan's choices (so we're reliably informed) and none have made a significant impact.
"Fair enough", some may say, "every manager makes mistakes in the market." One who makes such spectacular errors, actually fundamentally misjudging the type of player that the club needs, after having demanded control of the club's transfer targets, deserves to be shown little mercy. To have surrendered such a position of strength by throwing away such a large amount, on such poorly considered signings is almost criminal; it's certainly devastating, as a fan.
As for the other signings, mostly squad players and youngsters, they appear to be of a generally high standard. Obviously, Emre Can looks the most able at the moment; a player for whom Rodgers did eventually find a position, although an unfamiliar one (RCB) and now a berth that's completely alien (right-back). Markovic is another who, despite showing flashes of brilliance in his more natural forward positions, has been unrelentingly played out of position in order to accommodate the likes of Lallana. Moreno's been thrown under the bus to cover for Lovren's complete ineptitude at times, as well as being given a position which often leaves him hopelessly exposed. As for Manquillo, who looks a very promising young right-back, he's been left to tumble without trace.
New signings haven't been the only ones shunted around the pitch to accommodate lesser players. Raheem Sterling's played in 4 different positions this season, at least, including at right wing-back, receiving little thanks from fans for his effort, due to the way the narrative's been turned against him in the press.  That leads me on to my next point, another worrying trend which has returned intensified this year: vitriol towards players.
When the team is doing badly, it's the manager who should take the blame. He is the leader; they are his disciples – the manager should never hang players out to dry. This manager is only too happy to let the press have their scapegoats, and if they haven't found one that particular day, to point one out for them. Balotelli, Sterling, Sakho, Moreno, Markovic and others have all been singled out by the manager to the press; he even has "friendly journalists" briefing against certain players and talking up others (notably Lovren and Lallana).
That we are now at the end of a season, which started so badly due to the system and personnel the manager was using, and we've come full circle so that manager is using the same failed system and the same tired, used up players (I don't need to name them), is a damning indictment of where this manager and team are now. Viewing Rodgers's tenure holistically, up to this point, it becomes fairly clear that last year was the anomaly, not the norm, and that the way that peak was reached (with baseball scores) was never going to be sustainable. The two seasons which sandwich 2013/14 bear more of a resemblance to one another, in terms of points, goals scored and numbers of games lost. That we began this season "challenging for the title" in the manager's words, and now we're being told that "progress in the domestic cups" was the aim all along, is a stunning display of how unwilling or unable to self assess effectively, or face up to failure, Rodgers has shown himself to be; however, his consistent repetition of the same mistakes over the course of the season, had already given us insight into this particular flaw.
In conclusion, Liverpool Football Club is too great an institution and too big of an entity to be beholden to anything less than greatness any longer. There have been high points in Rodgers' reign, and he is a good manager; however, he has a ceiling and will never breach it if unwilling to evaluate and learn from his mistakes, or accept that he cannot possibly know all there is to know. Sadly for him, it seems that such a time certainly hasn't come yet.
Jürgen Klopp is available, and would be an ideal fit for LFC; a perfect replacement for Rodgers. In Klopp you have a coach who is young, dynamic, has an attacking, high octane,pressing philosophy, has worked in a proper structure, is happy to just coach, is humble and hard-working and, above all else, is proven at the highest level – both domestically and in Europe. To those who question whether Klopp would be "much of an upgrade", BVB was busy beating Bayern Munich last night, while LFC was …… .The time has come to upgrade, come on FSG: bring Klopp to the Kop.