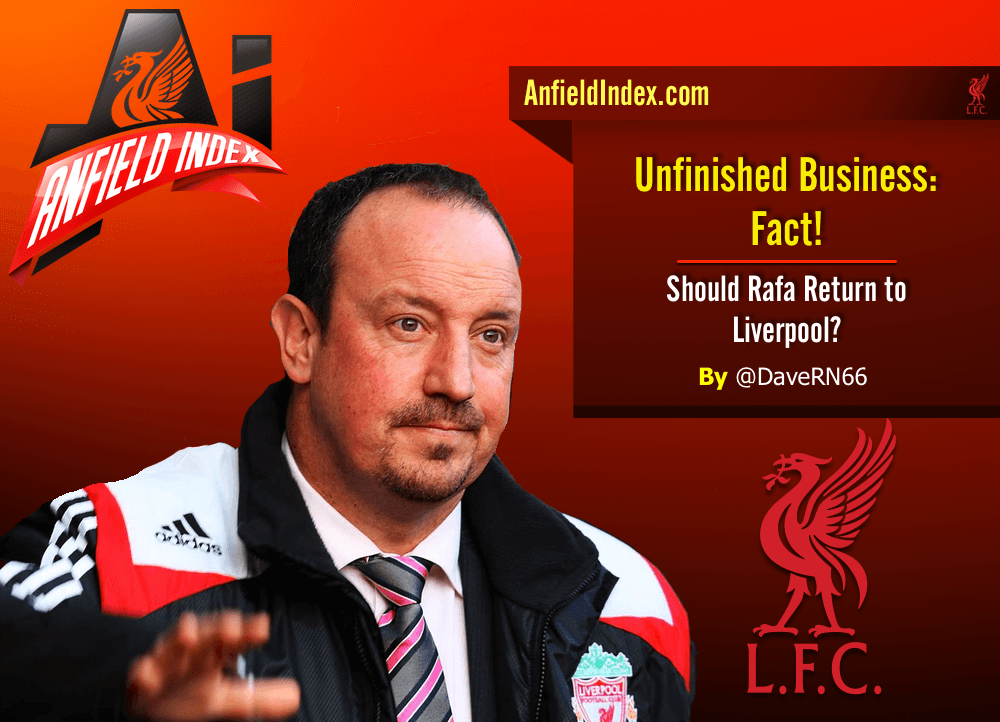 Unfinished Business – Fact! Should Rafa Return to Liverpool?
I have always held FSG in high regard after their purchase of Liverpool Football Club. The manner in which they despatched their American compatriots, Messers Hicks & Gillett, was stunningly meticulous in it's execution. Callous, cold and quite frankly ballsy to say the least. They came, saw what they wanted, and grabbed it from right under the noses of the cowboys who had us on the verge of bankruptcy. Initially I was worried with more Americans arriving, and the potential of more chaos given their seeming lack of knowledge of "Soccer", as they would call it.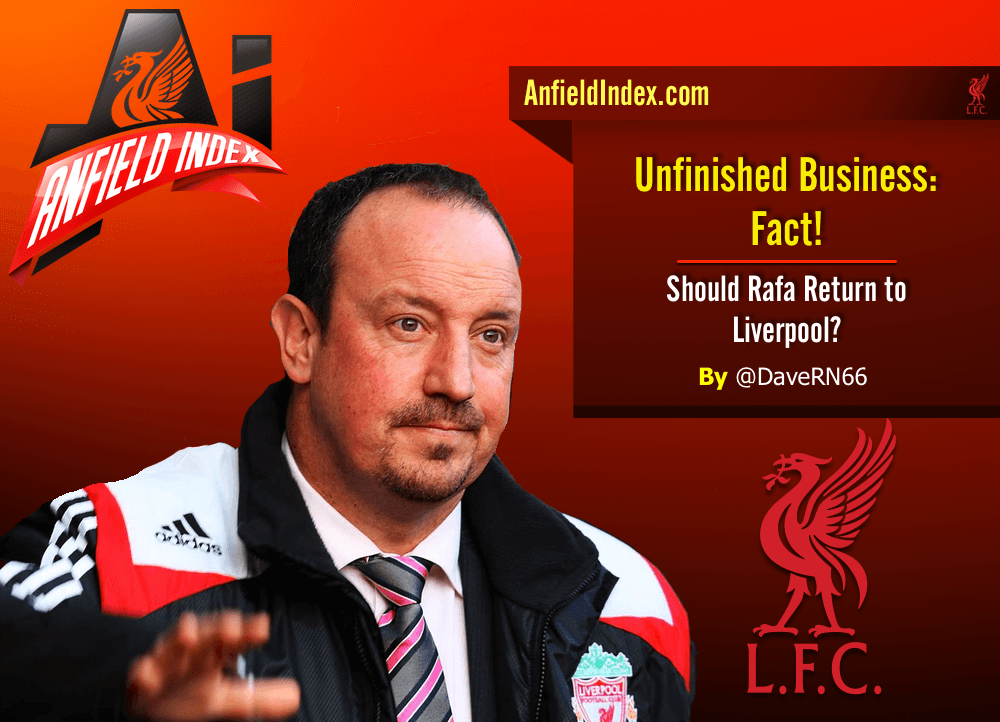 After a short while we could see FSG were a lot different to the Yanks they disposed of, but we also saw the need to learn more about the club, the fans and football in general. They have done a fairly decent job of taking us from being a few days away from even existing as a football club to marketing us correctly to the world. They still do seem to lack the ability to see what the club needs as a figurehead, as a manager. Replacing Kenny with Rodgers looks nearly as foolhardy  In short, very very naieve. Still there is always time to put it right this summer. The close season could see a lot change at Liverpool, and after the deflation of this season, it really is needed.

After a season of incompetence in the transfer market and on the pitch, FSG find themselves at the crossroads yet again. Lets not forget these guys have invested heavily in the club since their arrival and with the announcement of the stadium expansion they have shown their desire to mix with the big boys is still part of their business plan. I honestly believe that FSG want Liverpool to succeed and for that reason they will change the management next season. Where they will look, nobody knows, but I want to make a case for someone who, in my opinion, offers us the best way forward with the least amount upheaval.
While Mr Klopp presents us with a mouth watering opportunity, is like a wet dream for our owners, and very few of us Red's would be disappointed by his arrival. But, there exists a better fit for the club. They say you should never go back, when your done with something you are done. Such language does not exist in the head of a certain Señor Benitez. This is a man, like Kenny, who bleeds red. This is a man, like Kenny, who has unfinished business at Liverpool. This is a man, unlike Kenny, who is still at the top of his game. This is a man who wants us!
Klopp may take some convincing, even as a closet LFC fan, Rafa, he would take us in heartbeat, regardless of what state we are in after the dust settles from the calamity of this season. We may well end up thanking the football god's that he does still want us.
So, the burning question is this – Could FSG tolerate a headstrong Spaniard who, if backed in the manner they have with Rodgers, would almost guarantee them the success that they so desire? Could FSG bite the bullet and accept that tomorrow's men, like Rodgers, are presently just that, and they are operating in the today at Liverpool? Brendan Rodgers may become a good manager, but he's not one right now. His step sitting at WBA showed us as much. He now looks like a man dangerously out of his depth and resigned to his fate.
The case for Rafa over Klopp could well divide opinion, but I will try and justify the thought process I have in making the case for Rafa.
Firstly, Rafa's family are still residents of Liverpool, minimal hassle or cultural learning required for him, he's practically a Scouser. He understands the City of Liverpool and its people better than any other we could look at. He loves LFC as passionately as we do, maybe even more. He is a born winner, he does not talk the talk, like our current mouthpiece, the actions and results of the Benitez speak everything about the man. His record leaves Klopp in the shade, although I expect Klopp will go on to do great things also. Rafa loves Liverpool, it's as simple as that, we should love the fact he would still consider us.
I posed the question to myself last week, what if Rafa had found himself managing Liverpool at the start of this season, how would it have been different?
Well there would be so little adjustment needed for Rafa to take the managers chair, he knows us already, just needs to adjust to the new ownership model. I am purposely avoiding what he could have done in the transfer market or this article would become a novel and I could well be wheeled off to the funny farm prematurely!
So, it's Sunday 17th August and Rafa is in charge. I would imagine Rafa would relish the squad he found, plenty of diamonds like Can and Markovic for him to shine into something special. He would also have had the balls to tell Gerrard that his future would be better served as a sub a lot sooner than Rodgers did. Rafa is not one for sentiment, when you're past your usefulness or don't appear to want to be at LFC, Rafa moved you on, Michael Owen as an example. And maybe, just maybe, Rafa could have convinced Gerrard to be part of the coaching staff, who knows!
I can't see us needing 27 penalties to defeat Middlesbrough at Anfield either, Cups are Rafa's speciality. We would have been spared the dross of early season and it's a certainty that Rafa would have gleaned more than 15 points from 14 league games with the resources available. We would probably have seen a lot of Lucas too! And Top 4 would still be a reality, if not already secured, in such a pitiful league. We may well have had a few more facts and few more laughs along the way.
Champions League is where the irony of this muse really bites. Imagine Rafa steering us through that Group? Basle and Ludograts are hardly a worry to a man with this kind of pedigree. I don't think you would have seen such a failure against Madrid at Anfield, we still may not have won, but we would have tested them a lot more! The return leg in Madrid would have spared us the utter shame of what unfolded that night. Rafa would have had a plan, Brendan's plan was acceptance of defeat. Madrid are a great side, but so were Milan in 2005, we all know how that ended! Rafa "gets" LFC, and he 100% gets our European tradition, he's part of it. I am not suggesting we would have experienced Euro glory, but we would have been spared the shame! There would have been a lot fewer replays in the domestic Cups, especially given the favourable FA Cup opponents who we laboured to get past under the current management.
Another thing Rafa would have done differently would have been the handling of underperforming players. It amuses me to think what he would have done with Balotelli. I cant see him being used as the scapegoat under Rafa, if such issues existed he would have been shown the door in January, but he would have worked out, after 30 mins or less, that Mario alone up front is like playing with 10 men. He is no friend or admirer of the UK press either, so I doubt very much we would have had the circus we have witnessed from Rodgers this year.
It was Rafa that signed Glen Johnson and I'm sure he would have binned him to run down the contract far away from the first team. Manquillo is what I consider a Rafa type player and we would know a hell of a lot more about him by this stage then we do today, fact! He would have found a system that suited his resources in their natural positions. Opposing managers would have a huge headache with Rafa in charge as they never knew what to prepare for with total certainty, another huge bonus.
I'm sure the Sterling episode would have been managed a lot firmer than it has been thus far. I can't see a man like Rafa laughing off the Shishka Pipe affair. And if Raheem wants out, Rafa would oblige without pandering to a badly advised kid! But I must add the wiser head of Rafa might have grounded Sterling before the media circus began.
Moving into the next season we would have real optimism that the name Rafa Benitez, a winner, could lure "above par" players for Liverpool. In short your team is only as good as the ability of the man leading it, and that's where we find ourselves today.
Of course to add balance I need to remind myself of the negatives of Rafa, which I still feel the positives outweigh. He did suffer a meltdown towards the end. The combination of H&G, no money, shameful press hounding and sheer frustration of our impending decline had a terrible effect on him. He was not without fault with some of his transfers, but name me a manager that has not signed a cabbage here and there. Those last days of the Rafa era looked as ominous as today looks with Rodgers. The difference is, Rafa recovered, Liverpool did not. Rafa just keeps doing what he knows best, winning, while Liverpool stagnate. The very thought of Rafa back at Liverpool would have the Wenger's, Mourinho's and van Gaal's of this world feeling a little less comfortable in their top 4 slots. Rafa Benitez comes with his faults, but he loves Liverpool, he loves us, the fans and he craves success. I feel if that compromise could be met with FSG then Rafa would make us fab again. After all, the man has unfinished business!