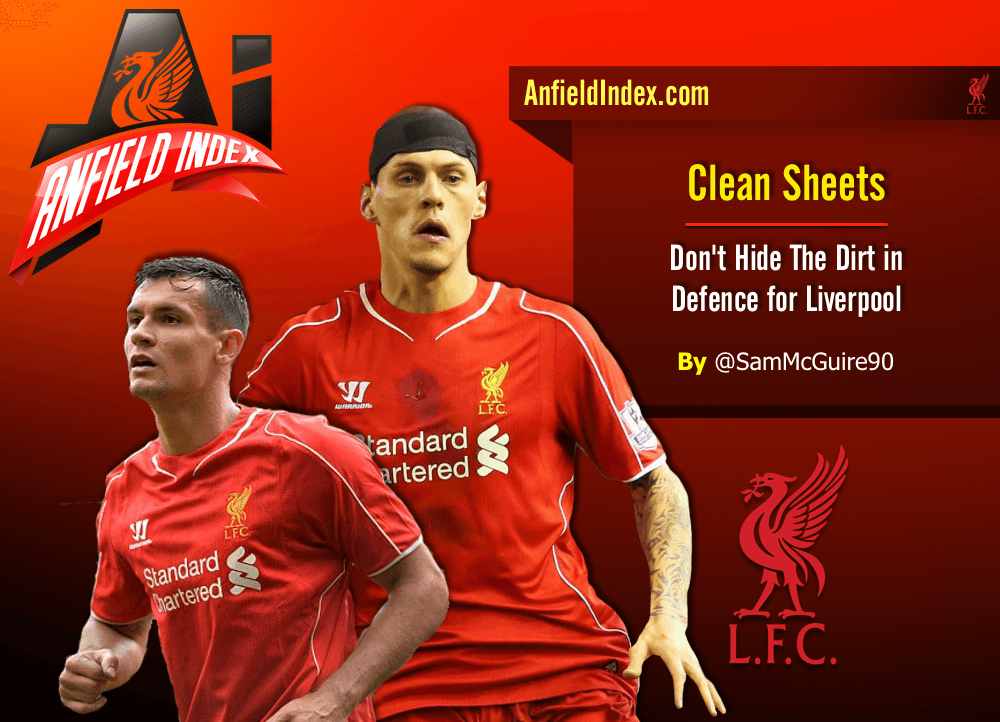 Clean Sheets Don't Hide The Dirt in Defence for Liverpool
"Just because everything is different doesn't mean anything has changed"

– Irene Peter.
Defensive frailties have been at the forefront of Brendan Rodgers' reign as Liverpool manager so far. The goals of last season papered over last season's cracks and despite the improvement since Christmas 2014, Liverpool are only 4 goals better off defensively than they were at this point last season.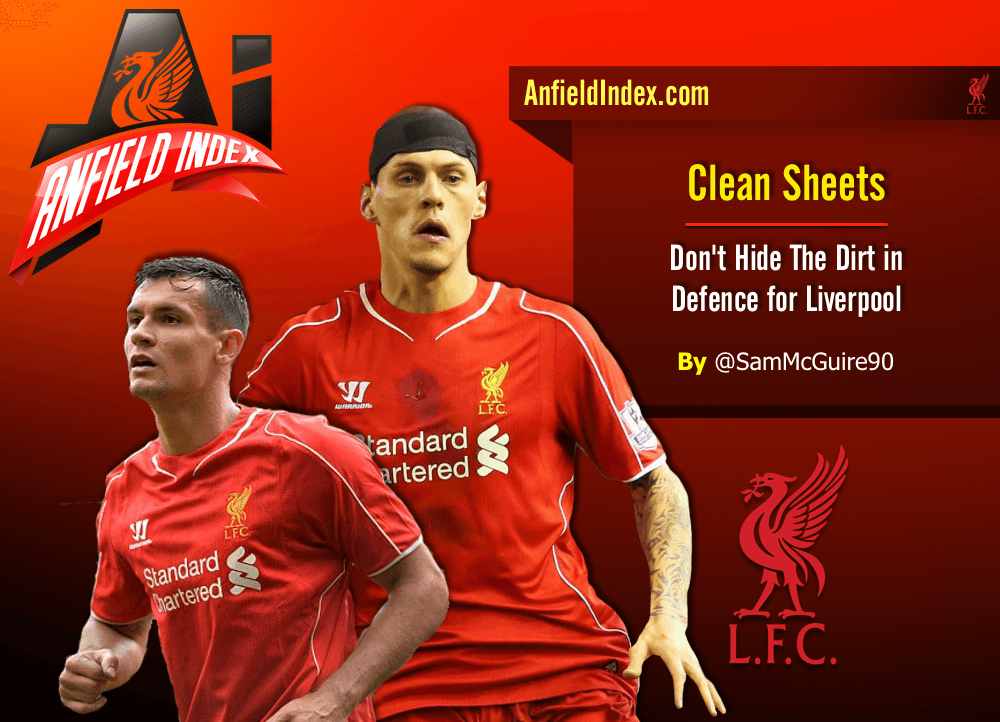 The main difference from this season to last is that the attack isn't rescuing the defence, this time it's primarily down to Simon Mignolet between the sticks. His inspired performances have been integral post Christmas and to his credit he has come away with 10 clean sheets from 18 league games. The Belgian is responsible for the Liverpool defence not dying due to exsanguination, they were bleeding goals at the start of the season.

Since and including the Man United away game Liverpool have conceded 17 goals in these 18 league games but what's been getting the plaudits during this run is the amount of clean sheets The Reds have had.  As mentioned earlier 10 clean sheets during this run in means Liverpool have only conceded 0.94 goals per game. This run has seen the team score 28 goals, which is 1.6 per game. So already they're borderline just winning games on average.
Now, if you remove the games in which a clean sheet has been kept, I know this isn't deal and is all theoretical, but that means in the remaining 8 games Liverpool have conceded 17 goals, which works out at 2.1 goals per game. This now changes things even more when you consider the fact Liverpool have only been averaging 1.6 goals per game.
To make this fairer if you only look at games in which Liverpool have conceded you'll see in these 8 games they've scored 15 goals, which equates to 1.8 goals per game. This is only 0.3 goals below their opponents but regardless of how small the difference is they'd still be losing.
During this run in Liverpool have had some easy games and some difficult games. They've kept clean sheets against the likes of West Ham, Burnley x 2, Newcastle, Villa, Swansea, Everton, Southampton, Sunderland and West Brom. With the exception of Southampton these are the kinds of teams you'd be expecting Liverpool to be keeping clean sheets against and picking up wins, however it's never that easy so to have done this is impressive.
Now, the teams Brendan Rodgers' men faced and conceded are as follows: Arsenal x 2, Manchester United x 2, Swansea, Leicester, Spurs and Manchester City. In my opinion 5 of these games would be considered difficult but when you consider how United were playing at the time you'd have been confident about picking up a win if Liverpool played to their potential obviously. The biggest concern for me here is the fact in 8 of these games we conceded 2 or more in 6 of these games. If it wasn't for a superb Simon Mignolet save vs Swansea straight after they'd scored that figure would be 7.
What's the point of keeping clean sheets in say, over half the games, when in the other half you concede two or more per game? It doesn't breed much confidence when you realise as soon as Liverpool need three you're looking at them needing 3 goals to win, especially when you factor in of the 10 games Liverpool have conceded 2 or more in this season (in the league) they've only won 2 and drawn 2. That means in just under a third of league games this season they've conceded 2 or more. This could be because they're chasing a game so spaces would be left, or it could be because their mentality changes when they do conceded. I could play devil's advocate here and say this strengthens the argument to buy more goals this summer, but at the same time this highlights to me the fact we still can't defend so defensive reinforcements are just as important.
This isn't just a one season occurrence either.  The frailties of last season were well highlighted by fans and the media, 50 goals conceded in 38 games isn't exactly a ringing endorsement of your defensive prowess . That works out at 1.3 goals conceded per game. However when you factor in the 10 clean sheets the club kept in the league that figure rises to 1.7 goals per game. Once again this is nearing the 2 goals conceded per game mark and it means in 28 of the games Liverpool would need to score more than 1.7 goals to win.
In Brendan Rodgers' first season at the club it surprised me to know the club kept the second highest amount of clean sheets that year with 16. Yes. SIXTEEN. Yet despite these clean sheets the team conceded 43 goals. So once again, I shouldn't do it this way, but if you remove the games in which the club didn't concede you're left with 22 games. That means they conceded 43 goals in 22 games which works out at 1.9 goals per game. Liverpool needed to score 1.9 goals or more in 22 games to get anything. City kept 18 clean sheets that season and only conceded 34 which also happened to be the least amount conceded in the Premier League that season. Whereas City only needed to scored 1.7 or more in 20 games.
You could keep 19 clean sheets and still end up conceding just as many goals as a team that concedes 1 per game. What you need as a team is not only playing balance but also a defensive balance in terms of clean sheets and goals conceded. A clean sheet doesn't make you a defensive god, not by a long shot. In the season Norwich got relegated they had 12 clean sheets, it's by no means how you should measure yourself defensively. So for me, Brendan Rodgers needs to improve the squad in an attacking sense yes, but the defence is by no means fixed. Everything might seem different defensively lately but look closely and it's the same old Liverpool.