In recent days and weeks, Liverpool have been linked with the purchase of Memphis Depay from PSV Eindhoven. There have been news pieces on how Liverpool have been monitoring Depay for almost a year and have reinforced their monitoring in recent weeks, the key being 'Monitoring'. So what could Depay bring to Liverpool and what are his key strengths and weaknesses?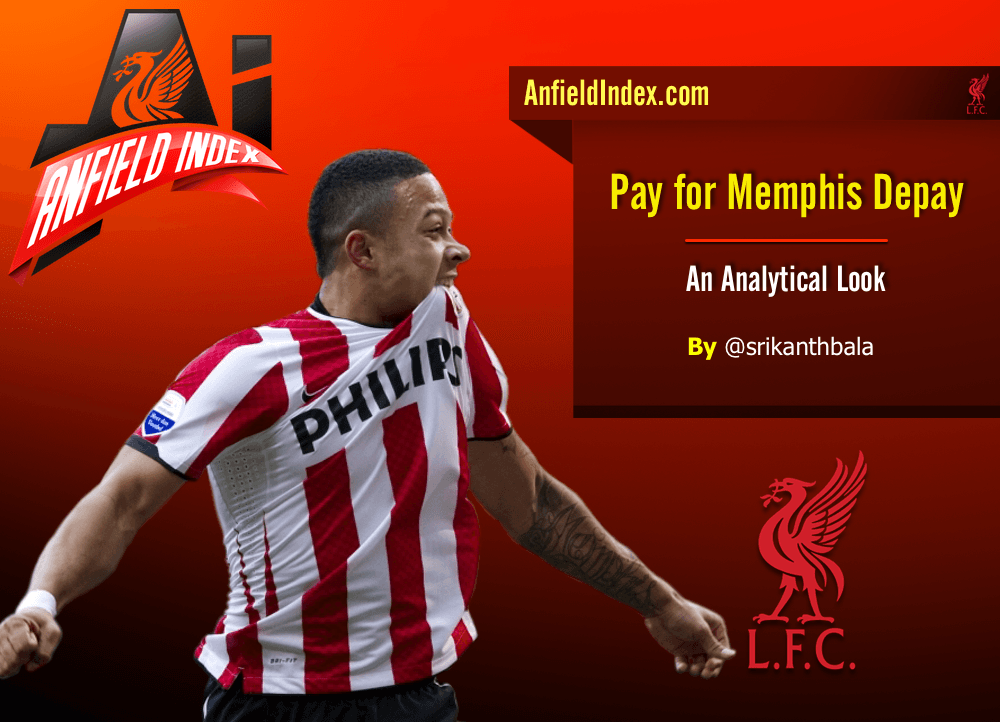 Background
Memphis Depay joined PSV Eindhoven in 2006 from Sparta Rotterdam at the age of 12 and was part of their youth setup till 2011 when he made his debut in the KNVB Cup. His first team appearances were few, but he signed his first professional contract with PSV in 2012. He broke into the first team a bit more often in 2012/13 season, with appearances off the bench. The following season was his break out season with the departure of Dries Mertens to Napoli. The current season has seen him go from strength to strength, with him scoring 27 goals in all competitions in 38 games, an astounding record.

Strengths
Before we go into details, let us just put it out there that Depay is outrageously talented, outrageously. He is usually stationed on the left of the attacking setup for PSV. His fantasy combination of pace, strength and directness makes him a very tough attacker to play against. One of his key strengths is the ability to change games against the run of play by producing a piece of magic out of nothing.
All his key strengths are based on solid foundations of an exceptional body balance which allows him to swerve and change directions instantly, ride challenges from full backs using his acceleration and dribbling ability.
When talking about strengths, let us not forget his set piece taking ability. His set piece delivery technique somewhat resembles Cristiano Ronaldo in terms of how he runs in and his kicking technique. He has great ability to take direct free kicks or deliver balls into the box, but usually tends to prefer the former.
Playing Style
Depay's playing style has lots to do with his setup off the ball. He is always ready to cut in from the left off the ball forcing the defender to accompany him for the fear of getting beaten by pace.Once he receives the ball, he has the ability to cut in and run with the ball, or change directions and stick to the touchline. His ability to accelerate with the ball over shorter distances means that defenders are always forced to stay tight on him, thus allowing him to beat them with a feint and a dribble.
Due to his searing pace, he also wins lots of free kicks as the defenders are often bamboozled by his bag of tricks. This coupled with his set piece taking ability just makes him a must have footballer for most elite teams.
Weaknesses
Depay had a very troubled childhood as he had to deal with his parents getting divorced and the death of his grandfather. His rebellious attitude was a cause of concern in the PSV academy when he refused to obey to the rules put in place at the academy. His tempestuous attitude reflects in all parts of his games and that can be hugely infuriating for managers and fans. His tendency to adopt the 'all or nothing' approach to football is definitely a cause of concern. He is a highly instinctive player who tends to go for glory many a times when there was a more pragmatic option available. All his YouTube videos feature his unbelievable skills in dribbling, feints, his searing pace etc. but not featuring in them are head scratching moments of decision making.
Depay is a player who could outpace 2 midfielders, then pass a defender with a feint, dribble past another and then make a pass when no one was there, all in the same move. A heady concoction. His decision making and passing are attributes which could be improved substantially that could lead him to become an elite footballer.
What do the numbers say?
So what do the numbers look like this season for Depay in the Eredivisie? Some his strengths and weaknesses are well reflected in his numbers.
His Shooting accuracy stands at 46%, with 59 shots on target out of 127 shots, his shot map is as seen below. This is a number which he can definitely work on.
He has created 56 chances for PSV, but that has resulted in only 3 assists for the team.
The goal maps of his 21 goals from the Eredivisie is shown below. His tendency to cut in on his right foot from the left and take a shot can be seen with the number of goals to the left of the keeper. His tendency to go for glory with such attempts results in either great goals or missing the target horribly (as seen in the above image)
Below are his numbers from the 2013/14 season compiled by Ted Knutson from Statsbomb.com
From the above stats, we can see he has world class numbers for Shots, Dribbles and Key Passes.
 His potential though can be explained with this one query Ted Knutson answers
How many guys have created more chances per 90 in a single season over the last five years?

The answer: five.

Their names? Ronaldo (5 times), Messi (1), Suarez (1), Wesley Sneijder (1), and RVP (1).
I have also tried to compare Depay with Sterling and Coutinho as he might end up playing the attacking outlet on the left where currently Sterling or Coutinho tend to play
Summary
"From frustrating to formidable in a matter of months. It was always clear that Memphis had all ability in the world, in 2014 he is turning that into something substantial. The best player in the league, destined to go to the absolute top of football."


– Michiel Jongsma, Dutch correspondent for Guardian's Football Weekly

"Depay plays as if he has won 10 European Cups. He is very cocky." – Ronald Koeman
Depay is going to be a fantastic footballer, make no mistake about it. He is going to be a cornerstone to whichever club he is going to move to in the not so distant future. Can anyone stop him? Yes, himself. And that sums up Memphis Depay. The good, and the not so good.