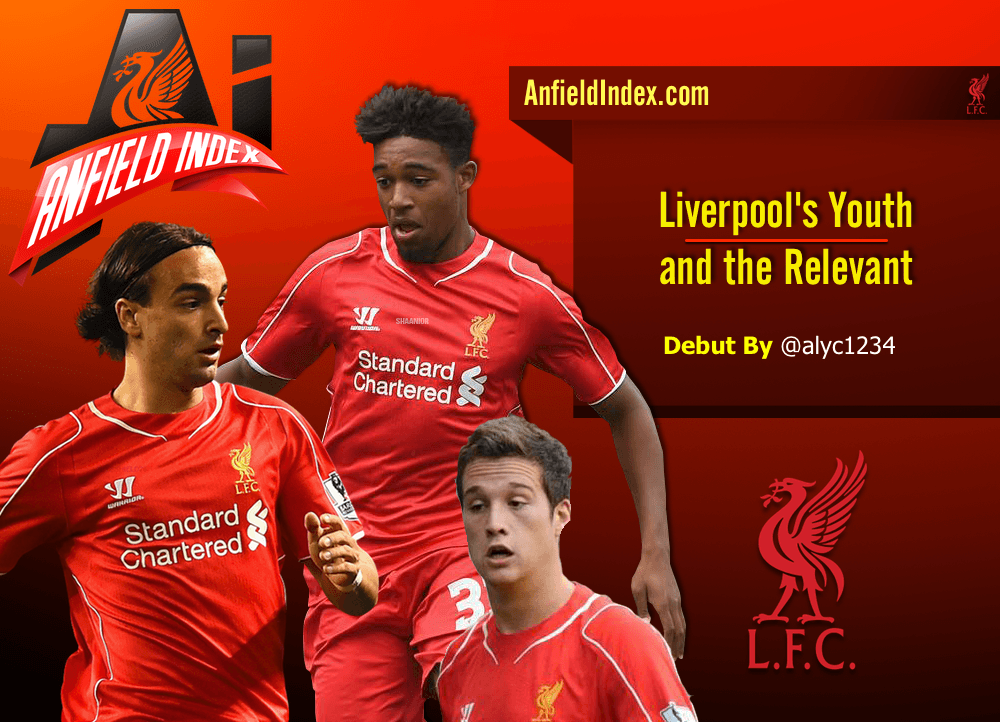 Liverpool's Youth and the Relevant
Morale is at an all-time low for the fans, the determination of our first team players is depleting after every poor result, and our manager seems to have run out of ideas. It seems like Liverpool has reached a dangerous place, we have lost the Champions League spot and we have nothing else to look forward to. This is the time where the hungry, passionate, and youthful players should come out and be allowed to show what they've got and inspire new hope into a fan base who have stuck with the club through their darkest hour. The possibility of an emergence of any of the young players could also prove to be helpful, as they would fill in a place in the squad and allow more money to go into reinforcements in the summer. These last five remaining games could potentially be used as a platform that our youth players could use in order to jumpstart their Liverpool careers.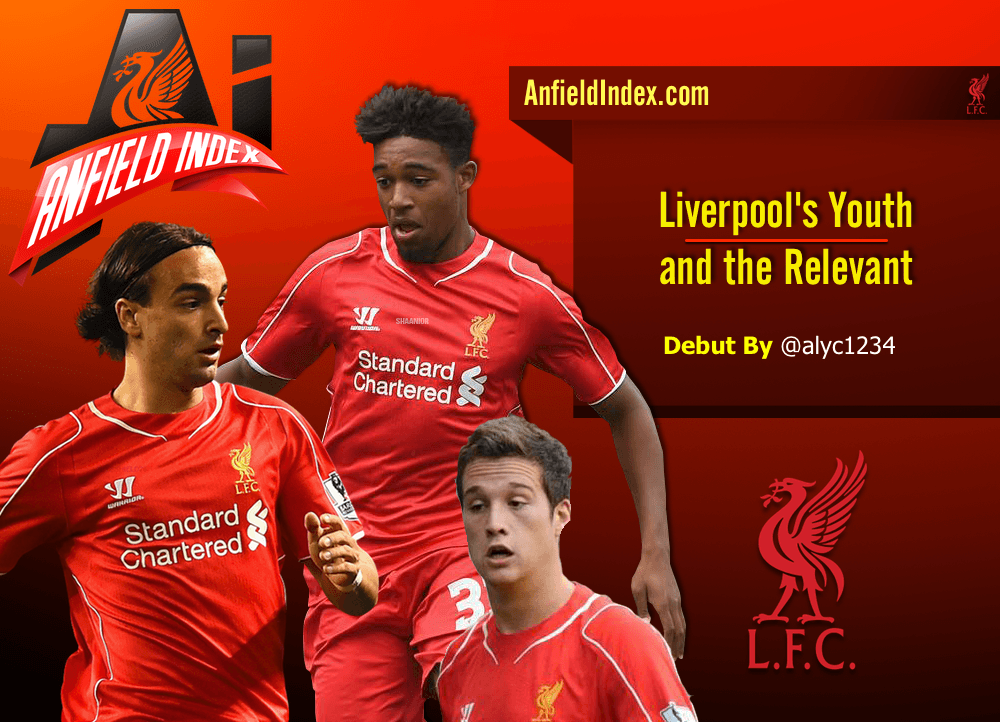 Defence
It is apparent that some change is needed in the defence, while some change is expected in the summer, there are two players who should be given a fair chance to shine, Manquillo and Smith. Javier Manquillo, 20, has not started a game since last year in the Premier League which was partially due to the fact that we reverted to a back three. However, Rodgers has now returned to a four man defence but Manquillo has still yet to play in it because Johnson has been chosen over him. Manquillo has a two-year loan with Liverpool, Johnson is leaving at the end of the season because his contract will be over. It only makes sense to give Manquillo a run of games as he is staying with the club for at least another year, unlike Johnson whose contract ends in June. In the ten games Manquillo played, he showed he was defensively minded averaging 6 defensive actions per game, a great passer with an 83% pass accuracy, and composed with 0 defensive errors. He would also add balance in the defence concerning full backs, as he would counter Moreno's attacking mindedness with his defensive play. Brad Smith, 21, is a left-back that was recalled by Liverpool from Swindon Town on October 2014. He has made one appearance for the first team which was last season in the 2-1 defeat against Chelsea. While he did not have a massive impact for his debut, it is understandable since he was thrown into the fire in one of the most important matches of the season. He is very quick and defensively solid at the back, he also has something to prove as his debut was not the best. Smith would add real determination and hunger to the back line as he knows his playing time is limited and he has already made a less than average impression. Both Manquillo and Smith have seen no playing time this year, however with five games remaining and the back line struggling they could bring in a drive and determination which is sorely needed by the current defence.

Midfield
On the surface, the midfield does not contain too many problems, but there has been a lack of urgency in recent games that has not gone completely unnoticed. This might be because of several reasons such as poor team performances or low squad morale, however by introducing a driving force that is relentless it could spark the midfield back into their best form. Cameron Brannagan, 18, is an attacking midfielder who has been sitting on the Liverpool bench for the last couple of games. He is a creative midfielder who is attack-minded and can play behind the striker or on the wings. While he has yet to make his debut, he has shown a lot of promise and would most likely want to impress on his debut as he has been sitting on the bench for a while now. He could provide a spark in the midfield that has not been apparent in the last few games and would allow Coutinho to play in a deeper role as he tends to do in the matches anyway. Emre Can, 21, has been used mostly in the defence for this season at Liverpool but is a natural box to box midfielder. While he is already a household name to most Liverpool fans, his integration to midfield would be seen as new because of his constant use in the defence. Moving Can into the midfield, his likely position for next season, would allow him to push up into the midfield which he already does effectively. However, his placement in the midfield would allow the defence to be more intact because of his tendencies to move forward. An extended run in the midfield would allow Can to fully develop his best attributes: his passing, pressing, and movement, which he has been able to demonstrate from the defence. While these players have seen completely different seasons, both of their introductions into the midfield would give a relatively new spark to the lacklustre midfield seen in the past few games.
Forwards
Goals. That is something that Liverpool have been missing for the entirety of this season due to injuries and the transfer of a certain Uruguayan striker. It seems like Liverpool have been able to create the chances, but nobody has been able to consistently put them away. While this might be down to not having a reliable striker, the sense of urgency has also not been apparent which is something a young player with everything to prove would bring. Jordan Ibe, 19, is a winger who can also play as a striker and was recently brought back to Liverpool from his loan at Derby County. Ibe is strong, fast, and dominant in his play which he has shown in the games he has played at Liverpool. He does not lack confidence which is an important facet for any player playing as a forward, he has shown that he is not afraid to take players on or shoot from distance. With more playing time, Ibe will develop his decision making and gain confidence which could see him grow as a real goal threat if given the opportunity. Lazar Markovic, 21, plays mostly on the wings and uses his pace and trickery to get away from players. He came into the squad in the summer with a big reputation and the expectation to be given a fair chance at the starting eleven. This has not been the case for him which is why he has not shown much confidence in his game until recent time when he has been deployed properly in his favoured position. Markovic is a confident player when he is given the trust by the manager and allowed to play freely like he did in Benfica. While he does not usually get all the goals, his movement allows space for others to use to get into scoring chances. If he was to get a run of games, without being substituted at half time for no apparent reason, he could gain the confidence and show his true game and be a key player for Liverpool now and for the future.
Liverpool is at a point where they can allow themselves to field inexperienced players. It is pointless to continue fielding players who have no future at the club while subsequently taking minutes away from those who will play a part in Liverpool's future. Giving players like Johnson, Borini, or Lambert will not only slow down the growth of the younger players, but it will also tear down their confidence by being shown that they are not trusted enough to even play games that have no meaning at this point. It is time to give the youth and the relevant players a shot at the first team while they are still here at the club, because sooner or later they will decide to leave if they do not receive playing time.