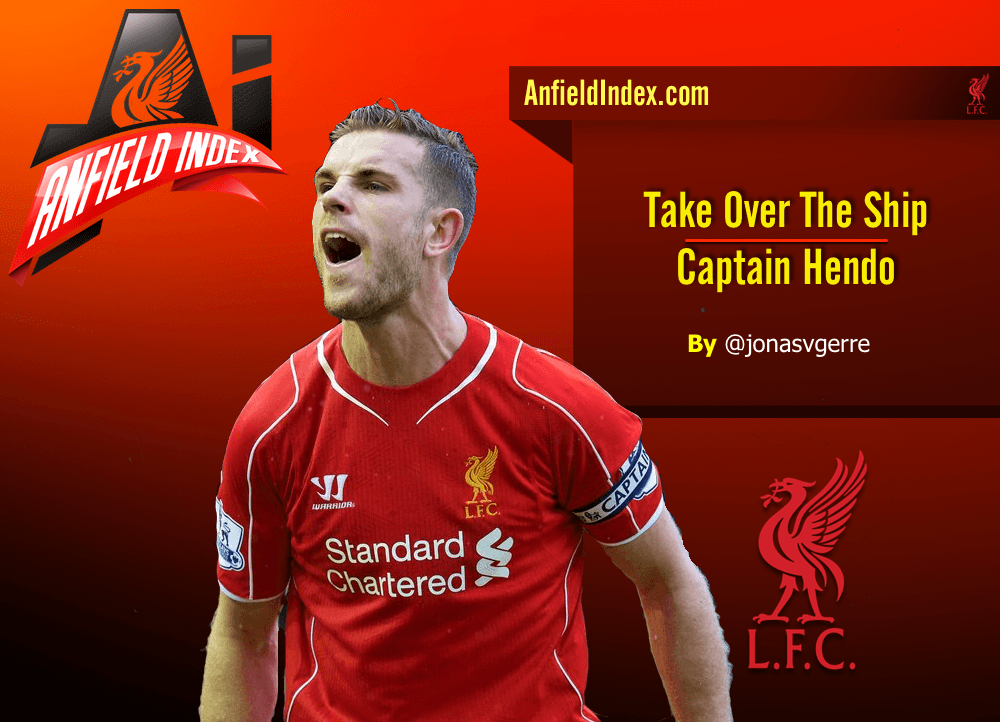 Take Over The Ship Captain Hendo
Three games leave us from saying goodbye to arguably the best player Anfield has ever seen, Steven Gerrard, our captain for over 12 years.
He's a Liverpool legend I'll remember as the attacking midfielder who won us trophies and offered us fans, dozens of memorable moments. Plus, he's the producer of the best 6 minutes football has ever seen. I know a lot people who became Reds after that miraculous night in Istanbul.
As a kid, before anyone knew about Gerrard, Jamie Redknapp was my favourite player. I stared at his picture on my bedroom wall every night and I still refuse to play a football game without wearing a shirt with his number 11.
Jamie left Liverpool and I remember being sad about it for a while.
But it only took a couple of months before I replaced his poster with one of Stevie's.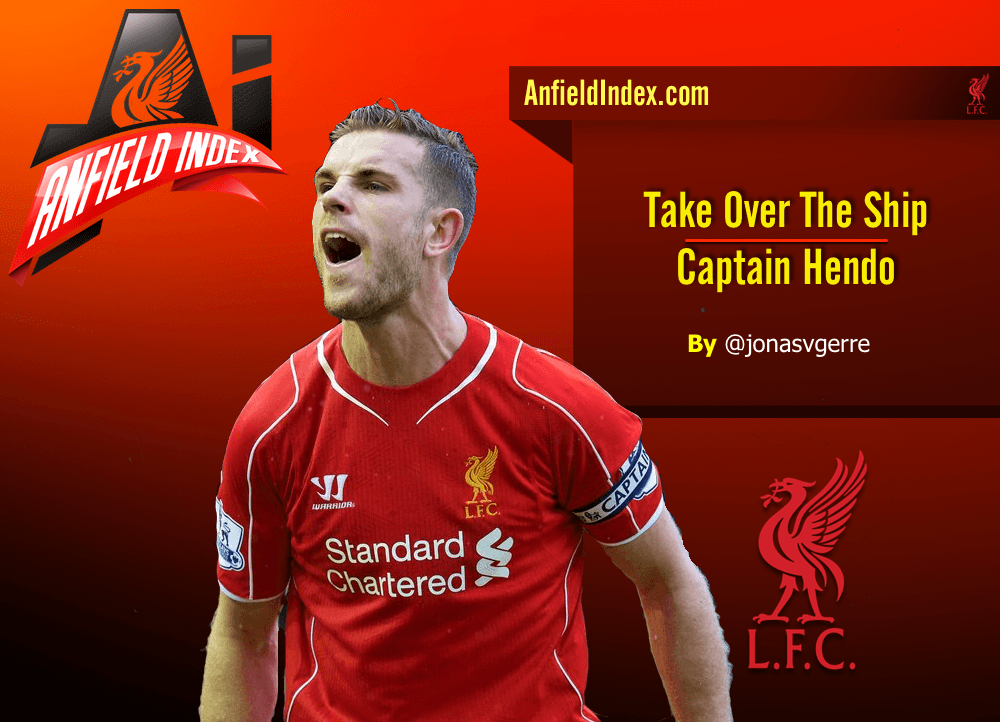 Heroes come and go.
Jamie was my hero back in the day, although, he was never the player Stevie has become. A local lad playing his whole career for the same team will never be seen again.
Heroes come and go but legends are forever.
But no player is bigger than the club and instead of being sad that the Gerrard days are over, let's cherish the memories, celebrate his amazing career and look forward to the road ahead.
I once knew a Liverpool team without Stevie. Kopites were roaring, we won trophies and Scousers ruled the country like they've always done before!
As long as new heroes stand up, we'll be fine!
Last week our future skipper said "LFC will kick on next year without Gerrard". And I have no reason to believe they won't.
Lots of fans think of Hendo as a 'water carrier' in our team. I can't understand why a player with his technique, who can pick out any player with a long pass, infiltrate the box coming from midfield, score goals and who's willing to take one for the team is seen as just a servant for the better players.
He scored 6 goals, only 1 less than LFC's topscorer and leads the assists rank with 8.
While wearing the armband with pride, he leads the troops with his fighting spirit and 'over my dead body' mentality. The look he gave that old Spanish Chelsea striker!!!
After the 'penalty-gate' which he handled better than our first captain, he showed leadership and intelligence on and off the pitch by putting the issue to bed immediately. Of course, it helped that Mario netted the pen, but I think he would have handled it equally as impressive, had it not gone in.
In the 21 games Liverpool have played under Henderson's captaincy this season, they've won thirteen, drawn four and only lost three (Man Utd, Arsenal, and Hull).
Impressive numbers for a newbie skipper.
With a great holding defensive midfielder behind him, which I'm sure we'll buy eventually, he'll pop even more goals and assists next season.
Jordan had problems this season with showing the same leadership while our first captain was on the pitch, the lost semi final against Villa being a good example. He has shown a drop in form, which is normal for the young player he still is, but he didn't show the same drive and desperation. As if the presence of 'almighty' Gerrard dulls his overall performance.
Another possible reason for his lesser performances while Stevie is on the pitch is tactics. Let's face it, Gerrard has no place in our pacy style of play, not even as a holding midfielder – a role I'd rather never have seen the legend play.
Whether it's because of bad tactics or too much admiration for Gerrard,  LFC fans have to back Hendo up as our next skipper. He 'll be leading our team on and off the pitch next season (and many to come) under Brendan, Jurgen, Rafa or who ever is to be the manager.
Let's hope he'll be some kid's hero soon.
Long live Liverpool's new Captain!