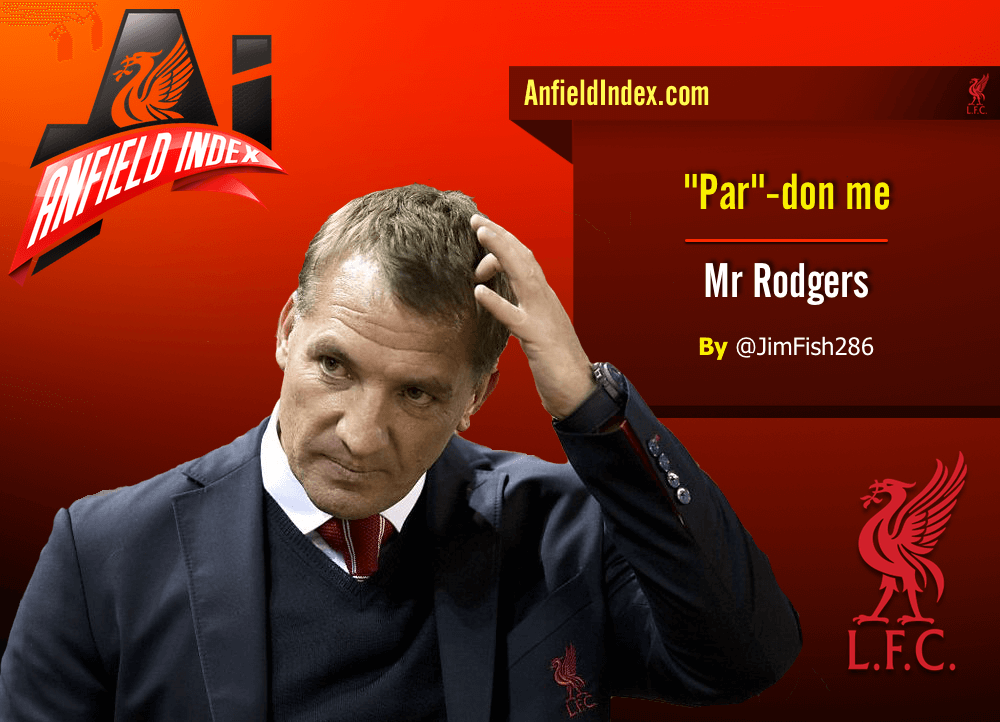 "Par"-don me Mr Rodgers
Par, such a simple and non-offensive word.
Just 3 little letters, it's hard to get upset by a word like Par isn't it?
Well thats what you would have thought this time last week.  However, since a certain Mr Rodgers uttered that non-offensive little word in a press conference, I've seen it written more times than a pro-golfer would write it on their scorecards.

Perhaps Liverpool boss Brendan Rodgers would have been better to use a phrase such as "we expected to finish within the top 5 this season, and given our expenditure and wage bill, if the season finished tomorrow we'd have hit that target. We are, however,  bitterly disappointed that we haven't made it into the top 4″.
The problem with mentioning a club's expenditure and wage bill when talking about league positions is that football isn't played on a balance sheet, it's played on grass, and as we've seen particularly this season, football cares not who pays the most in wages and transfer fees.
If it did, we wouldn't bother with managers or coaches. We'd  just tally up the ledgers and hand out the trophies based on those results. It's never going to be that simple.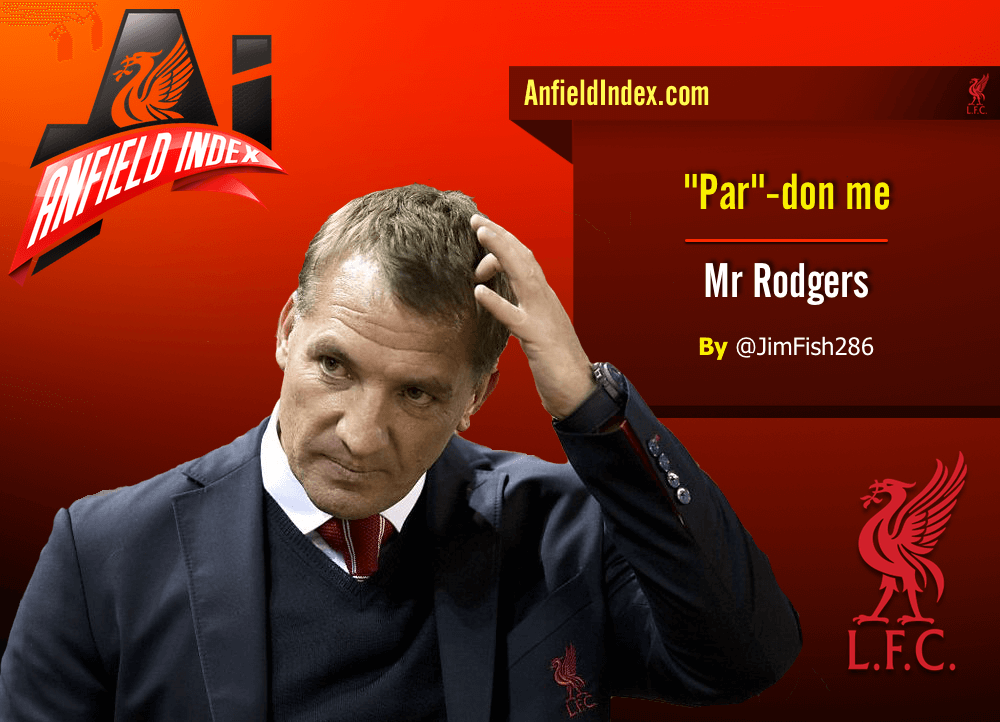 Liverpool's most recent game at Anfield against QPR is a great example of this, a par result should have been a comfortable 2 or 3 goal win for the home side. Liverpool have a higher wage bill, spent more on transfers and are 14 places higher than QPR in the league table.
The reality: It was another nervy 1 goal win for the home side. Liverpool got the 3 points but it was an underwhelming performance. There are numerous other examples of this involving every side in the Barclays Premier League this season,  but in particular this current Liverpool side, both home and away a lot of our performances and results this season have been well below-'par'.
Someone has to take responsibility for that and for me, that lays firmly at the feet of the manager. You can't sit there with 4 games left of the season and say we're on par for what we should achieve, when at the exact same time last season, still with the 5th highest wage bill the team sat at the top of the Barclays Premier League table.
Football is all about overachieving and underachieving.
As the manager himself said in his press conference,
"If you take the emotion out of last weekend this was a team which overachieved last year… we weren't expected to get into the top four and that same team had a world-class striker (Luis Suarez) in it and someone on fire in terms of Daniel Sturridge, who has the potential to be that (world class) when fit and playing."
Brendan is right, we achieved a lot last season and a lot of that was based on the performances of the £12million pound man Daniel Sturridge, the boy wonder from Brazil Philippe Coutinho, a snip at £8.5 million pounds and, of course, the genius of Luis Suarez who arrived at a measly £22.5million pounds.
In footballing terms, those fees are not high. If anything, Daniel Sturridge's and Phillipe Coutinho's fees are on par with what a middle of the table side such as Southampton or Swansea may pay for a player.
You simply cannot rely on just spending more money to make you a better team. Liverpool have tried to buy their way back to the top recently, remember the side with the £35million pound front man and the £20million pound midfielder?
Big fees, big expectations, massive under performance.
Compare that to Chelsea, the newly crowned Barclays Premier League Champions. They strengthened this summer with a 30+ million pound striker and a 20+million pound midfielder, the results speak for themselves.
It's never been about how much you spend, it's about who you spend it on.
Liverpool's manager and transfer committee need to get back to that idea and stop kidding themselves and the fans.
Liverpool were expected to get into the top 4 this season, finishing 5th or lower is not par, it's an underachievement.