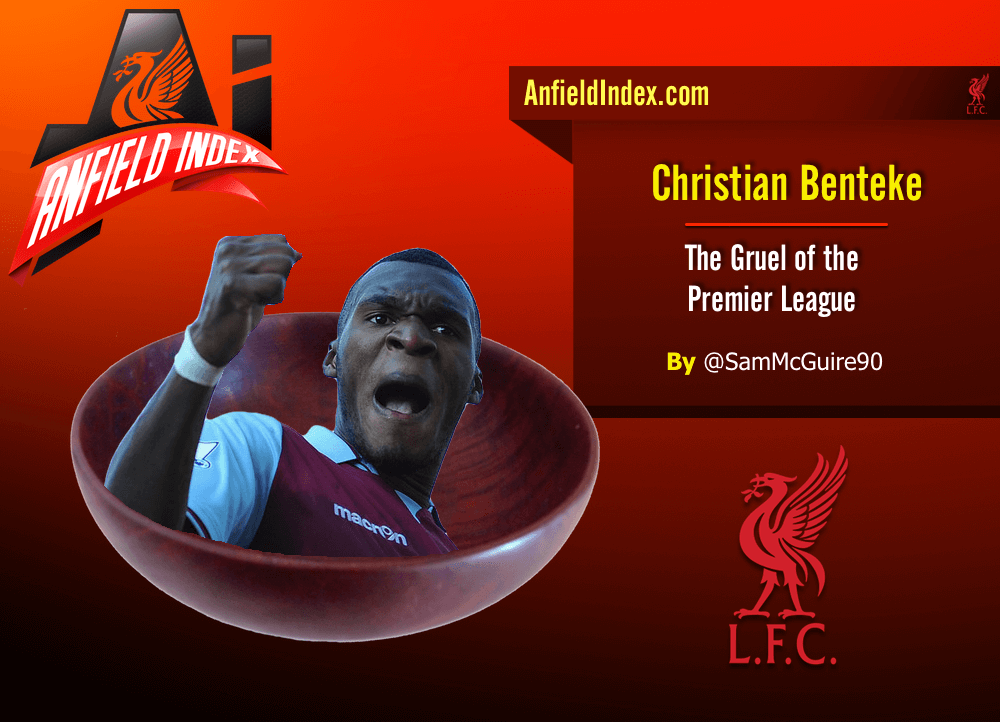 Christian Benteke - Gruel of the Premier League
We're a few days into May and silly season is going into overdrive. A new name is linked to the club everyday and a new topic of conversation for people. For some fans this is a welcomed distraction from a season which began with great expectations following on from our title charge but you'd be hard pressed to find any Liverpool fan asking for more of this season right now.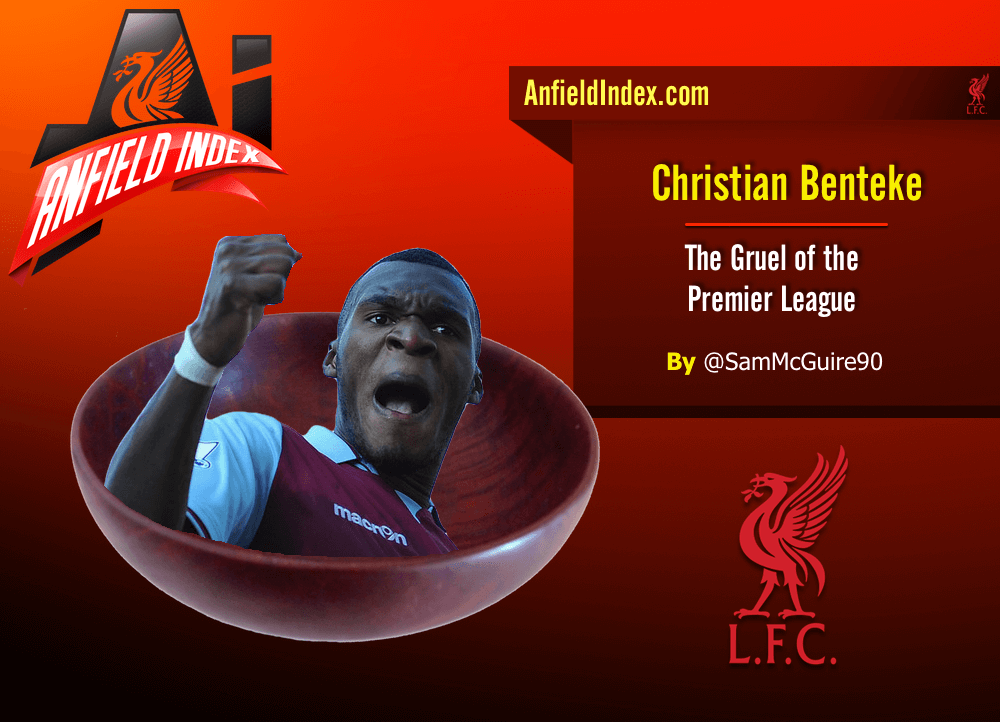 That's what the current manager of Liverpool is supposedly doing though. He's asking for more. No, not Premier League games. He's probably as grateful as the fans for this now 'par*' season to be over. According to reports the Liverpool manager wants to make the Aston Villa forward, Christian Benteke, his marquee summer signing. This following on from reports earlier last month he had been 'without' a striker for the entire season. The rumoured fee is around the £30million mark which you'd assume would eat up a large part of the transfer budget, that is unless a certain English sensation is sold off this summer.

*Par despite earlier in the season mentioning a title challenge, then a top two finish, then a top four finish followed up by comments about cups were always the object of the season before finally admitting we're on par.
Benteke's style
Well I'm sure we've all seen Benteke bully Liverpool on numerous occasions. Had you just watched those games, you'd assume he was this absolute monster of a striker dictating defenders on a regular basis in the same way as Didier Drogba used to in his pomp. Then you remember large strikers are like kryptonite to the Liverpool defence and League 1's finest Matt Smith got the better of us so you immediately question how impressive the Belgian is, right?
The upturn in Villa's form has coincided with Benteke scoring for fun. Now this is a which comes first kind of question similar to the chick or the egg question. Is Benteke scoring more because Villa are playing better or are Villa playing better because Benteke has found his groove? 10 goals and 1 assist in the last 9 premier league games tells you that the big Belgian, on his day, is a handful for any defence in the league (especially since many have forgotten how to actually defend).
Mention Benteke on social media and you'll get people telling you he's fantastic in the air, great with the ball at his feet, quick and has terrific composure. He's the perfect all round striker in many people's eyes and they'd happily pay £30million if it meant we'd have a guaranteed 15 goal a season league striker.
You then have to ask yourself, have Liverpool ever looked capable of playing with a striker like Benteke? Andy Carroll was quickly shipped off to West Ham by Rodgers. Mario Balotelli is bemoaned for his lack of pressing but in the games I've watched of Villa, Benteke has looked fairly lazy when defending from the front.
Even against Liverpool in the semi final it was N'Zogbia and Grealish who did the pressing against the defence, not Benteke.
So now I'm thinking 'hmm, he doesn't press so Liverpool would either have to have midfielders doing that job which then leaves us a little light in that area or sit deep like we have been this season which then leads to the striker being isolated'.
| | | | | | |
| --- | --- | --- | --- | --- | --- |
| | Aerial Duels won % | Pass success % | Shots in area | Of shots in area what are headers | Shots outside area |
| Sturridge | 25 | 79 | 3 | 0.2 | 1.7 |
| Benteke | 52 | 66 | 2.65 | 1.52 | 0.47 |
The table above shows a few select stats I feel highlight the type of strikers they are. Benteke's aerial duels won percentage seems impressive, but then Andy Carroll comes along and wins 62% of his duels. So Carroll really is good in the air. You then look at pass success, something needed at Liverpool when they look to dominate the ball and see a marked difference between the two.  Raheem Sterling averages 79% pass success rate which is the same as Sturridge. The fans would immediately get on Benteke's back if he is wasteful on the ball. Not only this but Benteke only provides 2 assist per season. So as you can see he doesn't excel, he's kind of middle of the road type signing. Par.
For me this highlights how, if we don't create chances in the area, we'd look toothless and wouldn't have that option to shoot from distance. It'd be a very one dimensional attack and the temptation to cross the ball would win.
He's a goal scorer though. For Aston Villa and their style. Of his 41 league goals 12 have been from a header and 6 from penalties. He's also missed 3 penalties so he's not *prolific* from 12 yards. 27 of his goals overall have been from crosses, whether that be set pieces or crosses in open play. Would Liverpool accommodate this? Or would we, once again, have to change our style and have it labelled as a transitional season?
Comparisons to Rodgers' Swansea
If this was a legit link and Benteke were to arrive at Anfield this summer, there are many people who believe it would be the missing jigsaw piece in the quest for Rodgers to replicate his playing personnel from when he was at Swansea. He had a target man, Danny Graham, flanked by pace out wide in a 4231 formation and many believe the signings last summer indicated he was buying for that formation.
There is a slight clash though in my opinion. To get the best out of Benteke you need wide players that can cross and, also, support him. Does this not waste the talents of Sterling, Markovic, Coutinho and co? Why didn't Liverpool change tact to accommodate Balotelli? Many argued it hindered too many players to do so, wouldn't this do the same thing?
Flip side to that, to get the best out of Sterling, Coutinho etc, you need a functioning frontline that moves so it can be picked out with passes or creates space that can be exploited. In my opinion, Benteke doesn't do this so we'd have a disjointed attack once again similar to this season having spent even more money.
"In this life, one thing counts. In the bank, large amounts. I'm afraid these don't grow on trees. You've got to pick a pocket or two"
If I were FSG, I'd be telling Rodgers and the committee to be more frugal with funds, pick a few foreign teams pockets and go from there, but I'm not. So I'm just hoping Rodgers has an identity for the team in mind and we buy for that and build from there.